Industry
Agfa presents Avinci DX3200 textile printer at FESPA 2017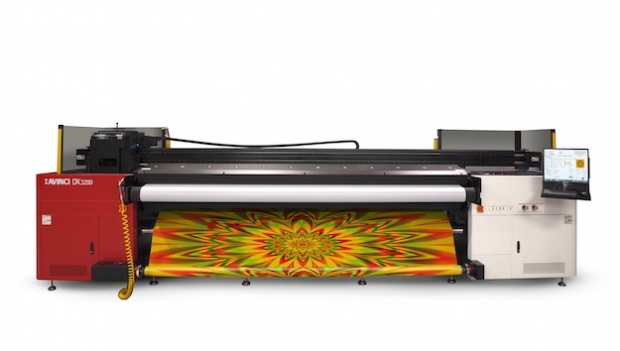 At FESPA 2017 next month, Agfa Graphics will introduce the Avinci DX3200 dye-sublimation printer, designed primarily for the soft signage market.
The 3.2m-wide machine enables users to create large-format soft signage prints at 1,440x540dpi. It will be shown for the first time in Europe at FESPA 2017 next month, from 8-12 May at the Hamaburg Messe in Hamburg, Germany.
The Avinci features six channels, CMYK plus light cyan and light magenta, and uses a fixed 14pl droplet size that offers a wider colour gamut. Printing at speeds of up to 173sqm/hr for flag applications and 60sqm/hr in high-quality mode, the machine can handle a variety of polyester-based applications, such as banners, POS, outdoor graphics and flags.
Agfa product manager Reinhilde Alaert said: "The reason we bring this on to the market is that we have seen that many of our sign and display customers are looking for different technologies, especially one like this that brings soft signage."
"Soft signage typically has very vivid-like images in backlit or display, the softness of the fabric itself gives a different impression than what you have with paper or with typical media that you find in a UV printing environment."
"That is the reason why we started in this market segment and here our unique selling point would be low ink usage combined with productivity and excellent images," he added.
Agfa's Asanti 3.0 workflow software, which was launched last month and is integrated with the machine, uses an algorithm to drive its low-waste colour management platform.
It also has automatic pre-flighting and integrated tiling, which means oversized banners or billboards that extend beyond the maximum printing width of the Avinci can still be produced. It creates mounting instructions and adds necessary marks to tiled prints to help operators mount swiftly.
The Avinci is also integrated with Asanti PrintSphere, a cloud-based data-sharing service that allows files to be switched between customers and operators. Alaert predicted the Avinci will appeal to the UK market in particular.
"When I hear from my colleagues in the UK they are really interested in the machine because it fits nicely with the UV assortment," she said.
"When you look into our UV assortment we have the mid-range and lower-end range of the markets, with the Anapurna and the Jetis, and typically those sign and display printers are also interested in adding a soft signage version to their equipment portfolio."
Alaert concluded: "Soft signage applications are widely appreciated in the market. Printed textiles are perceived differently and we love their look. Moreover, textile substrates offer a number of advantages: they are lightweight, resistant to wrinkles and folding, and can easily be reused. Avinci DX3200 offers a perfect fit for this and is a great addition to Agfa Graphics' portfolio."
Earlier this year, Agfa launched its new 3.2m-wide Jeti Ceres RTR 3200 LED.
Register today to attend FESPA 2017 and be the first to see the new Agfa Avinci
Industry members that are keen to learn more about the new Avinci DX3200 textile printer, as well as the many other solutions on offer from Agfa, can visit the manufacturer at FESPA 2017.
Taking place from May 8-12 at the Hamburg Messe, in Hamburg, Germany, the exhibition will play host to many major brands from across the global market.
Agfa is just one of a host of industry heavyweights that will be in attendance at FESPA 2017, with visitors able to find the company at booth E20 in the sold-out Hall B5, alongside the likes of Inktec, Nazdar, OKI, Multicam, and Soyang.
For more information on FESPA 2017, the companies that will exhibit and to sign up to attend as a visitor, please visit: www.fespa2017.com

Delegates can save 70€ entry fee to the exhibition by registering via the website and quoting reference code: FESG702. Discover how a visit to FESPA 2017 can benefit your business and register today.
Interested in joining our community?
Enquire today about joining your local FESPA Association or FESPA Direct