Industry
Agfa Graphics announces new Jeti Ceres RTR3200 LED printer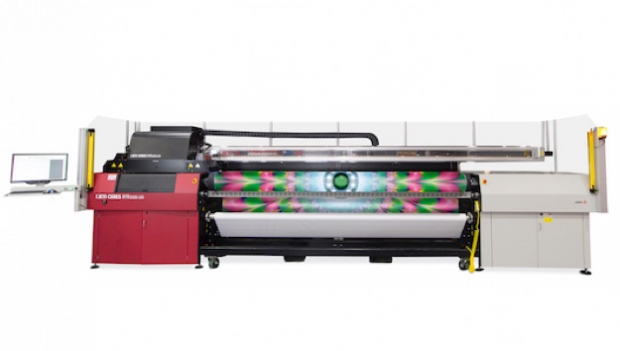 The 3.2m wide Jeti Ceres can print on heat-sensitive media such as self-adhesive sheets and PVC without warping or wrinkling.
Agfa Graphics has launched a new roll-to-roll wide format printer with LED curing, the Jeti Ceres RTR 3200 LED, which is said to provide good results and excellent image quality on a wide variety of flexible media.
The engine's optional white printing features and primer capability can be combined, for a new level of image vivacity, dimension and durability.
Agfa marketing product manager Reinhilde Alaert says the machine has been conceived as a roll-fed version of the heavy duty Titan flatbed, highlighting: "Our goal with this new engine is to maximize productivity while staying true to Agfa Graphics' industry-leading image quality and low ink consumption, which is why we bring a roll-to-roll alternative in the Jeti product family."
"This engine is no lightweight. It's is the workhorse for roll-to-roll applications. It offers speed, precision and efficiency required by intensive print firms – and the UV LED curing process only adds to its business-boosting capacity."
As a dedicated 3.2 m roll-to-roll printer, the Jeti Ceres prioritizes fast results and the robustness required for high-throughput printing. Intended for mid- to high-end applications, Jeti Ceres is capable of printing on diverse single and dual roll media at speeds of up to 186 sqm/hr. Its UV LED curing lamps save costs, increase eco-friendliness, broaden the printable media range and eliminate lamp-based downtime.
As a result of its state-of-the-art UV LED curing and Agfa Graphics' UV LED-cured inks, Jeti Ceres can print on heat-sensitive media such as self-adhesive sheets and PVC without warping or wrinkling them.
Equipped with white ink circulation that extends along the entire ink line, the Jeti Ceres offers the use of white inks to enhance images, especially in backlit and dual-sided applications.
Alaert says: "Agfa Graphics' 'thin ink technology' results in wide-gamut, vibrant images – no matter the substrate," said Reinhilde Alaert, marketing product manager, Sign & Display High-End. "Our inks' high pigmentation, along with our deep understanding of the physics of ink jetting, keeps ink consumption low, extremely precise and waste-free."
Agfa Graphics' Jeti Ceres also adds a primer option for printing to difficult substrates. This works by pre-printing a fine layer of primer automatically before laying down the ink.
As it avoids downtime and reprints, it dramatically enhances the productivity of the system and guarantees the image quality with minimal impact on cost per square meter.
The Jeti Ceres also comes with Agfa's Asanti workflow and is compatible with Agfa's cloud-based PrintSphere, which standardizes the flow of information between customers and different departments.
To find out more about the newJeti Ceres and the many other solutions available from Agfa, you can visit the company at FESPA 2017, which takes place at the Hamburg Messe in Germany from May 8-12. Agfa will feature on stand B5-E20.
To register, visit: http://www.fespa2017.com
Interested in joining our community?
Enquire today about joining your local FESPA Association or FESPA Direct