Industry
3M to launch textured Décor overlaminates at FESPA 2017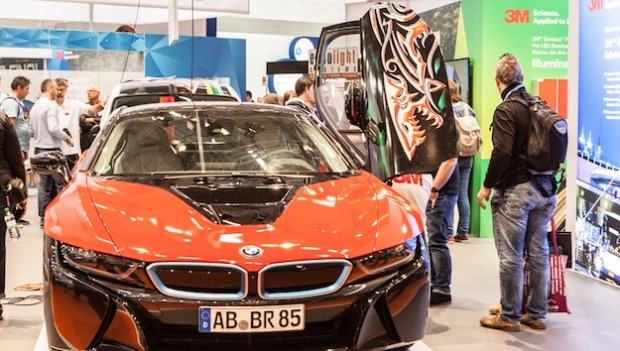 FESPA 2017 is fast approaching and 3M is making final preparations to unveil some exciting products  and new colours that will generate huge interest amongst visitors.
At FESPA 2017, 3M's Commercial Solutions Division will launch a number of new film products for a variety of applications. These include 3M Print Wrap film IJ180mC-10 which features Comply Adhesive with micro technology to deliver optimized initial tack, fine-tuned slide ability, easier liner release and a non-visible Comply pattern for a smooth application.
"With the resoundingly positive response we've received from graphic installers regarding Comply Adhesive with micro technology, we knew the next step would be to incorporate the innovation into our IJ180 line, " commented 3M digital products manager Tanu Gupta.
The launch of 3M Print Wrap Film IJ180mC-10 also includes the introduction of clear and metallic options, that enhances the versatility of the IJ180mC range, according to the company.
Also on display at FESPA 2017, will be the new 3M Décor Overlaminate 8600 Series designed to brand and personalise interior work environments.
These textured overlaminates, which improve and add depth to standard wall graphics, will feature in the design of the 3M exhibition stand so that visitors can experience for themselves the look and feel that can be achieved with these new films.
In addition, 3M is previewing at this year's FESPA in Hamburg, the new reflective film 3M Scotchlite Print Wrap Film 780mC for vehicles and car wrappers. It will feature prominently on the 3M stand, giving visitors the opportunity to see the wide retro-reflective viewing angles that can be achieved with it.
"3M Scotchlite Print Wrap Film 780mC is an exciting product addition that enables installers to create truly dynamic graphics that offer brilliant brand visibility, both daytime sparkle and nighttime shine," added Gupta.
"3M™ Scotchlite Print Wrap Film 780mC–10R offers increased conformability and self-healing properties, and will stand up to the rigorous vehicle wrapping process. It is highly durable, allowing seamless moulding around vehicle contours, such as door handles and bumpers, with little or no bruising."
In addition, this product incorporates new Comply Adhesive micro technology with its non-visible air release channels, which helps ease both high precision installations and film removal.
Join 3M at FESPA 2017 for a voyage of discovery
Industry members that are keen to learn more about these exciting new launches, as well as the many other solutions on offer from 3M, can visit the manufacturer at FESPA 2017. Taking place from May 8-12 at the Hamburg Messe, in Hamburg, Germany, the exhibition will play host to many major brands from across the global market.
3M is just one of a host of industry heavyweights that will be in attendance at FESPA 2017, with visitors able to find the company at booth A85 in the sold-out Hall A1, alongside the likes of HP, Canon, Mimaki, Mutoh, Epson, Esko, Elitron and d.gen.
For more information on FESPA 2017, the companies that will exhibit and to sign up to attend as a visitor, please visit: www.fespa2017.com
Delegates can save 70€ entry fee to the exhibition by registering via the website and quoting reference code: FESG702. Discover how a visit to FESPA 2017 can benefit your business and register today.
Interested in joining our community?
Enquire today about joining your local FESPA Association or FESPA Direct