Industry
1000th swissQprint machine in operation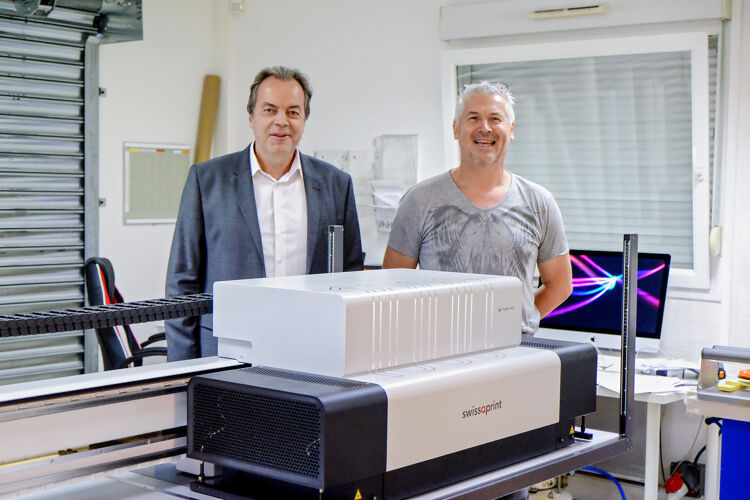 JPC Labo of Marly, France has taken delivery of the 1000th swissQprint large format printer. The Nyala LED has added new motivation into the business with a substantial increase in productivity and an expanded range of services.
JPC Labo of Marly in France operated the 1000th printer from the Swiss manufacturer in May 2018. The business's CEO and owner, Franck Dallefrate explains: "The installation was completed in just one day and production began the very next day. The Nyala LED only needs one day for work that used to originally take a whole week with our old flatbed printer. Franck was interested in acquiring a swissQprint machine for a long time however to do so he needed to restructure his business. "Now we have the ability to generate and process the volume that a printer like this can handle."
swissQprint's partner in France confirmed what Franck already knew: "Other suppliers tried to sell me three different machines to perform all the functions that one single Nyala LED can execute." He mentioned pure flatbed printing, high-precision roll printing and finishing with effect varnish, which he explained was the most important for him. Franck Dallefrate refers fondly to his new large format printer as his "Swiss Army Knife".

JPC Labo initially began as a supplier of photographic services, but today the firm identifies itself as an image and print provider. The development of photos still accounts for 30% of the business because the customer base still includes several photographers. These photographers and artists now take full advantage of the wide range of special options offered by the Nyala LED.

Varnish finishing and multilayer printing are particularly popular. In addition, JPC Labo offers decorative elements for ceilings, walls and floors in hotels and catering outlets and on trade fair stands, POS articles for the retail trade as well as lettering and signage for countless clients.

Franck Dallefrate and his team are eager to experiment and always keep a keen focus on the solutions. Frank comments: "Occasionally, we quote for things even though we don't know how we are going to produce them, but we know that we will manage the job with the Nyala LED."

In addition, the firm is becoming more proactive in proposing new solutions to potential customers. In conclusion, Frank says: "Since we purchased the Nyala LED, our offering has become much broader than it was before."
Interested in joining our community?
Enquire today about joining your local FESPA Association or FESPA Direct