Features
Will super fast Memjet printers carve out new markets?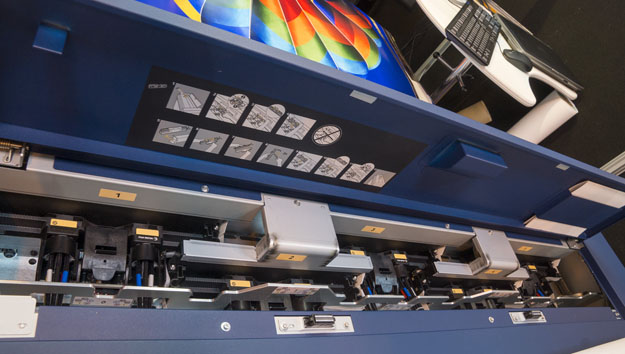 The arrival of Memjet single pass inkjet printheads in the wide format market place has certainly caused a stir. With a heady combination of high speed output and high resolution what new opportunities does this create for wide format printers?
The past couple of years has seen the announcement of four brands of wide format printer all based on different implementations of the 42 inch (1,067 mm) Memjet single pass inkjet printhead array.
Offered by Canon/Océ (as ColorWave 900), ITL Digital (Vortex 4200), Xanté (Excelagraphix 4200P) and Fuji-Xerox (as the Xerox IJP 2000), these are the Formula 1 of wide format, offering a unique combination of very high speed at very high resolution, at prices ranging from about €80,000 to €150,000.
Canon/Océ, ITL Digital and Fuji-Xerox have developed roll-fed printers that differ mainly in the number and type of media feeds, plus software.
Xanté has developed its Excelagraphix 4200 with a substantially different sheet-fed configuration for corrugated and cartonboard, and is pitching it at the short run and personalised packaging market.
While these printers have their limitations, there's no other digital print system in a similar format that even approaches that speed. Right now, the wide format digital print sector is geared to the output capacity of reciprocating head inkjets.
The Memjet based devices are really, really fast: they will consistently output 1,100m2 per hour at 800 x 1,600dpi or half that at 1600 x 1,600 dpi. This means linear speeds of 18.3 or 9.1 metres per minute regardless of print width or ink coverage.
By comparison, a typical high resolution poster and photographic oriented aqueous ink printer such as an HP Designjet Z2100 will output between 13.9 and 15m2 per hour at roughly equivalent resolutions to the Memjet models, and a 1,118mm (44 inch) wide model costs €3,000, give or take a few hundred depending on the dealer.
A fast production-oriented 1,118mm printer such as the HP Z6200 will reach 150m2 per hour if you wind the quality settings down, and this will typically cost €12,000.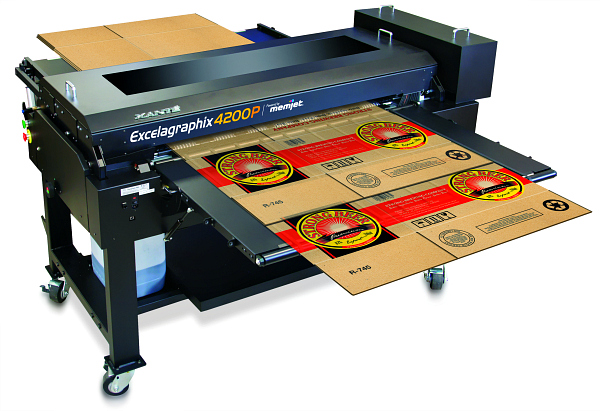 Xanté uses the 42 inch head array in Excelagraphix 4200P, a manually loaded sheet printer mainly intended for packaging work.
In other words, one large format Memjet can do the work of ten typical reciprocating head fast printers, for approximately ten times the purchase price. Just as important is that you can now consider taking on work for almost immediate turnaround, as there's no significant wait for the first copy.
For instance, according to Xerox the average wide format A0 poster order is around 36 prints. With a typical multi-pass head printer this might take five hours or more to complete, it says. With a Memjet based Xerox IJP 2000 printer it would take five minutes.
Running costs are another issue that perhaps we'll look at another time, but let's keep it simple for now. We'll note in passing though, that the very high firing rate of these heads also wears them out quickly, so they need replacing on average after jetting about 3 litres of ink - a fraction of what you'll get from a piezo head. Replacement heads typically cost about €350.
Who needs this performance?
We talked to Kevin Shimamoto, vp sales & marketing for Memjet wide format, about the likely applications for such very high speed wide format print, and asked about what comes next. Is buying one €120,000 printer better than buying ten €12,000 machines?
"While you could gang up ten, 15, 20 printers, there's a significant downside to that solution, in terms of labour and production costs," Shimamoto said. "For example I was talking to a CAD shop that had been running three HP printers.
When they bought a printer based on Memjet heads they told me that it would let them do all of that printing in real time. With the HPs they would have to set them up and run them overnight, then they would have to bring in employees early in the morning and pay them extra to do the production work to meet the deadlines.
"So while multiple printers are achievable, it's not optimal for shops in terms of physical space, labour cost, turnaround time. If they have one printer that can take on more duty cycles from a whole series of different inkjet and toner printers, that's going to mean less costs for them, less repair and service costs, and an faster turnaround. They can potentially charge higher prices for those faster turnarounds."
While Memjet heads allow very high speeds and resolutions, they're also limited, particularly in the inks. These are thermal heads, so they're confined to aqueous inks, while the ultra-fine nozzles mean that currently only dye inks can be used. This means primarily indoor print applications unless you laminate, which adds time and cost.
Even so, you've got a decent choice of inkjet compatible media, including gloss, matt and silk papers, PP, PE and vinyl plastics, backlit media, wall coverings and so on. What are Memjet wide format printers being used for?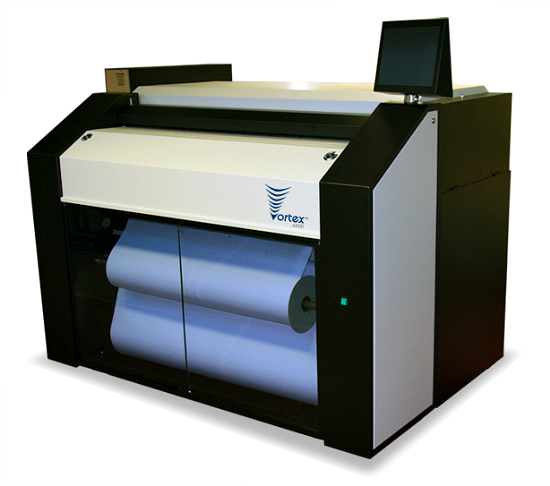 The RTI Vortex 4200 has the lowest list price of the Memjet based wide format printers. It was developed by OWN-X in Hungary, which last year merged with RTI to form RTI Digital.
"There are three primary markets that our partners are targeting," said Shimamoto. "There are plan/map applications that have been served by multiple and fast LED toner, then production graphics (ie signage) using inkjet solvent and UV curable, and then there's the packaging market, which is to do with corrugated and folding carton substrates.
"The competition within all three is vastly different, by technology, by OEM, by costs, speed, price point. It's hard to generally address all of them, but within each of those segments there's a distinct opportunity that our technology and their products can provide unique and valuable propositions of speed, cost and quality that nobody else can match.
You're going to see that some products are faster, such as offset, or cheaper from the hardware side, some have better end quality, such as Epson, but none of them have all the value propositions that we can offer.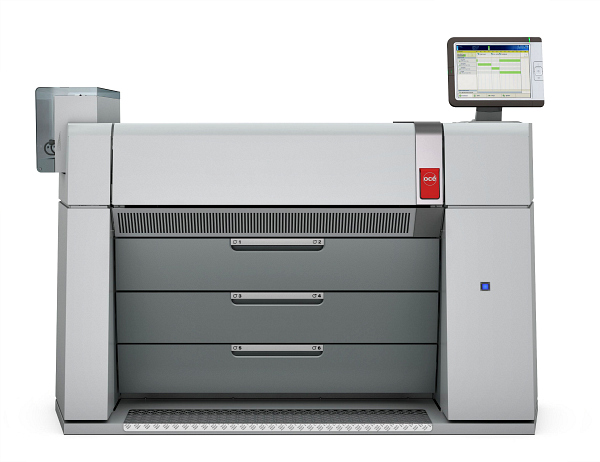 Canon's ColorWave 900 has three trays for up to six media rolls.
"So it's not that we think we'll go in and dominate any of those three segments based on the wide range of competitors that have been established over the past 20 years, because it's a mature market, but we do think there's a new segment that we can create that will be different to anything else that's available today.
"It's similar to the way that Latex has created a new category. I'd say there will be as many offset users who are looking to expand into fast wide format as there are toner or inkjet customers that want to consolidate printers and move into a different type of solution.
I think it's going to be a new category that we define and build with our partners, that is going to distinguish ourselves as a new type of business."
What's next?
While the four OEMs have only started delivering printers in the past year in Europe, already there are indications of faster versions to come. In April Memjet announced a modified printhead for its label configurations, called Aspen.
This is about a third faster, apparently mainly due to improved data drivers. Shimamoto says that this technology will reach the wide format arrays eventually, though he can't say when.
By 2016 we're likely to see a second-generation Memjet head, internally codenamed Angel, which will be still faster, with greater accuracy due to improved data addressing. Apparently it will have wider nozzles that will allow pigmented inks too.
Further off will be an entirely new head technology, which Memjet's CEO Jeff Bean calls "true MEMS" or a "mechanical head." These will compete with piezo heads for lifetime and fluid versatility, he predicts, but at a significantly lower price.
Details are still scarce, but Bean said that "true MEMS" means that the heads will have moving parts grown onto silicon wafers. MEMS stands for "Microelectromechanical system" and in this case means it will have actual moving components rather than the essentially solid state pumping of a piezoelectric or thermal printhead.
It seems that the components will be tiny opening flaps in the nozzle plate of the print head, made using a process similar to that that used to make tiny moving mirrors (Digital Micromirror Devices, or DMDs) on silicon for use in digital projectors.
Interested in joining our community?
Enquire today about joining your local FESPA Association or FESPA Direct