Features
What should you buy? Wide format technologies compared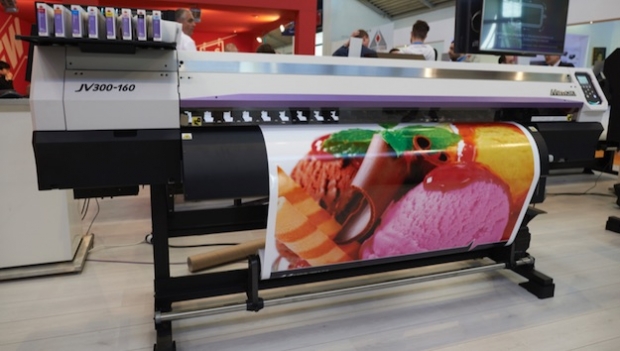 <br><br><br><br><br><br>The term 'wide format' covers a huge amount of different digital technologies, but how well do you understand the different options and what's best for your company?<br><br><br><br><br><br>
Wide format digital printing is a mature business sector, which has developed over the last two decades and includes several distinct technologies.
It continues to evolve rapidly so it pays to continually evaluate the capabilities of the different printers, inks and consumables to keep up with what can be achieved in the most cost-effective manner.
In subsequent sections of these guides we'll explore some of the underlying technologies such as the different types of inks and substrates. But there are a number of basic questions that we'll go through here.
The first is whether the graphic is for indoor or outdoor use. Some printers use aqueous inks that are better suited for indoor use as the inks won't stand up to bad weather, though the prints can be laminated.However, aqueous printers are cheaper than outdoor printers and can give very high quality results. They often feature eight or even 12-colour inksets to cover a very wide colour gamut.
That said, today's outdoor printers can produce extremely good results and many online photo bureaux use outdoor printers because of the range of materials that they will print on. Of these, solvent inks will work with most media, and are suitable for outdoor applications for several years.
Latex is often marketed as an environmentally- friendly alternative, because the inks are mainly water-based. However, they use an enormous amount of heat energy to dry the water out of the prints. UV-curable ink printers will print to an even wider range of media, including direct to rigid substrates but tend to be more expensive.
The printers themselves use either a roll-fed system for handling flexible substrates or a flatbed design for rigid board materials. Most of the smaller roll-fed printers come in a choice of 1.3m and 1.6m widths and can handle many applications from banner advertising through to vehicle graphics.
Flatbed printers, such as this Screen Truepress Jet W3200, offer high productivity and good image quality for rigid substrates. Photo©Nessan Cleary
There's also a class of superwide printers that are typically 3.2m wide, with some going up to 5m wide, which is ideal for printing large banners and building wraps. Most of these printers can print either across the full width or to two smaller rolls side by side, each with completely different images.
Flexible media can be laminated to boards, but it's generally better to print direct to rigid media using a flatbed printer. It's a quicker, and therefore cheaper process and the results are likely to be consistent as the media is held still while the print heads move across the bed.
Flatbeds are available in different sizes and at different price points from entry level machines up to high volume production printers capable of challenging screen printers for longer run jobs.
The budget machines tend to compete on price and image quality, but there are now a number of mid-range flatbeds that offer a good compromise between image quality and speed. They also have the advantage of lower ink prices, as they use much higher ink volumes.
Many printers are hybrids capable of handling both roll fed and rigid media. But whereas in the past most hybrids were adapted from roll fed printers and had tables either side to support rigid media, nowadays many flatbed printers offer roll feeding options for handling flexible media.
Most wide format printers use multiple passes to build up an image. This means they create a high resolution image by filling in gaps in each successive pass.
It also allows the printer to cope with problems such as blocked nozzles that might otherwise cause lines or other artefacts on the image. But while multiple passes can improve image quality, it also slows down production.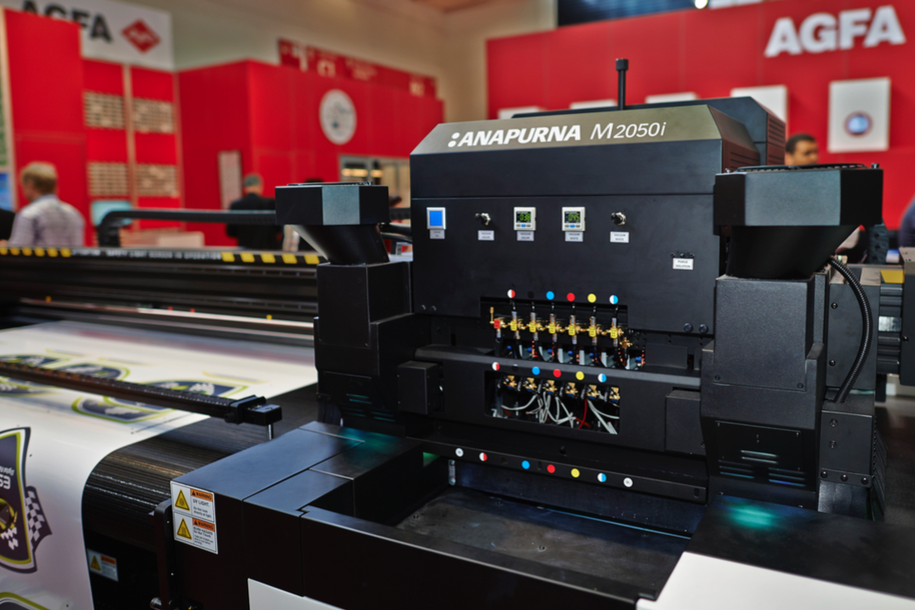 The printheads scan back and forth to build an image so that there's a balance between image quality and productivity. Photo©Nessan Cleary
Thus, much wide format production involves striking a delicate balance between image quality and productivity. For this reason, many people quote a 'viewing distance' for wide format graphics.
Thus a poster in a shop will need much higher resolution because customers may be standing next to it, whereas a banner on the side of a building will only be seen from some distance and can be printed faster with less passes.
Colours
In theory the CMYK process colours should be adequate for producing most colours,but many print engines use additional inks, usually light cyan and light magenta for better gradients, particularly for areas such as skin tones.
Some also have options for extended colour gamuts adding orange, violet and green. The downside is that extra colours add to the cost and may not be necessary for graphics viewed from a distance.
Many engines also have white as an option. White ink is essential for some jobs, such as window graphics where the white ink can lay down a backing to enhance the colours. Most devices can also print a graphic in multiple layers, which allows for double sided window graphics with the white in the middle to prevent show through from one side to the other.
However, white ink has larger pigment particles than other colours and so tends to slow down the printing. Jobs that use white ink have to be carefully scheduled in the print queue so as not to delay other work. This is especially the case if the white is to be flood coated over the whole job.
Most digital printers have two white ink channels to cope with this. White ink tends to be more expensive than other colours, and doubly so if two white channels are used. In addition, the printheads will dry out if the ink isn't used frequently, so many companies prefer to avoid white ink, especially as most substrates are white.
That said, white ink can improve colour vibrancy on cheaper and some recycled materials that don't have a pure white facing.
Some solvent printers also offer metallic effects. Typically these work by using a silver base and then adding process colours to create tints, such as a yellow to create a gold. Many wide format digital print engines also offer varnish, essentially a clear ink, as an option for one channel.
This can lead to some interesting tactile effects, if the graphic is meant to be touched, and can highlight parts of the image. It's particularly useful for producing packaging or retail graphics. Many vendors also claim that clear ink offers enhanced protection forthe print, though laminating is probably a better option.
Textiles
Wide format digital printers can print to an enormous range of substrates, which we'll cover in more detail in further stories in this series. But it's worth noting that there is a growing interest in printing display graphics such as banners to textiles, sometimes known as soft signage. Textile banners
are easier to transport and to store than conventional materials like vinyl and, being washable, easier to keep clean for re-use.
In addition, textiles are easily recyclable, making them a much greener alternative. Most of the textile materials used for graphics are a polyester blend and there's a wide range of different materials from banners through to tee-shirts.
The main method of textile printing is dye sublimation, which usually involves printing the image first to transfer paper and then using a heat press to fuse the image to the fabric. This process drives ink colourants right into the textile fibres so that the material retains its natural look and feel.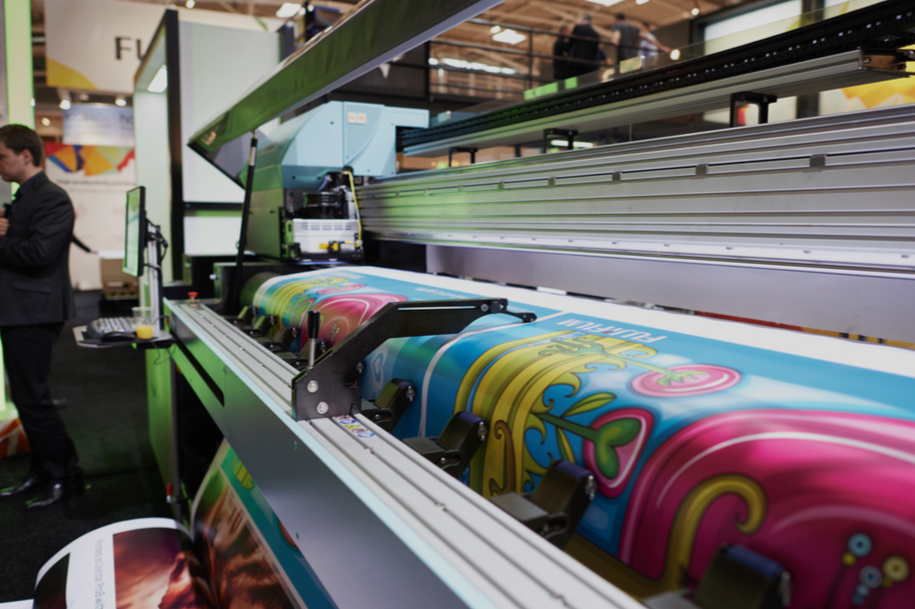 Superwide printers, like this Fujifilm Uvistar, can hand banners up to 5 m wide. Photo ©Nessan Cleary
However, some digital printers can print direct to the textile. It's also possible to print direct with latex or even UV inks, saving the cost of specialist printers and finishing equipment. The inks tend to sit on the surface, but the results are adequate for flags and banners.
Workflow software
In general, wide format workflows are not as advanced as those used in general commercial print. Some printing engines come with their own Raster Image Processor (RIP) and most dealers will recommend or bundle a RIP for each machine sold.
RIPs have developed considerably over recent years, becoming digital front end systems that include basic layout tools such as tiling and nesting. Most support colour management.
Most Management Information Systems (MIS) and web to print programs can cope with the demands of wide format digital: short runs of non-standard materials and assorted shapes and sizes. Consequently, web to print software is becoming more widely used in wide format, for easier job submission, supporting online comment and approval, as well as variable data printing.
Finally, it's worth noting that the same basic wide format digital output technology can be used to create a huge range of products, from posters and banners through to free standing point of sale displays, as well as packaging and even some garments such as tee-shirts. This flexibility and scope have helped to fuel wide format digital printing's growth. There really is no limit, only one's imagination.
Interested in joining our community?
Enquire today about joining your local FESPA Association or FESPA Direct