Features
What's new with wide-format inks?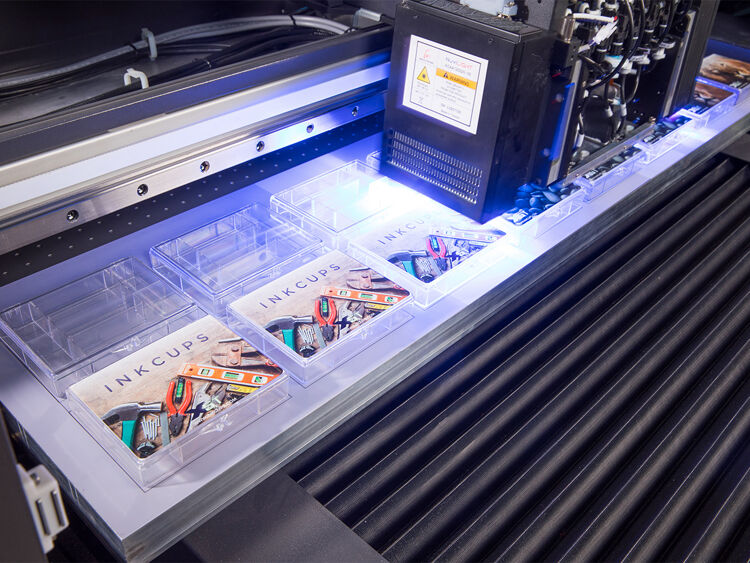 With demand for wide-format print work hitting new heights, Rob Fletcher casts an eye over the latest ink options on the market and finds out how these new products can help improve output.
Wide-format print has been one of the most talked-about markets in the industry for some time now, with the sector seeing tremendous growth, as demand for this type of work increases and more companies diversify into the area in order to take advantage of this trend.

However, with this comes more competition and companies in this market are constantly seeking ways to stand out among others and secure repeat business. One sure-fire way of making your company shine is producing the best possible work for customers; if your output is of high quality, this will speak volumes about you and your business.

Investing in new printing kit can help to boost output quality, but by taking a closer look at production and the materials you use can also help add extra sparkle to your work. Manufacturers and suppliers are always working on bringing new inks to market in order to help wide-format print companies gain an advantage, but the difficult part is deciding which products are best for you.

With this in mind, FESPA.com takes a closer look at some of the new wide-format inks to hit the market…
Helping printers save time and money
One of the leading names in printing ink is Nazdar Ink Technologies, which offers those in the wide-format sector a host of options to suit their various budgets.

Stephen Woodall, market segment manager for aqueous and solvent digital at Nazdar, opens up about the company's wide-format 'plug and play' high-performance alternatives to original equipment manufacturer (OEM) inks. He says that these inks offer end-users the opportunity to reduce costs without compromising on quality when running their Roland and Mimaki wide-format digital printers.

"The Nazdar range offers exceptional colour and chemistry compatibility, quality and cost effectiveness combined with a seamless conversion process, enabling users to switch one colour at a time to save time and money," Woodall said.


Caption: Nazdar has developed a wide portfolio of inks, ranging from options for use on certain print machines, to products that can work with various kit models

For Roland users, Nazdar's 203 Series Inkjet Imaging Inks offer an alternative to the Roland Eco Max 3 original inks. Specifically formulated to provide ease of use while handling the demands of faster print speeds, Woodall said the Nazdar 203 Series not only offers convenience and performance but also great value.

Focusing on users of Mimaki kit, Nazdar offers the 130 Series inks, which are designed specifically for use in a range of Mimaki digital printers running SS21 inks.

Woodall said: "Due to the complete chemical and colour compatibility, OEM inks can be replaced with Nazdar inks as they run out, rather than all colours at the initial install. This saves both time and money as there is no need to perform wasteful ink fill procedures or dispose of unused ink."

Expanding on this, Josh Lutz, market segment manager for UV Digital at Nazdar, says the company is able to help uses of other wide-format print kit. He picks out the Nazdar 730 Series, an all-purpose ink for UV flatbed cured by conventional UV.

Lutz said: "This ink is capable of running in many machines with many different print heads. On our website, you will find all the machines we have validated for use with this ink. If your machine is not listed on there, please reach out to us and we will see if we can add."

Nazdar also has the Nazdar 749, a complement ink series for roll-to-roll UV/LED as well as flatbeds that predominately print flexible media. Meanwhile, Nazdar 710 is a true LED ink set that has low odour that offers excellent adhesion and flexibility to general POP media. There is also the Nazdar LED260, designed to run at room temperature in lower-cost, unheated print heads and have been optimised to cure with LED lamps.

In addition, Nazdar offers several 'Plug & Profit' inks to complement aftermarket options. The Nazdar 702N series is designed for use in the Océ Arizona printers using IJC256 inks as well as the Nazdar 703N for use in the Fujifilm Acuity printers using KI inks.

The Nazdar 705 series is designed for the HP Scitex FB 500, 700 and 950 printers using 250 Series Ink, providing a drop-in replacement for the OEM inks; for most users, Lutz says this means profiling is not necessary.
Paying attention to the environment
Another leading name in ink technologies is Sun Chemical, which offers inks for a range of print markets, including graphics, digital textile and industrial. Last year, the company used the FESPA Global Print Expo to showcase some of its latest inks to the market, and has since reported a strong uptake in these products.

Among the options for both the screen and wide-format graphic arts markets is Streamline UML, a solvent-based, alternative inkjet ink, designed for wide- and super wide-format printers. Sun Chemical demonstrated the ink at FESPA 2018 on Mutoh printer.

In a statement, Sun Chemical said: "Streamline UML is colour-matched to the popular Mutoh UMS CMYK ink series, formulated from Sun Chemical's highly successful High Print Quality - Low Odour backbone ink chemistry platform with Greenguard Gold certification for indoor emissions."

Also new to the Streamline range is the Rapide 'value' series of solvent inks, which Sun Chemical says has been developed in response to the challenge facing many printers of managing operating costs to maintain profitability. Rapide 'is available for both super wide and wide-format printer platforms.

Sun Chemical also stocks inks in its other ranges that may be suitable for use in wide-format work. Classed as an industrial ink, SunMotion is billed as a viable alternative to back lit signage and LCD displays.


Caption: Sun Chemical offers ink options for graphics, digital textile and industrial print

Sun Chemical said: "Through the use of invisible ink printed onto plastic substrates that come alive when exposed to focused LED lights, SunMotion provides brand owners with alternative colour and motion advertising."

Then there are a number of new textile inks that may prove useful in certain wide-format jobs. For example, SunTex is Sun Chemical's range of four textile inkjet inks, optimised for Epson and Ricoh printheads. Formulated to enable long print orders on high speed printers, SunTex inks meet the Oeko-Tex EcoPass certification, which Sun Chemical says enables printers to achieve the Oeko-Tex 100 printed garment certification.

In addition, Sonata DTE is formulated for printers with faster twin Epson DX 6-7-TFP printheads, Sonata DTE is suitable for transfer and direct-to-fabric printing, and is available in one litre screw-top pouches and two litre MBIS compatible pouches.

Meanwhile, for print companies seeking focused inks suitable for a certain type of kit, there is a whole host of options out there. An excellent example of this is from Sawgrass, which late last year rolled out the new Ultra-HD FLEX set eight-colour sublimation inks for the Virtuoso HD Product Decorating System with VJ 628 printers.

Sawgrass said Ultra-HD FLEX is designed to eliminate the long-standing trade-off between the need for vivid colour and detail. The new range has been developed to offer more flexibility to users, offering CMYK, plus light cyan and light magenta inks in one set, as well as true fluorescent yellow and pink capabilities.

Darcy Mauro, president of Sawgrass, said: "Ultra-HD FLEX is a unique eight-colour ink set that offers true fluorescents, a whole palette of spot colours and the deepest, most neutral blacks of any Sawgrass ink. It's been recognised by one of the foremost authorities in the industry for its quality and versatility."
Protecting your technology investment
Delving further into this market and Inkcups offers a number of inks for those companies active in markets related to wide-format, including personalised print. Marketing manager Jessica Makrinos highlights how purchasing quality inks is not only important for obtaining optimum results in the final product, but also to ensure the longevity of the printing machine.

Makrinos said: "Quality inks will produce vivid colours and show-stopping graphics, as well as easily pass a number of industry-required adhesion tests. Additionally, quality inks will help users avoid ink system issues and will increase the longevity of filters or pads."

Inkcups offers a range of pad printing inks as well as inkjet printing inks. In total, the company has four different inkjet inks for use on a variety of substrates such as glass, flexible items and even edible items.


Caption: Inkcups says that all of its ink products have passed the required industry compliance testing procedures

Inkcups also stocks nine pad printing inks for use on materials such as silicone, polypropylene and glass, and, to further ensure adhesion, Inkcups provides a selection of pre-treatment solutions and primers.

Makrinos said: "Our inks have passed all industry-required compliance testing and more, and the Inkcups Compliance Team is constantly reviewing this information to ensure it is current. Additionally, we provide colour matching and adhesion testing services to prove out which ink is best for a substrate."

Among the latest inks from Inkcups is the DL Inkjet Series Ink, which Makrinos says has shown excellent adhesion to glass and plastic items. Inkcups has also released a glass pre-treatment solution called MagiCoat, while plans are in place to introduce new pad printing and inkjet printing inks for specialised substrates later this year.

There is clearly plenty of choice for print companies when it comes to looking at alternative inks for use in production. However, with this comes the challenge of identifying the best solutions for your business. By working with ink specialists such as those cited here, you can learn more about the benefits of each product and visualise how it can help you improve output.

You can visit Nazdar at the Global Print Expo 2019 at stand B5 – F50. Sun Chemical will be exhibiting at stand B4 – K10 and Ink Cups will be exhibiting at stand A5 – H70. FESPA Global Print Expo 2019 is Europe's largest speciality print exhibition for screen and digital wide format print, textile printing and signage solutions will take place at the Messe Munich between the 14-17 May. Visitors for all spectrums of the print industry can experience the latest products and innovations on display from 700 global manufacturers and suppliers. Please use promo code FESG902 to register for free.
Interested in joining our community?
Enquire today about joining your local FESPA Association or FESPA Direct