Features
Understanding HP PageWide Technology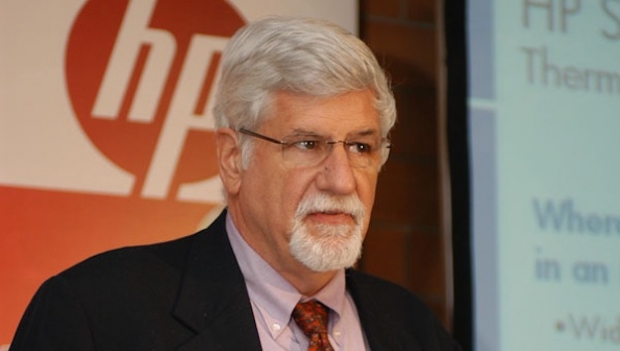 HP Senior Technical Specialist Dr Ross Allen explains how PageWide was born and how it stacks up against the competition.
In June 2014, HP announced it would 'disrupt' the US$1.3 billion production print market – previously dominated by monochrome light-emitting diode (LED) printers – with its PageWide technology.
Its existing small-format inkjet-based PageWide Technology would be scaled up for the large format print sector thereby enabling the delivery of high-quality wide format prints at faster speeds and lower per-page costs.
In April this year the company launched its wide-format PageWide XL machines and at the end of September introduced its first two high-speed web inkjet presses powered by High Definition Nozzle Architecture (HDNA) technology.
At a recent HP masterclass held in London, Dr Ross Allen, Senior Technical Specialist and Inkjet Technology Scientist, talked about how HP's PageWide was born and how it works.
Allen took us through a very impressive journey, which began in 1984, with the intention to push HP's inkjet performance advances by Moore's law. In fact for over 30 years, the performance of HP Thermal Inkjet printers has doubled every 18 months. The new enhanced PageWide technology has exceeded this by pushing productivity eight times higher.
"We have a technology in the inkjet that can put a very precise amount of chemicals exactly where we want it. If you think about our latex printers, we are injecting ink that's full of polymers, full of anti-scratch agents and full of pigments. This thing has almost no resemblance to a dye-based ink because it's very complicated.¨
"We know how to do really complex fluids and that technology is going to transfer into new generations that push on all these different performance factors."
What powers HP innovation?
Unmatched vertical integration, said Allen. "Printing Solutions are the result of printheads, ink and media, writing systems, image processing, HW & FW based on unique intellectual property, research and development plus manufacturing and support."
"HP as a market leader works on inkjet innovation around the globe at any time. In fact: The HP PageWide printhead is built with thousands of identical drop generators that offer uniform volume, speed and trajectory for precise printing. The technology also regulates the speed and penetration of original HP pigment ink to accelerate drying and to control dot size, feathering and colour-to-colour bleed for high-quality prints."
The HP R&D team, explained Allen, has been working on page-wide printing for over a decade, with chemistry, not mechanics proving to be the big stumbling block.
"People often ask what is the most difficult part of inkjet and I answer without hesitation the development of ink. People ask if it's hard to make a printhead that generates precise drops that go where you want them to and yes it is, but the most difficult technical part is ink. Because ink affects everything in the printer, from the colour gamut to the reliability, durability: everything."
"Particularly in commercial applications, where we're also concerned about hazardous air pollutants and volatile organic compounds, that can keep a print shop from printing at their full capacity because the local government comes in and says 'too many chemicals going outside - you can't print more that so much'."
Future roadmap for PageWide technology
When asked if PageWide could go further and be applied to commercial printing, Allen said: "It's an area we see as an opportunity. Logically that would make sense. PageWide Technology has built-in flexibility from five inches to almost any width. It's completely scaleable."
"Precision paper handling, keeping the paper flat in the print zone and controlling the leading and trailing edge is a technical issue we have to address. Although you could argue that our PageWide XL printer is half sheetfed, it's dynamically variable sheetfed inkjet web, so we have it already, in a way, in our toolkit."
"We are always looking five-to-ten years out. We work on a lot of projects and have technology that might have been in the lab for ten years. Then when an industry is ready, we can commercialise it."
The company has already made a 1.06m-wide (42in) printhead array for its T400 PageWide Web Press and a 2.8m-wide version for the T1100S web, a joint venture with KBA aimed at the corrugated pre-print market.
PageWide technology can be key to HP's 3D printing ambitions
Allen also spoke about the potential for PageWide in textile and additive manufacturing (3D printing). The company plans to use its revolutionary technology in its upcoming 3D printer line-up.
"PageWide relates to 3D printing because we get the speed in the multijet fusion architecture (that we call our 3D printing solution) by printing across the entire workplace or 'workpiece' at the same time. So rather than drawing a line or printing in a limited area [as in most additive printers], we print 'across the page', which is the width of the powder-bed in a plastic powder-based first-generation 3D printer.¨
¨We're actually using the same printhead technology than we're using in our web presses PageWide XL but with a difference set of water-based fluids that accomplish the 3D fusion technology. Speed is one of the key advantages in the ability to print across the entire workpiece in one go.¨
HP is readying a 3D printer also utilising this technology, with beta installations scheduled for late 2016.
A primer on the HP thermal inkjet technology
Since the invention of the HP thermal inkjet in 1979, HP engineers have sought to understand what happens inside a printhead on the scale of microseconds and micrometers. This requires expensive and highly-sophisticated laboratory equipment including microscope optics, high-speed and high-resolution video cameras, nanosecond pulses of light to freeze motion, and the testing of printheads and fixtures.
There are only a few researchers who have entered the shadowy, microscopic world of drop ejection and drops landing on paper. And, no once has seen — or even can see — the HP Thermal Inkjet printing process end-to-end from the formation of a vapor bubble in the ink to making a dot on paper. That is practically-impossible given different time scales, illumination, camera angles, and the microscopic physical spaces where things happen.
Using the latest technologies in computer animation, driven by the physics of the process, HP has produced a technically-accurate and insightful full-color movie that takes you inside HP Thermal Inkjet to see the process like never before. You'll learn how the vapor bubble in the ink grows and collapses to push a drop of ink out of a nozzle, how a drop forms and flies to the paper, and what happens after drops land on paper.
Interested in joining our community?
Enquire today about joining your local FESPA Association or FESPA Direct