Features
Top 20 vehicle graphics applications of 2016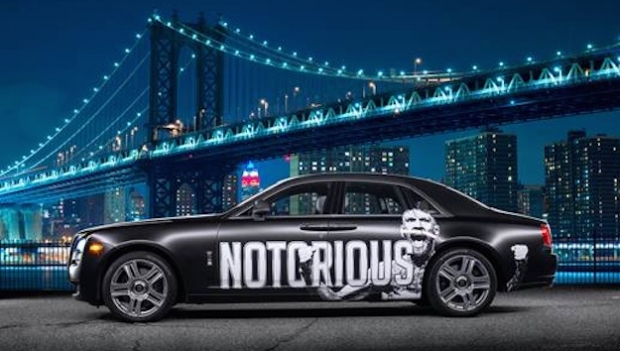 Vehicle graphics is widely regarded as one of the fastest growing sectors of the industry. With this in mind, FESPA takes a look at some of the best applications in this area of the market from the past 12 months. 
If there is one form of advertising you cannot escape, no matter where you might be, it's vehicle graphics. From driving down the motorway behind a lorry or van, to ordering a takeaway, delivered by a driver in a car sporting the restaurant's brand, applications come in many ways.
And while most companies use this media as a way of advertising a business 24 hours a day, it can also be used to produce many other colourful and creative designs to help catch people's eye.
Here, we look at some of the best examples of work from the vehicle graphics sector in the past year and find out a bit more about how this media can be used in many weird and wonderful ways.
Wrap to the future with BMW i8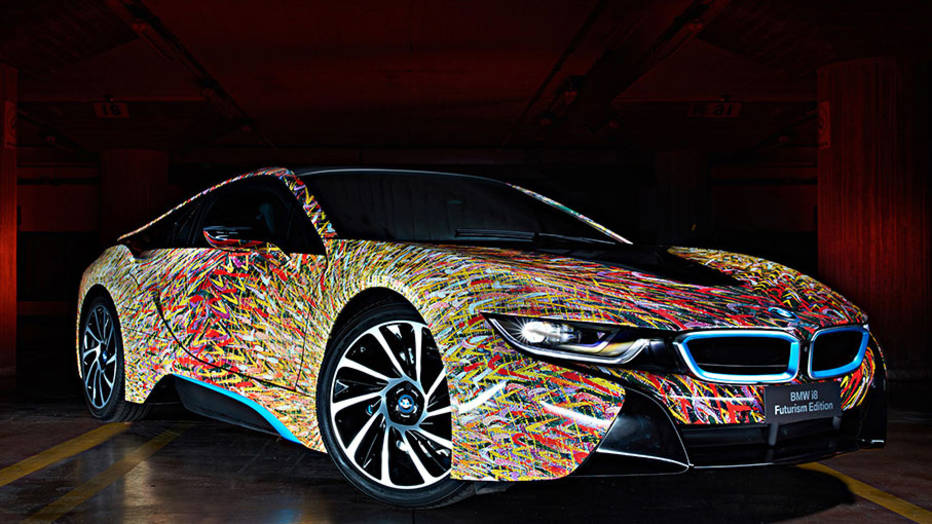 Designer: Giacomo Balla / Garage Italia Customs
Description: Garage Italia Customs wrapped a BMW i8 with a design replicating futurist painter Giacomo Balla's 'Lampada ad Arco' – work that dates back to 1909. The special project was carried out to celebrate 50 years of BMW in Italy.
Picture: Courtesy of BMW Italia
Walt Disney World heads for the skies with TAM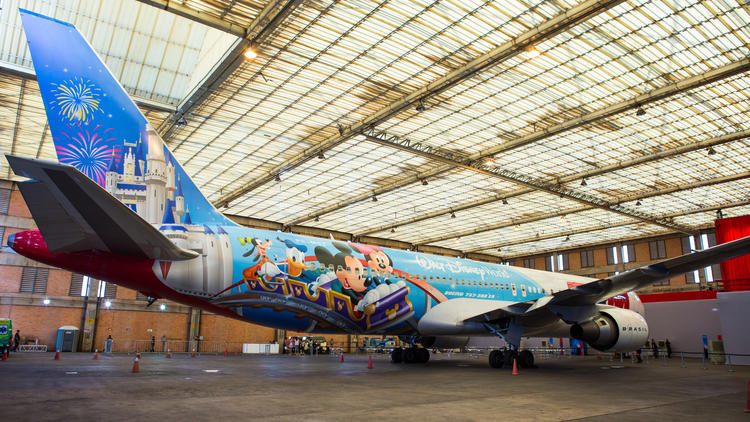 Designer: TAM / Walt Disney World
Description: Brazil's TAM became the first airline in Latin America to wrap one of its plans with a special Disney character design. One of TAM's Boeing 767-300s featured the wrap to help promote Walt Disney World in Orlando, Florida, one of the many international destinations TAM flies to.
Picture: Courtesy of Guilherme Kardel
Saftey first for MotoGP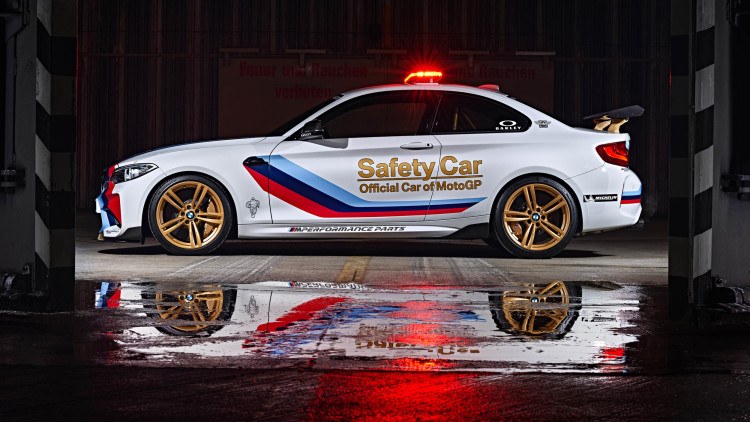 Designer: MotoGP
Description: Although motorbikes may be the main attraction at the MotoGP World Championships, the safety car plays a major role in protecting riders.
This year, a BMW M2 was kitted out with a host of interior and exterior features, including colourful vehicle graphics with BMW's signature stripes, to help it stand out to the series' hundreds of thousands of fans worldwide.
Picture: Courtesy of MotoGP
Budapest 2024 bid takes flight with Wizzair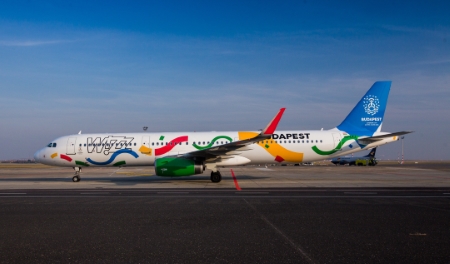 Designer: Wizzair
Description: In 2016, Eastern European airline Wizzair threw its backing behind the Budapest bid for the 2024 summer Olympic and Paralympics Games by decorating two of its planes in themed livery. An airbus 321 and 320 will display the themed décor until the end of August.
Picture: Courtesy of Wizzair
Trump wins US Presidential race…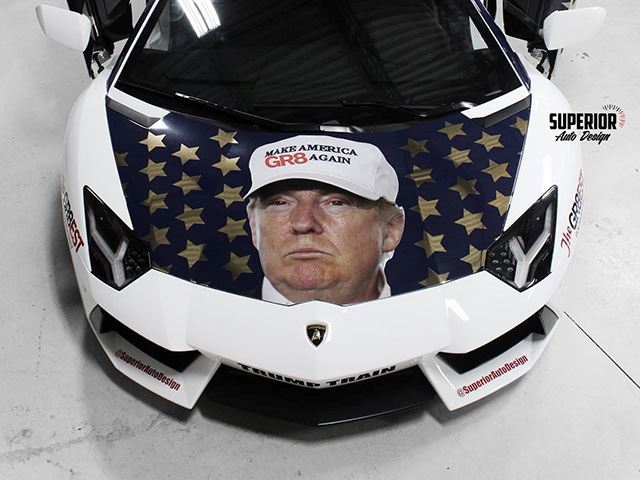 Designer: Superior Auto Design
Description: Having featured in a number of our other Top 20 feature articles, US President Elect Donald Trump also makes this feature.
Florida firm Superior Auto Design wrapped a Lamborghini Aventador for the 2016 goldRush Rally with not only an image of Trump's face and his 'Make America Great Again' campaign slogan, but also the words 'You're Fired', made famous by Trump during his days on reality television programme 'The Apprentice'.
Picture: Courtesy of Superior Auto Design
Chomping at the bit for the goldRush Rally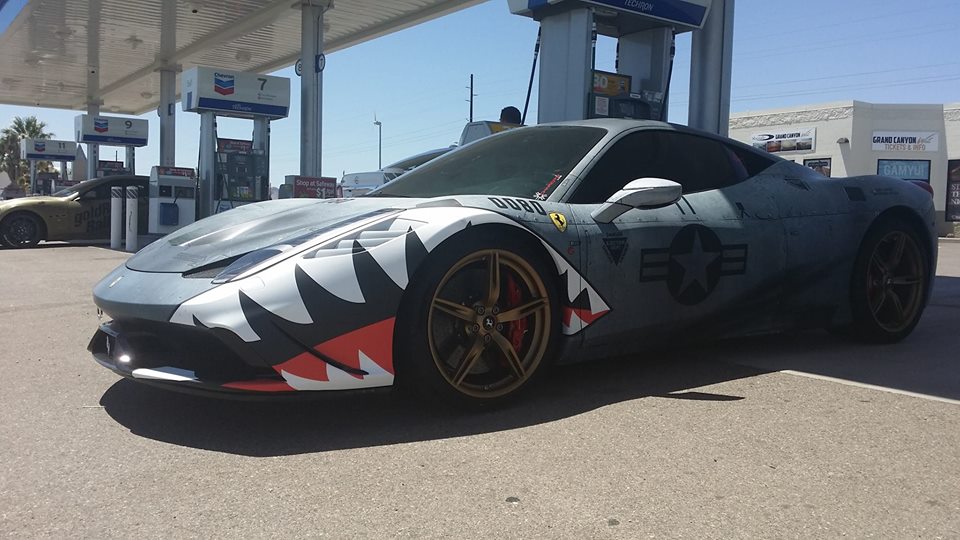 Designer: Unknown
Description: Also featuring at the goldRush Rally was this Ferrari 458 Special, which was given a special makeover to feature a design that looked to scare off rival cars. Lightly different to the Donald Trump design, but, arguably, equally as scary…
Picture: Courtesy of Gumbal / Drew Londquist
How do you like your eggs in the morning?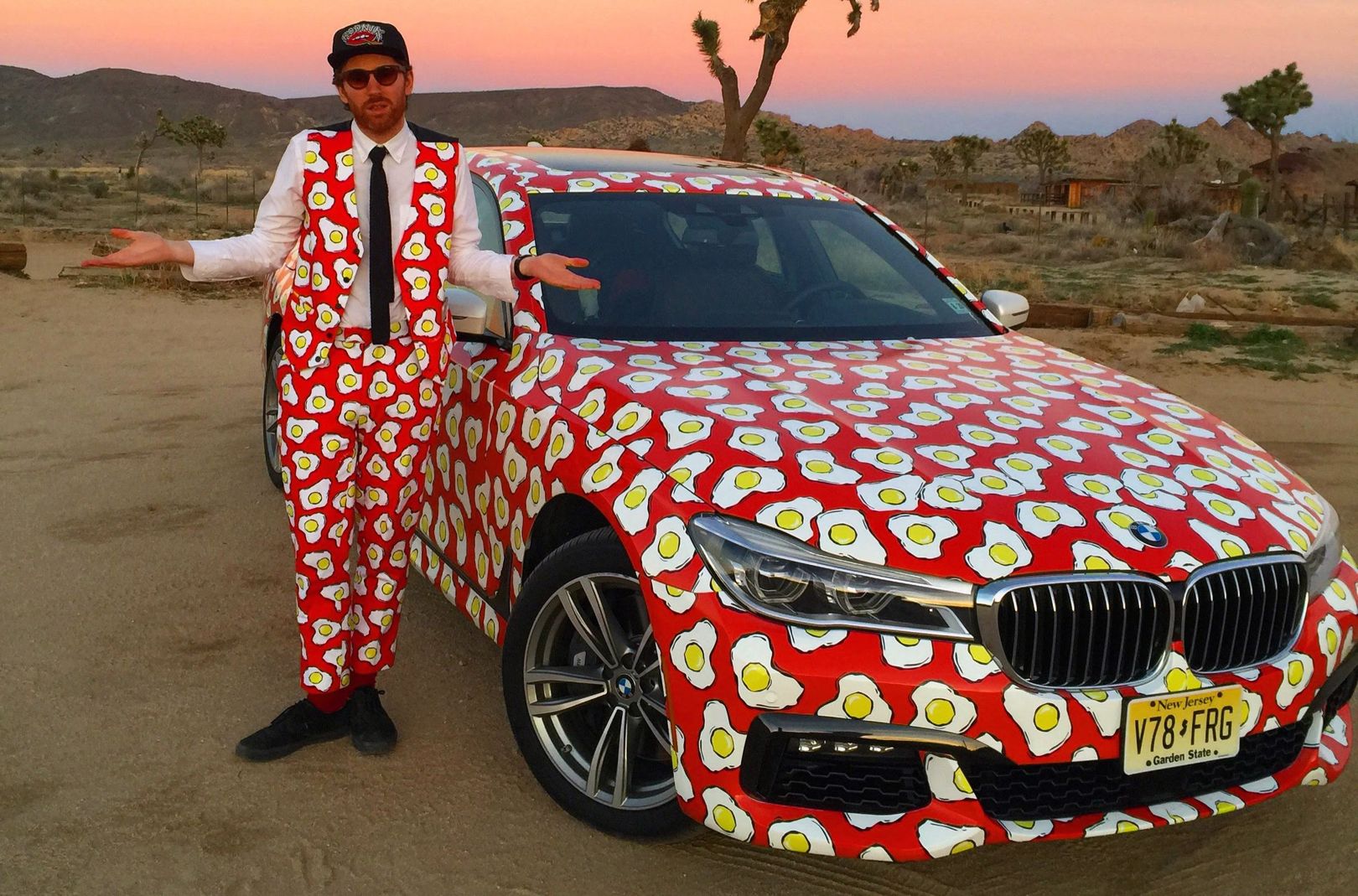 Designer: Philip Colbert / LA Car Wrap
Description: Philip Colbert, the British artist and fashion designer behind The Rodnik Band, called upon the expertise of LA Car Wrap to decorate a new BMW 7 Series with fried egg prints. Colbert has featured similar patterns in some of his previous work, and even donned a matching suit to mark the latest occasion.
Picture: Courtesy of GQ
Pokémon Go, Go Go with BMW i8 wrap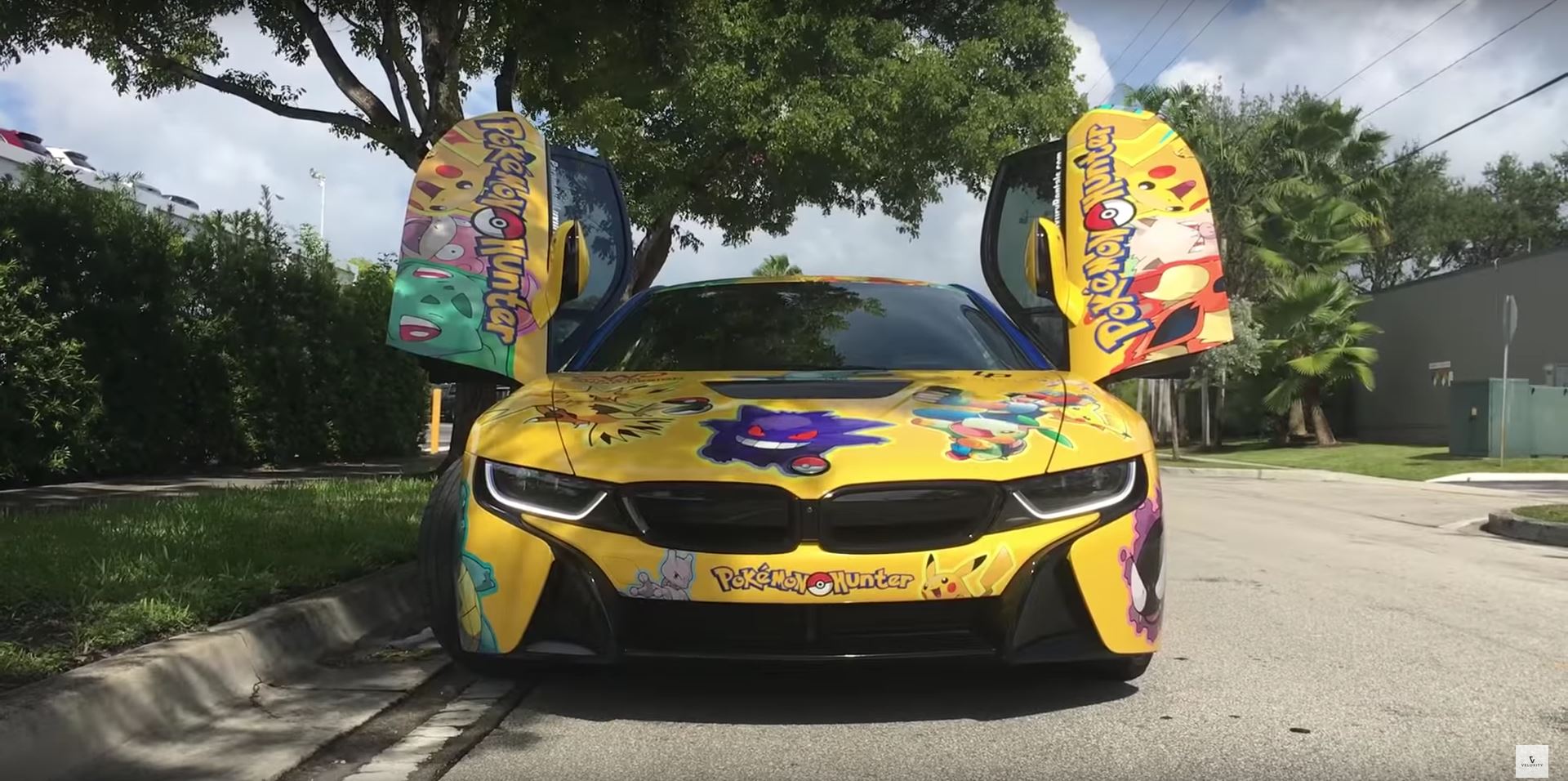 Designer: Veluxity Car Rentals
Description: Last year, Pokémon Go proved to be a big success, with people from around the world, both young and old, taking to the mobile game to capture the animal-type monsters. To celebrate the game, Veluxity Car Rentals in the US transformed a BMW i8 into a 'Pokémon Hunter' car, complete with images of some of the game's popular characters.
Picture: Courtesy of Veluxity Car Rentals
Alaska Airlines takes off with major rebrand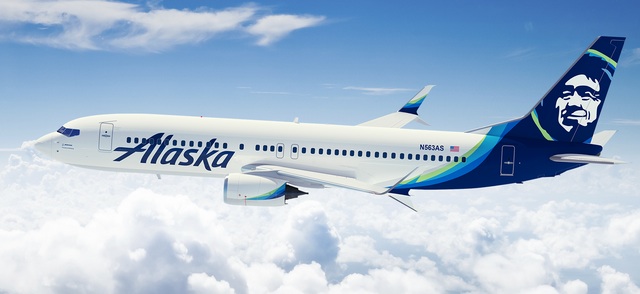 Designer: Alaska Airlines
Description: Alaska Airlines underwent a major rebrand for the first time in 25 year, changing the look of its fleet. The new blue and green livery features an updated logo, but keeps the famous Eskimo icon that has appeared on aircraft since 1972.
Picture: Courtesy of Alaska Airlines
Happy birthday Your Majesty, from Great Western Railway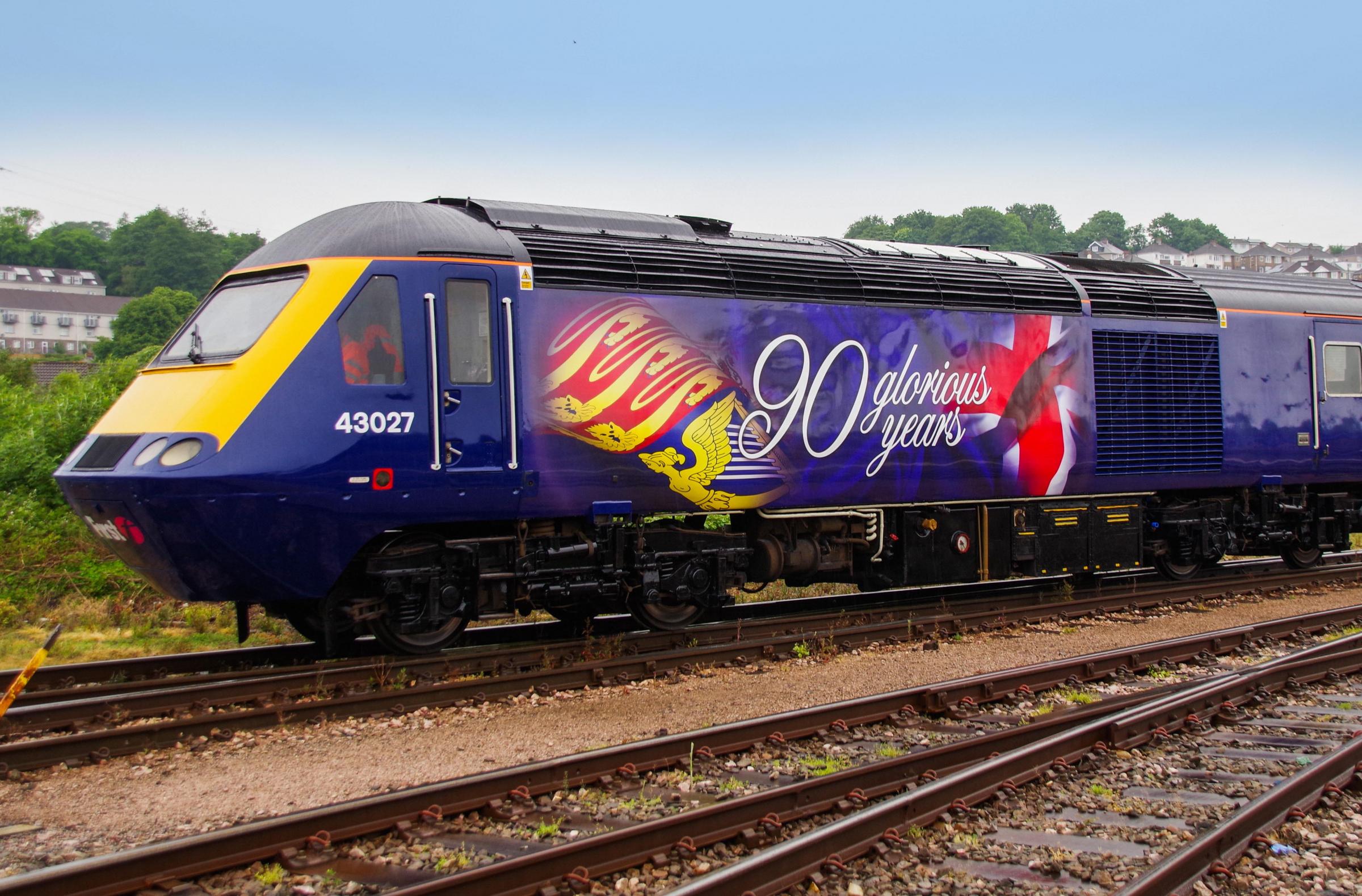 Designer: Great Western Railway
Description: Great Western Railway wished HM The Queen a happy 90th birthday this year by producing a special wrap for one of its Class 43 High speed Train cars.
The train carried images of flying flags of the Royal Standard and the Union, as well as the text '90 glorious years'. To view a video of the wrap being installed, visit: https://www.youtube.com/watch?v=Fx9WmUEAElA
Picture: Courtesy of Oxford Mail
Flying without wings with HEXIS and Nocturnal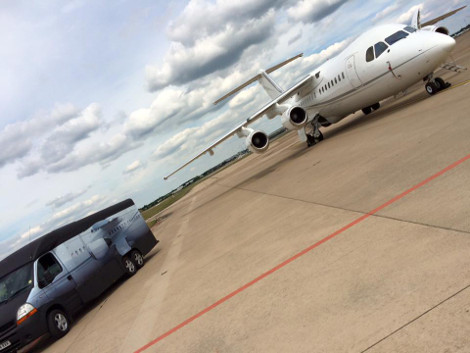 Designer: Nocturnal / High Society Limousine
Description: UK company Nocturnal took on an unusual vehicle wrapping job by transforming a limousine into an Airbus, private plan-type aircraft for High Society Limousine. The firm used Hexis HX190WG2 50-µm vinyl for the graphics and Hexis PC30G2 gloss laminate for sealing the images.
Picture: Courtesy of HEXIS UK
Conor McGregor packs a punch with Notorious Rolls Royce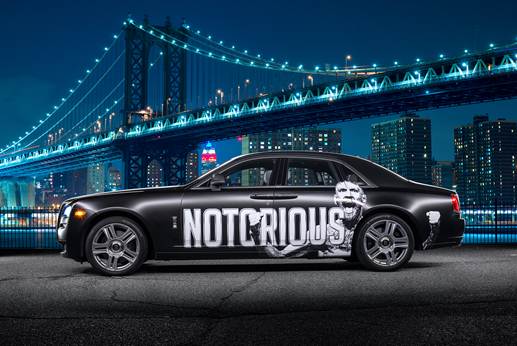 Designer: WrapColors.com / Rolls Royce North America
Description: Ultimate Fighting Championship star Conor McGregor, known for his extravagant lifestyle, took this to a new level last year in a collaboration with WrapColors.com and Rolls Royce North America. A Rolls Royce Ghost was wrapped in a design featuring McGregor's 'Notorious' catchphrase nickname ahead of the Irish fighter's bout with Eddie Alvarez.
The wrap featured a 3M 1080 Series Satin Black Full Wrap finish, with McGregor's own face splashed across the side of the car in 3M IJ180CV3 Media and 3M 8519 Luster Laminate.
Picture: Courtesy of WrapColors.com
Jim Miller take FESPA World Wrap Master title for 2016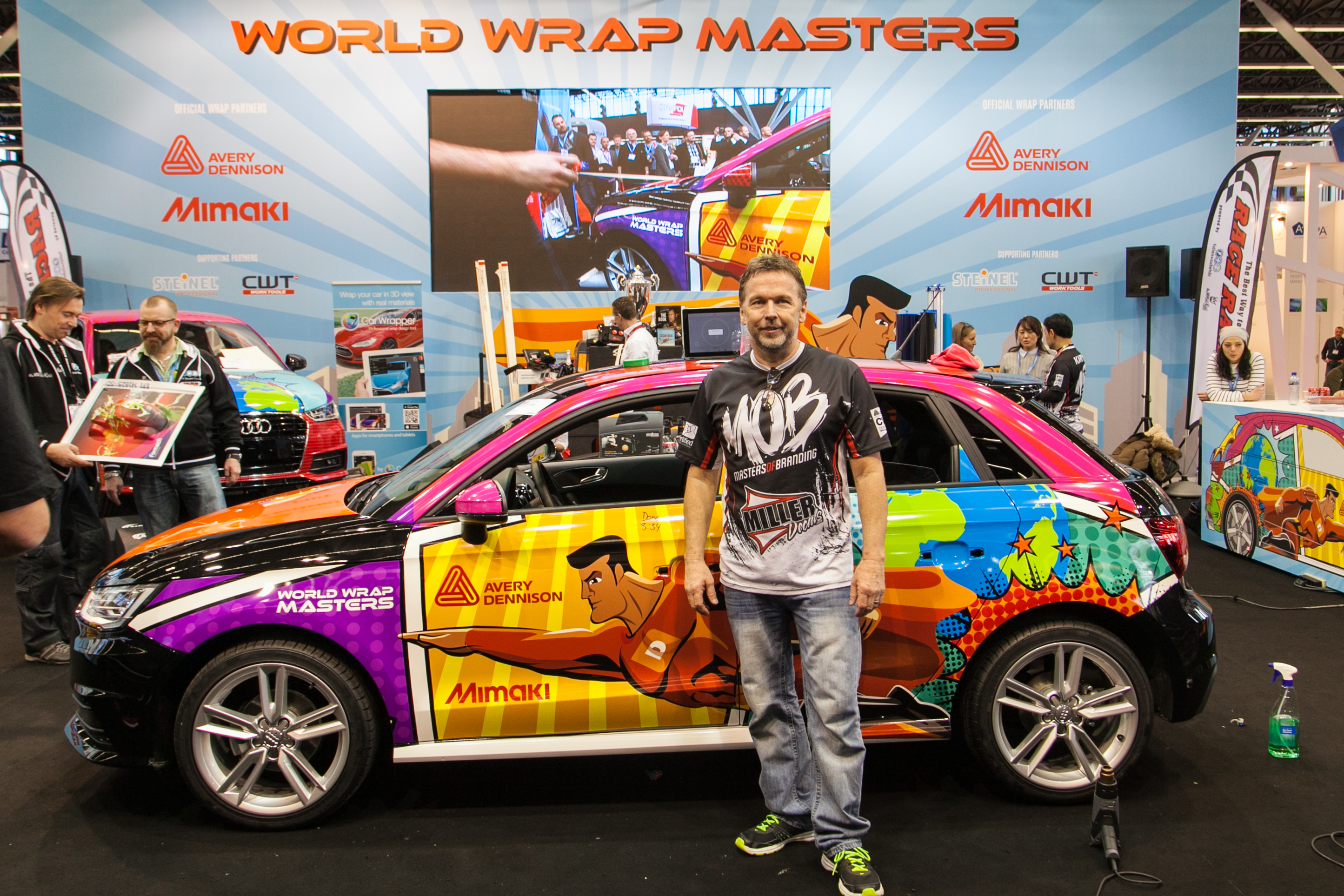 Designer: Jim Miller (Miller Decals)
Description: Jim Miller, owner of Miller Decals in the US, was named the FESPA World Wrap Master 2016 after seeing off Ruan Greeff from South Africa and Michael Szwacki of the UK in the final. Miller is pictured here next to one of the wraps he completed in the final – a colourful design featuring the World Wrap Master logo, along with those of event sponsors Avery Dennison and Mimaki.
Picture: Courtesy of FESPA
A glimpse into the future of rail travel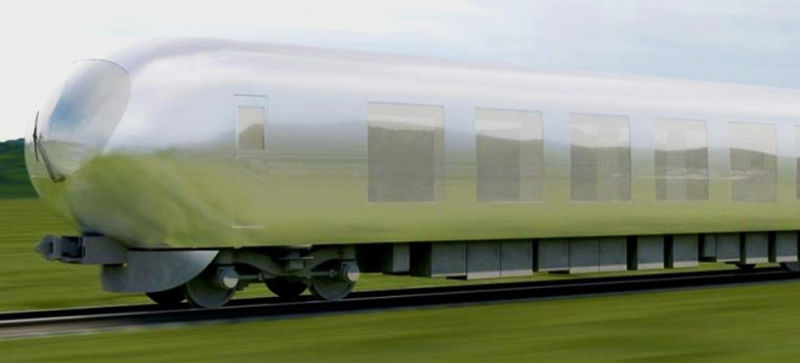 Designer: Kazuyo Sejima
Description: Although not strictly an application, this design gives us an idea of what trains could look like in the future. Japanese train company Seibu Railway is hoping to use this design from Kazuyo Sejima to create "invisible trains" that blend into the landscape, by the year 2018.
The design features a reflective wrap that will allow the train to seemingly disappear as it travels across Japan.
Picture: Courtesy of Seibu Railway
Lamborghini Aventador gets a superhero makeover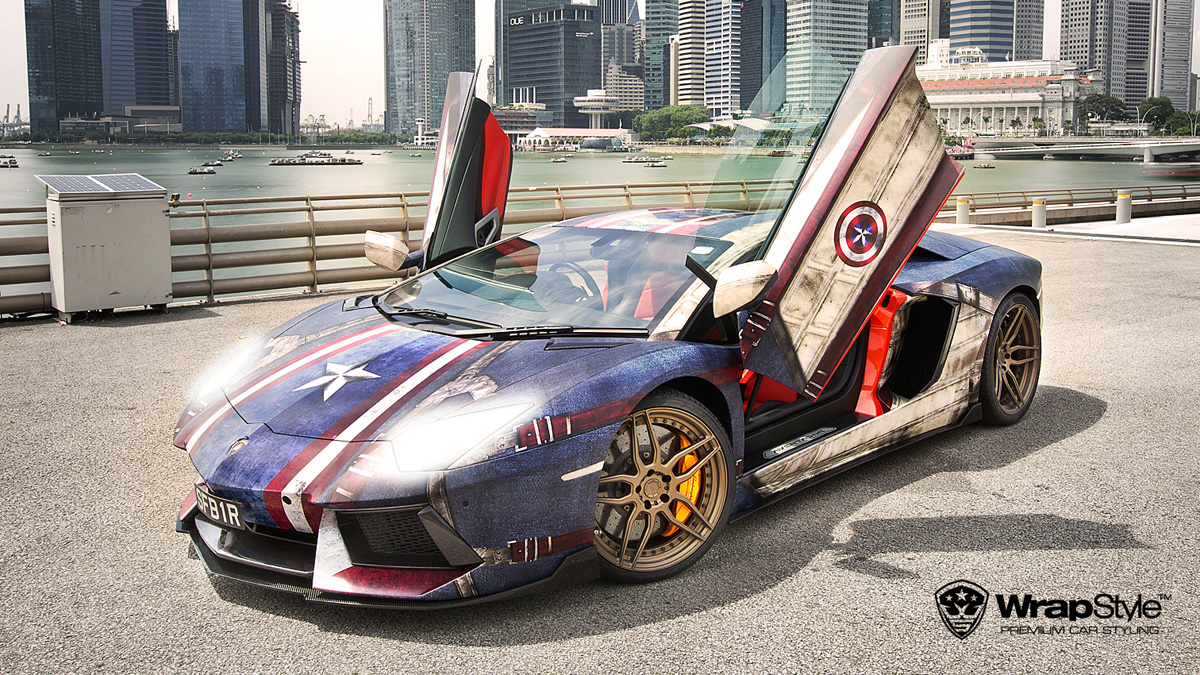 Designer: Wrap Style
Description: If you though the Lamborghini Aventador couldn't get any cooler, with the supercar already designed to look like a fighter jet, check out this wrap by Wrap Style. The design is based on Captain America, one of the superheroes made famous by Marvel Comics.
Picture: Courtesy of Wrap Style
A rusty old banger or a glamorous sports car?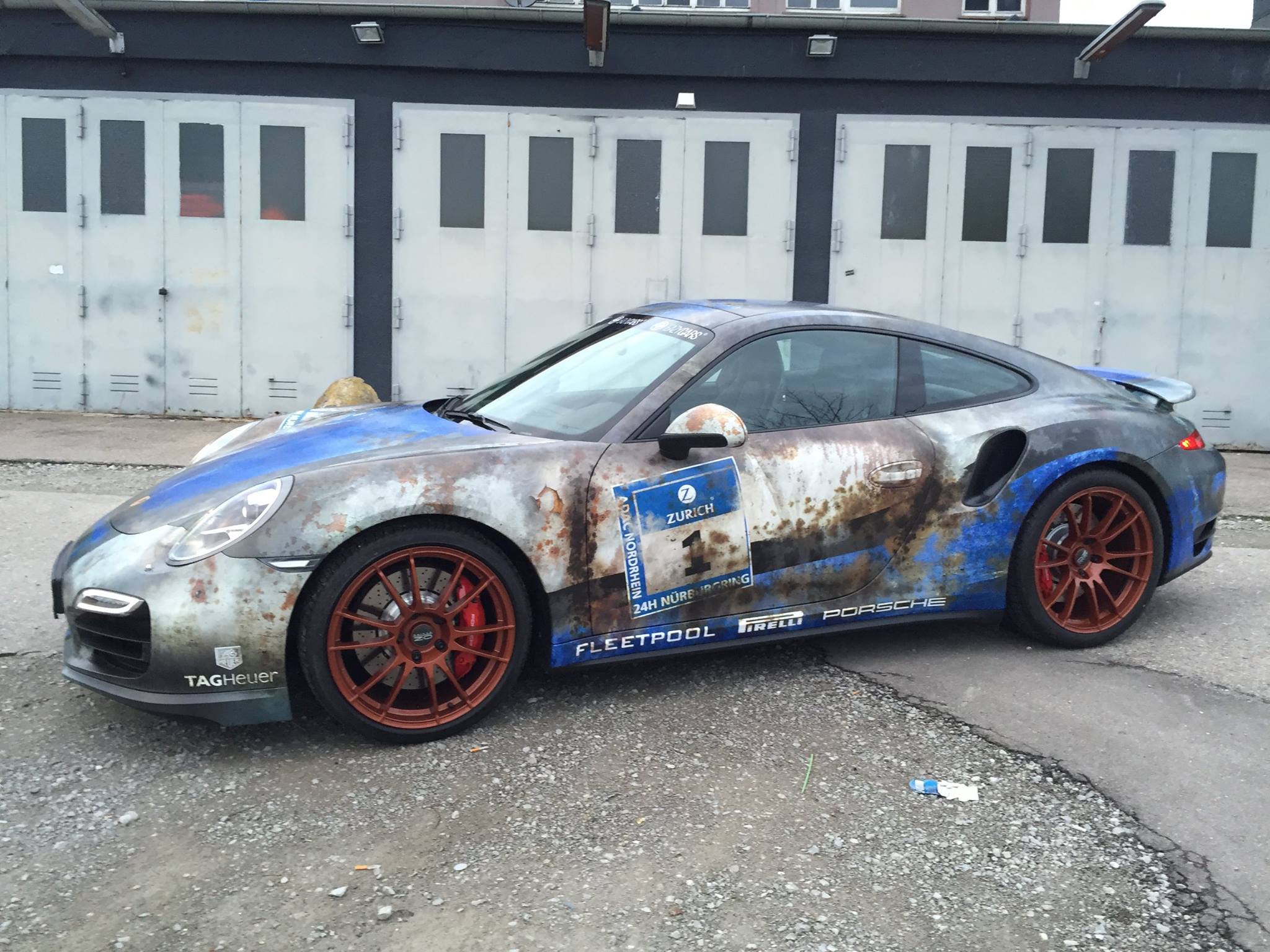 Designer: Signal Reklame
Description: While wrapping may be used to transform vehicles into vibrant and colourful creations, such media can also be used to have the complete opposite effect. Here, German wrapping specialist Signal Reklame wrapped a Porsche 911 to make it look like it had been devoured by rust, for a project linked with an ad campaign run by the vehicle manufacturer.
Picture: Courtesy of AutoEvolution.com
Moo-ving ahead in the vehicle graphics market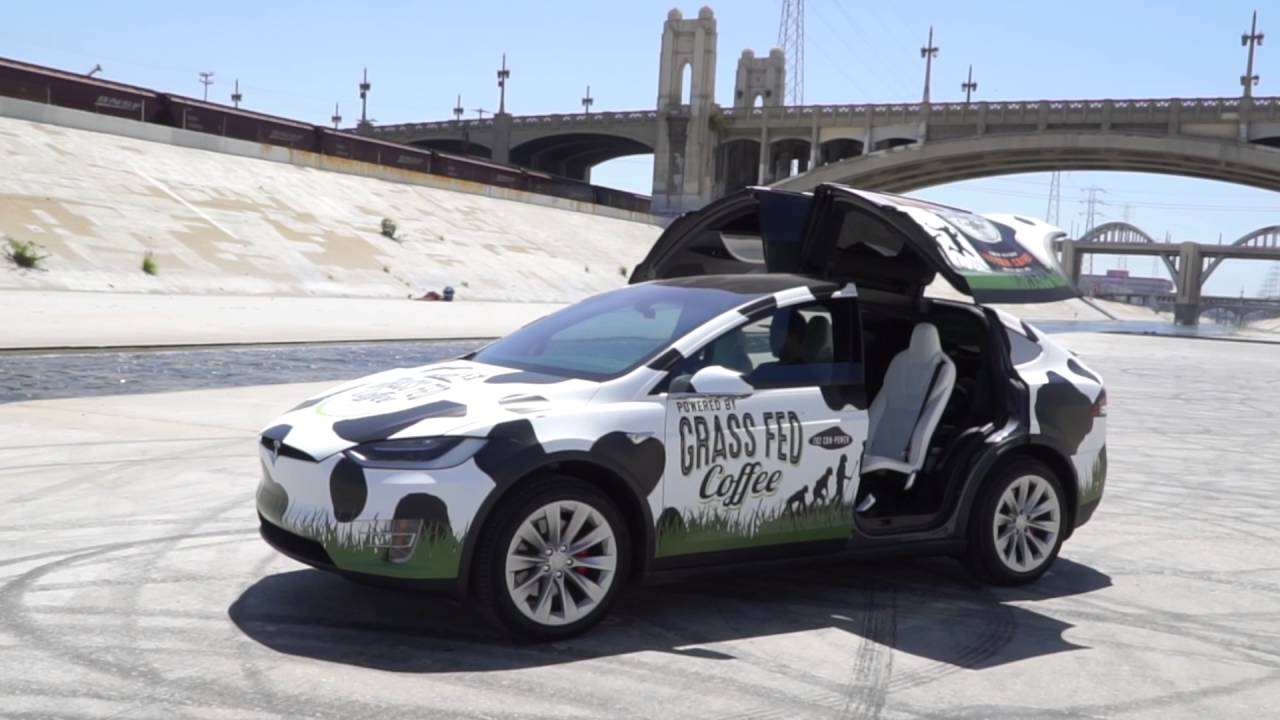 Designer: Grass Fed Coffee
Description: Coffee company Grass Fed Coffee transformed a Tesla Model X with a cow-inspired design to help promote its new beverage. By May, the company had been able to surpass an initial sales target by 500 per cent.
Picture: Courtesy of Grass Fed Coffee
'Vanimal' spotted in Ireland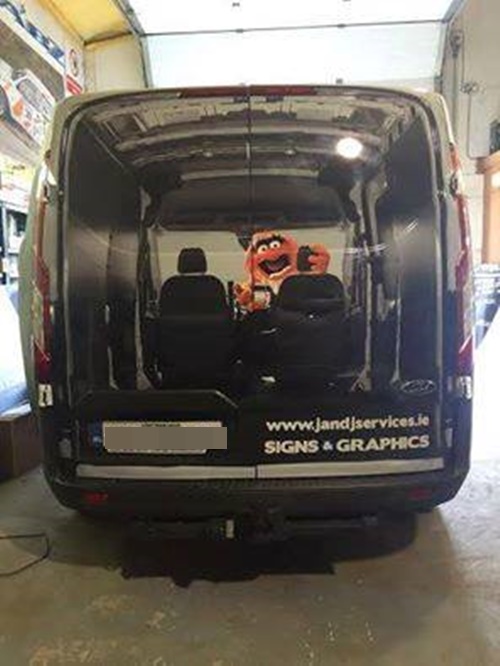 Designer: Brennan
Description: While companies from other industries often use vehicle graphics to help promote their own businesses, there is no reason for members of the signs and graphics not to do the same. Here, Muireann O'Toole Brennan of J&J Services in Tullow, Ireland, drives round in a seemingly open van, with sidekick 'Animal', a popular character from The Muppet Show. Muireann designed the graphics.
Picture: Courtesy of Joe.ie
Are you afraid of the light?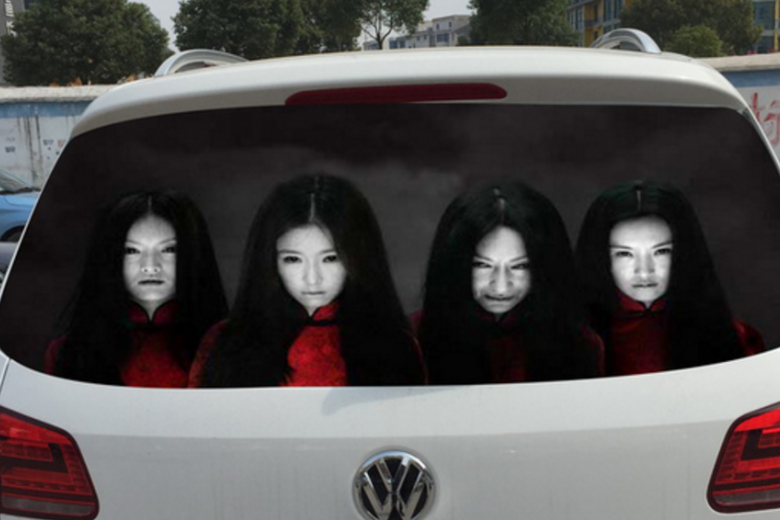 Designer: Taobao
Description: Chinese e-commerce website Taobao developed as series of special decals to scare off road users from over-using their full beam headlights. The decals are hardly visible in the light and only appear if a motorist switches on their full beam lights when a decal-fitted vehicle is in front of them.
Picture: Courtesy of Taobao
Print Tech makes an impressive with tri-colour Lamborghini Huracan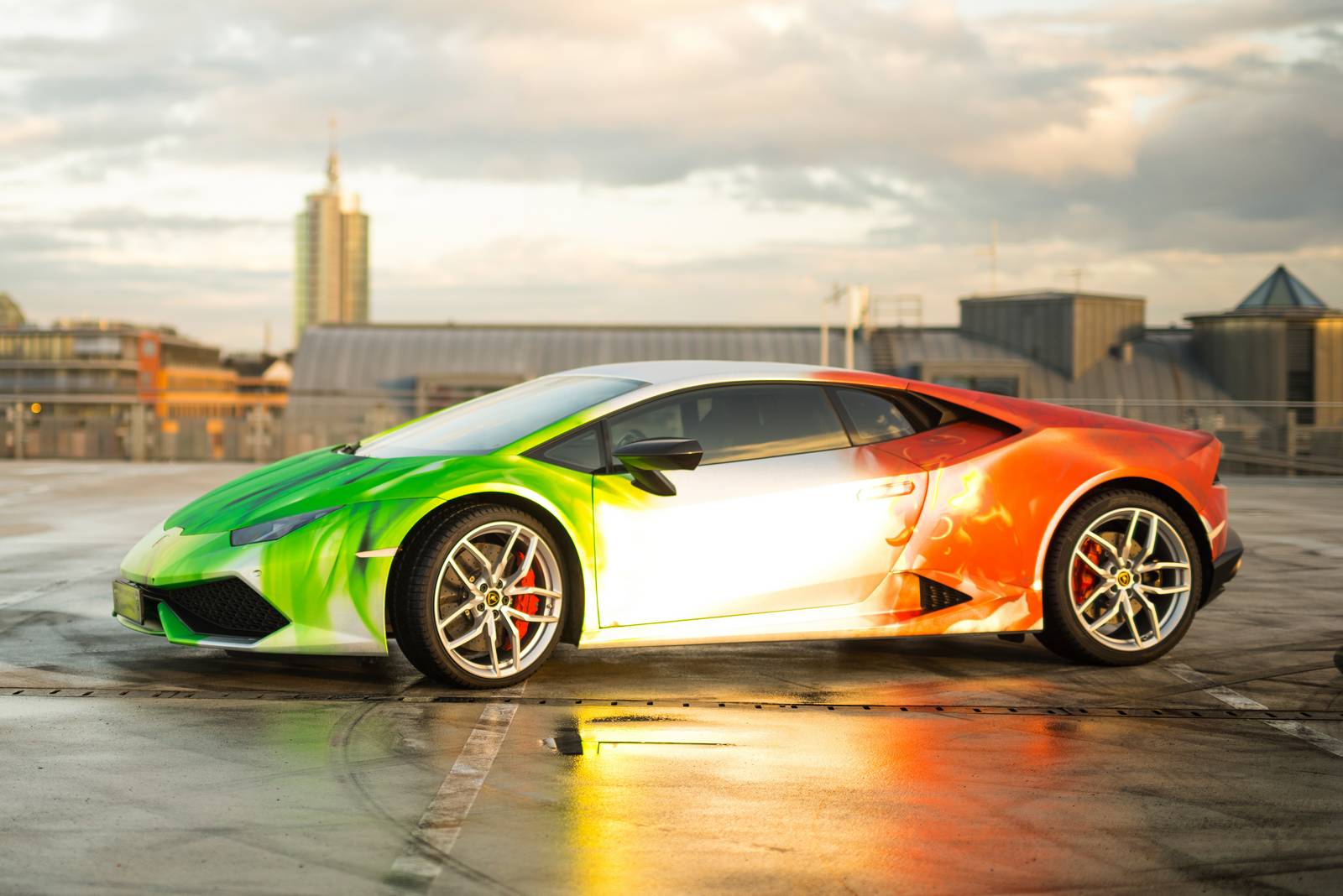 Designer: Print Tech
Description: Munich-based Print Tech fitted a Lamborghini Huracan with a tri-colour scheme to make an already-attractive supercar even better looking. The wrap comes at a cost of approximately $10,000 (€9,500/£8,200)
Picture: Courtesy of Print Tech
These are just a selection of some of the best work from the vehicle graphics and wrapping sector, with more innovation yet to come at this year's FESPA World Wrap Master Finals at FESPA 2017 in Hamburg, Germany.
Here, FESPA will pay tribute to some of the best wrapping talent from around the world, with each competitor hand-selected from regional contests staged in the build-up to the final.
To find out more about the FESPA World Wrap Master and how to attend the Finals at FESPA 2017 this year, visit https://wrapmasters.fespa.com.
Interested in joining our community?
Enquire today about joining your local FESPA Association or FESPA Direct