Features
Top 20 Printed T-Shirts of 2018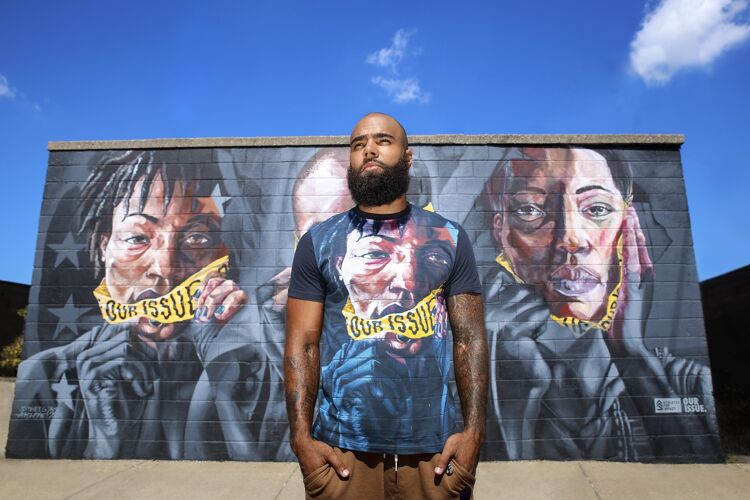 FESPA.com picks out some of the best examples of printed t-shirts from 2018.
Although some sectors of the print industry have struggled in recent years due to issues such as the increased use of digital technologies and ongoing uncertainty over the economy, one market that had stood strong is t-shirt printing.

Perhaps once seen as something of a gimmick, t-shirt print now serves as a key source of income for print service providers of all shapes and sizes. From run-of-the-mill jobs such as t-shirts for stag and hen parties, to working with some of the top designers in the world, there is a wide range of work available in this vibrant sector.

Here, FESPA.com takes a look back over the past 12 months and highlights how this market continues to go from strength to strength, supported by the many innovative companies active in the sector.
Jimi Hendrix reborn in new apparel venture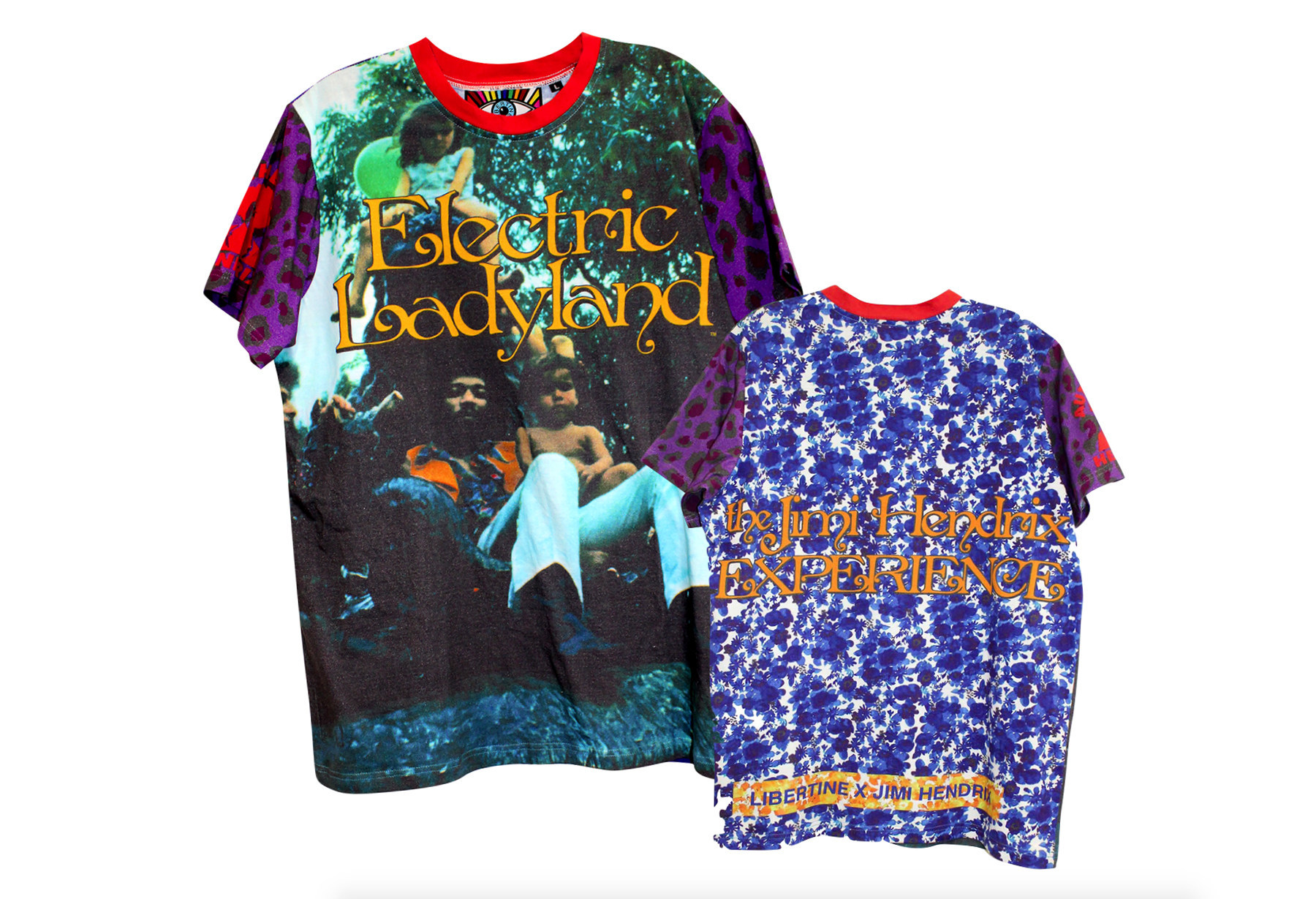 Caption: Picture courtesy of Epic Rights and Perryscope Productions

Designer: Authentic Hendrix / Libertine
Description: Authentic Hendrix, which celebrates the life of iconic rock guitarist Jimi Hendrix, joined forces with Los Angeles-based fashion label Libertine to create a collection of luxury men's and women's apparel. The new partnership launched with this creative t-shirt, marking the 50th anniversary release of Hendrix's 'Electric Ladyland' album.
Video Game Gold for Imaika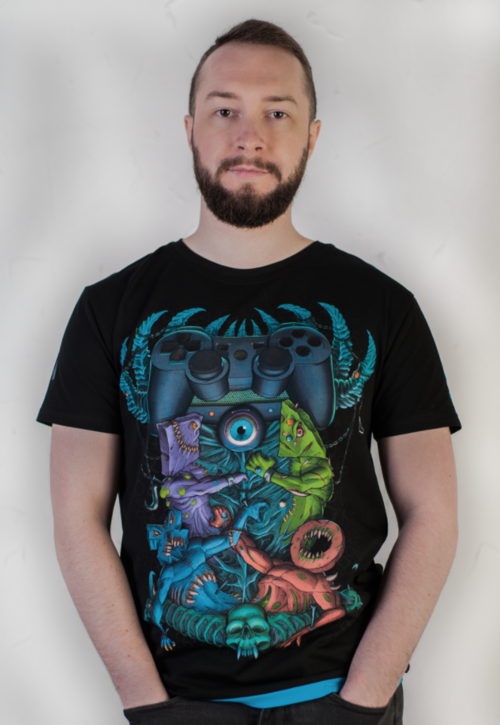 Caption: Picture courtesy of Imaika Ltd
Designer: Imaika Ltd
Description: Imaika Ltd went home with a 2018 FESPA Gold Award for this t-shirt based on video games. The featured art presents buttons as monsters, while the controller acts as the 'altar'. The t-shirt features four unique prints that were all printed with different effects.
Keeping you CALM during the World Cup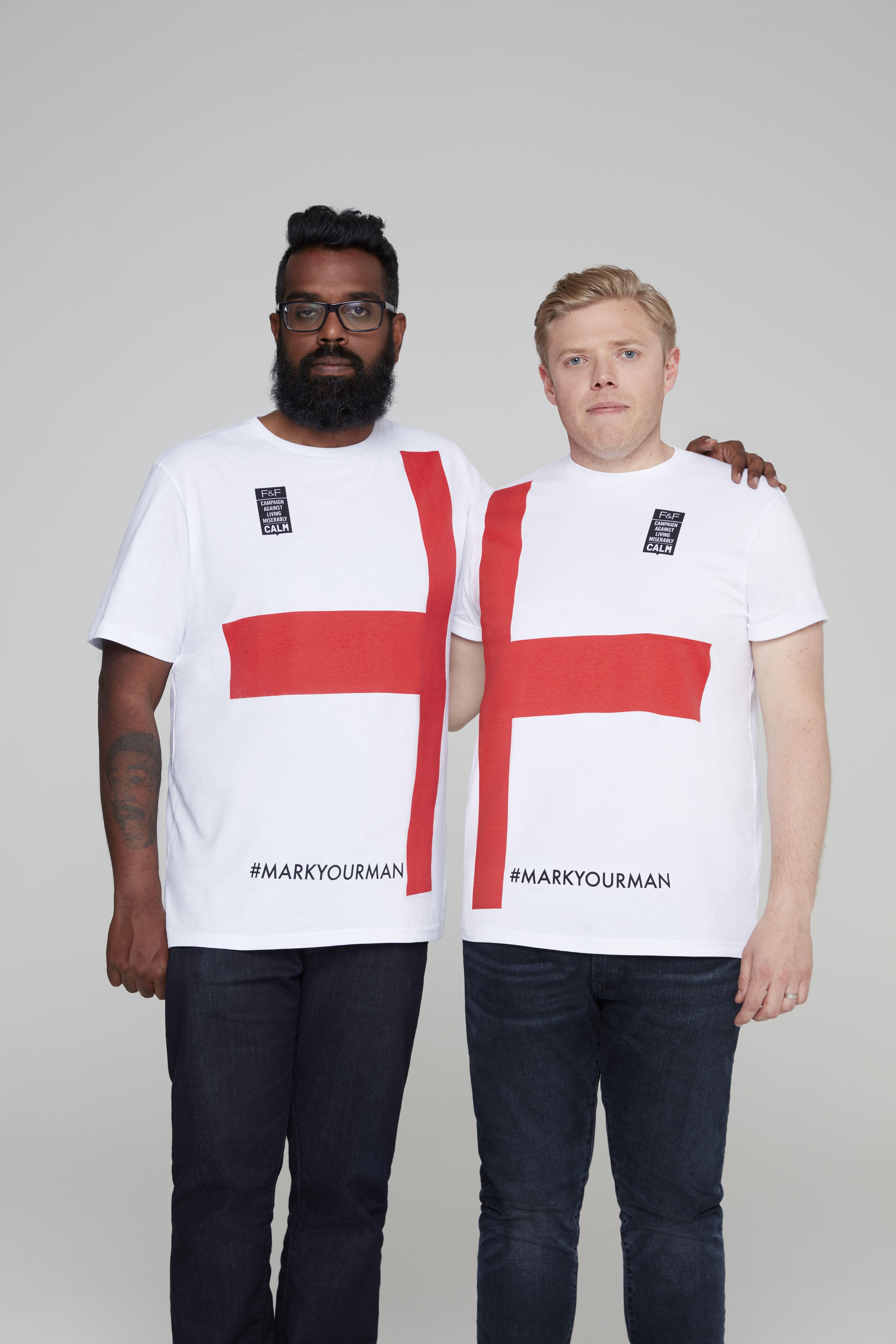 Caption: Picture courtesy of CALM
Designer: CALM / F&F
Description: Mental heath charity Campaign Against Living Miserably (CALM) joined up with Tesco's F&F clothing brand to raise awareness of male suicide through an innovative t-shirt campaign. The #MarkYourMan initiative drew on the idea of supporting friends and family, and ran at the same time as the 2018 football World Cup. When joined together, the two t-shirts create the St George's Cross, as demonstrated here by UK comedians Romesh Ranganathan and Rob Beckett.
Mickey magic at New York exhibition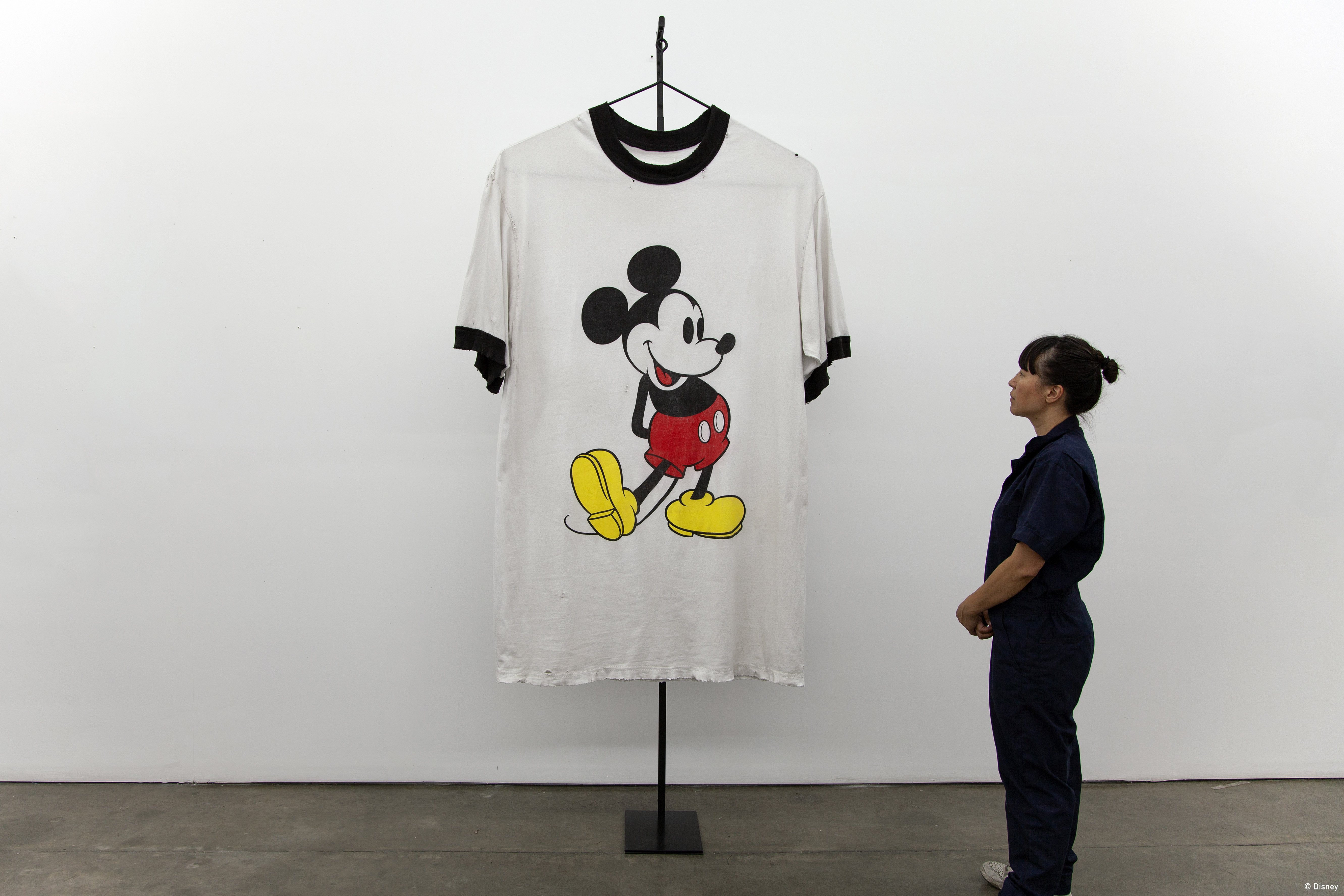 Caption: Picture courtesy of Disney

Designer: Amanda Ross-Ho
Description: This year, Disney celebrated the 90th anniversary of its iconic Mickey Mouse character with a series of events, including a special art exhibition in New York. Artists were invited to submit pieces inspired by original Mickey Mouse artwork. Here, Amanda Ross-Ho produced an oversized classic Mickey ringer t-shirt.
Kodak moment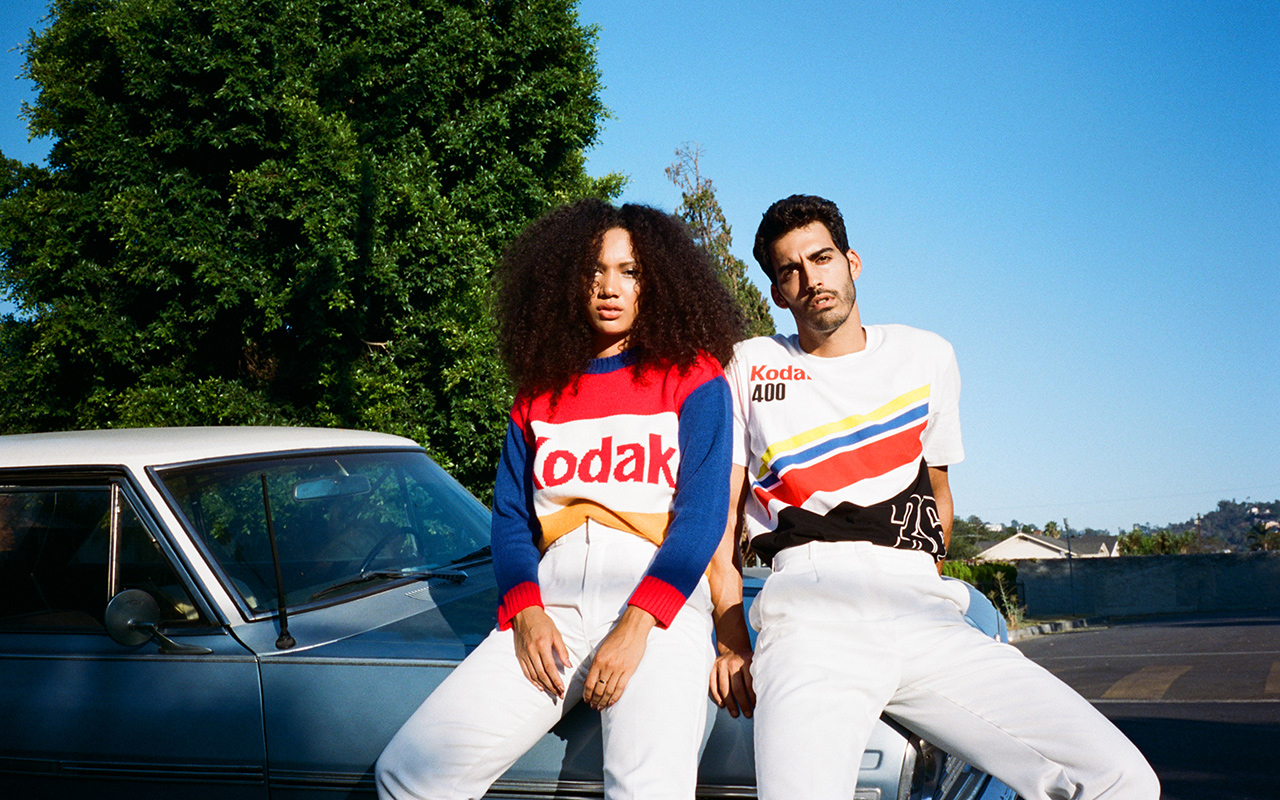 Caption: Picture courtesy of Kodak

Designer: Forever 21 / Kodak
Description: A familiar name to those in the printing industry, Kodak this year teamed up with fashion retailer Forever 21 to produce a series of products for the shop's fall collection. The clothes are based on the many logos and designs from Kodak's history, including this printed t-shirt on the right of the picture.
A man's best friend is his printed t-shirt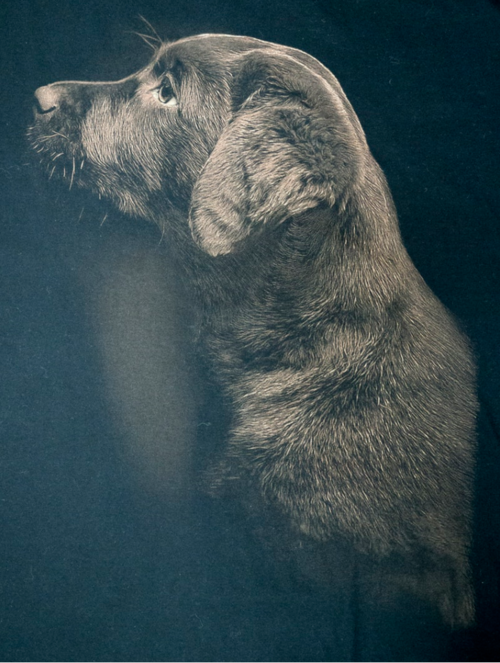 Caption: Picture courtesy of Midi Print

Designer: Midi Print
Description: Another winner at this year's FESPA Awards was Midi Print, which won Bronze in the T-Shirt and Garments category for its t-shirt. 'Symbol of the Year' was produced using screen print techniques.
Making women's history matter with Omaze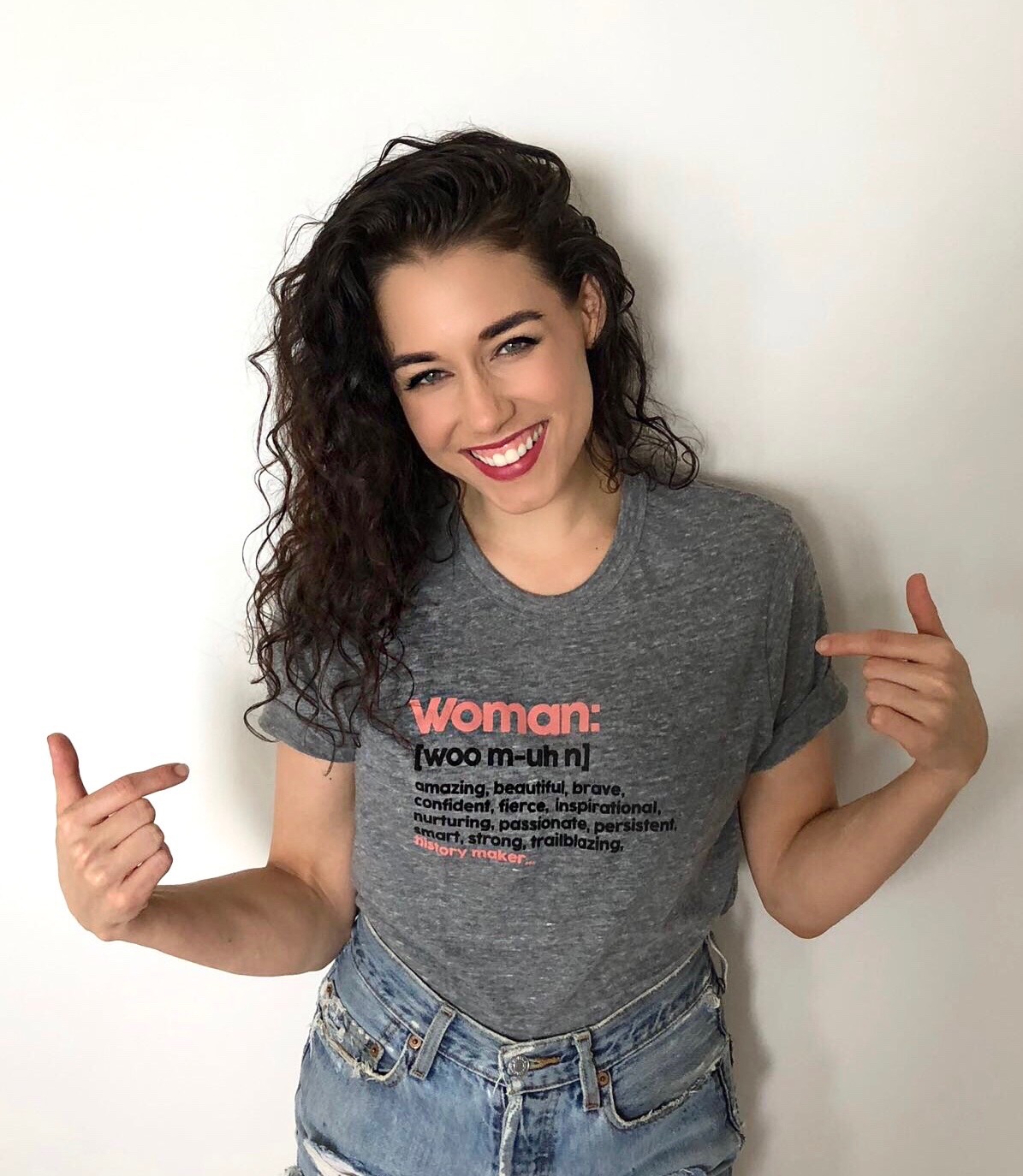 Caption: Picture courtesy of the National Women's History Museum

Designer: National Women's History Museum
Description: The National Women's History Museum teamed up with a host of famous actors and journalists to launch a History Maker t-shirt campaign with fundraising platform Omaze. Proceeds are being used to support the Museum's efforts to use various women's stories to educate, inspire and empower in the US. Pictured here is Jade Tailor from Syfy series The Magicians modelling the t-shirt.
Roaring success for former NFL star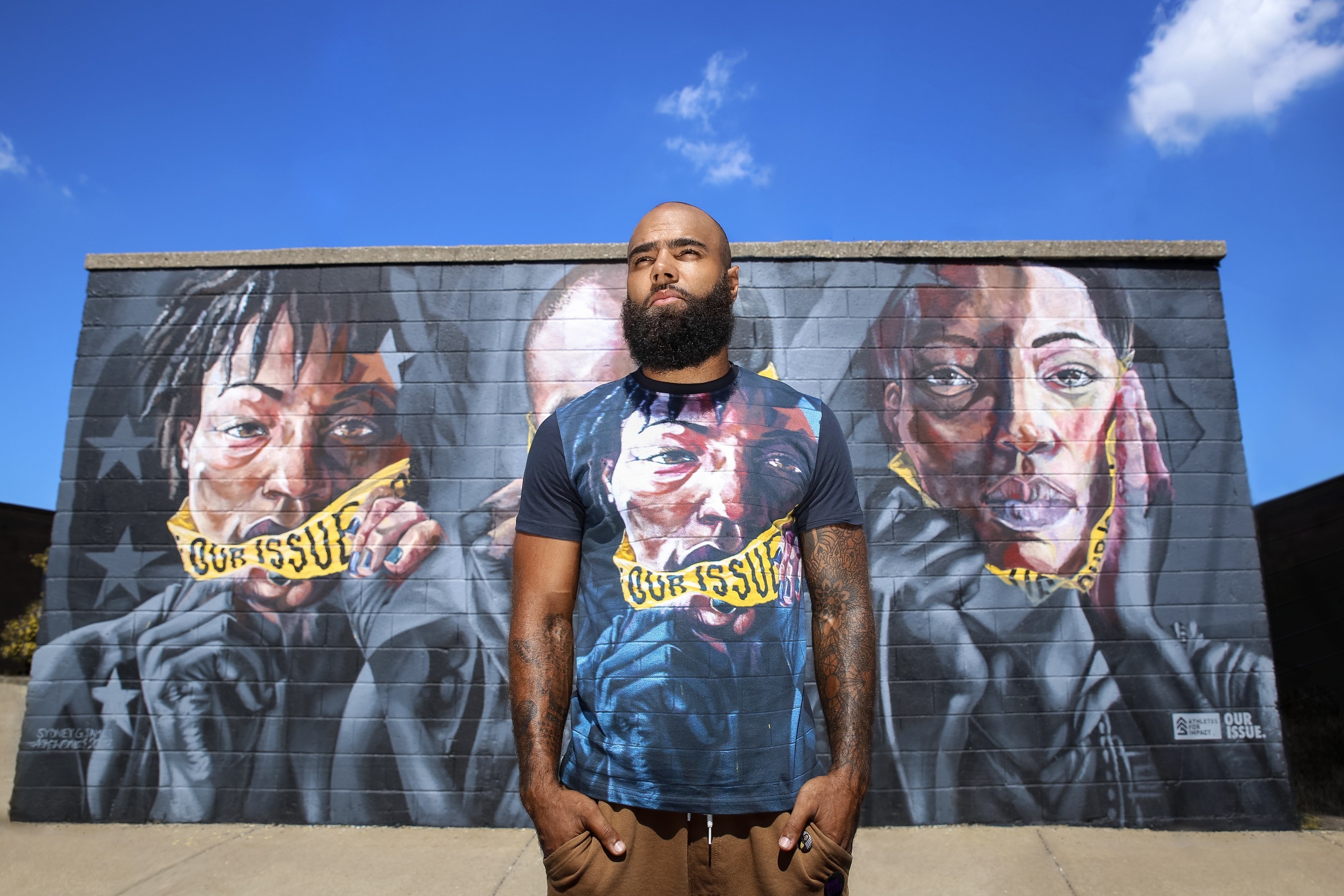 Caption: Picture courtesy of Our Issue

Designer: DeAndre Levy / Detroit Hustles Harder
Description: Former Detroit Lions NFL star DeAndre Levy joined forces with apparel brand Detroit Hustles Harder to create a special, cause-related t-shirt line. 'Our Issue' is based on the idea that a society free of sexual assault and domestic violence is not just a women's issue, but a collective issue for all.
Food for thought with Michael Kors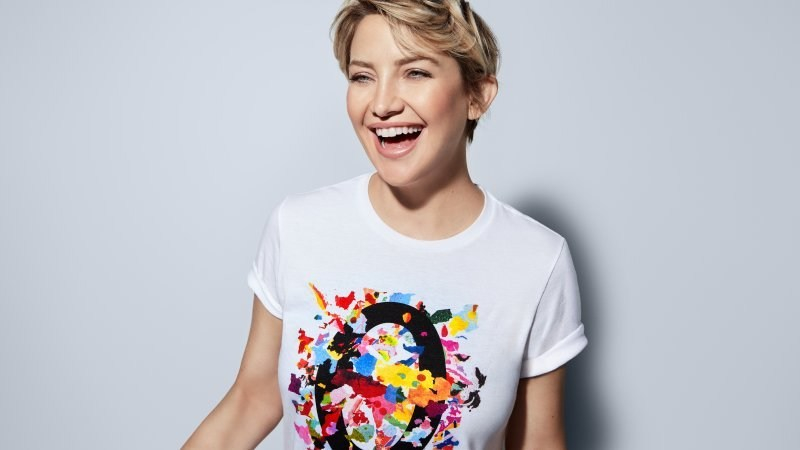 Caption: Picture courtesy of Michael Kors

Designer: Michael Kors / Eli Sudbrack | AVAF
Description: Fashion designer Michael Kors launched this colourful t-shirt for the fifth anniversary of its 'Watch Hunger Stop' campaign, developed in support of World Food Day on October 16. Michael Kors partnered with multimedia artist Eli Sudbrack | AVAF on this year's t-shirt, which is modelled here by Hollywood star Kate Hudson.
Student's design takes the plaudits at Jeans for Genes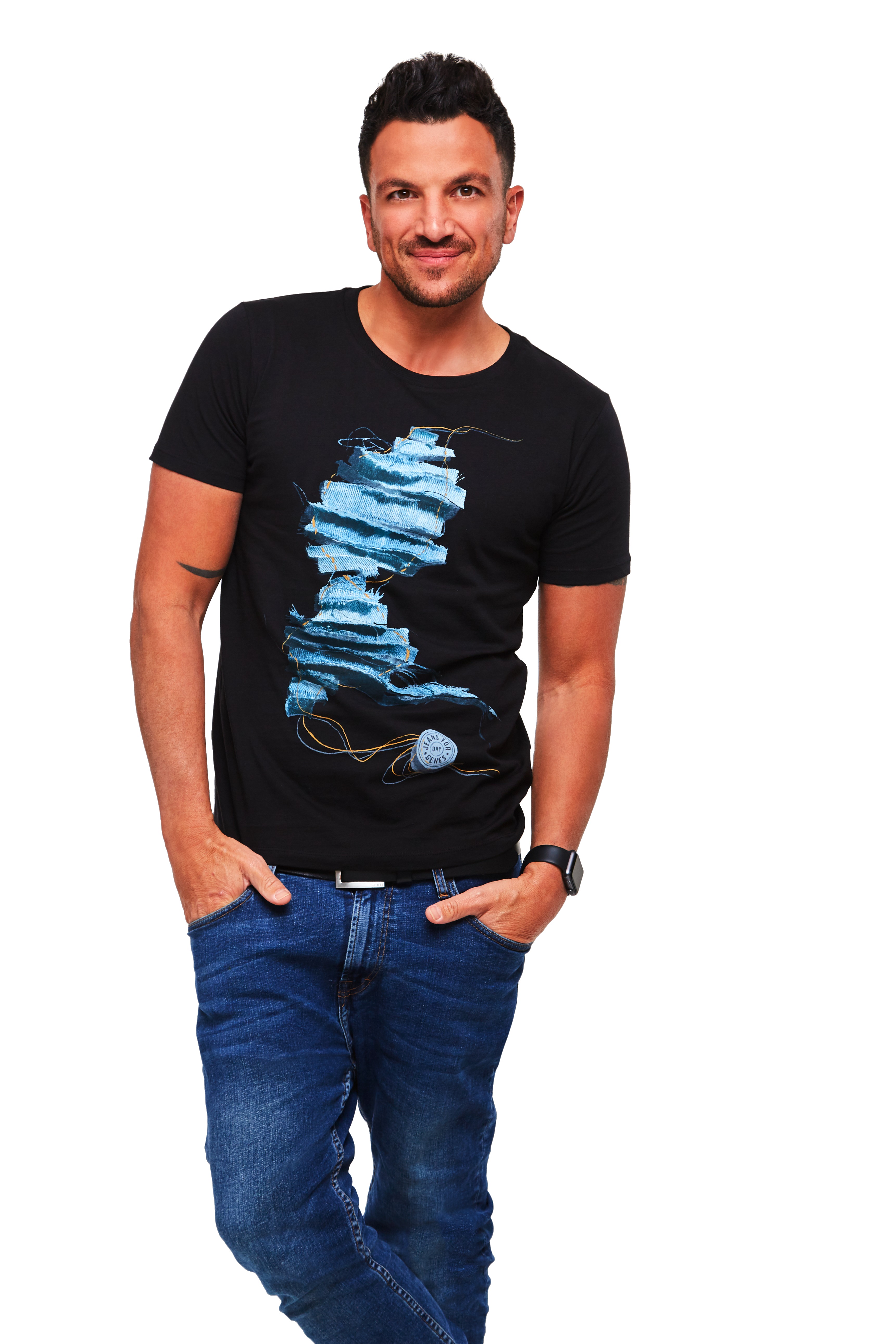 Caption: Picture courtesy of Jeans for Genes

Designer: Chunchen Liu
Description: Kingston School of Art student Chunchen Liu saw off competition from a host of entrants to design the official t-shirt for this year's Jeans for Genes charity effort. Liu's design was selected by a panel of judges including superstar model Kate Moss. The t-shirt, which sold out three times before Jeans for Genes Day, is modelled here by singer and television presenter Peter Andre.
700,000 demand a final say on Brexit

Caption: Picture courtesy of Tim Sheerman-Chase

Designer: People's Vote
Description: In October, an estimated 700,000 marched in London to demand a say on the final deal for the UK leaving the European Union. The 'People's Vote' campaign has attracted widespread support from celebrities and MPs alike. The October march, where many protestors wore the official campaign t-shirt, was one of the largest London has ever seen.
Team Harry or Team Meghan?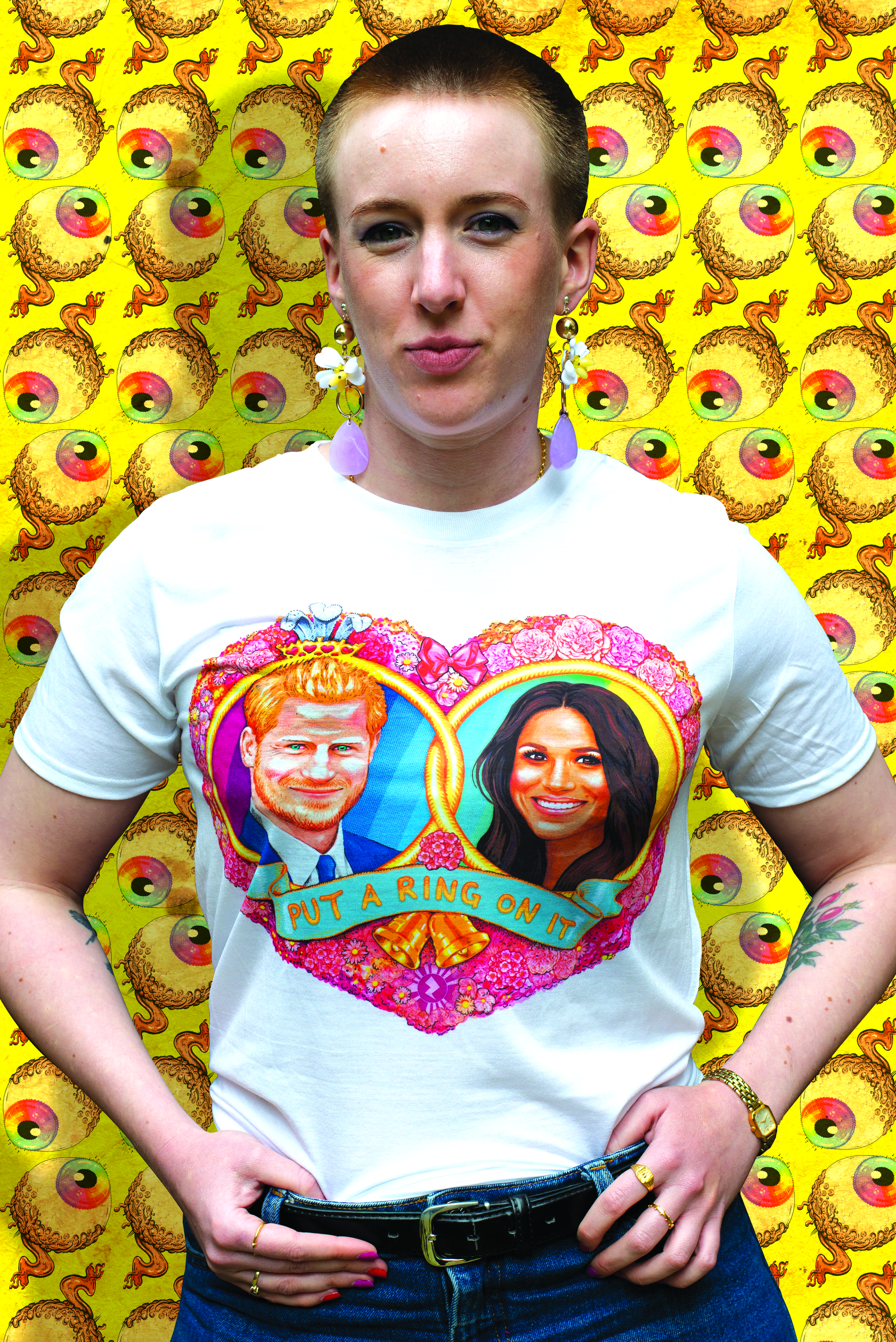 Caption: Picture courtesy of Zapper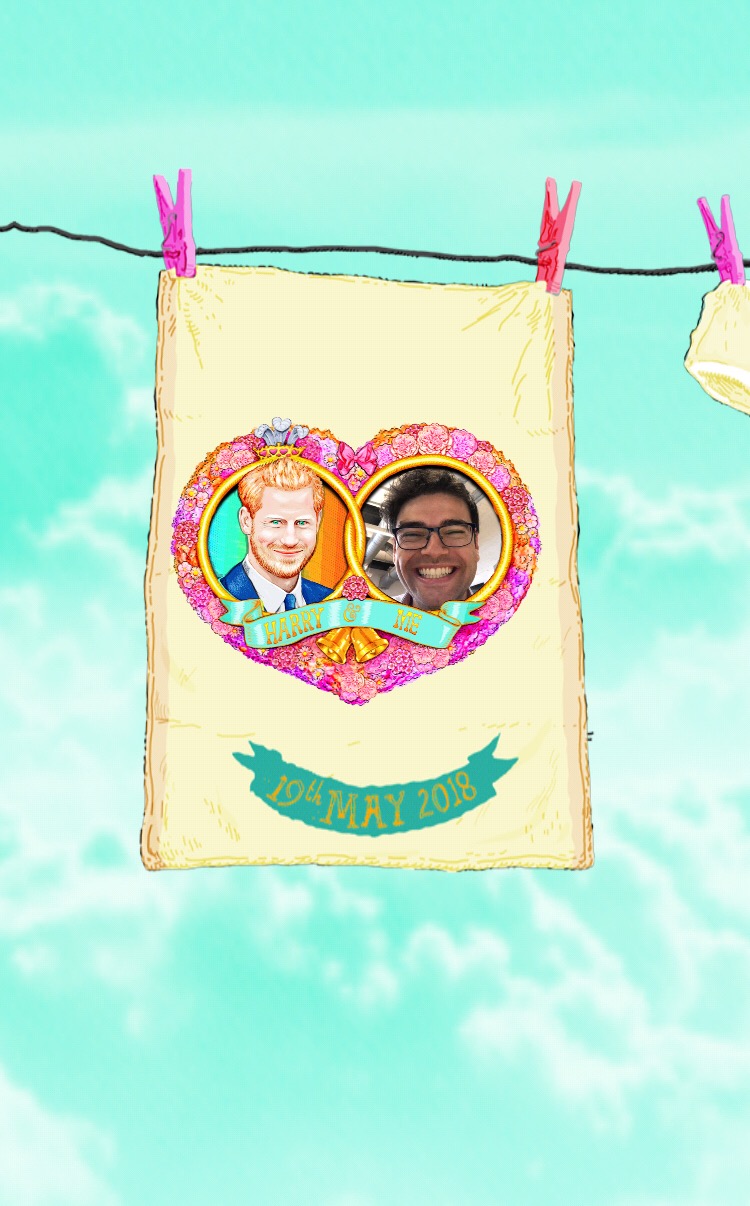 Caption: Picture courtesy of Jack Mooney

Designer: Zapper / Jack Mooney
Description: Zapper joined forces with artist Jack Mooney to create this special t-shirt for the Royal Wedding of Prince Harry and Meghan Markle. However, there is a twist; using the Zappa augmented reality app, users could scan their t-shirt and choose whether to "marry" Harry of Meghan. The user could then post a selfie with their face placed in the artwork next to whoever they chose to marry. This could then be placed onto a virtual souvenir, such as a tea towel, stamp or bag.
Victoria Beckham gets creative for Red Nose Day USA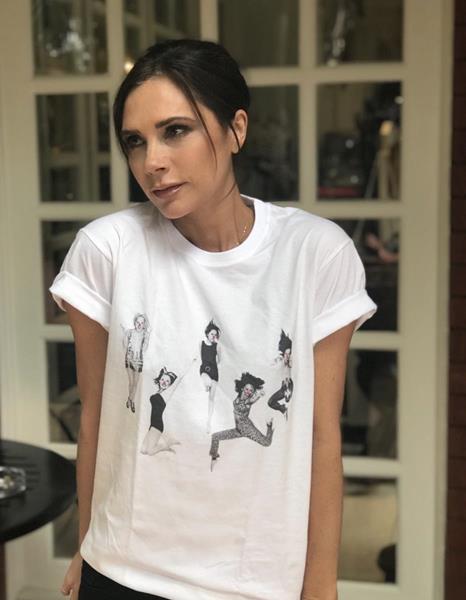 Caption: Picture courtesy of Omaze

Designer: Victoria Beckham
Description: Victoria Beckham continued her long association with the Red Nose Day fundraising initiative by designing a limited edition t-shirt for Red Nose Day USA 2018. The t-shirt features an iconic image of the Spice Girls, the band that launched her career back in the 1990s. The Spice Girls will reform next year for a series of UK concert, but Victoria will not feature.
Hit the red carpet with Oscar winner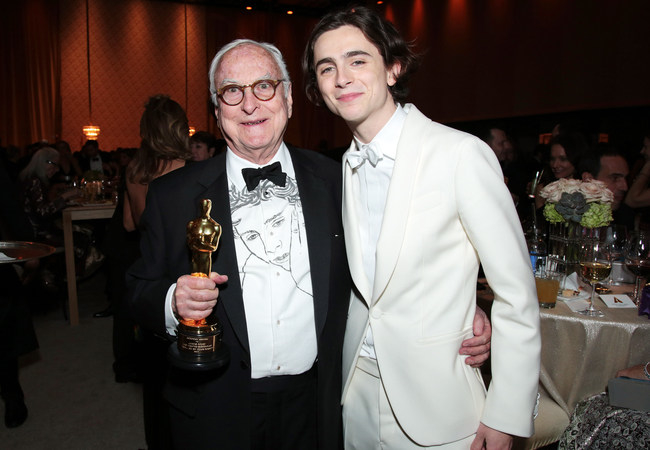 Caption: Picture courtesy of ManiaTShirts

Designer: Andrew Mania
Description: James Ivory famously wore this shirt during his acceptance speech after winning this year's Academy Award for Best Adapted Screenplay. The shirt featured a hand-drawn picture of Best Actor nominee Timothée Chalamet, who starred in 'Call Me By Your Name', by artist Andrew Mania. Such was the impact of the shirt was that it was made into a printed t-shirt for fans to buy.
Girl Power rules with Spice Girls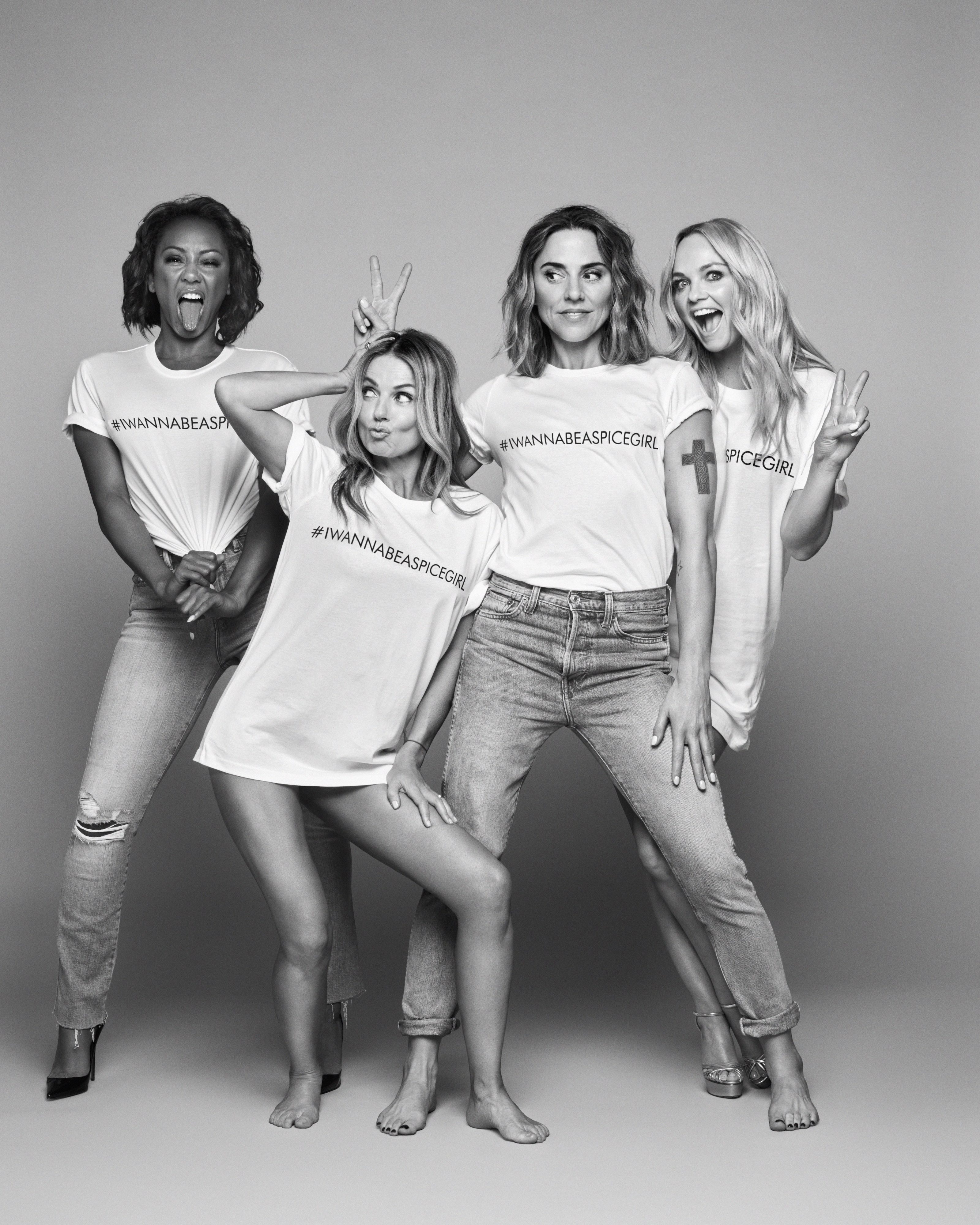 Caption: Picture courtesy of Comic Relief

Designer: Spice Girls
Description: Joining Victoria Beckham in our Top 20 are the rest of the Spice Girls, who this year launched a new t-shirt campaign promoting gender equality as part of Comic Relief. The quartet are pictured here modelling the new t-shirt, which features the phrase "#IWANNABEASPICEGIRL"
Make your voice heard with American Eagle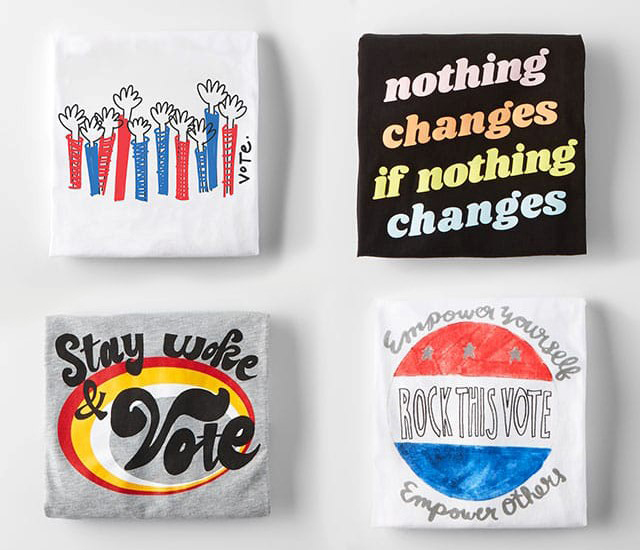 Caption: Picture courtesy of American Eagle

Designers: Nicole Fleisher, Kahlia Shearer, Alessandra Angiello and Hayley Fitzsimmons
Description: Clothing brand American Eagle continued its partnership with US non-profit group Rock the Vote in an effort to encourage people in the country to vote in the 2018 mid-term elections. American Eagle produced a series of t-shirts as part of the campaign. President Donald Trump retained control of the Senate, but the Democratic party took the House.
All brains are beautiful

Caption: Picture courtesy of Omaze

Designer: SABER
Description: The Epilepsy Foundation carried out a fundraiser in partnership with Omaze for National Epilepsy Awareness Month. The initiative included this exclusive t-shirt – 'All Brains Are Beautiful' – designed by fine artist SABER in support of the Epilepsy Foundation.
Chicago White Sox help save lives with t-shirt campaign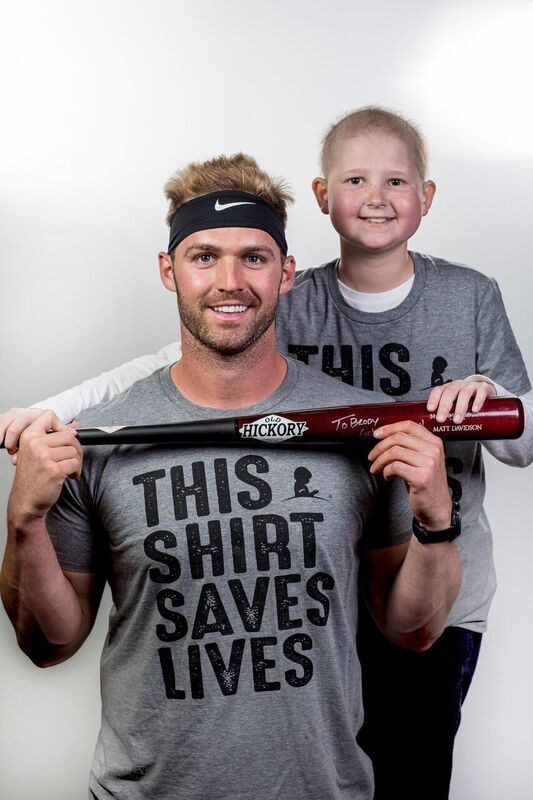 Caption: Picture courtesy of St. Jude Children's Research Hospital

Designer: St. Jude Children's Research Hospital
Description: In July, US Major League Baseball franchise the Chicago White Sox donned special t-shirts to help raise funds and awareness for St. Jude Children's Research Hospital. White Sox coaches and players met St. Jude patient Brody, who is being treated for b-cell acute lymphoblastic leukaemia at St. Jude. Brody is pictured here with infielder Matt Davidson.
Battling bullying with positivity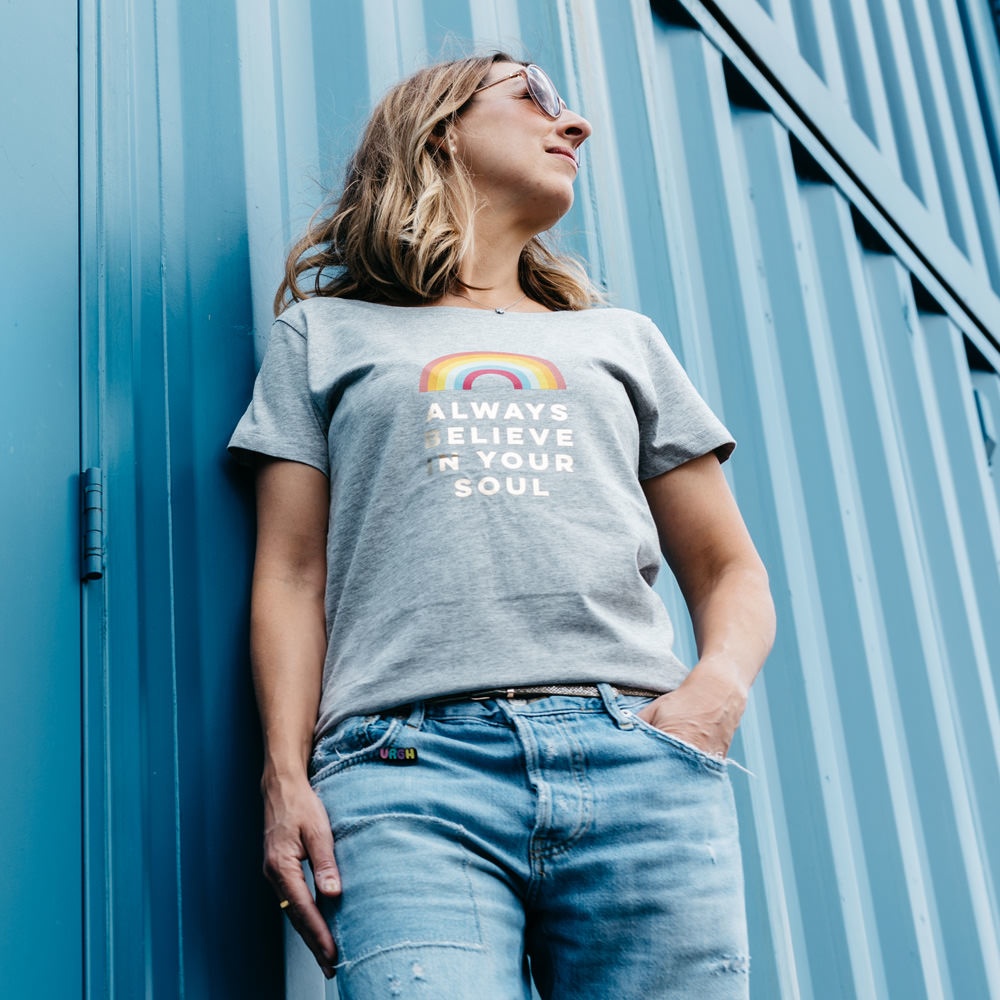 Caption: Picture courtesy of Amy Goodall

Designer: Amy Goodall
Description: Designer Amy Goodall created a range of special t-shirts with the aim of helping children who suffer from bullying. The t-shirts carry various positive messages, such as this example here, encouraging kids to 'Always believe in your soul'. Proceeds from sales of the t-shirts are being used to support the Bullies Out charity.
GUESS who?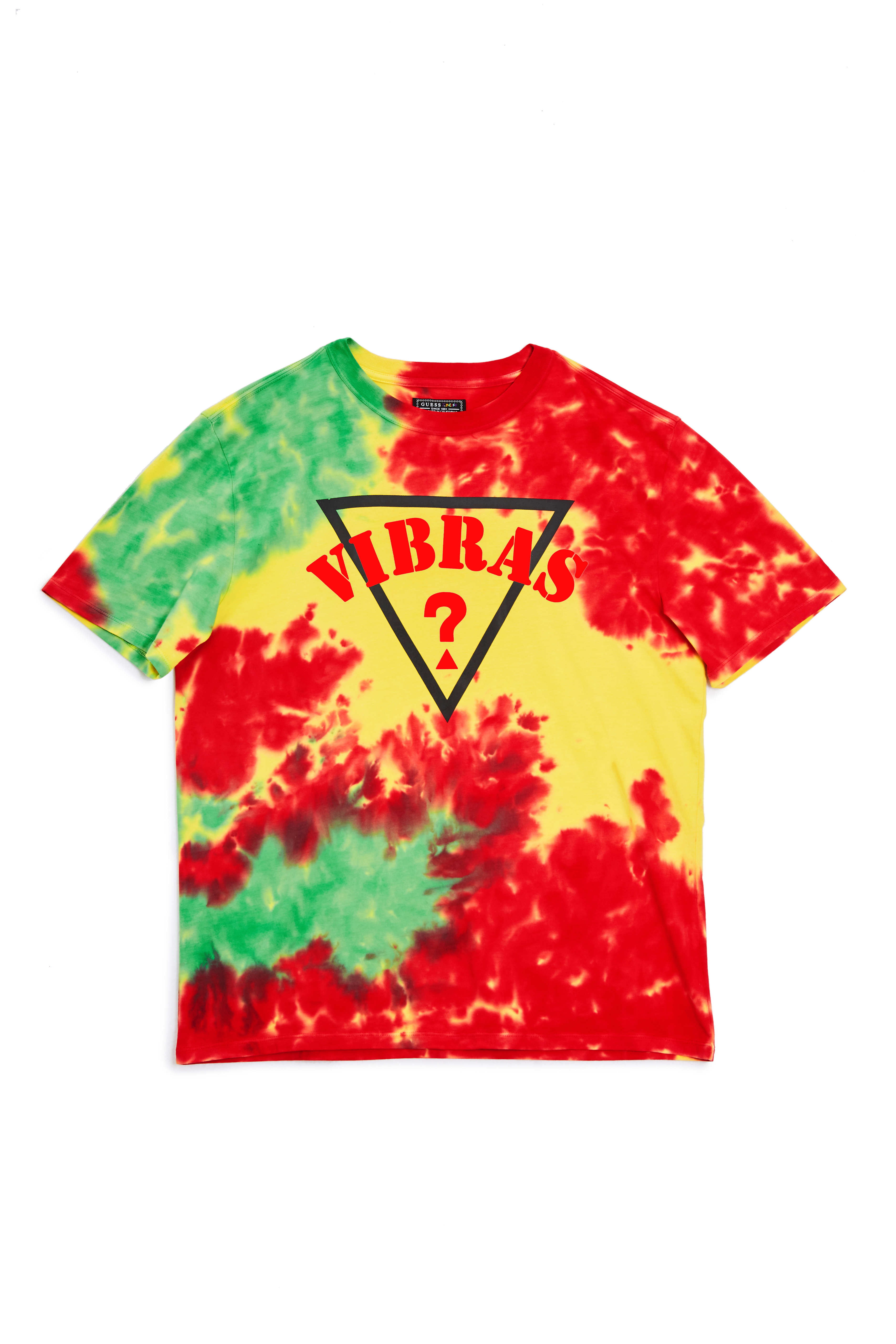 Caption: Picture courtesy of GUESS

Designer: GUESS
Description: Fashion brand GUESS teamed up with Latin Grammy Award Winner J Balvin to launch a new range of clothes. Featured in the 'VIBRAS' collection is this colourful, printed t-shirt, with a classic tie-dye look. The range launched to coincide with J Balvin's latest tour, which began in September.

T-shirt printing provides a profitable expansion market for print companies all around the world. Those that do venture into this sector can call on the help of many leading manufacturers, which continue to develop new and exciting print technologies to support t-shirt printing.

Some of these will feature at the FESPA Asia Print Expo 2019, which takes place from February 21-13 in Bangkok, Thailand, allowing those in the Asian market to learn more about the opportunities in this sector.

To find out more about the event, visit: https://www.asiaprintexpo.com

Interested in joining our community?
Enquire today about joining your local FESPA Association or FESPA Direct