Features
Top 20 Outdoor Applications of 2018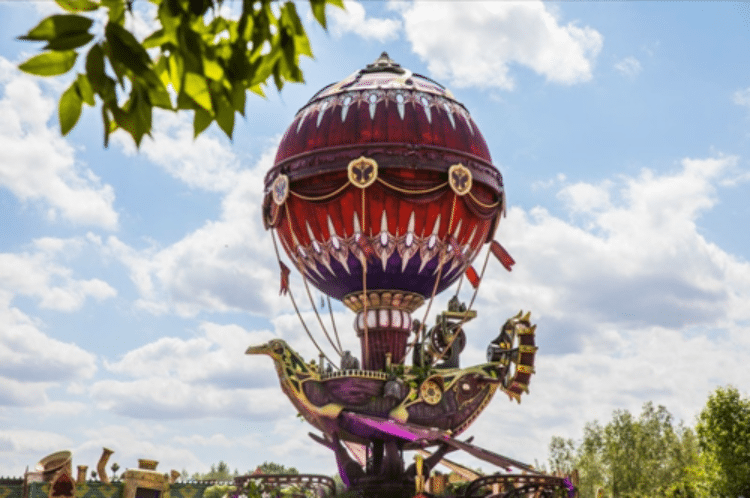 FESPA.com takes a look back over the last 12 months to pick out some on the most eye-catching outdoor applications from around the world…
Outdoor print jobs cause more problems than other printed applications. While print service providers need to ensure that the final piece looks the part and will catch the attention of passers-by, they also need to make sure that the print is well protected from the elements.

Such applications come in all shapes and sizes; from giant flags and banners, to building wraps, signs and even 3D-printed objects, there is plenty to look at in this creative and important market.

FESPA.com pays homage to the work produced by companies in this sector by highlighted some of the most innovative projects from 2018…
Smurf-tastic celebrations at Belgium's Atomium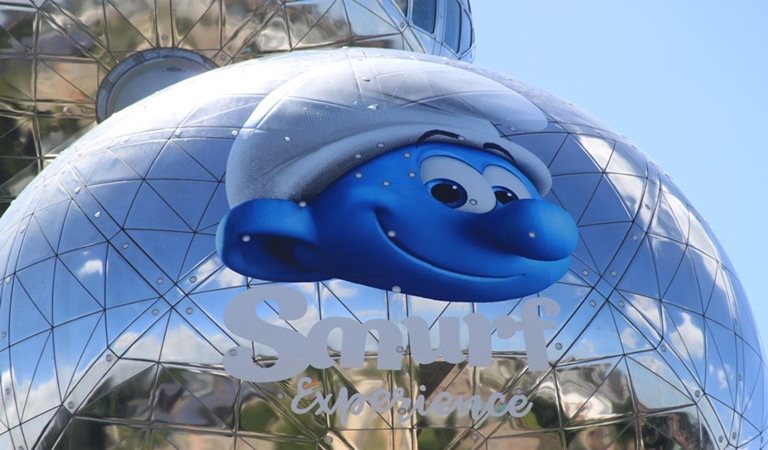 Image courtesy of Avery Dennison
Designer: Various
Description: A trio of Belgium companies joined forces with Mactac Europe to complete this special project, celebrating 60 years of the Smurfs. Installed on Brussels' Atomium, the applications features Mactac's IMAGin JT 5829, vinyl digital printing media Permacolor LUV 3898 laminating film and MACal 8900 Pro signage film
Pearl of a job for Lavastar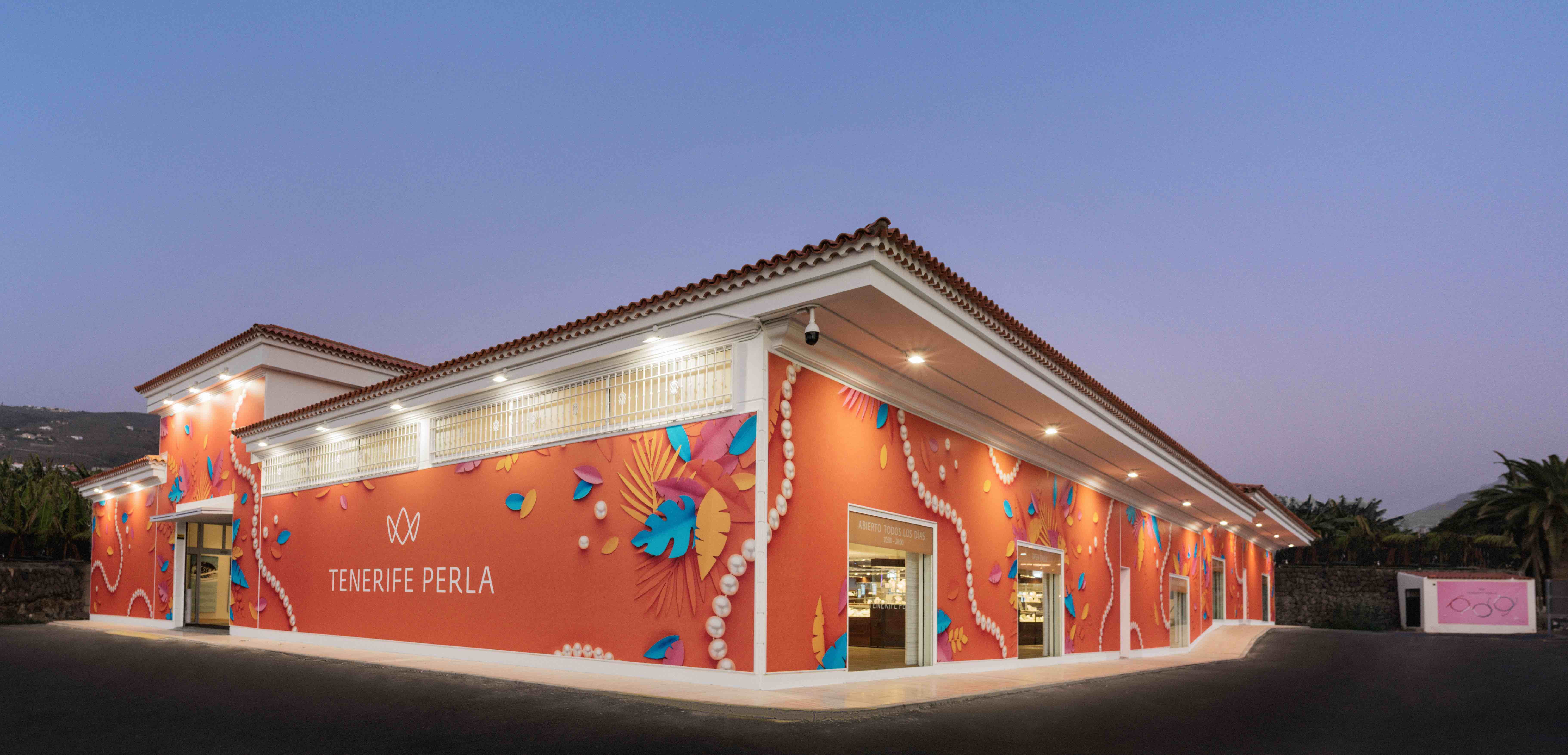 Image courtesy of Lavastar
Designer: Lavastar
Description: Visual solutions provider Lavastar created this eye-catching banner for Tenerife Pearl, a renowned producer of pearl jewellery in the Canary Islands. The tensioned banner system was installed direct into render, with solid coated PVC banners installed into framework. Lavastar oversaw the survey, artwork management, logistics, production and installation for the application.
Artists take over German fortress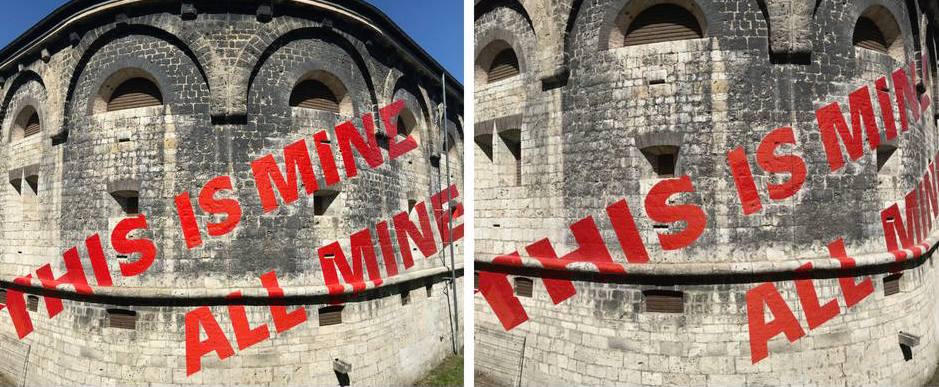 Image courtesy of Aslan
Designer: Silvia Wienefoet and Ralph Walczyk
Description: Artists Silvia Wienefoet and Ralph Walczyk used WrapTheHouse DFP 45 digitally printable film from Aslan for this unusual project. The duo applied the words 'This is mine all mine' to the outer wall of this fortress Wilhelmsburg, Germany, as part of the art project.
Vaulting ahead of the competition
Image courtesy of PressOn
Designer: PressOn / Harrods
Description: PressOn took on this creative project with Harrods, creating a series of hoarding graphics to give the impression that the famous London shop was locked away in a vault. PressOn worked in collaboration with 3D Eye on the special project.
Linea lands national honour for high-impact display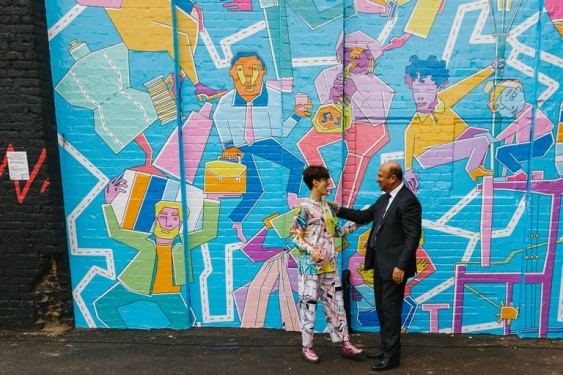 Image courtesy of Mactac
Designer: Linea Matei
Description: Linea Matei won first prize in a special competition that challenged graduate artists, designers and students studying art and design in Europe to create a high-impact, large-scale display for exterior retail walls. Linea's winning design was installed at Bohemia Place in Hackney, London - printed and applied using Mactac's WW (Wall Wrap) 100 Pro.
Reaching new heights at the Super Bowl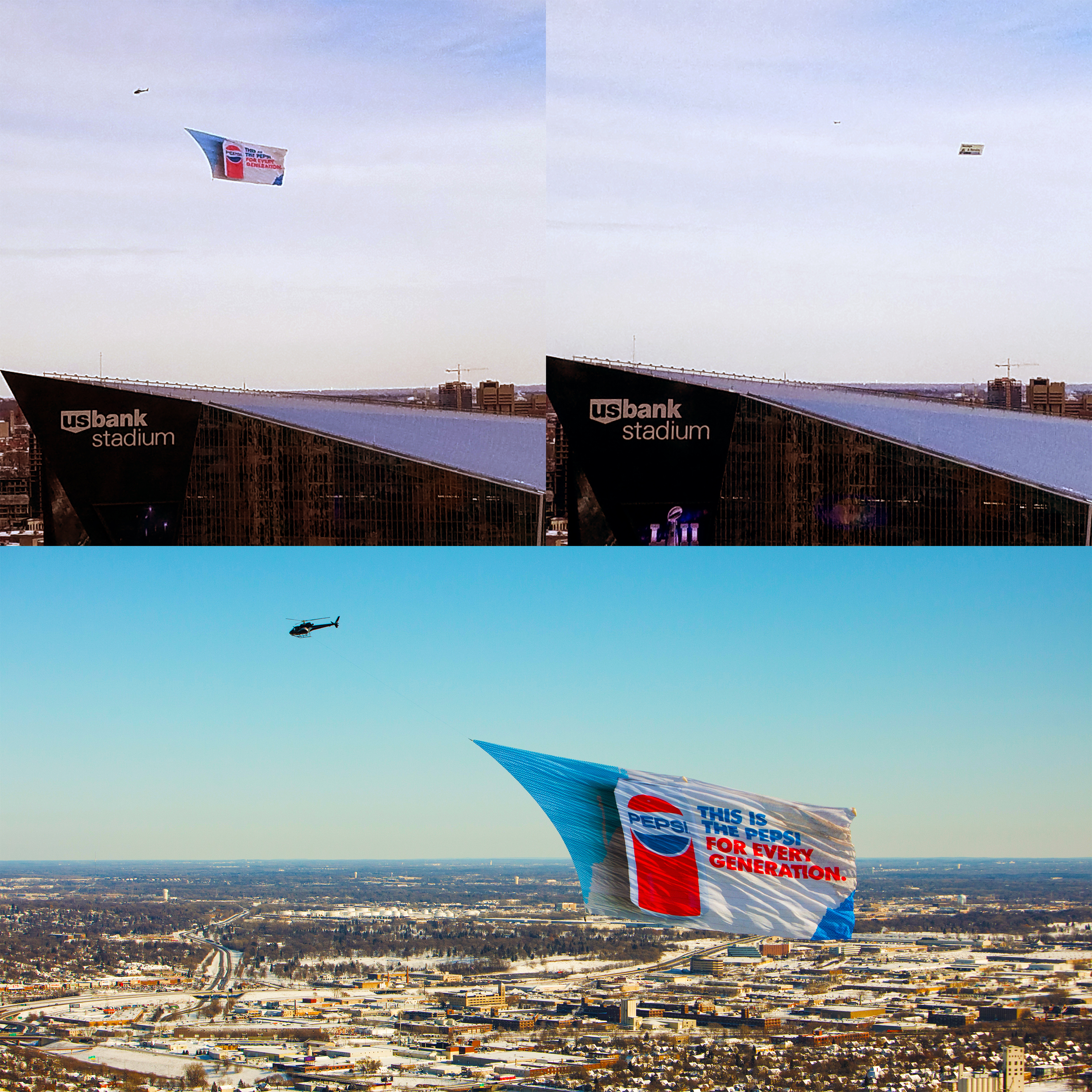 Image courtesy of Remarkable Media
Designer: Remarkable Media
Description: US firm Remarkable Media took out-of-home advertising to new heights at Super Bowl LII when it flew this giant banner over the U.S Bank Stadium in Minneapolis, Minnesota, during the NFL's showpiece game. The 20,000sq ft banner was towed by a helicopter, reaching millions of people on the ground and watching at home on television
Protecting the oceans with Corona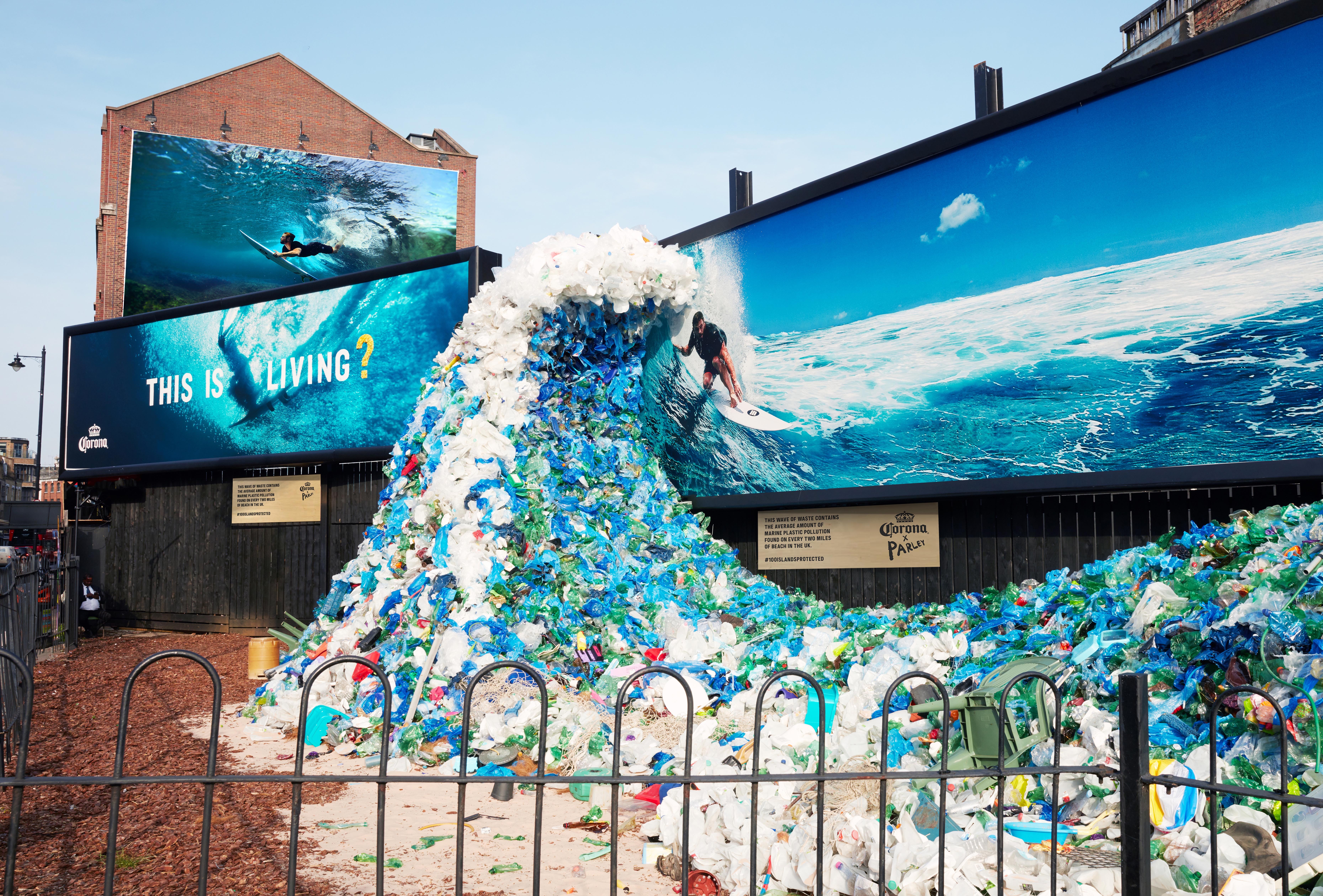 Image courtesy of Corona
Designer: Corona
Description: Beer brand Corona produced a series of outdoor, printed signs to mark World Oceans Day and raise awareness of marine plastic pollution. The main sign was accompanied by a tidal wave of plastic, made from waste found on nearby beaches.
Going outdoor with large-format 3D print campaign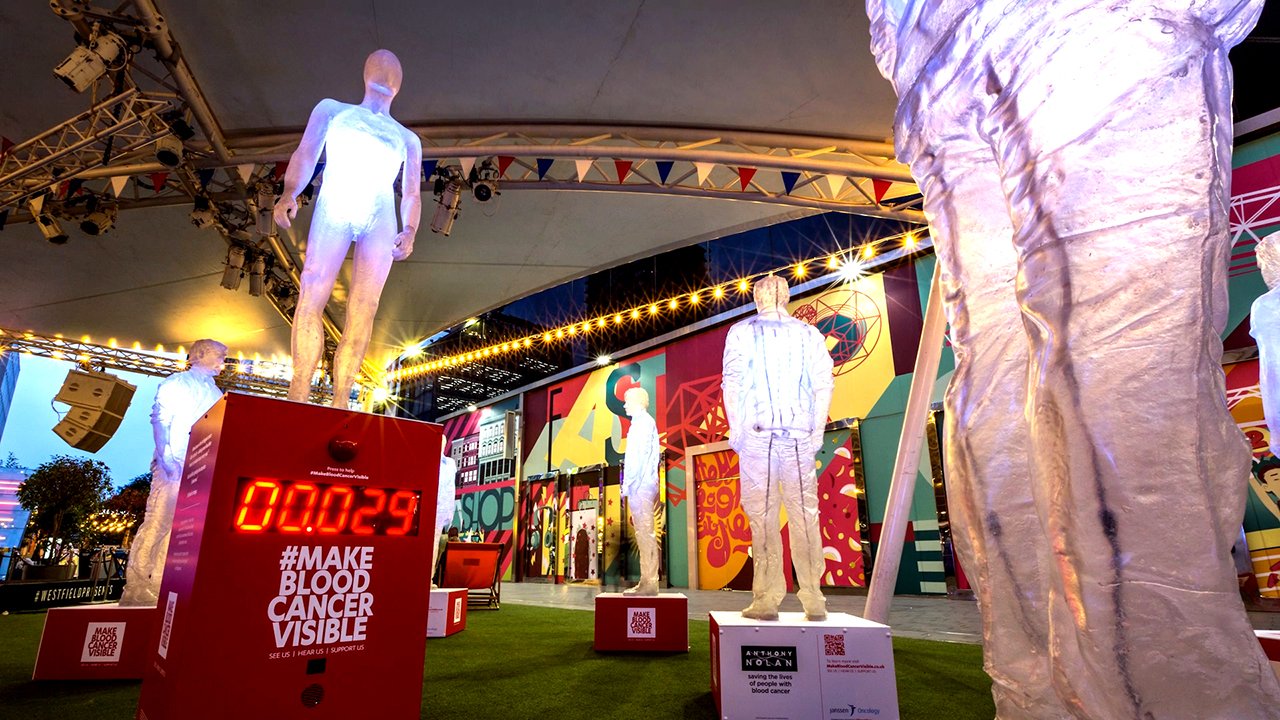 Image courtesy of Fluxaxis
Large-format printer: Fluxaxis
Description: Fluxaxis produced two life-size master figures to support pharmaceutical company Janssen with its 'Make Blood Cancer Visible' campaign. The models, which emitted real-life recordings of people with the disease, were used at various outdoor locations across the UK as part of the project produced together with Windsor Workshop. Fluxaxis 3D-printed the molds for the models using a Massivit 1800 3D Printer.
Underground, overground, burrowing free!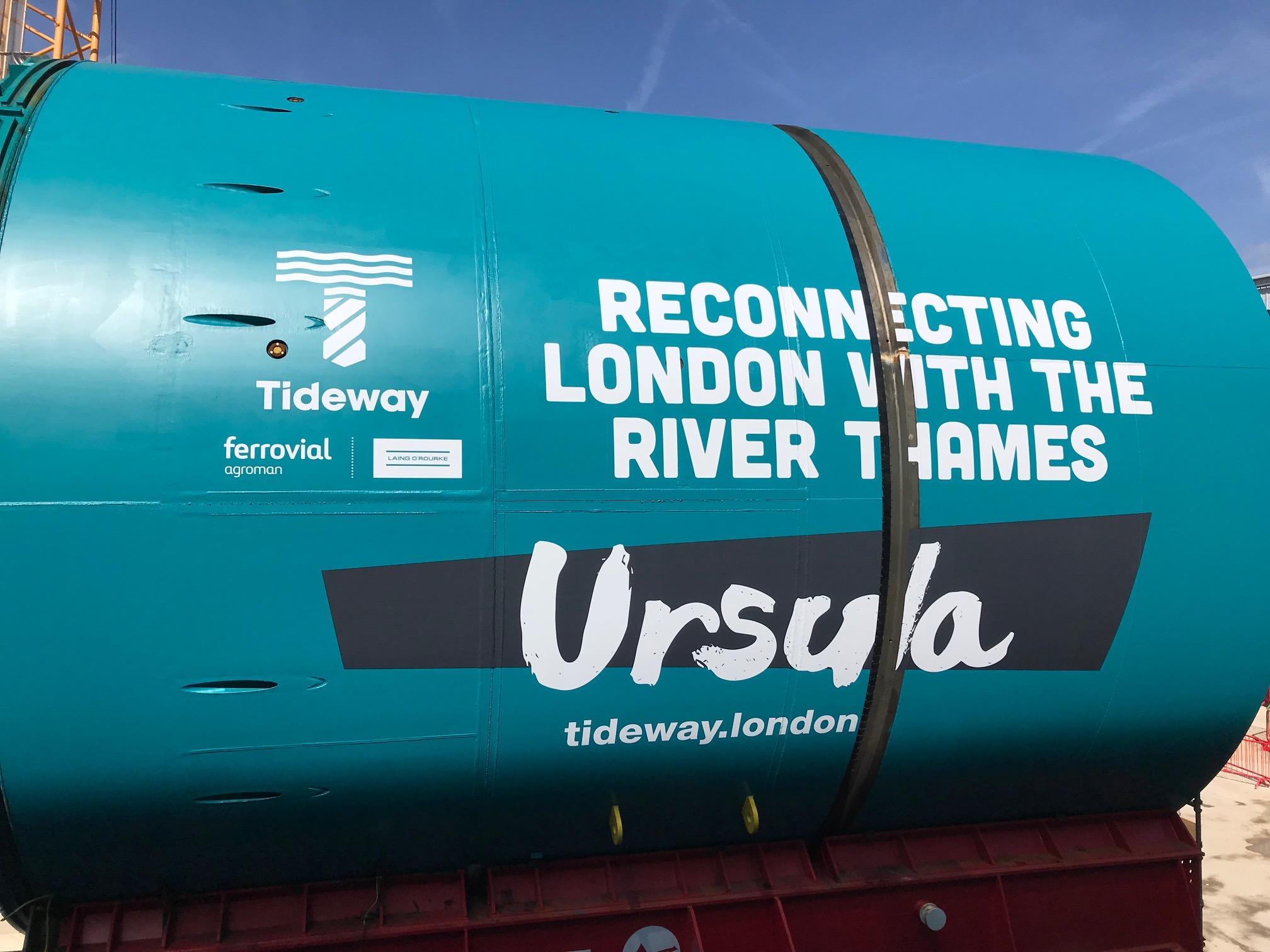 Image courtesy of PressOn
Designer: PressOn
Description: PressOn features again here for this innovative project, which saw the company apply graphics to a huge boring machine that is being used in the Thames Tideway Tunnel project. A 25km tunnel running through West London to Limehouse will handle the interception, storage, and transfer of waste from the English capital's aging sewer system. PressOn printed graphics on polymeric self-adhesive vinyl, protected with a gloss overlaminate.
Worth the Wates at Wembley Park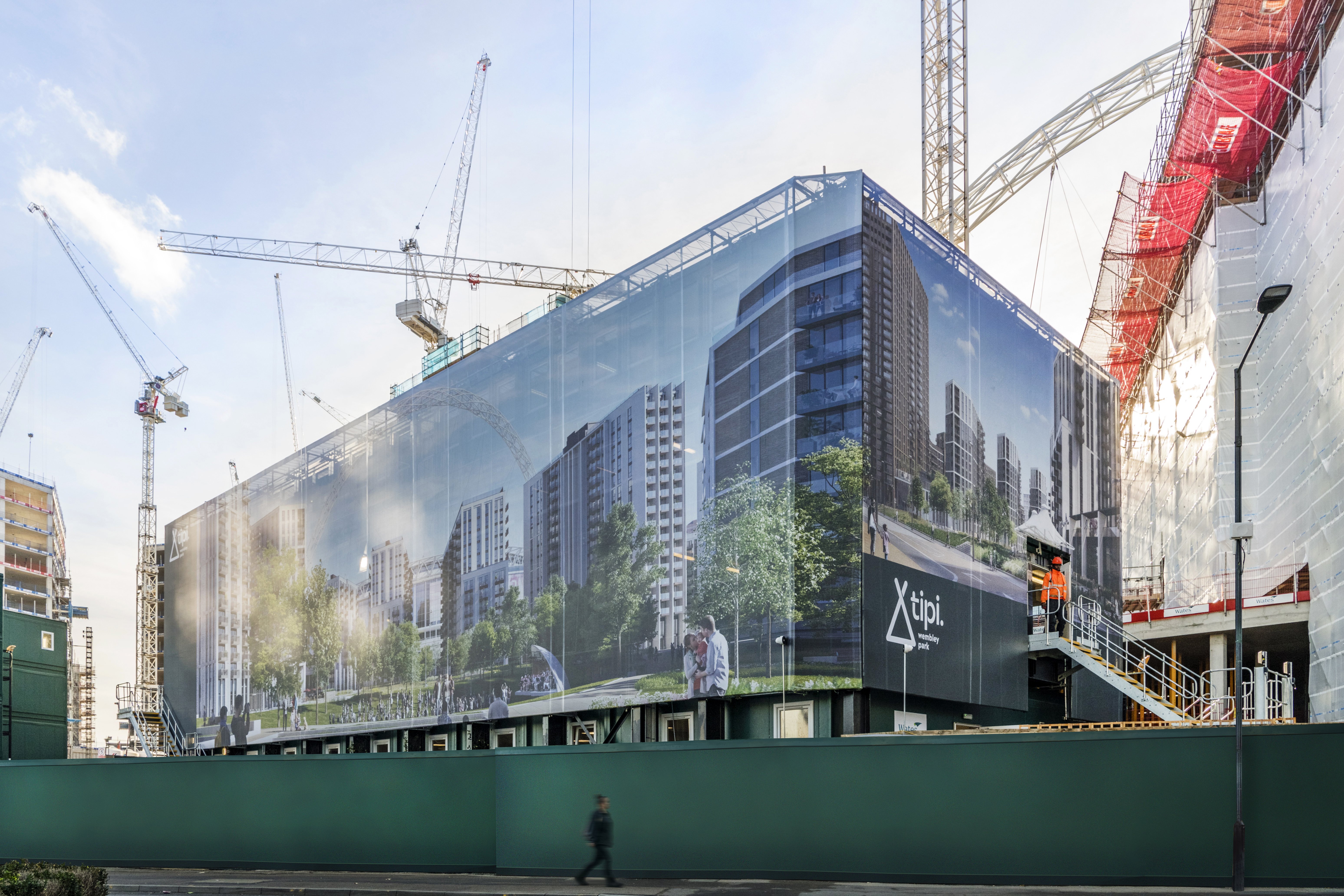 Image courtesy of Lavastar
Designer: Lavastar
Description: Lavastar also appears again in our Top 20 for this building wrap, which it produced in partnership with Wates Construction. The PVC banner portrays an artist's impression of what 633 new homes will look like when building work is completed. The construction contract is worth around £162m.
Up, up and away with FESPA Gold winner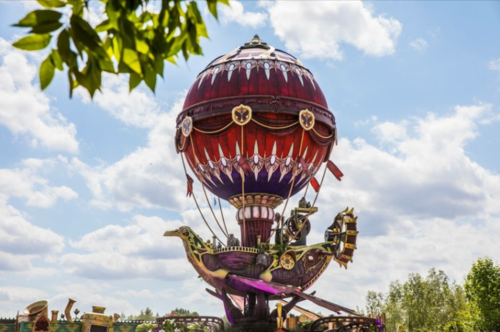 Image courtesy of de Schorre
Designer: X-Treme
Description: The first of three inclusions from the 2018 FESPA Awards, X-Treme Creations won Gold in the 'Printed Textile' category for this colourful project. Produced for a recreational area in Boom, Belgium, 'de Schorre' is an imitation hot-air balloon measuring 120sqm in total. X-Treme used a Durst Rhotex to print the graphics onto the fabric, before cutting them with a Zünd D3 plotter.
Making the step up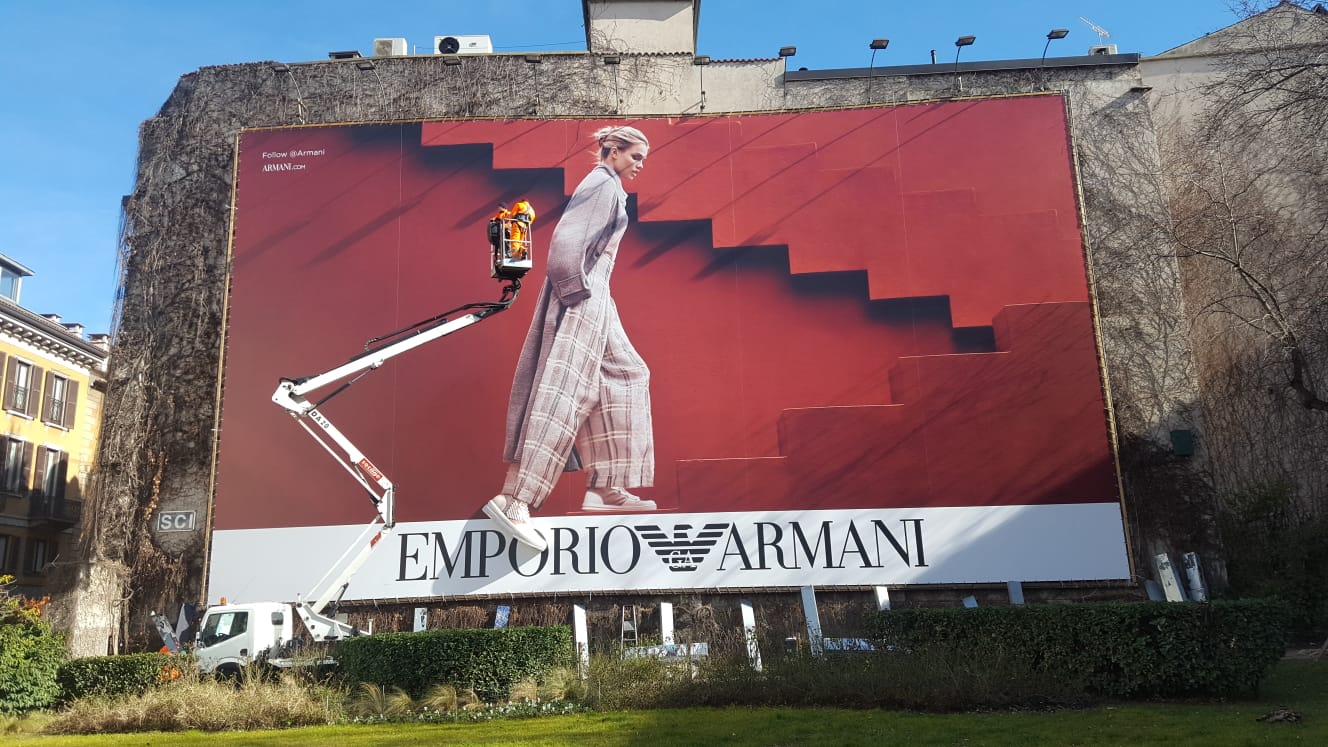 Image courtesy of Colorzenith
Large Format Print Shop: Colorzenith (Italy)
Description: This giant billboard for Emporio Armani cleverly integrates 3D print to give the effect that the model is stepping into the advert. Colorzenith used a Massivit 1800 to 3D-print the shoe, taking 19 hours in total to complete. The shoe weighs 20kg and measures 2.1m in length.
Racing into second with The Look Company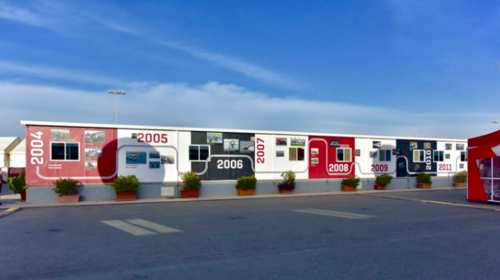 Image courtesy of The Look Company
Designer: The Look Company
Description: The second of our FESPA Awards trio, The Look Company picked up a Silver Award in the 'Decal and Printed Labels' category for this project, which saw it decorate the outer walls of the Paddock Office of the Losail International Circuit MotoGP in Doha, Qatar. The Look Company transformed the faded and rusted building into a colourful spectacle, using its Mimaki JV5 160 eco solvent printer to produce the graphics.
Standing tall with Impersol


Image courtesy of Impersol
Designer: Impersol / Joana Vasconcelos and Vhils
Description: Completing the trio, Impersol worked with a number of Portuguese artists to complete what is believed to be the world's tallest contemporary art project. Two wind turbines, each measuring 100m high, were decorated as part of the Windart Project. Impersol won Bronze in the 'Decal and Printed Labels' category for the work.
3M goes wrap-tastic at headquarters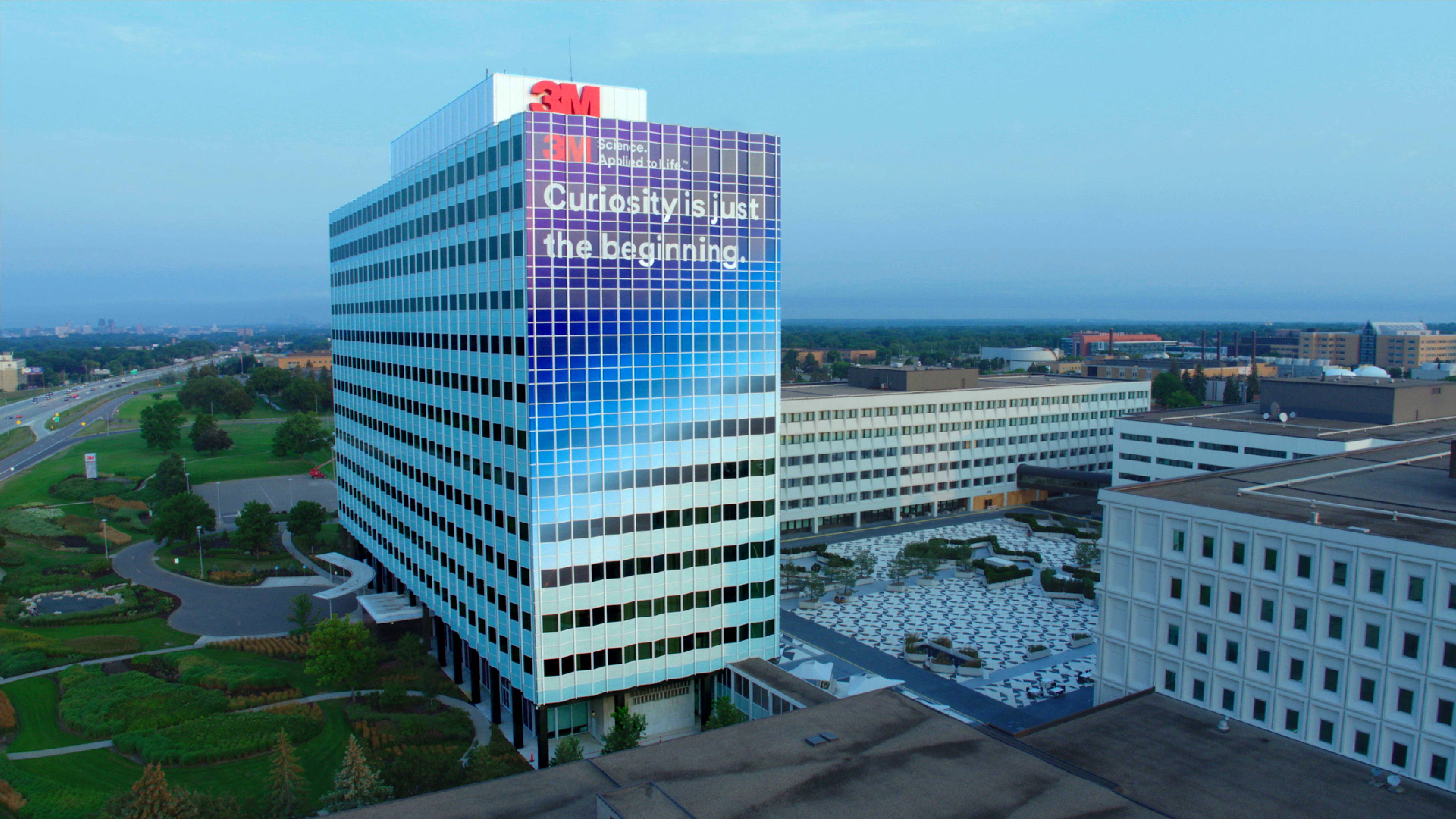 Image courtesy of 3M
Designer: 3M
Description: 3M opted to practice what it preaches by wrapping its headquarters in the US with its own films. The installation comprises almost 500 individual pieces of film on each side of the building, fitting together like a mosaic. 3M used its Controltac Graphic Film, opaque, for the windowless surfaces, and Scotchcal Perforated Window Graphic, perforated, to cover the windows.
Making an impact with Signs Express Stoke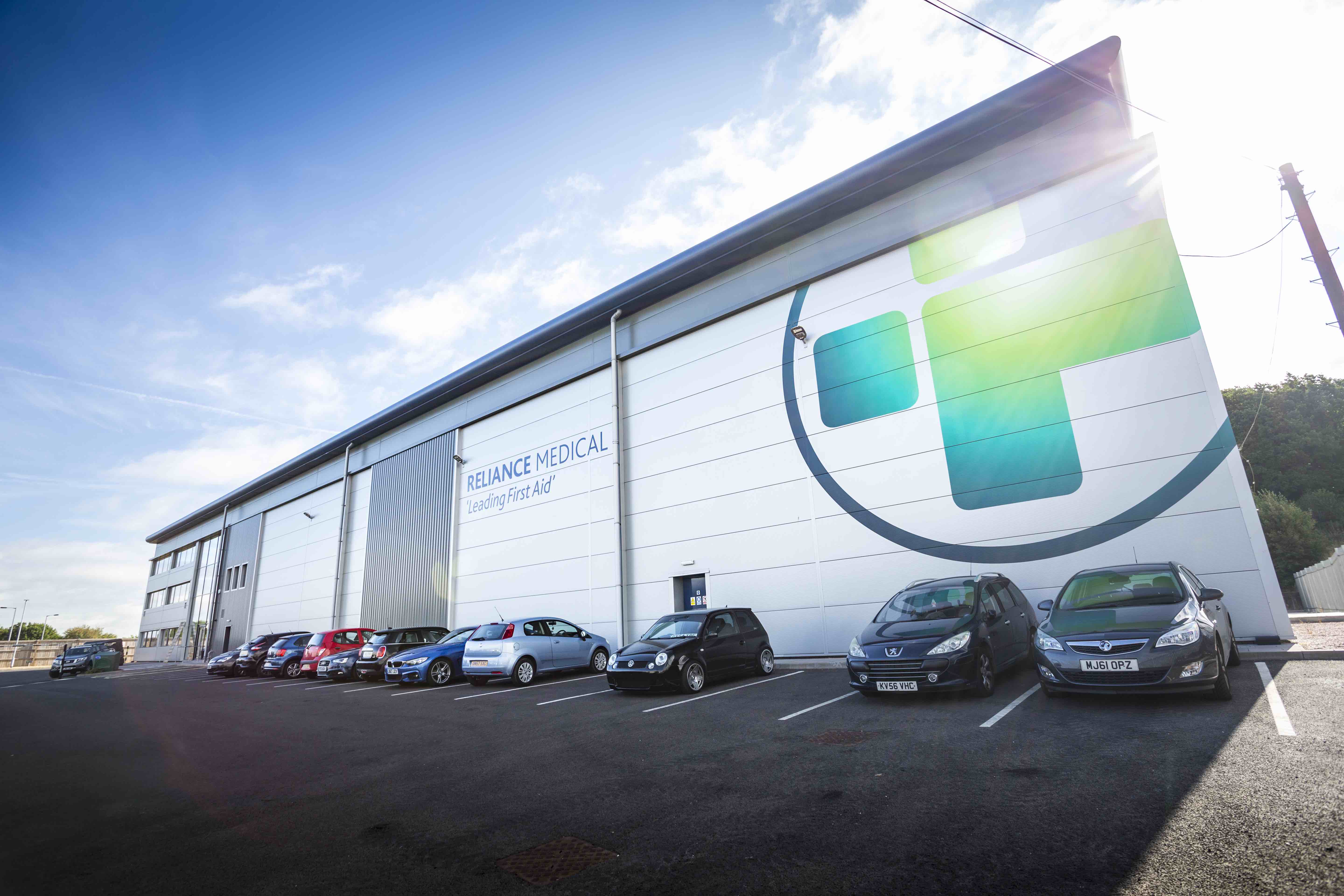 Image courtesy of Signs Express
Designer: Signs Express Stoke / Reliance Medical
Description: The Signs Express Stoke franchise produced this giant piece of print for client Reliance Medical, a trade distributor of surgical dressings, healthcare products, medical equipment and first aid supplies. Reliance Medical recently moved to a new site in Kidsgrove and called on Signs Express Stoke to help with branding the outside of the building. Signs Express Stoke prepped and printed a total of 58sq m of print for application directly to the building.
A slam-dunk for Contra Vision and Elite Signs
Image courtesy of Contra Vision
Designer: Elite Signs
Description: Las Vegas-based Elite Signs joined forces with Contra Vision to produce a range of outdoor ads for sportswear giant Nike. The ad campaign promoted the 2018 edition of the NBA All-Star Game, an end-of-season exhibition game featuring the league's best players, including legend Lebron James (pictured).
Setting the fashion trends with Talbot Designs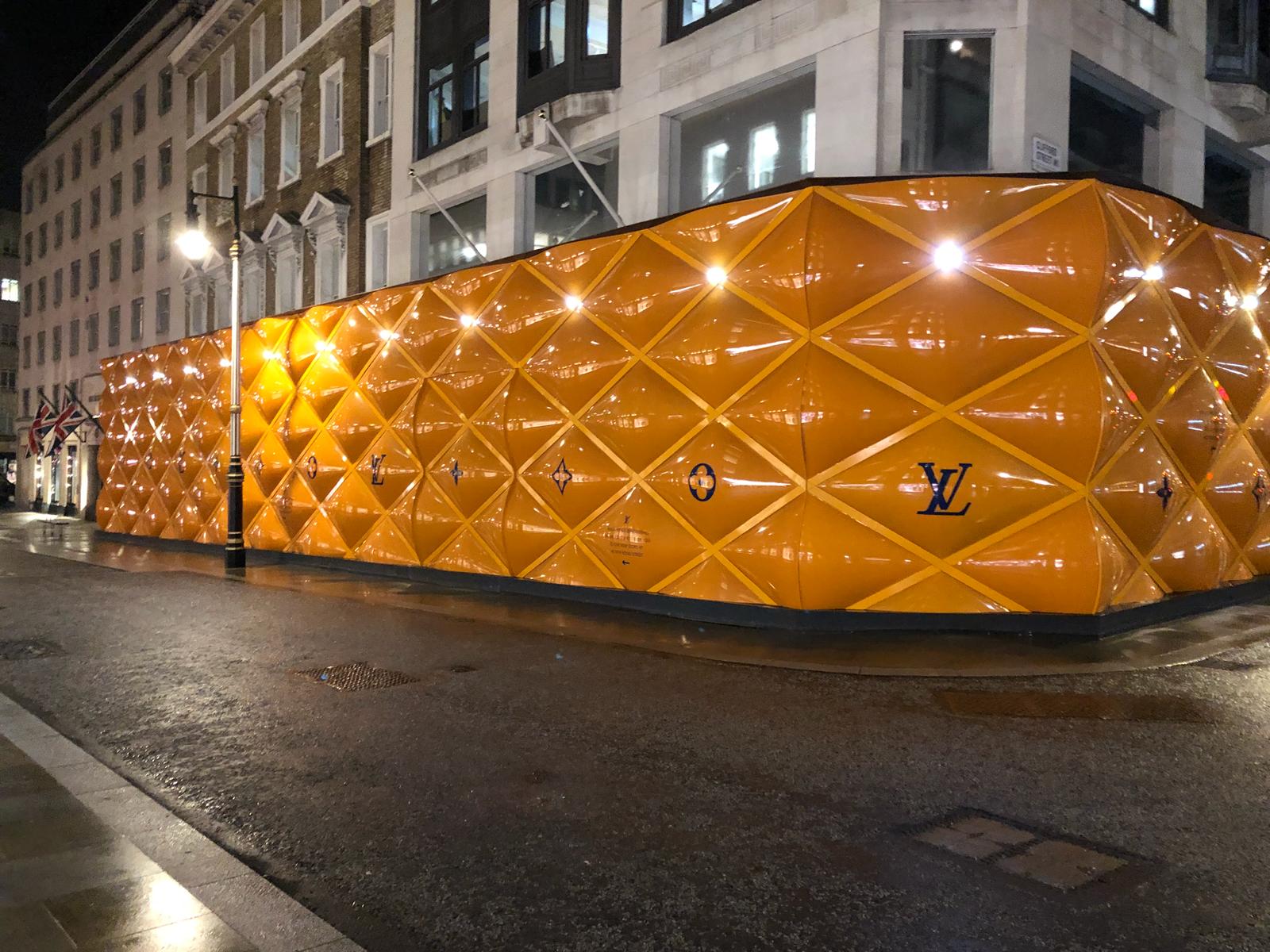 Image courtesy of Talbot Designs
Designer: Talbot Designs
Description: UK firm Talbot Designs took on this colourful project, creating a curved Perspex screen for Louis Vuitton's flagship London shop to mark London Fashion Week 2018. The hoarding, which measured more than 60m long and 6m high, was shared more than 250,000 times on social media.
On the right track with HS2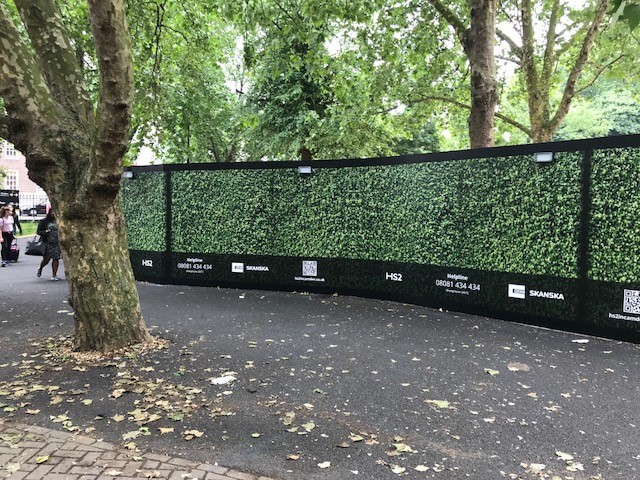 Image courtesy of PressOn
Designer: PressOn / HS2
Description: PressOn completes is hat-trick of appearances in our Top 20 with this major project, in partnership with HS2. Work on the UK's new high-speed rail network is ongoing and PressOn is supporting construction by printing a series of hoardings, designed to shelter the many work sites while reflecting the surrounding environment.
Betting on 3D print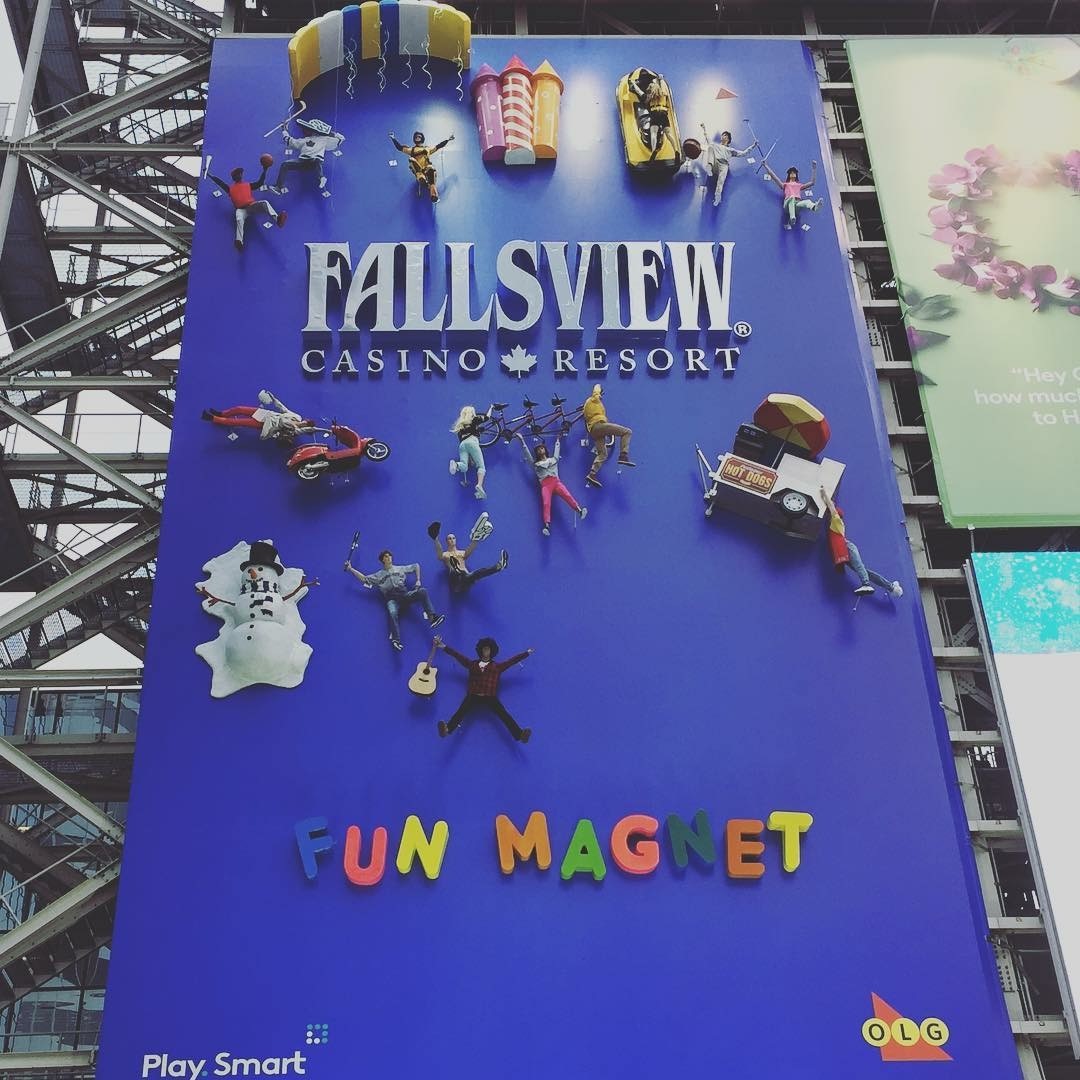 Image courtesy of Media Resources

Large Format Print Shop: Media Resources
Description: Produced for Fallsview Casino Resort in Canada, this 3D billboard was partially 3D-printed by Media Resources. The rockets and various other elements were 3D-printed on a Massivit 1800, with some of these parts also produced with CNC.

Industry members keen to learn more about the latest developments in outdoor print and its related markets can visit the FESPA Global Print Expo 2019, where a host of leading manufacturers and suppliers from this area will be in attendance to offer help and guidance.Please use promo code FESG902 to register for free.

Interested in joining our community?
Enquire today about joining your local FESPA Association or FESPA Direct