Features
Top 20 Interior Print Applications of 2019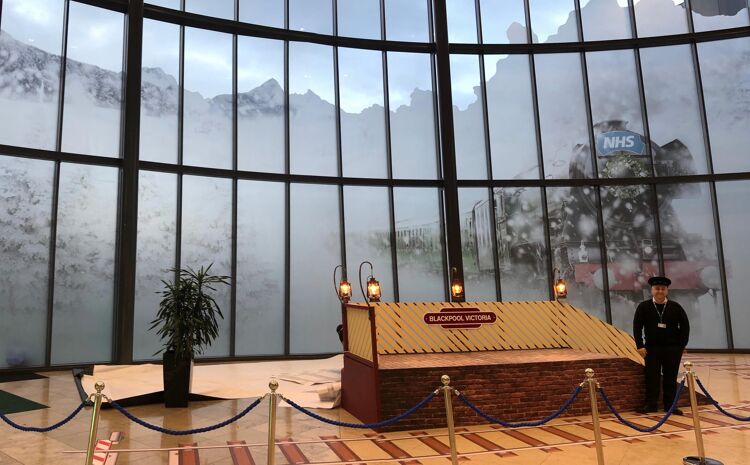 FESPA.com picks out some of the most innovative and creative interior print applications from 2019
Interior print is one of the most diversified sections of the print market; with those companies active in this market having to be constantly on their toes in order to respond to ever-changing customer demand.

From design-based work such as wallpapers, curtains and fabrics, through to posters, signage and marketing communications, interior print spans a wide range of applications.

FESPA.com goes inside this market to highlight some of the best work from the past 12 months.
Skating on the ceiling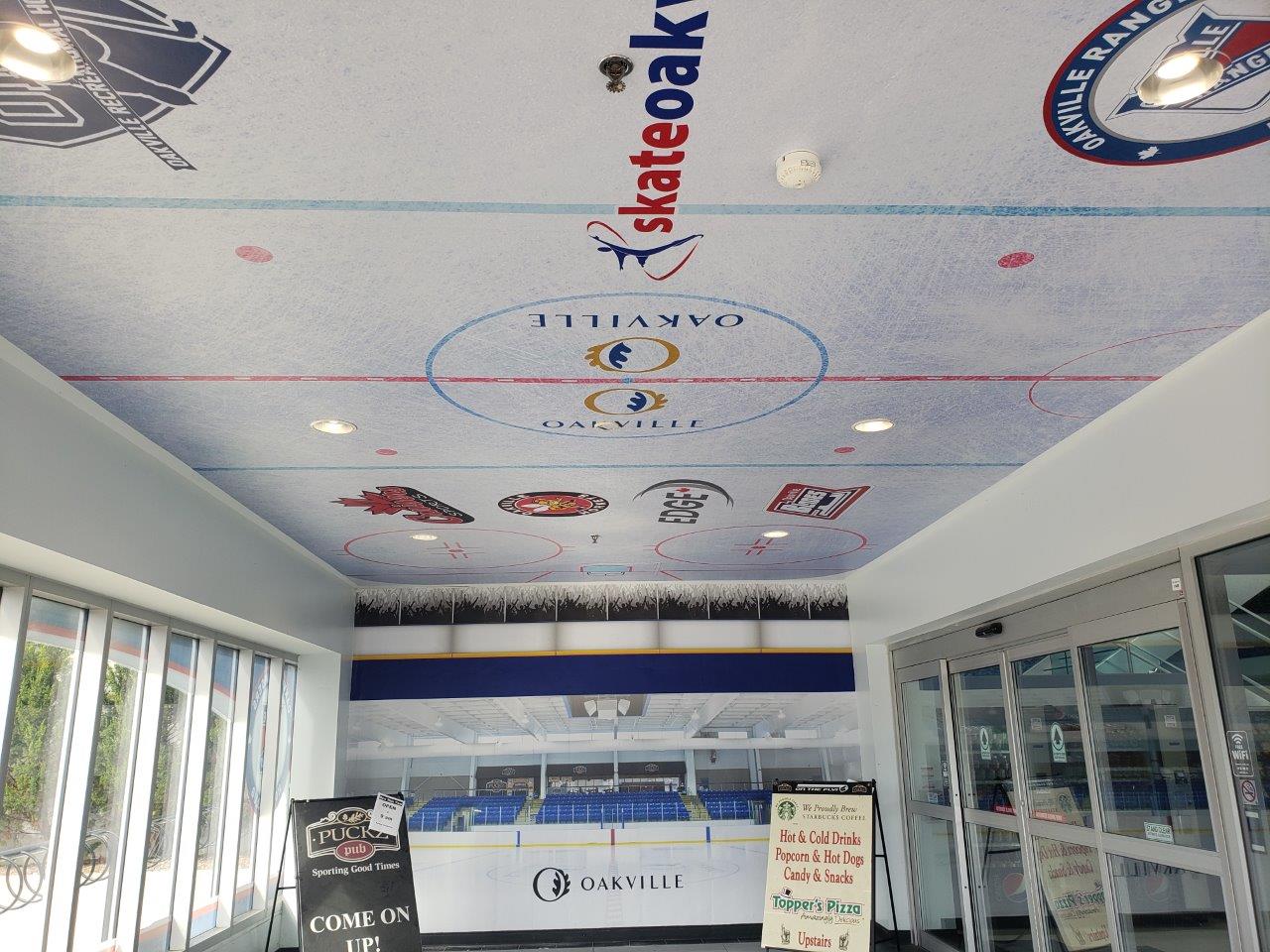 Image courtesy of Drytac

Designer: Branded Wraps
Description: Canadian company Branded Wraps created this impressive interior installation for a winter sports complex. The firm used printed Drytac films to create the effect of an ice hockey rink on the ceiling of the entrance to the facility. Branded Wraps combined Drytac Polar Premium with Drytac Interlam Pro for the job.
Industry first from Leach

Image courtesy of Leach

Designer: Leach / Replan
Description: Retail graphic display specialist Leach produced this first-of-its-kind installation for the Sports Direct headquarters in Nottinghamshire. The waterfall design was printed onto fabrics and then placed onto lightboxes to give the effect that the water was falling. Leach used its Lightwave technology to complete the job.
Pretty in pink with FESPA Gold Award winner

Image courtesy of VGL

Designer: VGL
Description: UK firm VGL scooped a FESPA Gold Award in the Posters Category for this interactive two-week campaign consisting of two 10m-wide posters on opposing walls of London Underground tube station at Oxford Circus to promote Beefeater Pink Gin. The dry posting performance paper by Lahnpaper was printed using VGL's Durst RHO512R roll to roll UV digital printer, and subsequently over printed with a water-based UV microcapsule fragrance ink using a strawberry scent.
Taking flight with Signs Express Glasgow

Image courtesy of Signs Express (Glasgow).

Designer: Signs Express (Glasgow).
Description: Visited by thousands of people, the Scottish Seabird Centre was given a fresh look last year with some help from Signs Express (Glasgow). The main highlight of the project was a moving lenticular print that cleverly depicts an underwater scene.
Going green indoors

Image courtesy of Sarah Barnard

Designer: Sarah Barnard
Description: Last year, Green-minded interior designer Sarah Barnard launched a range of environmentally friendly products. The Kale Tree collection includes various offerings, including a eco-friendly wallpaper, featuring a print based on a hand-drawn design by Barnard.
Interior Sanctuary for Ashley House Printing Company

Image courtesy of Antalis

Designer: Ashley House Printing Company
Description: Exeter-based Ashley House Printing Company used Antalis Coala large-format digital media to create wall graphics for Sanctuary House in Devon, UK. Using scans of original artwork, Ashley House Printing was able to create the graphics for the facility, which has expansive views over an estuary and nature reserve.
A good hair day for Quadrant2Design

Image courtesy of Quadrant2Design

Designer: Quadrant2Design
Description: Quadrant2Design used colourful printed graphics to create this clever exhibition stand for Aura. The graphics give the effect that the model's hair is flowing in various directions over the stand, including underfoot with a photo floor.
Hanging out at Harrods

Image courtesy of PressOn

Designer: PressOn/Harrods/NSPCC
Description: UK print company PressOn linked up with world-famous London shop Harrods to launch Fashion Re-told, a luxurious charity pop-up raising designed to raise funds for the NSPCC. PressOn supplied the graphics for walls, floors, lifts and stairs in the 218sq m space.
Kids only at Dutch Wonderland

Image courtesy of Drytac

Designer: Graphik Masters
Description: Dutch sign business Graphik Masters produced a range of interior print for Dutch Wonderland's Cartoon Network Hotel. The project included wall and window graphics, with Graphik Masters utilising various printable films from Drytac to complete the work.
Pretty in pink

Image courtesy of Drytac

Designer: Grant Graphics
Description: US company Grant Graphics created this colourful interior for Walt & Whitman Brewing, after it took over an historical building that had housed the offices for the Saratogian newspaper. The wallpaper featured images of various pages of the newspaper, ensuring the new inhabitants paid tribute to the building's past.
Superb Silver for Digital Plus

Image courtesy of Digital Plus

Designer: Digital Plus
Description: UK company Digital Plus won a FESPA Silver Award in the Display and Packing on Plastic Category for this interior design project to refit the Club Energy Gymin Retford. The project included printed Avery and Mactac vinyls and laminates, as well as other materials such as rigid 5mm and 10mm Palfoam PVC and Contravision one-way window film.
Paperboard perfection for Prosign

Image courtesy of

Designer: Prosign Print and Display
Description: Prosign Print and Display in the UK cleverly used Xanita board from Antalis to produce a number of paperboard-based applications. Everything in the break-out room at Prosign's premises was created using Xanita, including a radio and a barbeque!
On the right track

Image courtesy of Signs Express Central Lancashire

Designer: Signs Express Central Lancashire
Description: Signs Express features for a second time on our Top 20 as its Central Lancashire franchise spread some Christmas cheer with the Blackpool Express. Standing at 12 meters tall, the window graphic depicted a train in a snowy scene, with visitors able to have their photograph taken on a mock platform in front of the print.
Turning art into wallpaper

Image courtesy of Drytac

Designer: Hello It's Matilda / Boylan Imaging
Description: Canadian firm Boylan Imaging used on Drytac's ReTac large-format print media to recreate work by artist and graphic designer 'Hello It's Matilda' as a wallpaper. The printed work featured designed that were original hand-drawn by the artist.
Paige-turner from PressOn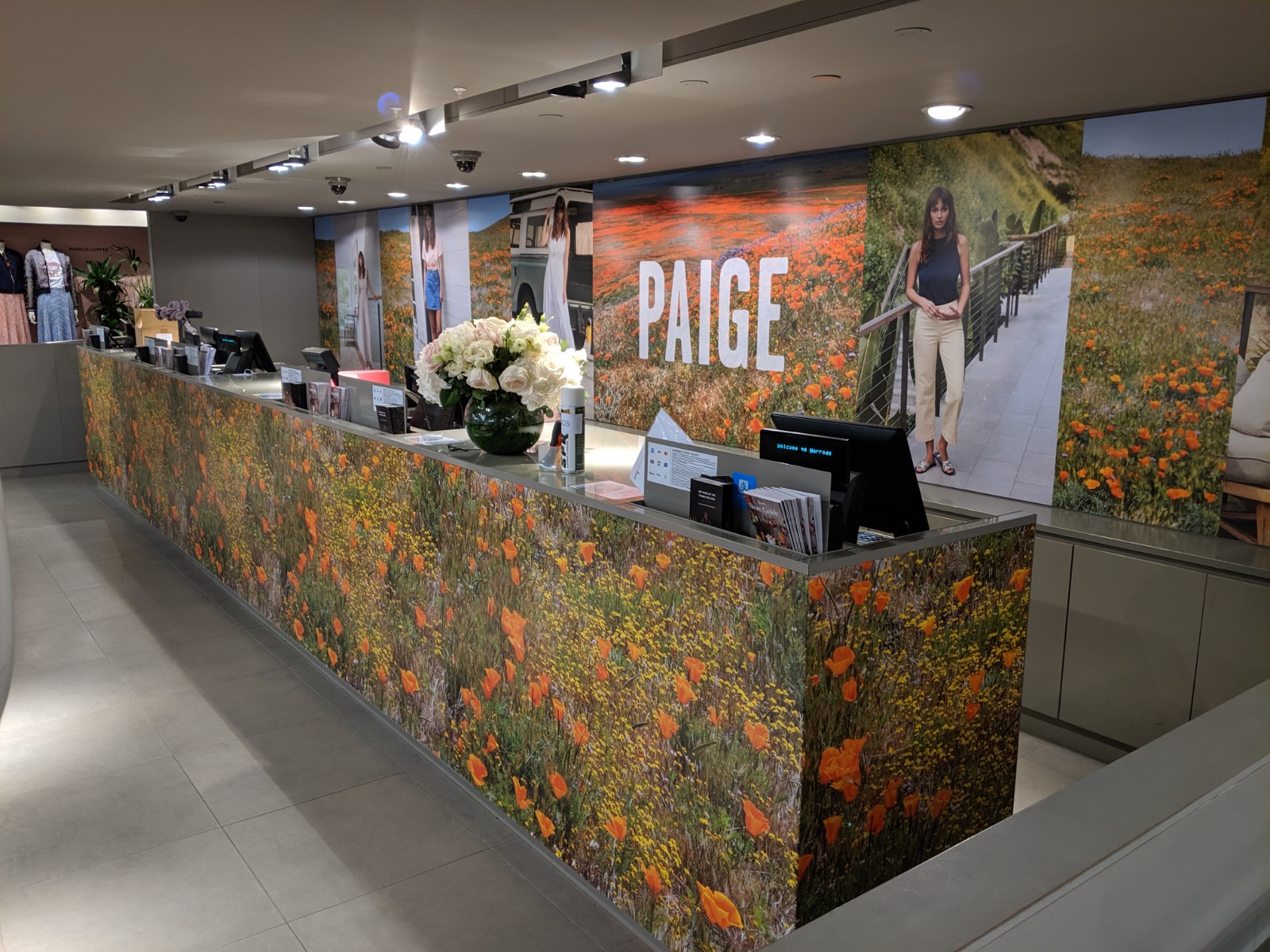 Image courtesy of PressOn

Designer: Paige
Description: Fashion brand Paige called on PressOn to help decorate the interior of one of its stores. The project included printed graphics for the floors, columns, walls and even surfboard logos. Pictured here are printed graphics used on and around the till area inside the shop.
FESPA Silver for SignBox

Image courtesy of SignBox

Designer: SignBox
Description: Another FESPA Award winner as UK firm SignBox won Silver in the Decals and Printed Labels Category for this refit for IAG Cargo. The project included a combination of manifestation film and graphics printed on HP Latex, using Metamark high tac with over lamination of scratch resistant laminate across the diverse interior.
Making a statement with Olivia Rubin

Image courtesy of PressOn

Designer: Olivia Rubin / PressOn
Description: PressOn linked up with fashion brand Olivia Rubin to print interiors for a pop-up store. Graphics for the back till wall was printed on a HP R-series, while graphics for the floors, columns and till front and sides were printed using HP Latex technology
Racing into the lead

Image courtesy of Brett Martin

Designer: Brett Martin / Foamalux
Description: International rigid plastic media manufacturer Brett Martin raced ahead with this creation, using products from the Foamalux range to produce a model racecar. Foamalux is a PVC sheet that can be used in a wide range of applications.
Young Stars shine at FESPA

Image courtesy of T.E.I Athens

Designer: T.E.I Athens
Description: A special mention for T.E.I Athens, at the Department of Graphic Arts Technology in Greece, which won FESPA's Gold Young Star Award for this set of reproductions of Byzantine. Created using a variety of screen rulings in four colour process, they included 72lpi CMYK, 105lpi CMYK, six colours 72lpi and six colours and 72lpi on selected areas.
Scoring a strike with Graphicomm Digital

Image courtesy of Drytac

Designer: Graphicomm Digital
Description: UK firm Graphicomm Digital produced this 200sq m wall graphic installation at the New York Thunderbowl bowling alley and entertainment complex in Kettering. The eye-catching design in the bowling alley was based on an underwater scene.
Interested in joining our community?
Enquire today about joining your local FESPA Association or FESPA Direct