Features
Top 20 Interior Print Applications of 2018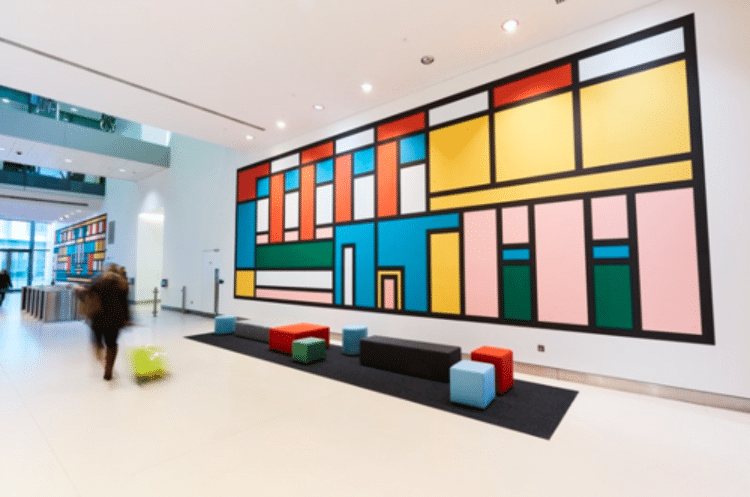 FESPA.com looks back over the last year in print, picking out some of the more innovative and interesting interior print applications from around the world.
Interior print is one of the most solid sectors in the wider print market. While designers continue to use printed media to support interior décor projects, print is also proving a popular choice for marketers and brands to promote products.

From interior design applications including furniture, carpets and wallpapers, to advertising-focused prints such as giant posters, floor graphics and even floating 3D boxes, there is a whole host of opportunities for work in this market.

FESPA.com takes a look inside the market and explores some of the more unique projects in interior print.
Exploring new opportunities with digiSTONE

Image courtesy of Stone Master Global
Designer: Stone Master Global
Description: Stone Master Global, an Illinois-based manufacturer and distributor of stone veneer and thin brick products, used specialist 'digiSTONE' digital print technology to create its Supreme Collection. The range of modern designs for decorative and facade stone featured at the NAHB International Builders' Show in Las Vegas.
Making a house a home with historic designs

Image courtesy of The Inside
Designer: The Inside / Scalamandré
Description: Home furnishings start-up The Inside joined forces with American heritage design house Scalamandré to bring a series of designs to life for the interior décor market. This example features the iconic Zebra print made famous by cult classic film, 'The Royal Tenenbaums'.
Global expansion with wallpaper entrepreneur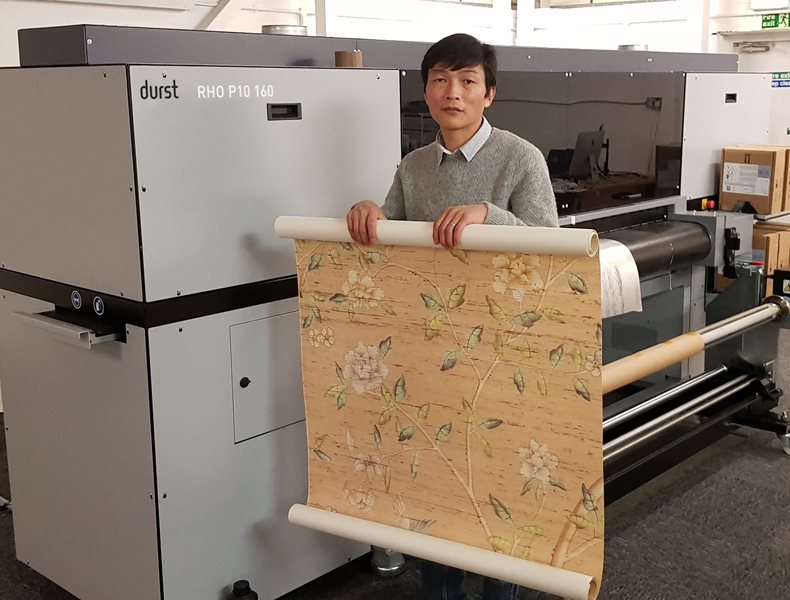 Image courtesy of Durst
Designer: David Qian
Description: Wallpaper entrepreneur David Qian used a new Durst P10 160 to print his unique interior décor products. Qian spent £1m on new kit in the past year to expand the reach of his wallpaper to more customers around the world.
Whaam! What a display!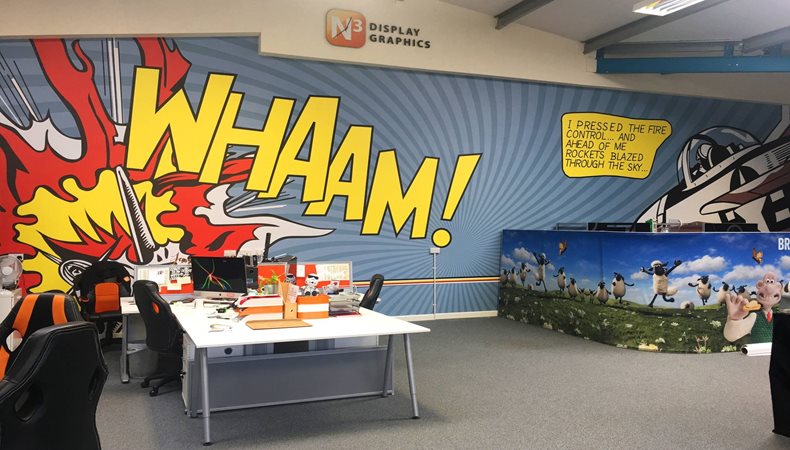 Image courtesy of Drytac
Designer: N3 Display Graphics
Description: Large-format print specialist N3 Display Graphics used ReTac Textures Linen media from Drytac to produce this high-impact wall graphic for its offices in Bristol, UK. The design draws inspiration from Roy Lichtenstein's iconic pop art painting 'Whaam!'
Three-dimensional opportunities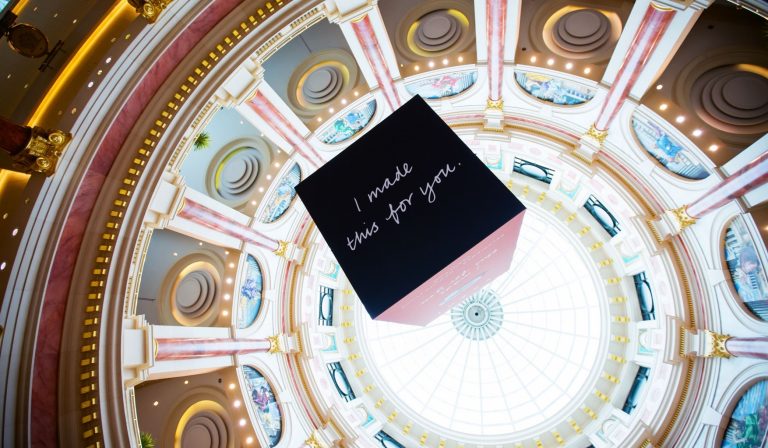 Image courtesy of PressOn
Designer: PressOn / Limited Space
Description: PressOn worked with client Limited Space to produce a series of special '3D box banners', which were hung from the ceiling in a number of shopping centres around the UK. The applications were used to promote seasonal offerings for high profile brands such as Swarovski.
Printed love in an elevator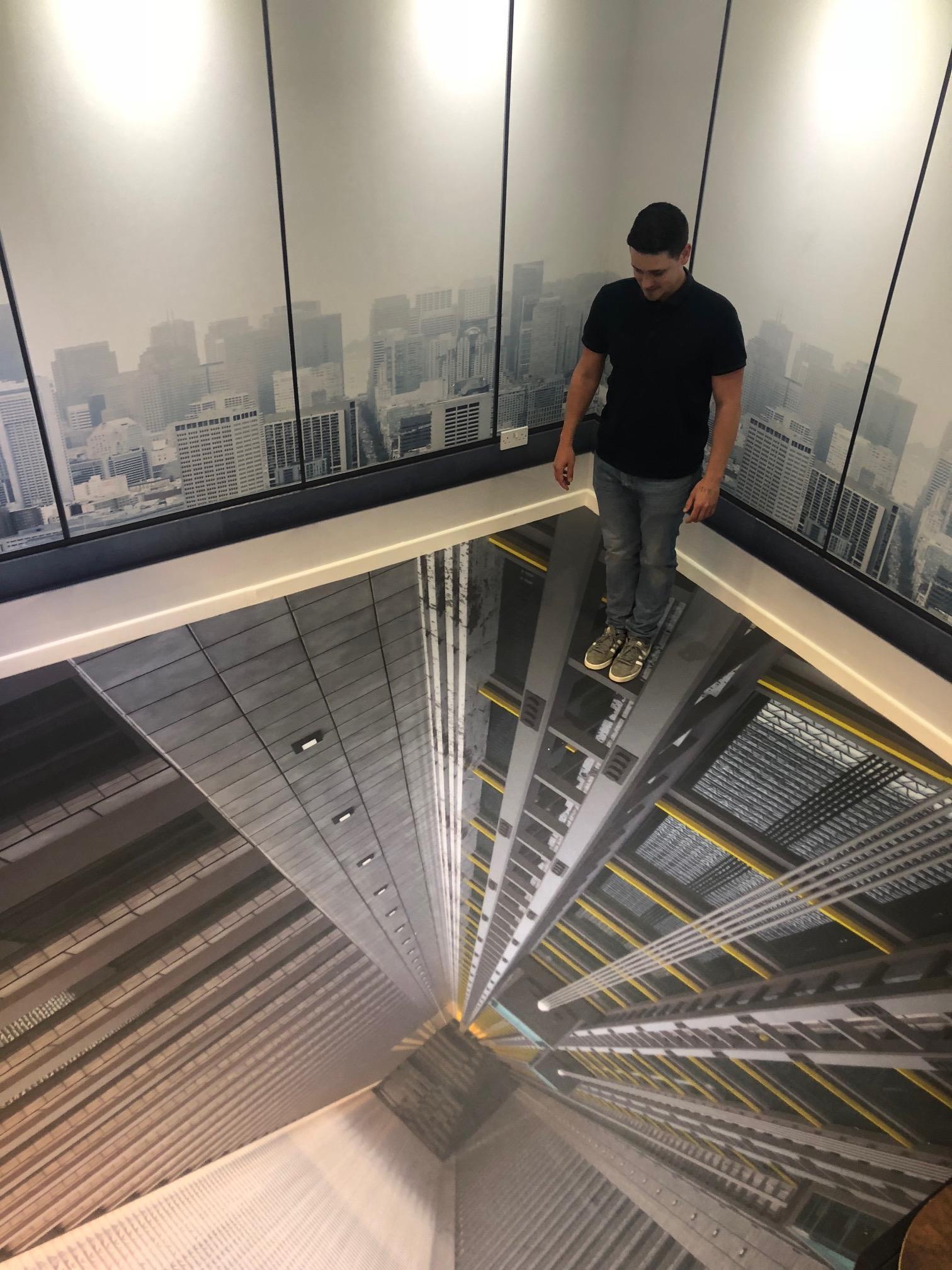 Image courtesy of CMYUK
Designer: ImageCo
Description: Sign and print company ImageCo produced this creative, if not slightly scary, application for an elevator at its Leeds headquarters. Using UDECO Crystal Floor from CMYUK, ImageCo created the effect that there is no floor to the lift, with people greeted with a long drop down to the ground! ImageCo also used CMYUK Utack self-adhesive polyester fabric to decorate the lift walls.
Setting the trends at FESPA's Printeriors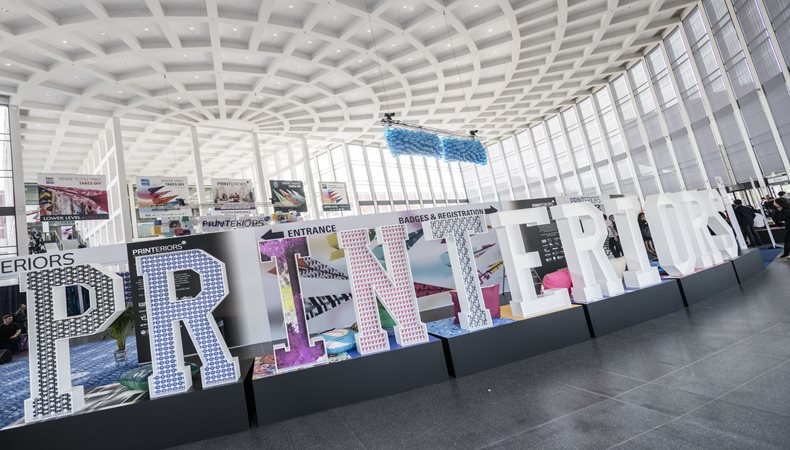 Image courtesy of FESPA
Designer: FESPA
Description: We couldn't have a Top 20 on interior print applications without a mention of our own dedicated event, Printeriors. Taking place within the main FESPA Global Print Expo this year, the event aims to showcase opportunities for growth in the interior décor market. To highlight the event, we produced this special printed lettering. Find out more about Printeriors here.
Game, set and match to Drytac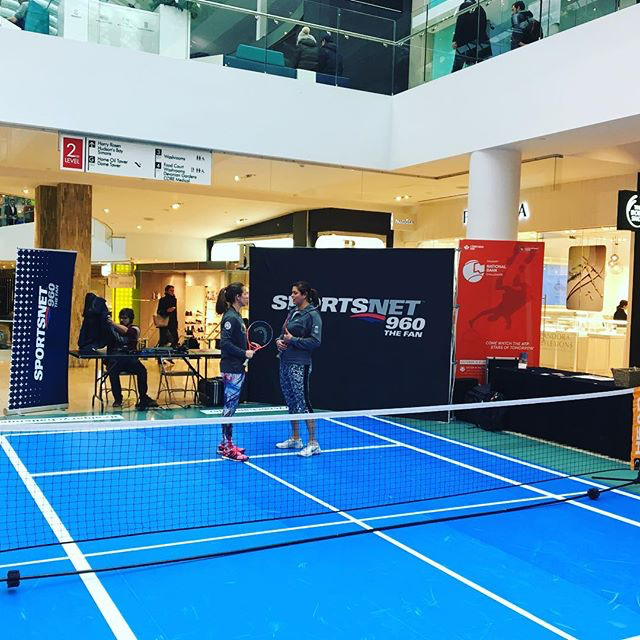 Image courtesy of Drytac
Designer: Print Three
Description: Calgary-based Print Three used materials from Drytac to transform part of a shopping centre into a tennis court, to promote the first ever Men's ATP Tennis at the nearby Alberta Tennis Centre. Print Three used the SpotOn Floor 200 white monomeric PVC film for the job.
Going for gold with Signbox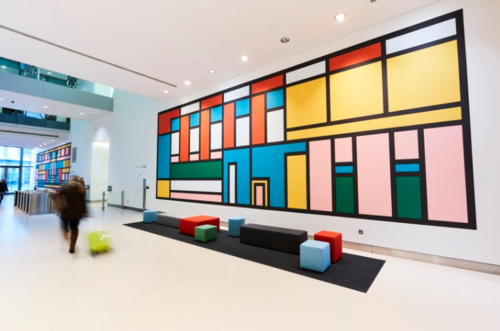 Image courtesy of Signbox
Designer: Signbox
Description: Paying tribute to our FESPA Award winners in 2018, Signbox took home a Gold Award in the 'Decals and Printed Labels' category for this piece, produced for the new London headquarters of a marketing communications group. Signbox used HP Latex printers to print the material and a Zund S3 digital cutter for the cutting process.
A right Royal Collection for FESPA award winner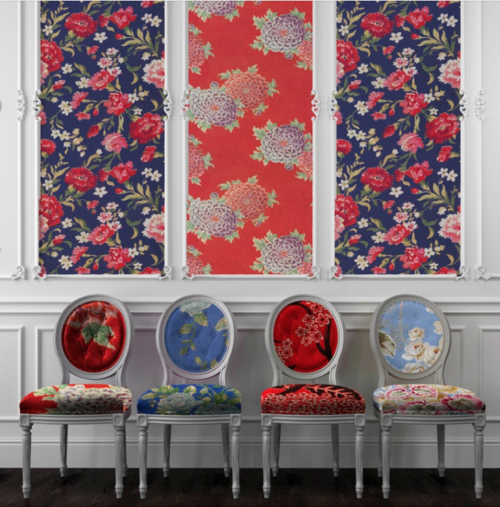 Image courtesy of Debbie McKeegan
Designer: Debbie McKeegan
Description: Debbie McKeegan picked up a FESPA Silver Award in the category of 'Printed Textile' for this piece of work, reworking vintage patterns into modern interior décor. Kit used here included Gotex and Rowland ink sets.
Celebrating history with Soyang Europe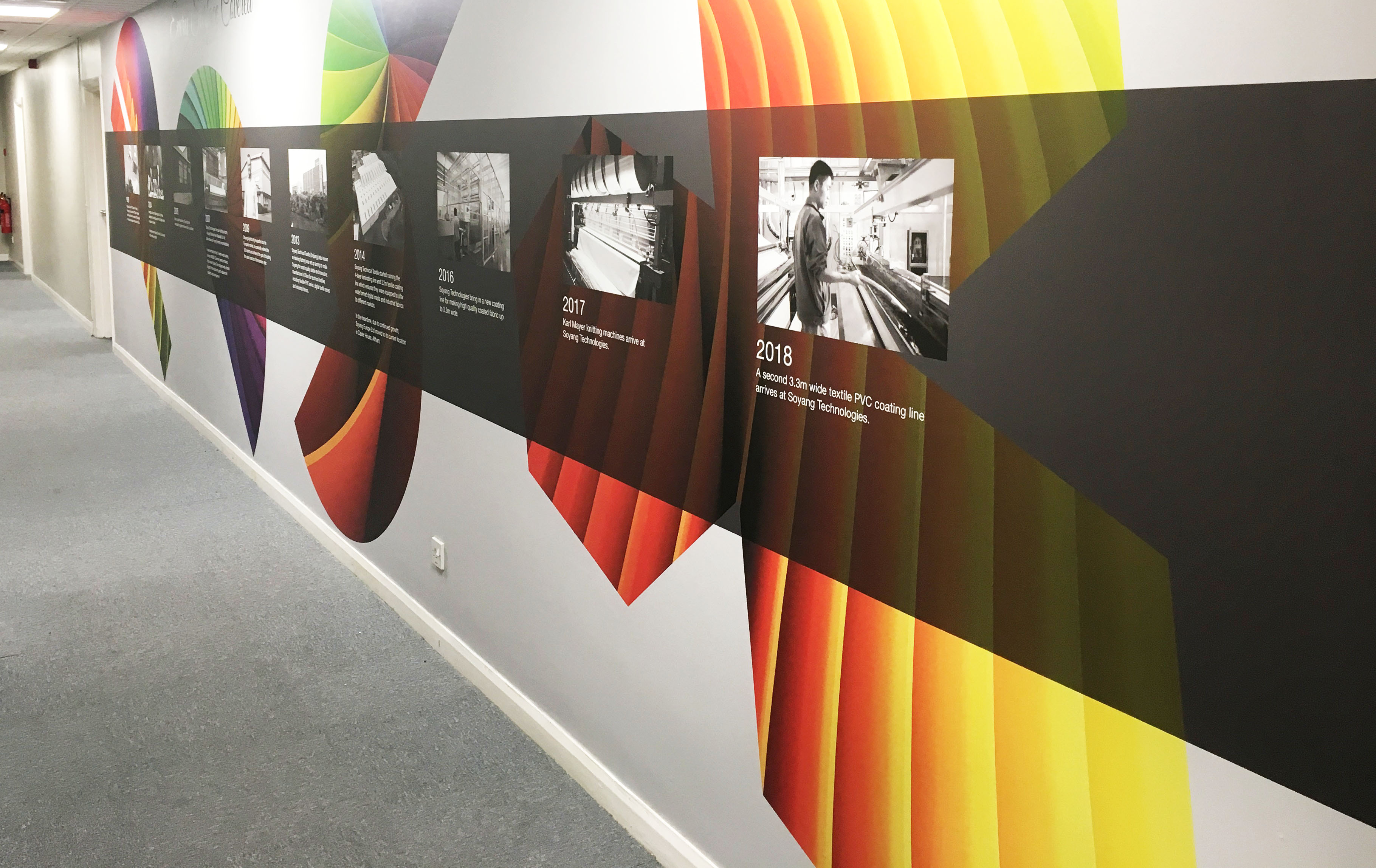 Image courtesy of Soyang Europe
Designer: UV Creative
Description: Soyang Europe celebrated its long-term partnership with Soyang Technologies by installing a unique timeline graphic to celebrate their time working together, at its Lancashire headquarters in the UK. The piece measures more than 9.5m long and was printed onto Polycril GW, a printable wall covering distributed by the company.
A blast from the past with Pottery Barn and Liberty London Fabrics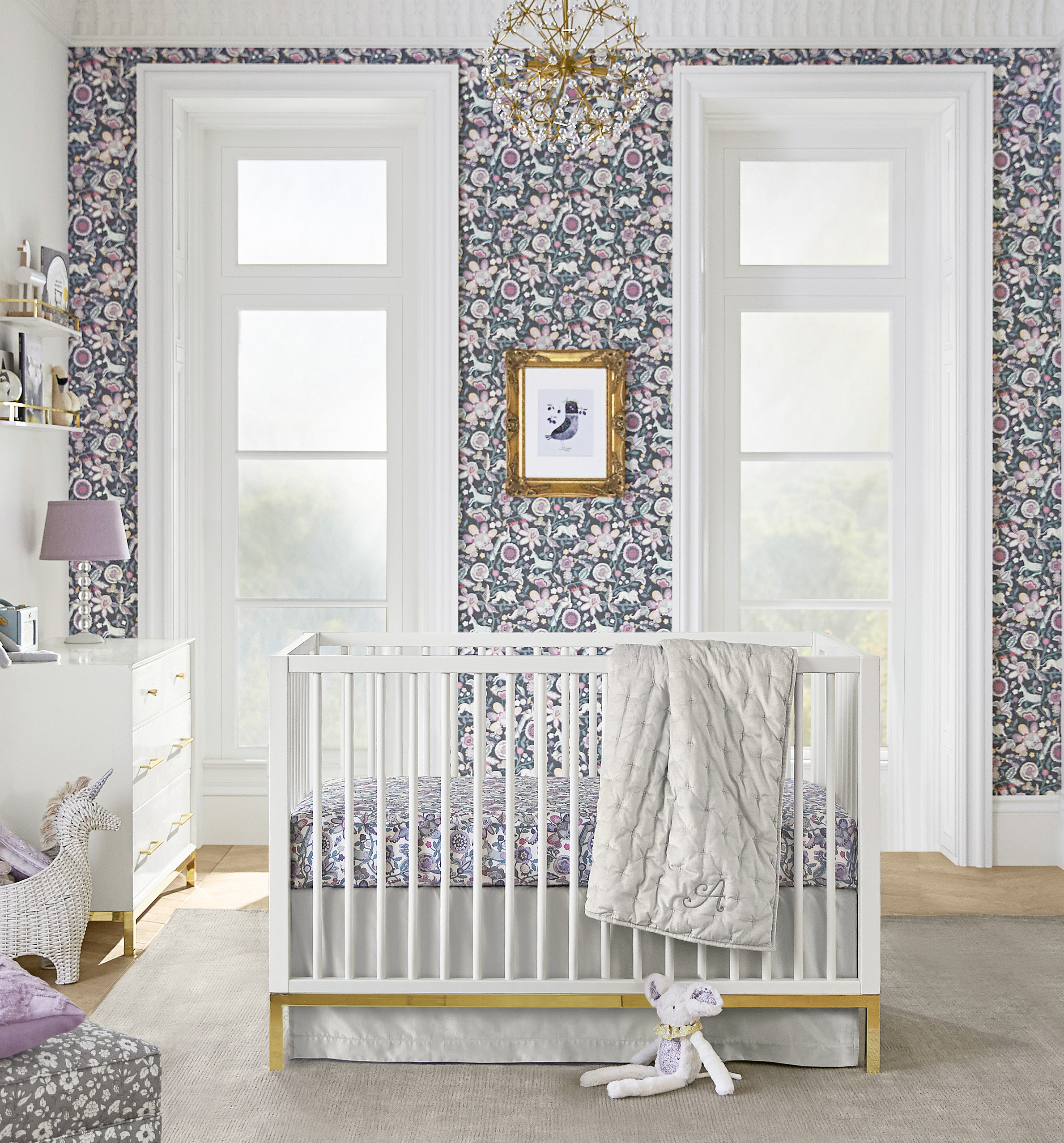 Image courtesy of Pottery Barn
Designer: Pottery Barn / Liberty London Fabrics
Description: Pottery Barn joined forces with historic British print design and textile house Liberty London Fabrics to produce a series of kids, nursery and teen décor collections. Elements in some of the printed products date back to the early 1600s, such as the Mythical Forest Nursery collection, based on the British nursery rhyme 'The Lion and the Unicorn'.
Signs Express remembers with unique project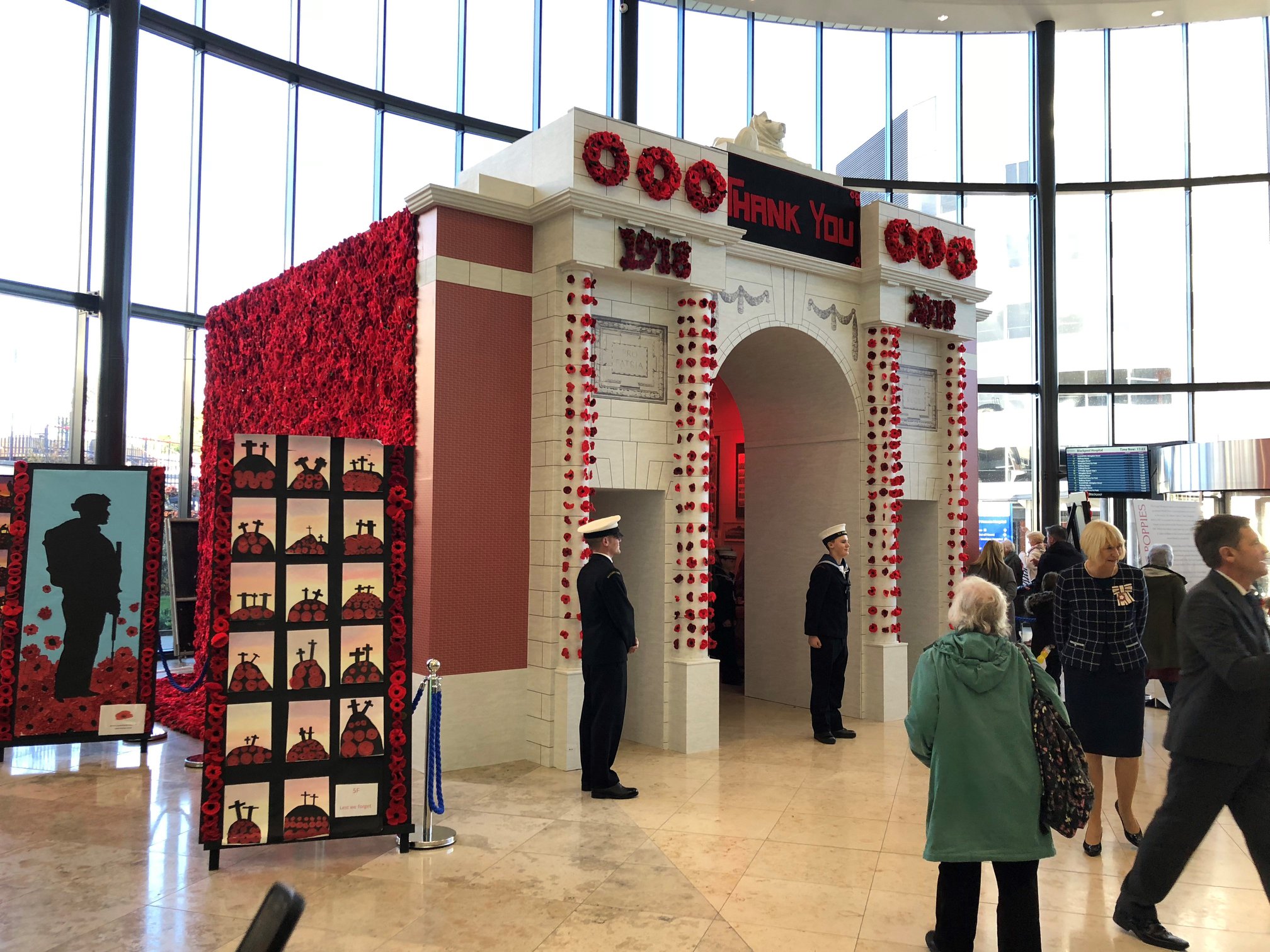 Image courtesy of Signs Express (Central Lancashire)
Designer: Signs Express (Central Lancashire)
Description: Signs Express (Central Lancashire) worked with Blackpool Teaching Hospitals NHS Foundation Trust to produce this special piece, commemorating the First World War Centenary. Signs Express transformed the MDF structure into the Menin Gate by applying over 90m of printed vinyl to represent the red bricks, plaques and decorative features. The piece also featured over 30,000 hand-knitted poppies.
Realisaprint.com set new World Record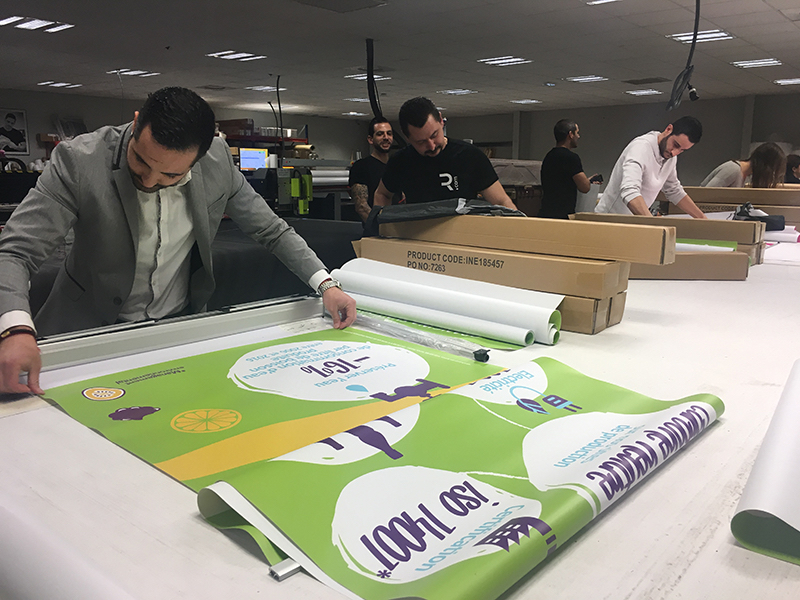 Image courtesy of Realisaprint.com
Designer: Realisaprint.com
Description: Innotech Digital customer Realisaprint.com set a new World Record when it mounted the most roller banner graphics in 60 minutes, using an Origin Roller Banner. Realisaprint.com team member Maxence set the new record at a special event, mounting a total of 43 banners in just one hour.
Don't look down!

Image courtesy of Soyang Europe
Designer: Blue Butterfly Flooring
Description: International artist Emily Campbell's company, Blue Butterfly Flooring teamed up with printer, Vinyline to produce this scary floor graphics, giving the effect that the bathroom floor has disappeared! The trio used Bild from Soyang Europe to produce the piece.
You'll never walk alone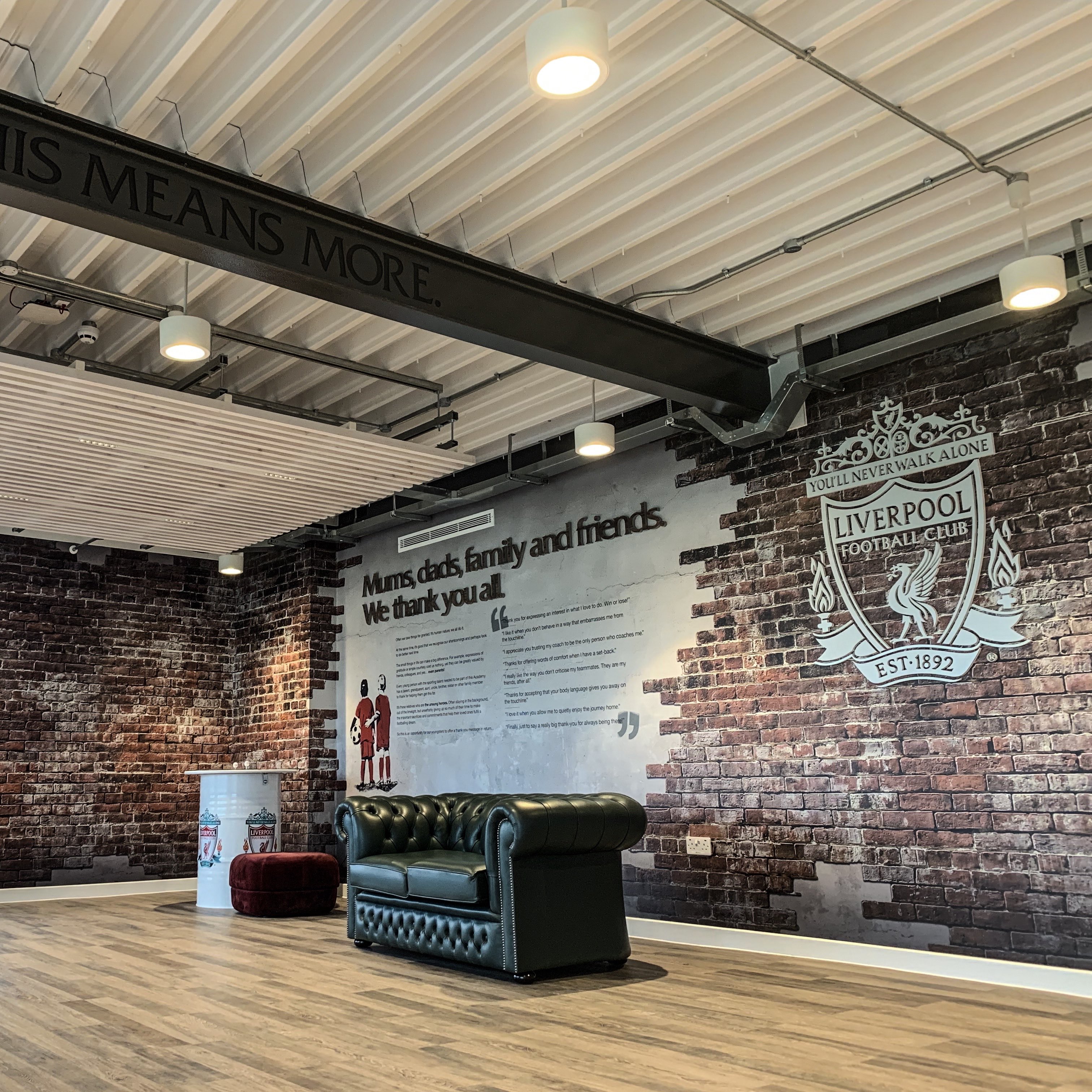 Image courtesy of Artworks Solutions
Designer: Artworks Solutions / Liverpool FC
Description: Artworks Solutions produced this special piece for English Premier League football club Liverpool as part of an ongoing partnership with the team. For this job, Artworks installed a single piece wallcovering to create an authentic brick effect backdrop for the Parent Pavilion at the club's Academy.
Educating the masses with colour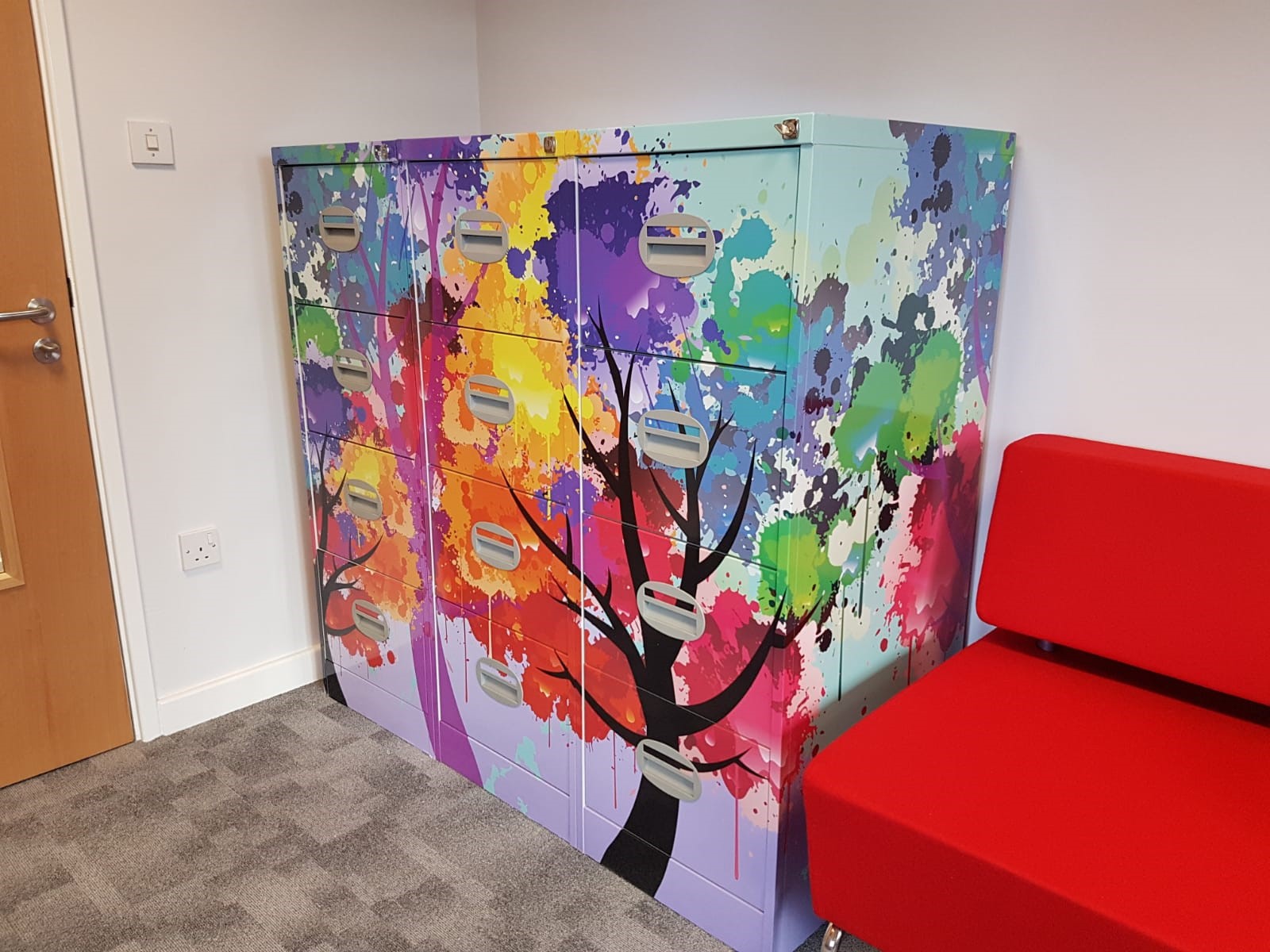 Image courtesy of Signs Express (Central Lancashire)
Designer: Signs Express (Central Lancashire)
Description: Signs Express (Central Lancashire) returns with this coulorful piece, produced on behalf of the University of Central Lancashire. The company was able to transform a standard filig cabinet into a box of colour by digitally printing self adhesive vinyl with gloss laminate.
Maximising space with SignBox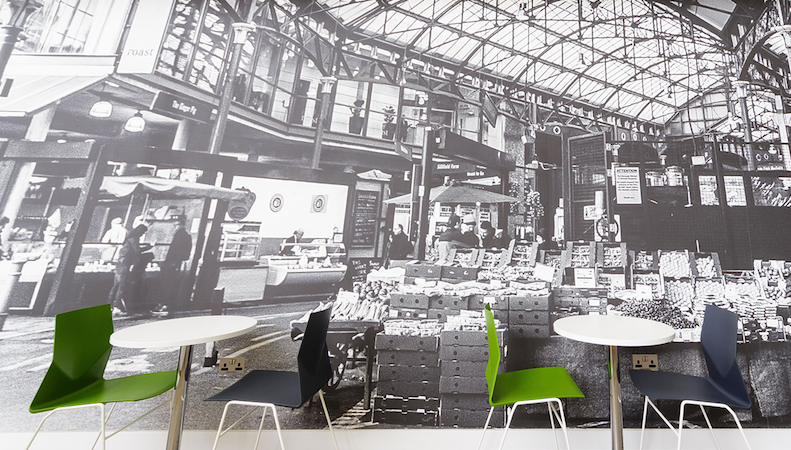 Image courtesy of SignBox
Designer: SignBox / RAW Unlimited
Description: SignBox joined forces with interior design specialist RAW Unlimited to transform the interior of Invesco's offices in London. SignBox used its Durst Omega 2 wide-format to print a series of graphics, which featured images such as Waterloo train station and the London skyline.
Shop until you drop with PressOn at Harrods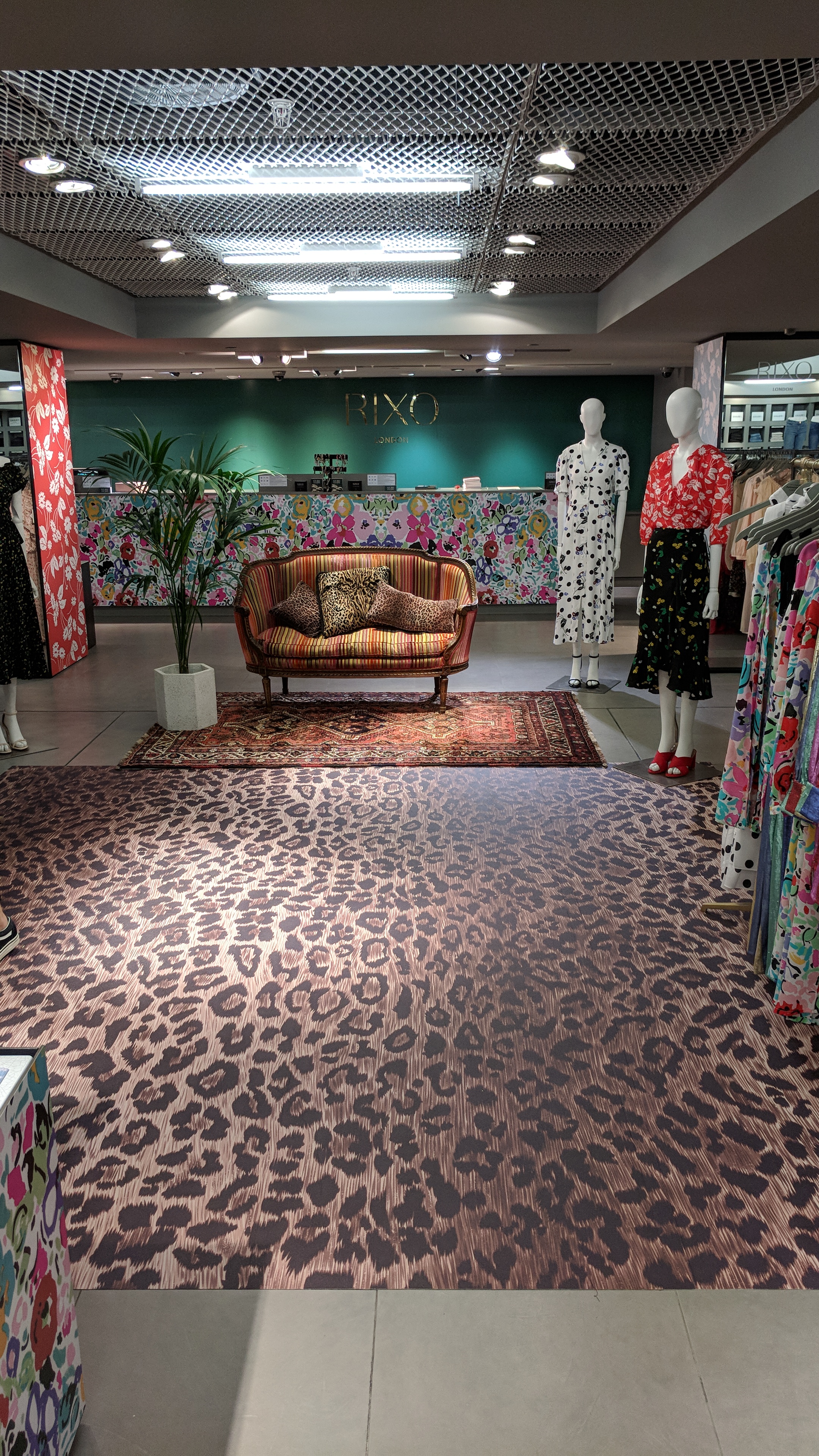 Image courtesy of PressOn
Designer: PressOn / RIXO London
Description: PressOn features again in our Top 20 for this colourful application, produced for RIXO London's pop-up shop at the famous Harrods store in London. PressOn and RIXO London opted for floral and animal print graphics to match some of the latest products on offer in the latter's spring/summer range.
Play your cards right with Blue Butterfly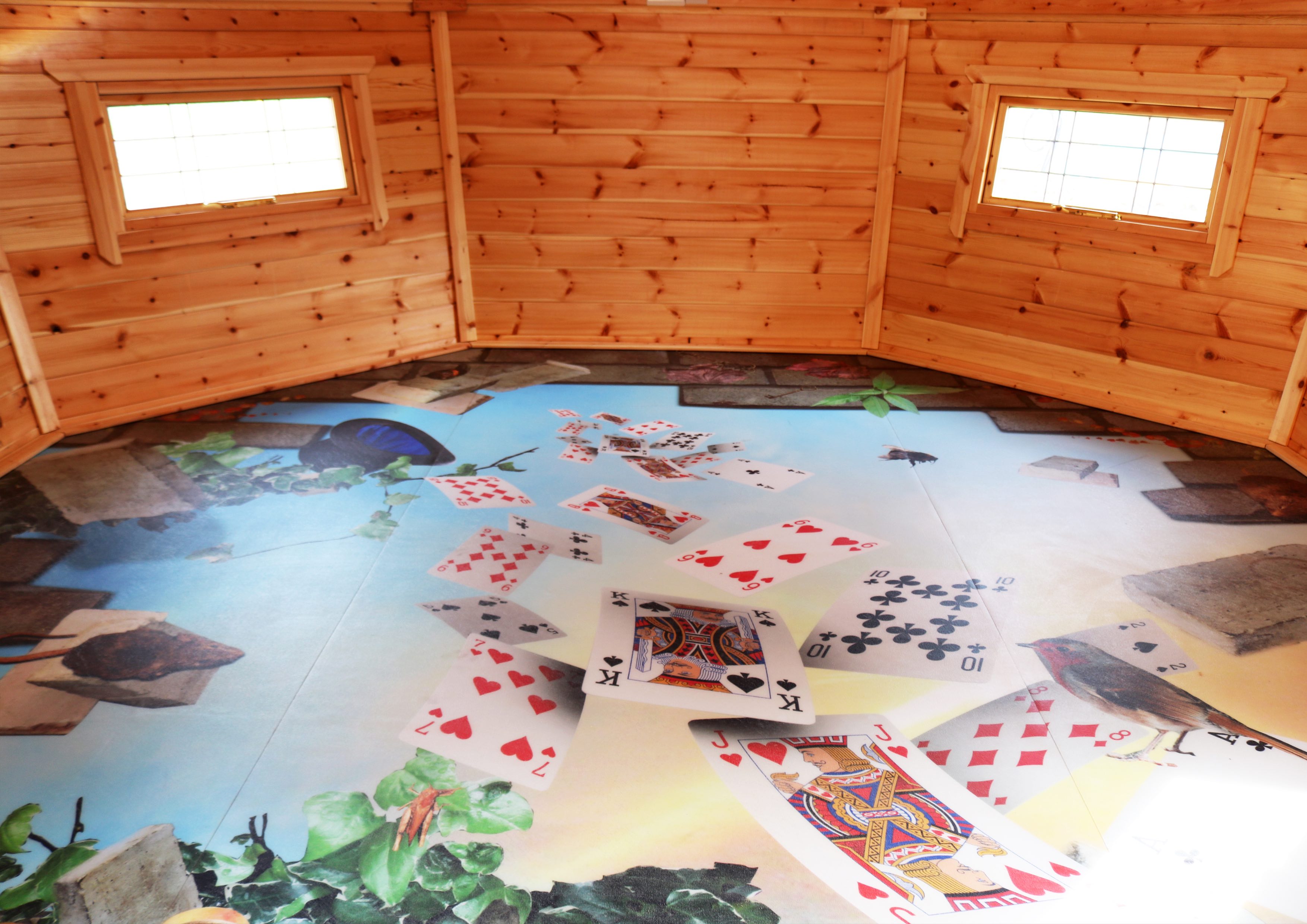 Image courtesy of Soyang Europe
Designer: Blue Butterfly Flooring
Description: Blue Butterfly Flooring features again in our list for this colourful piece, inspired by classic children's story Alice in Wonderland. Designed by Emily Campbell from Blue Butterfly Flooring, the floor graphics were produced on Bild printable flooring vinyl by Vinyline Graphics.

If you are keen to find out more about opportunities for growth in the interior print market, then stop by the dedicated 'Printeriors' area of the 2019 FESPA Global Print Expo in Munich next month.

This year, Printeriors will for the first time showcase both interior and exterior décor applications, aiming to connect brand owners, interior decorators, designers and architects with PSPs and manufacturers.

FESPA Global Print Expo 2019 is Europe's largest speciality print exhibition for screen and digital wide format print, textile printing and signage solutions. Visit and discover Printeriors. Please use promo code FESG902 to register for free.

Interested in joining our community?
Enquire today about joining your local FESPA Association or FESPA Direct