Features
Top 20: 3D Print Applications of 2017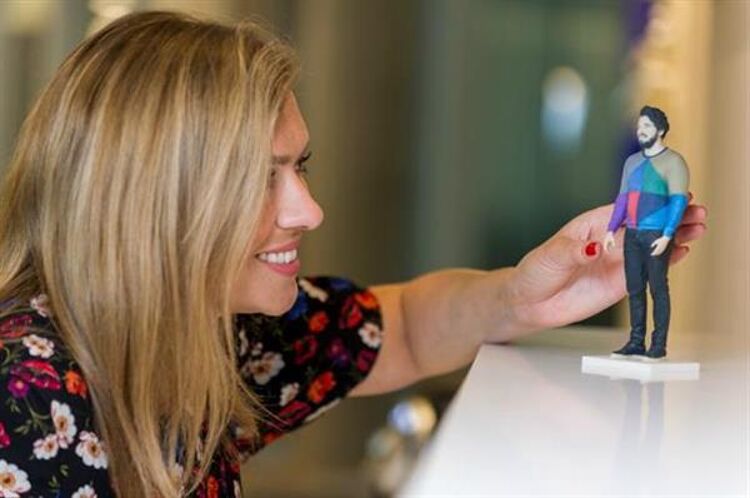 FESPA takes a look at some of the most innovative 3D print applications from the past 12 months.
There has been a buzz around 3D print for quite some time now, and with those in this sector continuing to come up with new and creative applications, it seems that this excitement shows no immediate signs of quietening down.
Although not considered a traditional form of print, there has been an upturn in the number of print companies taking this sort of work in house as they look to capitalise on interest in the sector. And with new technology coming to market on a regular basis, we can look forward to further innovation.
With this in mind, FESPA.com has picked out some of the best applications from the past 12 months that showcase how far 3D print has come in just a few short years.
3D print the love of your life!

Designer: Match.com
Description: Last summer, online dating site Match.com opened a pop-up model dating shop in London to allow women to "meet" the man of their dreams. Men from the site were 3D-printed so that women could browse for a possible date. If they saw someone they liked, they could then follow a link on the packaging and connect with them on Match.com
Picture: Courtesy of 3ders.org
More than skin deep…

Designer: University of Minnesota
Description: Researchers were able to create a 3D printed sensory device that could, in time, act as a "sensory skin" for robot. Built by a team at the University of Minnesota in the US, the sensor is stretchable, responds to touch and is able to detect movement. To find out more about the innovation and how it works, see here: https://youtu.be/GCT0KwFw-pM
Picture: Courtesy of University of Minnesota
Take to the road with 3D-printed Ducati

Designer: Lay3ers 3D Printing
Description: Dutch company Lay3ers 3D Printing used a Builder Extreme 1500 3D printer from Builder 3D Printers to produce a full-size model of a Ducati motorbike. The model, which weighs 38.9kg, has proved such a hit that Lay3ers 3D is renting it to other companies for trade shows and events.
Picture: Courtesy of Builder 3D Printers
Slam dunk with 3D print
Picture: Peak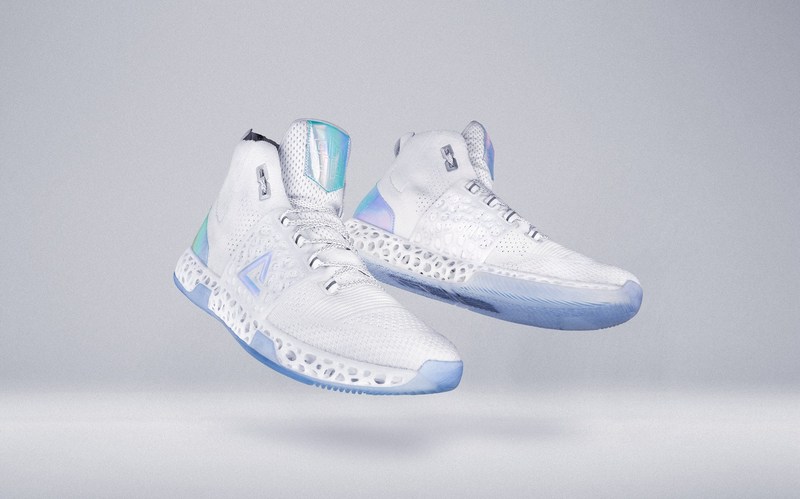 Description: In August, Chinese sports brand PEAK launched the world's first pair of 3D printed basketball boots. Developed in partnership with Charlotte Hornets star Dwight Howard III, the boot deploys a 3D lattice structure in the middle of the sole, using a 3D printed TPU structure for the vamp side walls.
Picture: Courtesy of PEAK
HP and Nike score a touchdown with Vapor Hyperagility cleats

Designer: HP / Nike
Description: In a similar project, Nike joined forces with HP to 3D-print shoes for players in the NFL American football league. Nike used HP's Multi-Jet Fusion 3D print technology to create the Nike Vapor Hyperagility cleats. Players may also soon be able to use the technology to create their own custom boots.
Picture: Courtesy of HP / Nike
Clear opportunities for growth

Designer: Karlsruhe Institute of Technology

Description: In a development that could open up a whole new market to those in the 3D print sector, German researchers announced details of a technique to use the technology to produce glass. A team at the Karlsruhe Institute of Technology said this new technology, which features a honeycomb structure, can be used to produce glass items such as jewellery, lenses and computer parts.
Picture: Courtesy of the Karlsruhe Institute of Technology
Another world-first for 3D print with shin bone innovation

Designer: Undisclosed

Description: An Australian man became the first person in the world to have a 3D-printed shin bone fitted into his leg. Reuben Lichter was at risk of losing his leg due to a severe infection that rotted away most of the bone in his right leg. However, after the infected tibia was removed, a replacement bone was then produced using 3D print and fitted during a course of five operations over six months, the last of which lasted 14 hours.
Picture: Courtesy of AAP
The beating heart of development

Designer: ETH Switzerland

Description: Continuing on a medical theme, scientists in Switzerland were able to produce an artificial heart using 3D-print techniques. The silicone heart weighs just slightly more than an actual human heart and, with further development, could replace mechanical pumps that are currently used with some patients that suffer from heart problems.
Picture: Courtesy of ETH Zurich
Louis Vuitton pops up

Designer: Omus PTY

Description: Omus PTY picked up the People's Choice Award at the 2017 FESPA Awards for this 3D digital printed pop-up store, produced for luxury fashion label Louis Vuitton. Omus produced the main structure on a Massivit 1800 large-format 3D printer, before wrapping it in Avery cast clear self-adhesive vinyl.
Picture: Courtesy of Omus PTY
3D print bridge over troubled water

Designer: Eindhoven University of Technology

Description: Officials in the Dutch town of Gemert set a world-first by opening what they believe is the first 3D-printed bridge in the world. Developed by a team at the Eindhoven University of Technology, bridge features some 800 layers and is made from reinforced, pre-stressed concrete.
Picture: Courtesy of Marczoutendijk
RAMBO returns with the U.S Army

Designer: U.S. Army Armament Research, Development, and Engineering Center

Description: The U.S. Army released images of a grenade launcher weapon that it was able to produce using 3D print technology. Aptly named RAMBO (Rapid Additively Manufactured Ballistics Ordnance), the weapon is made up of 50 parts – all of which, except the springs and fasteners, were produced via 3D print.
Picture: Courtesy of U.S. Army
Bedding in with 3D print

Designer: Construction Engineering Research Laboratory

Description: It's a perhaps-unexpected U.S. Army double with this project where 3D print technology was used to create barracks for soldiers. 'B-Hut' is the result of a three-year project carried out in collaboration with the Construction Engineering Research Laboratory. The structure measures 512sq ft and is made from concrete.
Picture: Courtesy of U.S. Army
Saving lives with innovation

Designer: Undisclosed

Description: Doctors in Perth, Australia, turned to 3D print to save the life of a baby girl. Sophia was born with a very rare condition that meant she could not breathe, with scans revealing that her nose was completely blocked. Doctors were keen to operate but wanted to practice the complicated procedure first, and instructed biomedical engineers to make a custom skull to replicate Sophia's skull. The team used 3D print to create the skull, allowing doctors to perfect the procedure before successfully carrying out the operation on Sophia.
Picture: Courtesy of Today Tonight
Let's go racing with LEGO!

Designer: Matt Denton

Description: YouTube star Matt Denton used 3D print to create a giant LEGO go-kart. The model, which took 168 hours to print, weighs around 12 pounds and is made up of 98 separate pieces.
Picture: Courtesy of Matt Denton
Setting a new World Record with 3D print

Designer: Dong Lin, Chi Zhou and Qiangqiang Zhang

Description: A team of three scientists set a new Guinness World Record for the lightest 3D printed structure. The graphene aerogel material weighs in at just 0.5milligrams per centimetre and features in this year's edition of the Guinness Book of World Records.
Picture: Courtesy of Kansas State University
The birth of something special?

Designer: Feinberg School of Medicine at Northwestern University

Description: In May, a mouse with 3D-printed ovaries gave birth to a number of healthy pups. Researchers at the Feinberg School of Medicine at Northwestern University in the US made the ovaries from gelatine, heralding successful results. Some scientists believe the method could also be used with humans in the future.
Picture: Courtesy of Nature Communications
Bringing life back to the oceans

Designer: Reef Design Labs

Description: Australian company Reef Design Labs has started to use 3D print to create structures that mimic coral. The project has been designed to help save wildlife affected by a sharp rise in the amount of coral reefs that are dying off around the world. The structures act as a form of protection for coral polyps and other marine species that call coral reefs their home.
3D print Christmas present for Missouri youngster

Designer: Variety KC / Various
Description: In this heart-warming story, a four-year-old boy from Missouri got the Christmas present of his dreams when he received a new arm. Hudson Borton, a congenital amputee, now sports a new left arm, which was produced by a team of students, in partnership with local charity Variety KC.
Picture: Courtesy of Rockhurst University
Our 3D-printed house, in the middle of our street

Designer: Apis Cor

Description: We've featured 3D-printed houses in our 'Top 20' series before, but this entry takes this form of production to a whole new level. Produced on site by Apis Cor in Russia, this house took only 24 hours to construct and cost just over $10,100. In comparison, the average house in the US costs around $289,000, according to the National Association of Home Builders.
Picture: Courtesy of Apis Cor
New Zealand rockets into the space race

Designer: Rocket Lab

Description: In May, Rocket Lab launched a 3D-printed rocket into space from the New Zealand Mahia Peninsula. The Silicon Vally-funded company, which has offices in Los Angeles and New Zealand, said that the new innovation represents a much cheaper way of launching objects into space than the more traditional methods.
Picture: Courtesy of Rocket Lab (Twitter)
Although perhaps not in the standard remit of print service providers, there is no doubt that 3D print is one of, if not the, most innovative areas of print. Members of the global printing industry can look on this technology with pride as to how much of an impact it is having on various sectors.
FESPA 2018 will play host to a whole range of new, innovative technologies from all key sectors of the print industry. Taking place from May 15-18 at the Berlin Messe in Germany, the event will feature the leading name from across the global print market.
To find out more about the global event and the types of technologies that will be on display, visit: https://www.fespaglobalprintexpo.com

Interested in joining our community?
Enquire today about joining your local FESPA Association or FESPA Direct