Features
The Top 20 vehicle wraps of 2015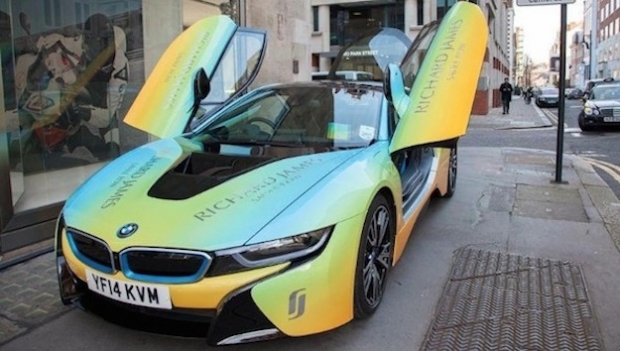 With vehicle wraps now established as one of the fastest growing sectors of the print industry, we take a look at the best jobs from the past 12 months.
As more advertisers, marketers and businesses begin to realise and understand how valuable vehicle branding can be, the busier this sector of the print industry becomes.
From standard vehicle fleet livery and taxi cab advertising, through to Guinness World Record efforts and high-profile motor sports, there seems to no end to the possibilities that this creative market presents.
This year in particular has seen companies in the industry stretch the boundaries of vehicle wraps, and, with many thousands to choose from, here are some of the best examples.
Press On: Bloodhound SSC World Record attempt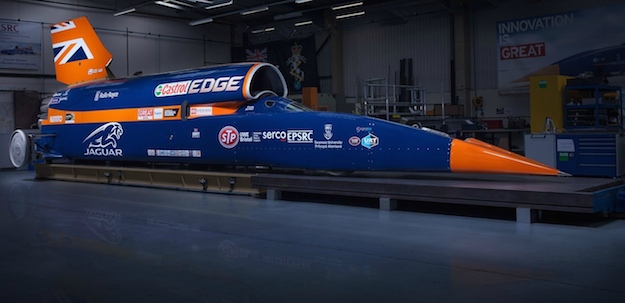 Designer: Undisclosed
Printer: Press On
Description: UK digital large-format company Press On took on a major vehicle wrap job this year by wrapping a supersonic car that will next year attempt to break the world land speed record. At a cost of £13.5m (€19.2m/$20.5m), the car as had input from more than 350 companies and universities.
Picture: Courtesy of Press On
Severn Signs: serving up a treat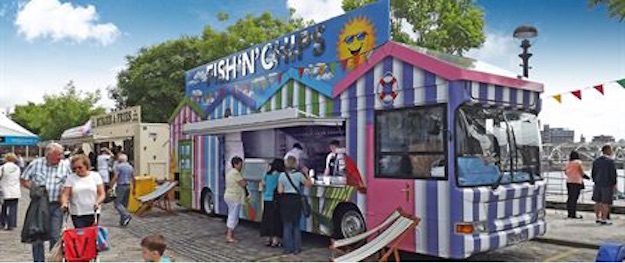 Designer: Severn Signs / Alphabet Design, Liverpool
Printer: Severn Signs
Description: Severn Signs took on an interesting brief from Willow Catering to create vehicle livery reflecting a UK beach hut theme. Utilising Alucobond, MetaWrap MD-X and Metamark MD5, the vehicle served up fish and chips at UK beachside spots.
Picture: Courtesy of Alphabet Design, Liverpool
FESPA World Wrap Masters: Kiss Lagos retains title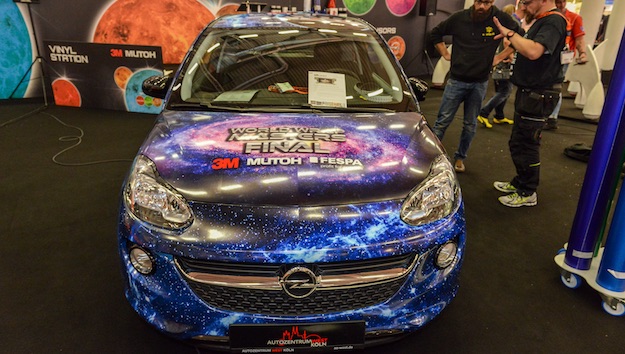 Designer: Kiss Lagos
Printer: FESPA
Description: Hungarian Kiss Lagos was able to retain his title as the FESPA World Wrap Master for the second consecutive year being crowned champion at FESPA 2015.
Picture: Courtesy of FESPA NEED A PIC
Holden Racing Team: the force is strong with them
Designer: Holden Racing Team / Walt Disney
Printer: Holden Racing Team / Walt Disney
Description: V8 Supercars' Holden Racing Team joined forces with Walt Disney to produce a number of special vehicle wraps to mark the release of the new Star Wars film. The wrap featured on the car during the Bathurst round of the racing championship.
Picture: Courtesy of Holden Racing Team
Lotus F1 Mad Max: revving up wraps in motor-sport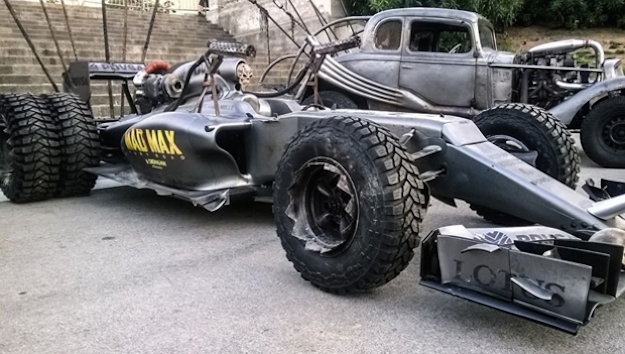 Designer: Lotus F1 Team Graphics
Printer: Lotus F1 Team Graphics (Roland Soljet Pro 4 XR-640)
Description: Formula 1 motor-racing team Lotus opted to stretch the boundaries of vehicle livery this year by wrapping one of its cars with a design based on new action film 'Mad Max'. Printed on a Roland Soljet Pro 4 XR-640, the wrap utilised 3M Wrap Film 1080-M230 Matte Grey Aluminium to achieve the desired effect.
Picture: Courtesy of Roland DG
American Sniper: project raises fund for Chris Kyle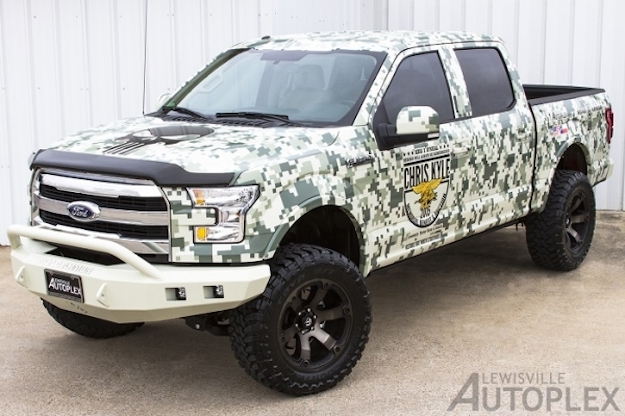 Designer: Skinz
Printer: Skinz
Description: Texas car dealership Lewisville Autoplex commissioned a special vehicle wrap to help raise funds for the Chris Kyle Memorial Benefit, set up in memory of former US sniper Chris Kyle, whose story inspired hit film 'American Sniper'. The F-150 was wrapped by vehicle wrap firm Skinz, with the final wrap featuring the famous skull designed by Kyle himself.
Picture: Courtesy of Lewisville Autoplex
Retro Toyota wraps: Goodwood Festival of Speed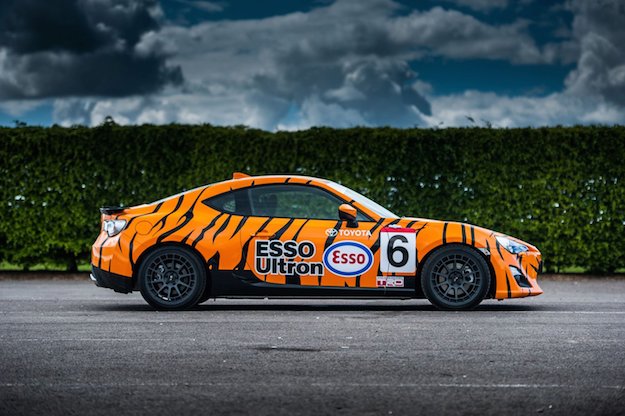 Designer: Toyota
Printer: Undisclosed
Description: To mark this year's edition of the world famous Goodwood Festival of Speed, six Toyota GT86 coupes were wrapped to resemble cars from Toyota's motorsport heritage. Pictured is a Toyota GT86 inspired by the Esso Ultron Tiger Toyota Supra, which competed in the 1999 and 2000 Japan Grand Touring Car Championship.
Picture: Courtesy of Toyota
PG Nola: Wrap Like a King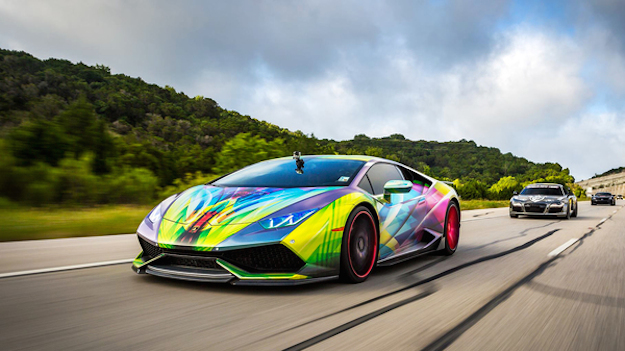 Designer: PG Nola
Printer: PG Nola
Description: PG Nola was crowned 'King of the Wrap World' in this year's Avery Dennison's 'Wrap Like a King' competition. The firm wrapped a Lamborghini Huracan using Avery Dennison Conform Chrome Silver and Black Chrome with DOL 1370 overlaminate and Avery Dennison High Visibility 1200 Black Reflective
Picture: Courtesy of Avery Dennison
Tata and JCDecaux: all aboard for UK train wrap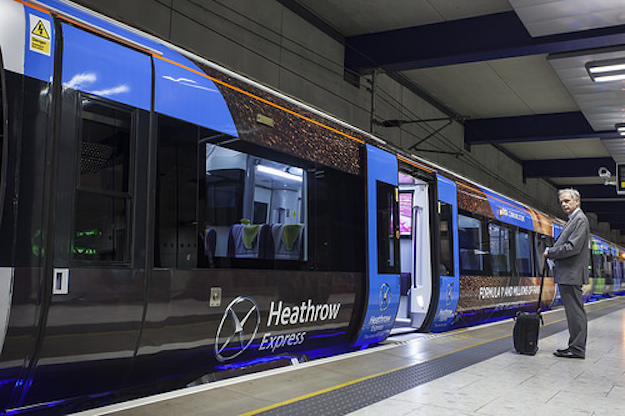 Designer: Tata / JCDecaux
Printer: Tata / JCDecaux
Description: Tata Communications this year linked up with the JCDecaux Airport arm of JCDecaux to wrap the entire fleet of trains on the Heathrow Express, a rail link between London Heathrow Airport and Paddington station. The train wraps were supported by on-board digital screens and TV-spots, digital airport panels, and cross-track advertising.
Picture: Courtesy of JCDecaux
Signs Express Hull: raising awareness with wraps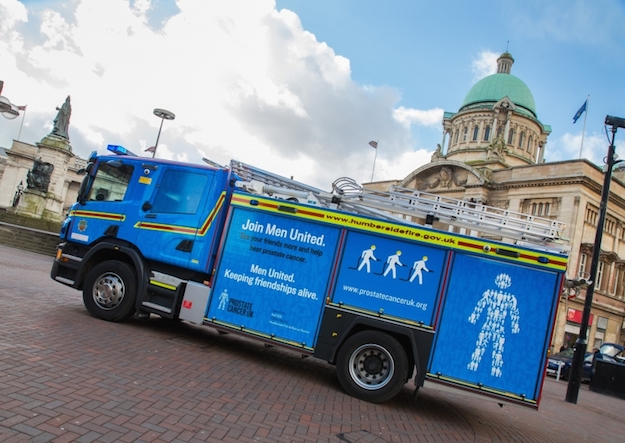 Designer: Signs Express Hull / Humberside Fire and Rescue / Hull Clinical Commission Group
Printer: Signs Express Hull
Description: Signs Express Hull took on a creative yet informative job this year by wrapping aHumberside Fire and Rescue fire engine with a wrap that featured information about prostate cancer. The engine helped raise awareness of prostate cancer, while still carrying out its daily duties across the region.
Picture: Courtesy of Signs Express Hull
Sir Peter Blake: legendary pop artist sets sail with boat wrap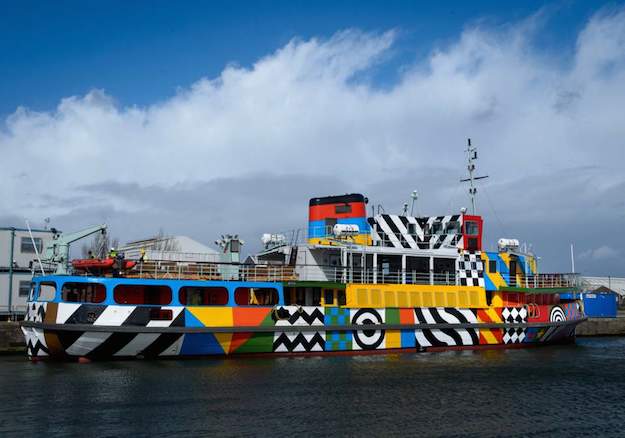 Designer: Sir Peter Blake
Printer: Supported by Contra Vision
Description: World famous pop artist Sir Peter Blake this year partnered Contra Vision to produce a full wrap for Liverpool's Mersey Ferry. Featuring a design by Blake, the boat was wrapped using Contra Vision's one-way window film.
Picture: Courtesy of Contra Vision
Transport for London: remembering the fallen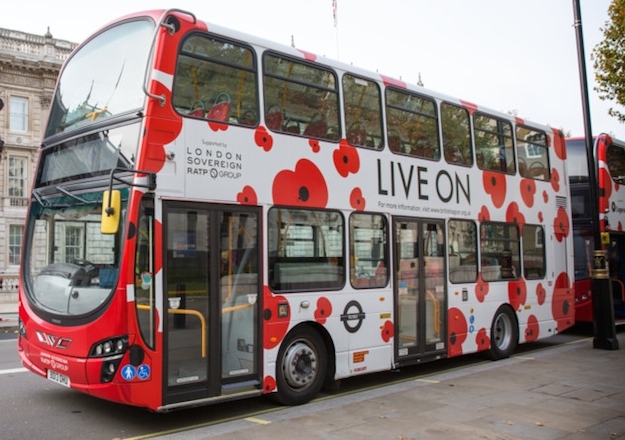 Designer: Royal British Legion. Transport for London / Network Rail
Printer: Undisclosed
Description: The Royal British Legion, Transport for London and Network Rail once again joined forces for this year's poppy appeal by wrapping two Circle line London Underground trains and nine London buses in a special livery to help raise awareness and funds for the appeal. All London Underground, London Overground and DLR trains also had poppies on their front and back.
Picture: Courtesy of Alan Barnes Photography
Borders Railway: promoting new Scottish transport link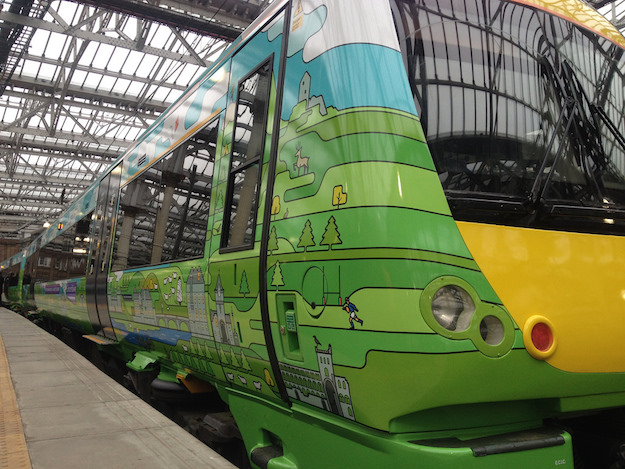 Designer: Will Beeslar
Printer: Undisclosed
Description: Ahead of this year's launch of the new Borders Railway in Scotland, a 70m long train wrapped in a special livery was unveiled. The design featured a number of attractions that will be served by the new railway.
Picture: Courtesy of Scottish Borders Council
Aston Martin: Le Mans 24 Hours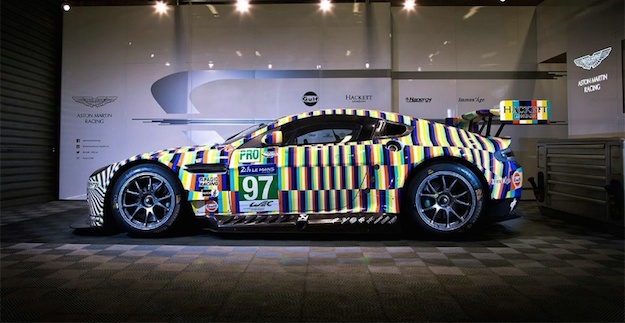 Designer: Tobias Rehberger
Printer: Undisclosed
Description:Aston Martin opted to decorate its number 47 Vantage GTE car at this year's Le Mans 24 Hours endurance race with a special design by Tobias Rehberger. The livery marks the 30th anniversary since the car first appeared at the world famous race.
Picture: Courtesy of Aston Martin
Deadmau5: on the decks with a Lamborghini wrap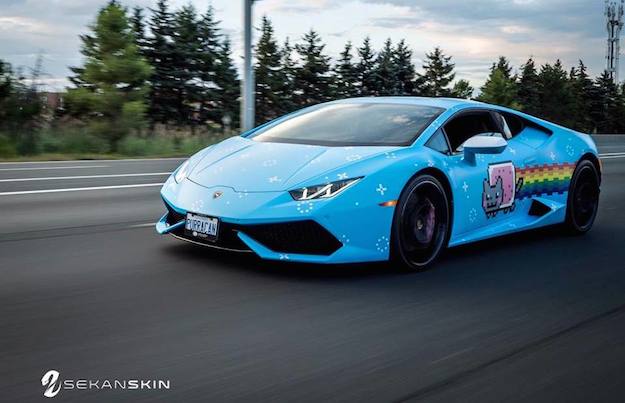 Designer: Deadmau5 / Sekanskin
Printer: Sekanskin
Description: World famous musician Deadmau5 this year unveiled the latest in his collection of wrapped supercars, this time opting for a Lamborghini Huracan. Wrapped by Sekanskin, the car features a Nyan Cat wrap and has been given the nickname of the 'Lamborghini Purracan'.
Picture: Courtesy of Sekanskin
Red Bull Racing: camouflage livery design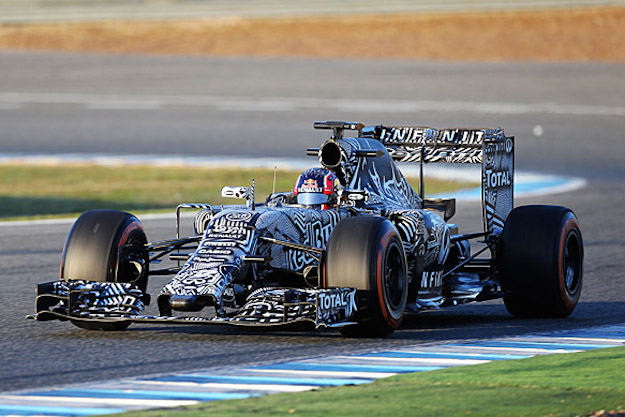 Designer: Red Bull Racing
Printer: Red Bull Racing
Description: Formula 1 team Red Bull Racing decorated its car in a camouflage-inspired wrap for the opening test round of the 2015 season. The wrap reflected a design that featured on a helmet worn by driver Sebastian Vettel during a race in the previous year. The team returned to its traditional colours for the rest of the season.
Picture: Courtesy of Red Bull
Ford GT: classic Gulf Oil livery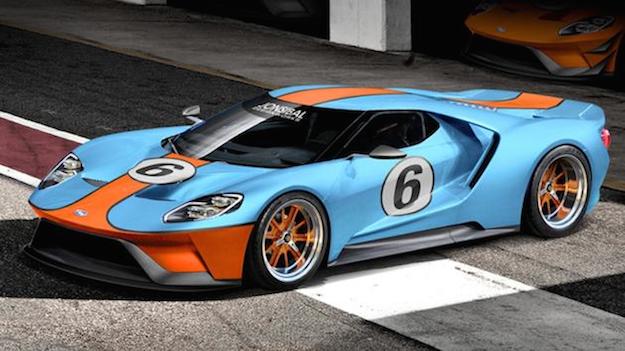 Designer: Jon Sibal
Printer: Ford
Description: Ford took us back in time by wrapping a Ford GT in a Gulf Oil-spec blue and orange livery. The design has been worn by a number of Ford GT40s during successful racing events in years gone by.
Picture: Courtesy of Ford
Docklands Light Railway: celebrating LGBT Pride in London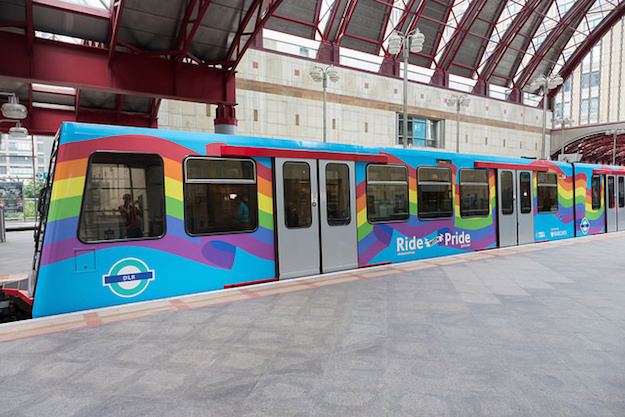 Designer: Transport for London
Printer: KeolisAmey Docklands
Description: Transport for London opted for vehicle wrapping to celebrate the 10th anniversary of its pro-LGBT staff network group, OUTbound. Three types of vehicle were wrapped in the distinctive rainbow pattern, with the pictured example of a wrapped Docklands Light Railway train going down particularly well with commuters.
Picture: Courtesy of Transport for London
Ferrari F430: fighter jet wrap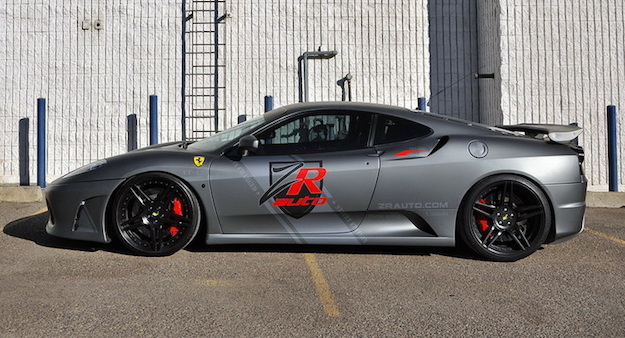 Designer: ZR Auto
Printer: ZR Auto
Description: Canadian company ZR Auto opted to wrap a Ferrari F430 supercar in a 'Tactical Fighter Squadron' fighter jet livery. An old matte red and carbon wrap was removed in favour of a gray vinyl film, as well as various graphics such as the emblems on the hood and doors.
Picture: Courtesy of ZR Auto
Richard James / BMW: standing out on Savile Row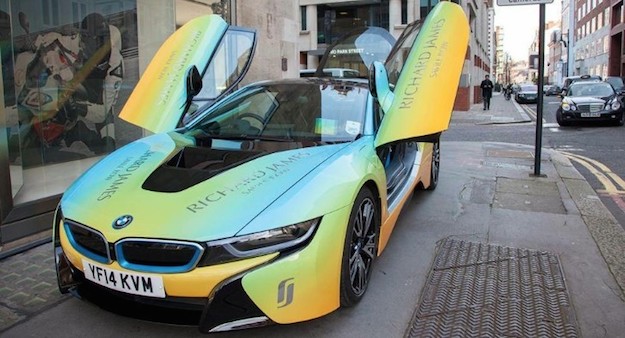 Designer: Richard James / BMW
Printer: BMW
Description: World famous tailor Richard James commissioned BMW to create a special wrap to help draw attention to its shop on London's Savile Row. A BMW i8 was wrapped with a colourful design, which also featured the Richard James logo.
Picture: Courtesy of Richard James
---
World Wrap Masters competition powers up in Amsterdam
FESPA's World Wrap Masters accelerates into the RAI Amsterdam at FESPA Digital 2016 to commence battle to crown a wrap superhero, in collaboration with partners Avery Dennison, a global leader in wrap vinyl materials and Mimaki, a leader in digital print technology.
The World Wrap Masters will run across the four days of the show. On the 8-9 March, the competition begins with the FESPA European Wrap Masters competition, where wrappers will battle it out to take the last place in the World Wrap Masters Series Final.
Those interested in competing for the last qualifying places in the Series Final, taking place from 8-11 March at Rai Amsterdam, can register for the European Wrap Masters at wrapmasters.fespa.com and pay the €150 entrance fee.
For more information on FESPA Digital 2016, to register to attend and to join the free workshops visit: www.fespadigital.com. For free entry, use code 'ADOZ0104'.
Interested in joining our community?
Enquire today about joining your local FESPA Association or FESPA Direct