Features
The top 20 interior design applications of 2015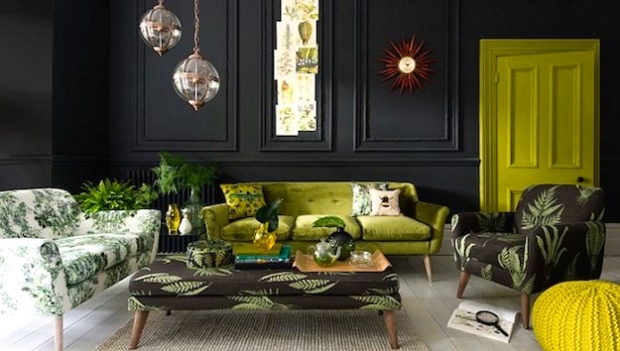 Trends in decor are constantly changing, creating a moveable feast for producers of printed graphics and textiles for decorative applications. 
Although print has been an established media within the interior design market for some time now, it is only in recent years that designers and developers in this sector have begun to really explore the boundaries of print.
Many may consider print as simply something you can read, such as a book or a magazine, without realising how much of an impact it has on the environment that surrounds them – be it at work, on the move or at home.
It is this latter environment in which print is playing an increasingly larger role, with many interior designers having used the media to come up with new and creative décor. With this in mind, we've picked out some of the best examples of how creative and inventive designers have been in the past 12 months when using print to decorate interiors.
1. Moooi Carpets: photorealistic interior design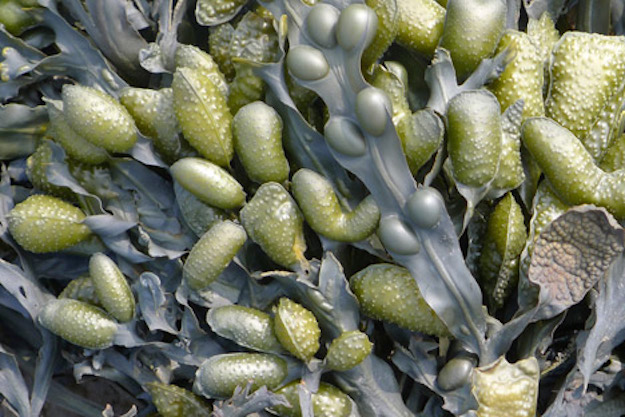 Designer: Moooi/Ross Lovegrove
Printer: Moooi
Description: Moooi in April launched Moooi Carpets, a new company that can print interior design products at extremely high definition. Pictured here is a carpet designed by Ross Lovegrove and features a high quality image of seaweed
Picture: Courtesy of Moooi
2. Interior lighting: 3D printed optics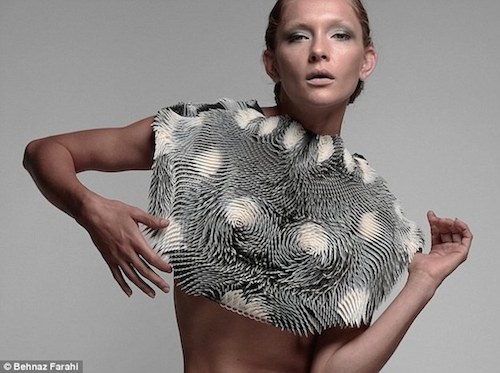 Designer: M. Grossl
Printer: Delft University of Technology
Description: Student M. Grossl used 3D print to create a modular lighting system for use within interior environments. The system uses 3D printed elements to form a modular honeycomb structure that can be customised to fit any space.
Picture: Courtesy of 3ders.org
3. Creative and informative: Gensler apartment print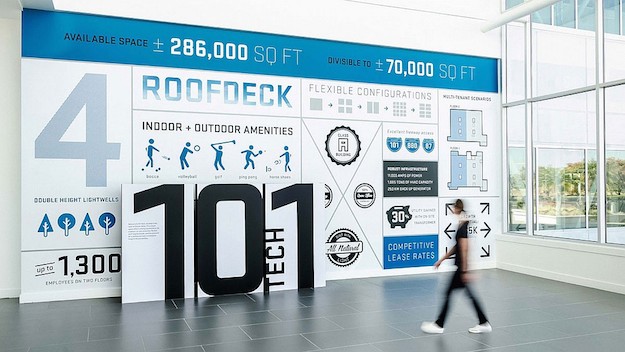 Designer: Tech 101 Environmental
Printer: Undisclosed
Description: Gensler this year showed that printed interior design work can be attractive and informative at the same time. Here, the company created a design to showcase the benefits of a building in its entrance. The project won the MakeIt BRADNED award in the graphics category.
Picture: Courtesy of Ryan Fetters
4. Ceramic tiles: new designs on the market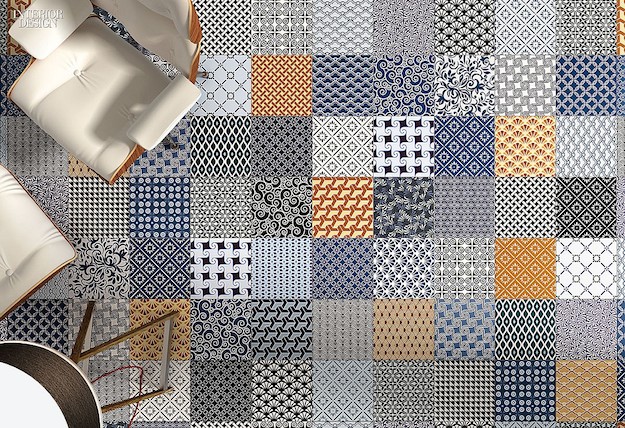 Designer: Aparici
Printer: Aparici
Description: One area of the market that is reporting an upturn in interior design work is ceramic print, with more designers opting to incorporate printed tiles into their projects. This year, Aparici launched its new 'Moving Tiles' in doubled-fired ceramic to the market.
Picture: Courtesy of Aparici
5. 3D-printed sofa: stretching the boundaries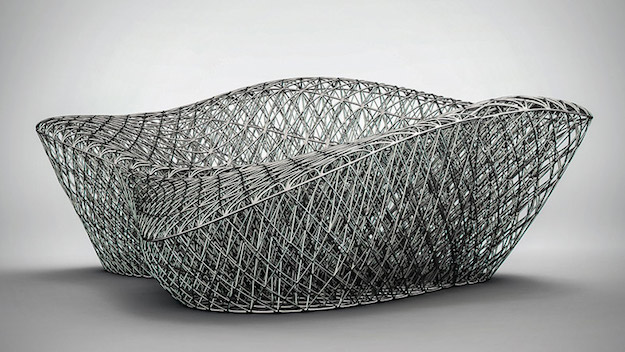 Designer: Janne Kyttanen / 3D Systems
Printer: Janne Kyttanen / 3D Systems
Description: 3D print features again on our list with Janne Kyttanen, senior creative fellow at 3D System, having used the technology to create a lounge chair. Printed over several days, 6,000 layers each measuring 0.0099cm thick were laid on top of each other to form the special sofa. The final product weighs 2.5kg and can hold up to 100kg.
Picture: Courtesy of Janne Kyttanen
6. M&S botanical prints: key trend for 2015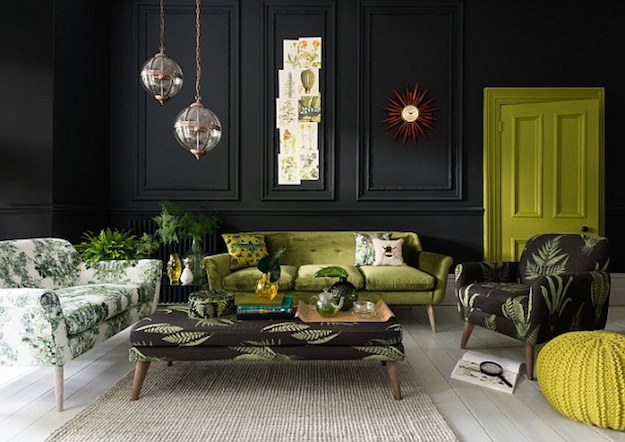 Designer: M&S
Printer: Unknown
Description: Experts have this year picked out botanical prints as one of the key trends in the interior design sector. Pictured here is an example of products from UK retailer M&S, showcasing how the prints can be used to brighten up various pieces of interior furniture.
Picture: Courtesy of M&S
7. Vivienne Westwood print: largest hotel suite in LA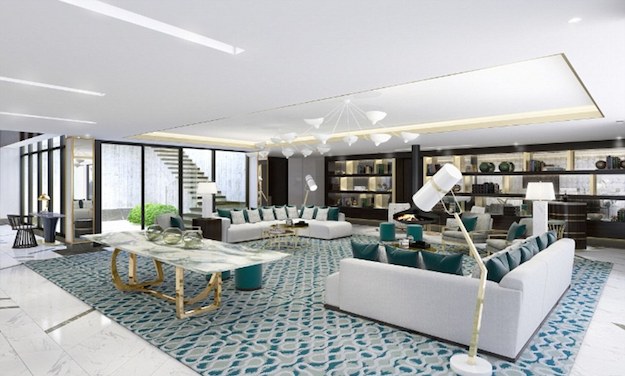 Designer: Vivienne Westwood
Printer: Unknown
Description: Well known for her creative designs, Vivienne Westwood secured a coup this year by designing interiors for the largest penthouse in Los Angles. Located at The London West Hollywood, the suite features a host of Westwood-inspired prints, including carpets, sofas and cushions. You can stay in the suite for a cool $25,000 a night.
Picture: Courtesy of The London West Hollywood
8. 3D wallpaper: 3D glasses not required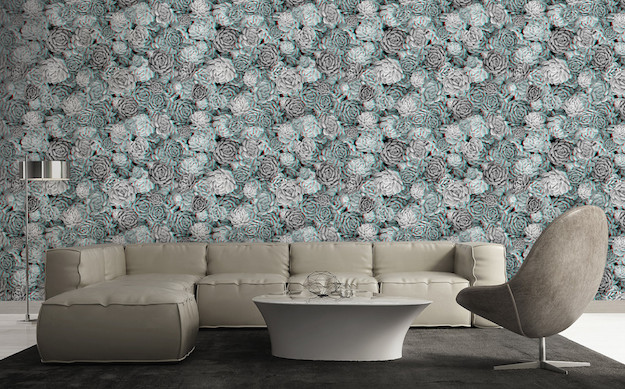 Designer: twenty2 / Pratt Institute
Printer: twenty2
Description: twenty2, the design and printing studio of Kyra and Robertson Hartnett, teamed up with New York art college the Pratt Institute to produce a curated collection of 3D wallpapers. Available in five styles, the wallpaper gives a 3D effect without the need for special 3D glasses.
Picture: Courtesy of twenty2
9. Serpentine Galleries: bringing art to the masses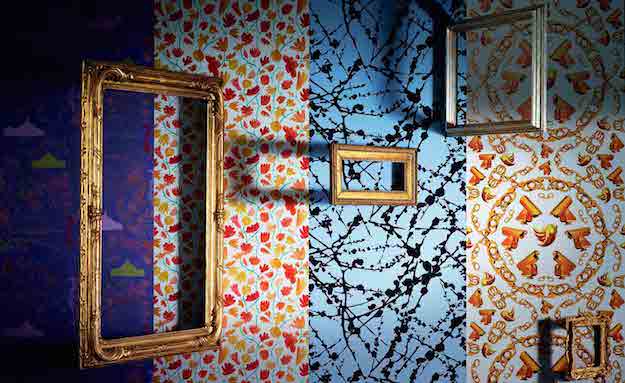 Designer: Serpentine Galleries / Maharam
Printer: Maharam
Description: London's Serpentine Galleries and US textile house Maharam joined forces in an effort to help bring unseen art to the masses by creating a collection of wallpapers. Each artist's design was printed with UV-resistant inks onto a latex-reinforced substrate, with the end results heralding all the durability of traditional wallpaper. Artists such as John Baldessari and Rosemarie Trockel featured in the collection.
Picture: Courtesy of Anthony Cotsifas
10. Halligan Raby: testing out wall graphics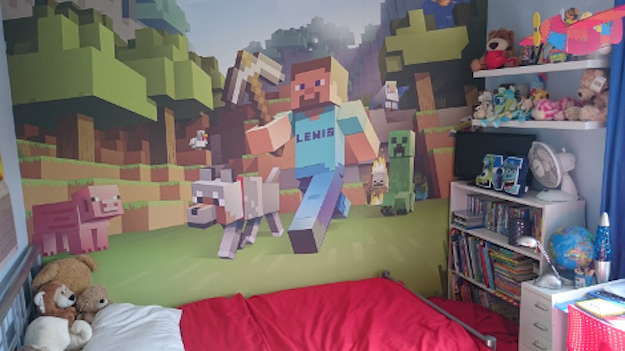 Designer: Jamie Mallin
Printer: Halligan Raby (Roland Soljet Pro 3)
Description: Jamie Mallin of Halligan Raby tested out UTACK media from CMYUK by creating a wall mural for his son's bedroom. Taking on the theme of popular game series 'Minecraft', the mural was printed on a Roland Soljet Pro 3 using UTACK, a thin, woven self-adhesive polyester fabric on a backing paper.
Picture: Courtesy of Halligan Raby
11. Exploring the deep: wall graphics using Coala Supertack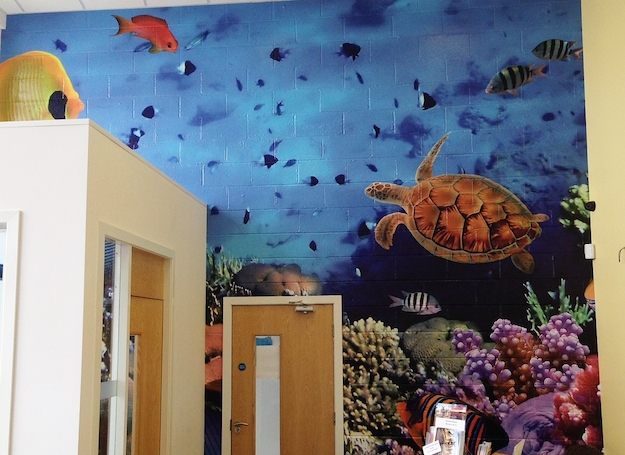 Designer: Adverset Media Solutions
Printer: Adverset Media Solutions (HP Latex 360)
Description: Adverset Media Solutions used Coala Supertak from Antalis to come up with these creative, underwater-themed wall graphics for the reception of some luxury apartments. Imagery was printed onto the media using a HP Latex 360 large-format printer.
Picture: Courtesy of Antalis
12. Elevated Maps: mapping out interior design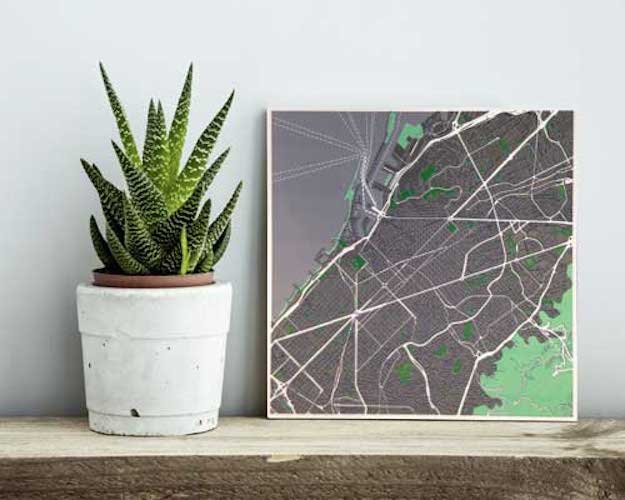 Designer: Elevated Graphics
Printer: Elevated Graphics
Description: Dutch company Elevated Graphics is now offering interior designers something completely different in the form of 3D printed maps. Customers can select exact locations anywhere in the world and then customise a map for that area. The map is printed in an artistic way and can hang on walls inside a home, retail or leisure environment.
Picture: Courtesy of Elevated Graphics
13. Digital printed splashback: personalise your kitchen décor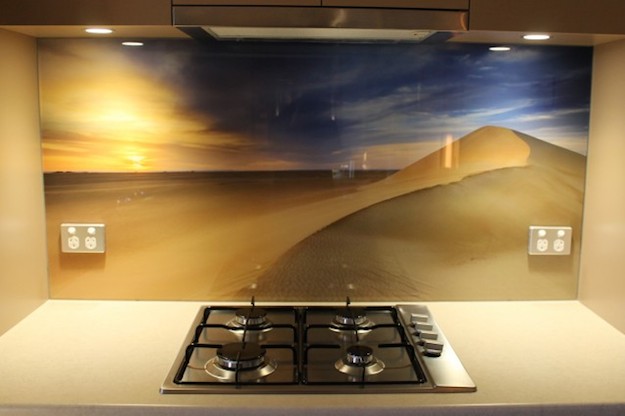 Designer: Complete Graphics
Printer: Complete Graphics
Description: Complete Graphics this year announced it is to give customers the chance to personalise the splashback areas of their kitchen through the power of digital print. Customers select a design and have it printed on 6mm toughened starphire glass, with the final product being placed in areas such as behind a sink or cooker.
Picture: Courtesy of Complete Graphics
14. Damien Hirst wallpaper: £700 per roll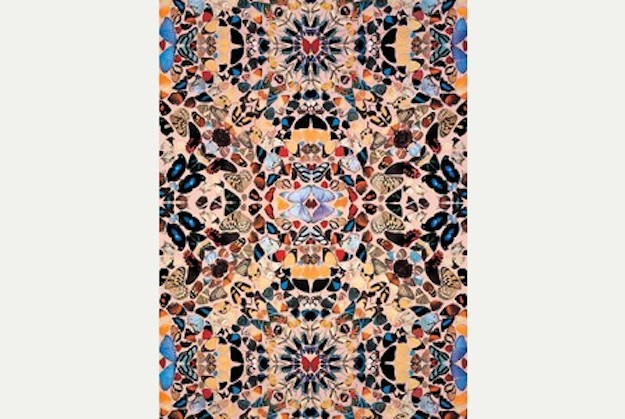 Designer: Damien Hirst
Printer: Unknown
Description: World-famous artist Damien Hirst this year launched a new range of colourful wallpapers, which, if you have a few thousand pounds to spare, may be right up your street. Each roll of the wallpaper costs £700.
Picture: Courtesy of Damien Hirst
15. Ikea graphics: graffiti without losing your deposit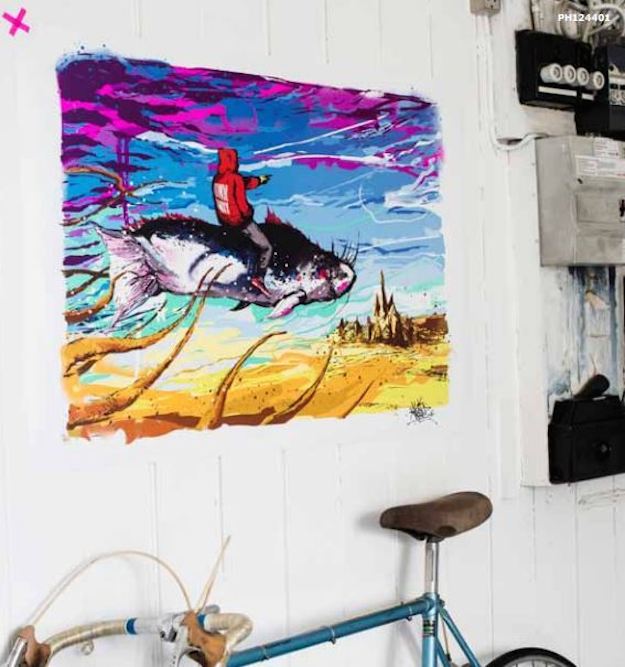 Designer: Various
Printer: Ikea
Description: Earlier this year, Ikea launched a limited edition range of posters that featured printed graffiti-type designs from artists around the world. The idea was to showcase Ikea as a 'friendly rebel company' allowing customers to decorate their homes with graffiti without actually causing damage to walls
Picture: Courtesy of Ikea
16. Modern-day tapestries: reinventing 16th century work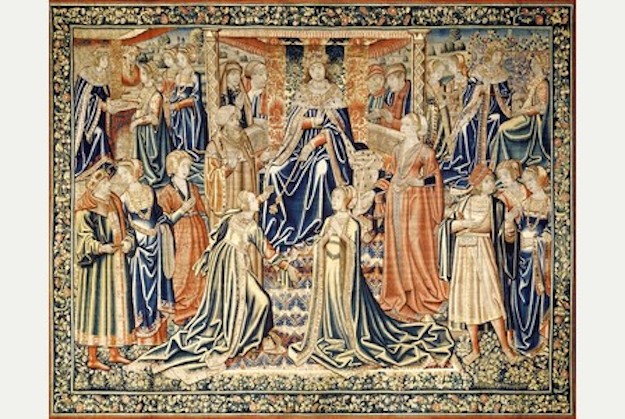 Designer: Unknown
Printer: Zardi & Zardi
Description: UK-based textile firm Zardi & Zardi took on a creative project this year to reproduce 16th century tapestries for use in BBC television programme 'Wolf Hall'. Original hangings of the 'Salomon et la Reine de Saba' tapestry were photographed before being digitally printed onto Belgium linens and hand-stitched together to create wall hangings for use inside buildings on the show.
Picture: Courtesy of Zardi & Zardi
17. Ikea print: fooling art experts with hoax work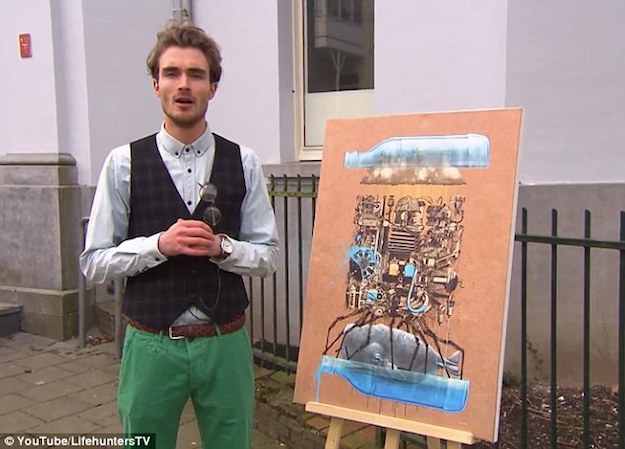 Designer: Ikea
Printer: Ikea
Description: Does interior design belong in art galleries? The LifehuntersTV team was able to trick almost 20 art lovers into believing that a £10 print from Ikea was a famous painting by Swedish artist IKE Andrews. The print was placed in the Museum for Modern Art in Arnhem, the Netherlands, with visitors asked if they knew about the piece of work, without knowing it was from Ikea.
Picture: Courtesy of LifehuntersTV
18. The Simpsons kitchen: recreating classic television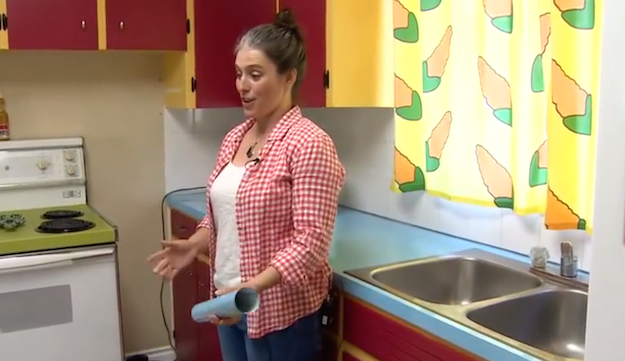 Designer: Undisclosed
Printer: Undisclosed
Description: In an unusual DIY job, Canadian couple Marcia Andreychuk and Joel Hamilton opted to recreate the design featured in the kitchen used by television family the Simpsons. The designed mirrored the one used in the long-running cartoon series, including a unique set of corn-patterned curtains.
Picture: Courtesy of CBC
19. 3D-printed table: cellular coffee table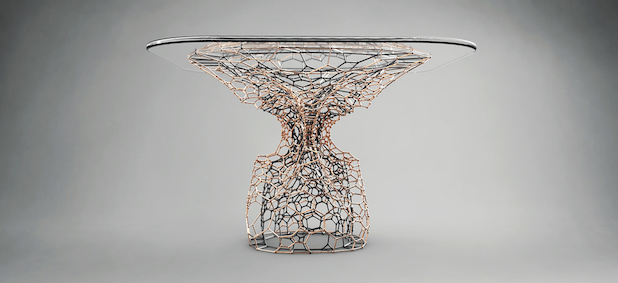 Designer: Onur Ozkaya
Printer: Onur Ozkaya
Description: London-based designer Onur Ozkaya stretched the boundaries of 3D print this year by using the technology to create a cellular coffee table. The table, which feature three layers of cellular structural body, took 48 hours to print.
Picture: Courtesy of 3DPrint.com
20. Floral prints: inspired by the Chelsea Flower Show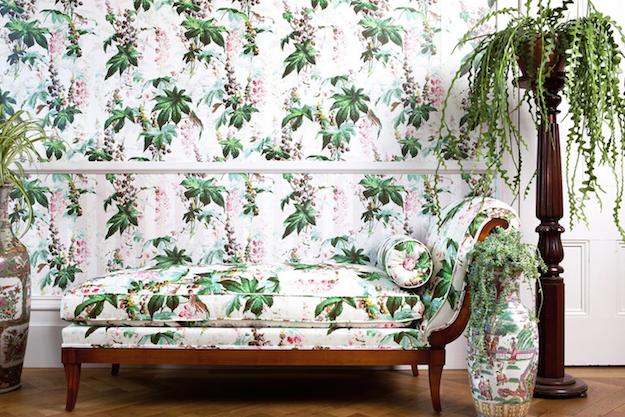 Designer: House of Hackney
Printer: Unknown
Description: With floral prints proving to be a major trend this year, The Royal Horticultural Rhododendron Show gave designers an opportunity to show off their work. Pictured here is a popular selection from House of Hackney, a design said to be inspired by the iconic Chelsea Flower Show.
Picture: Courtesy of Evening Standard
Interior design opportunities to be explored at Printeriors 2016
Applications such as printed wallpapers and curtains, through to posters and art prints, are products that many in both our industry and the interior design sector have been aware of for many years.
However, advancements in print technology have helped expand this market to a point where printed products are being used on a much wider scale in interior design projects. This trend has been picked up on by FESPA, which, for the second time, will stage an event dedicated to printed interiors.
'Printeriors 2016' will run alongside the main FESPA Digital 2016 show and will give visitors to the event the opportunity to gain an insight into not only the many opportunities available in the printed interiors sector, but also the technologies behind this type of work and how they can expand their own service offering into the market.
Taking place in Hall 6 of the show, Printeriors will play host to a number of exhibitors keen to show off how their technology and solutions can be used to print interior design products.
A number of those exhibiting will also have larger stands at the main FESPA Digital, but having identified the growing trend within the printed interiors market, have opted to take part in Printeriors in order to showcase a more concentrated product offering.
For more information on exhibitors and to view the full conference programme, visit http://printeriors.net.
To register for FREE to attend the show, please use the promo code AEOZØ1Ø1. Your ticket will include access to FESPA Digital, European Sign Expo, FESPA Textile and Printeriors 2016. Online registration will close on the 7th of March and tickets on the door will be charged at €40.
Interested in joining our community?
Enquire today about joining your local FESPA Association or FESPA Direct