Features
The revolution of industrial printing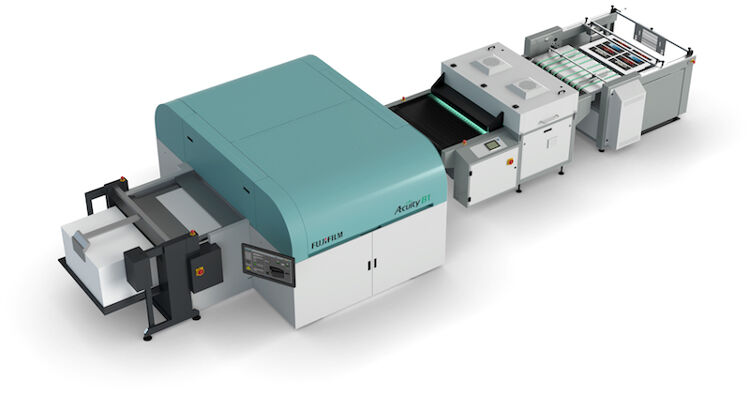 Nessan Cleary the opportunities available for printers to explore industrial printing. Wide format printers can handle a wide range of substrates, opening up a number of industrial printing applications.
Wide format printers can handle a wide range of substrates, opening up a number of industrial printing applications.

Every business should consider some degree of diversification in order to have options to ride out the lean times, and branching out into industrial printing is one way for anyone in large format printing to achieve this. However, industrial printing is quite a vague term and can apply to several different applications.
On the one hand, it can mean decorating objects with a graphic to add value, or to add some level of functionality, for example, printing instructions onto an item. Equally, it can mean adding a pattern to enhance a material, such as for textile or to add value to a cheap wood like pinewood with the pattern of a more expensive wood like oak for use in flooring or kitchen units. But ultimately, this all comes down to the same thing: preparing jobs and getting them through a print queue; and getting ink to adhere to a variety of different surfaces. None of this should be too difficult for anyone experienced in using large format printers.
There are two fundamental challenges in printing industrial jobs. The first is ensuring that the ink can adhere to the surface in use, which almost certainly won't have been designed for printing. In general, UV-curable inks can cope with a wide range of different surfaces though LED curing inks may be a little more fussy. Several wide format vendors also offer a choice of different inks for surfaces with particular characteristics, such as flexibles, or smoother surfaces such as glass. Some vendors may also offer primers to help the ink stick to certain materials.

The other issue peculiar to industrial printing is the shape of the objects being printed to. Most wide format printers are designed to print to flat sheets. In general, it's best to have the printheads as close to the surface being printed as possible so many existing printers may not have the necessary clearance for taller objects. Another problem is that many objects are curved and the curve will affect the throw distance between the printheads and the object, which might distort the image. So unless you are printing to flat sheets, you will almost certainly need to make some kind of a jig to hold the object in place with the flattest area closest to the nozzles. That shouldn't be too difficult as most print shops operating flatbed printers also have a cutting table or router to hand and some experience in creating bespoke items like jigs.
Industrial printers
Most UV flatbeds should be suitable for some industrial print jobs but some wide format vendors have specifically addressed the industrial printing market. Inca Digital, for example, has developed a B1 industrial press, which it sells as the Onset M and which Fujifilm has sold as the Acuity B1. Agfa has just acquired Inca and is likely to introduce its own version of this printer. It's built on the same platform as the Inca Digital Onset X series. As such, it's a sheetfed multi pass printer that can run at 200 sph using 960 dpi resolution in a six-pass print mode. There's an LED array on the printer carriage but the final drying takes place in a separate tunnel using conventional mercury lamps. Separating the drying process gives a lot of flexibility for developing different inksets for specific uses, such as printing to metal sheets for packaging applications.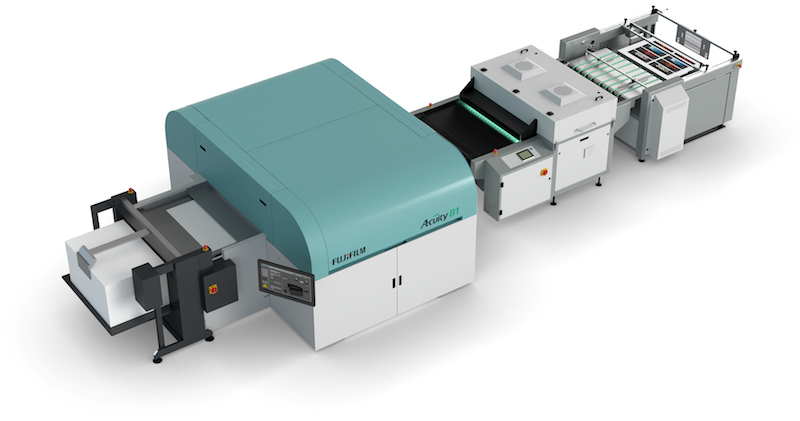 Caption: The Inca Digital Onset M, which has previously been sold by Fujifilm as the Acuity B1, as seen here.

Another example is Roland DG, which has developed the VersaUV LEC2 S-Series of UV flatbeds. These are available in both 762mm and 1625mm widths. They can take objects up to 200mm high, useful for printing to a wide range of different objects.
Roland DG has also adapted a number of its printers for specific industrial markets. A good example of this is the VS-300iS-GO industrial printer for printing membrane switches, which uses ink from Marabu and can be used to print graphic overlays and membrane switches. It's said to be compatible with a wide range of products, including consumer electronics, vending machines, office equipment and medical devices. It's a hybrid system which prints digital colour inks for images, text and logos on to the substrate and then screen prints a layer of white ink on top.
Small format flatbeds
There are also a number of desktop sized flatbed printers that have been developed specifically for the industrial market. The smaller footprint and lower cost allows them to fit into a wide range of different businesses. Typical applications vary from customised promotional goods and souvenirs through to electronics, industrial items and prototypes.
Roland, for example, sells the LEF2-300, which is fitted with four printheads and two UV LED arrays, and has a print area of 770 x 330 x 100 mm. It will print to a wide range of materials including PVC, plastics, canvas, wood, leather and fabric. There's also a clear ink that can produce either gloss or matte finishes, and can be laid down in multiple passes to build up embossed and textured effects.
Roland also sells the SF200, which has been adapted from the LEF2, with the LED lamps removed and the UV inks replaced by an eco-solvent inkset. This allows it to print to various substrates including, ABS, PVC, TPU, PET, PP and PPMA as well as wood, aluminium, glass and leather. The inks are certified for printing items for personal use such as food containers, health and personal hygiene products, and even children's toys.


Caption: Roland's SF200 runs an eco-solvent inkset to print to objects where there would be health and safety issues with UV inks. ©Nessan Cleary

Mutoh sells two small format flatbed industrial printers, the XpertJet 461UF and the larger XpertJet 661UF. There's an optional vacuum table available for both, and a rotary jig for turning cylindrical objects such as drinks bottles for the 661UF. In addition, the 661UF can automatically adjust the table height to print embossed text. These printers use UV LED inks. They can be set up for either CMYK or CMYK plus either varnish or white and varnish. There are two ink sets for printing to either rigid or flexible materials, both available in 220mm cassettes.
For software, there's the Mutoh Layer Editor, which lets users split their graphic designs across multiple layers. There's also an option to use the Mutoh Edition Digital Factory UV RIP developed by CADlink, which makes it easier for users to create templates for object jigs, and for flexible data filling, sizing and positioning.
Mimaki sells several smaller format industrial printers. This includes the UJF-3042MkII e, its larger sibling, the UJF-6042MkII e and the slightly more upmarket UJF-3042MkII EX e. These are all mature platforms though for these latest versions Mimaki has improved the stability of the printers so that there's less vibration, which leads to better image quality.
Mimaki has a larger model, the UJF-7151 PlusII, that can print at up to 1800 dpi. There's a choice between running two sets of CMYK or CMYK plus light cyan and light magenta. The UJF printer series all feature support for MDL (Mimaki Device Language) commands so they can be integrated with external production systems and peripheral devices. This allows for further automation and reduces manual operator intervention to increase efficiencies.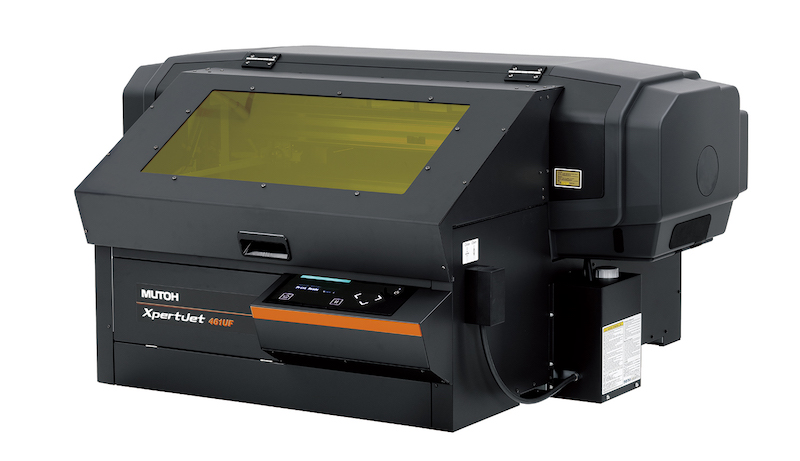 Caption: Mutoh has developed this tabletop UV flatbed printer, the XperJet 461UF for direct to object printing.
Direct to Object
In addition to wide format, there are several types of industrial printers available. The easiest place to start with these is with Direct-to-Object printers, which are mostly designed to print to cylindrical shapes such as flasks or cups.
A good example of this is the American company Inkcups, which has developed several models, including the Helix. This can print to both straight walled and tapered cylinders, for things such as glasses, flasks and even candles, up to 305mm in length. It uses UV LED ink and has a maximum resolution of 1200 dpi. It prints CMYK plus two white channels and a varnish. There's a choice of inks for metals, glass and squeezy plastic bottles.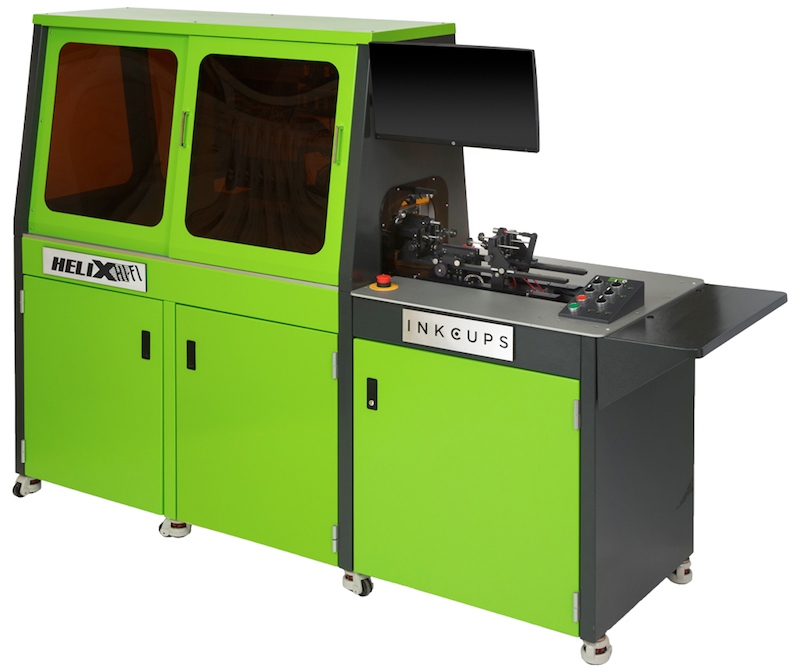 Caption: Inkcups has developed this Helix inkjet printer, which prints to tapered cylindrical objects like cups.

In conclusion, it can be hard to define exactly what we mean by industrial printing. This is because this area is more of a collection of different opportunities than a defined market sector. Many wide format printer vendors have developed solutions for industrial printing and there's no reason why wide format users shouldn't also diversify into the industrial market.
Interested in joining our community?
Enquire today about joining your local FESPA Association or FESPA Direct