Features
The Monkey Puzzle Tree - celebrating the best in British Hospitality design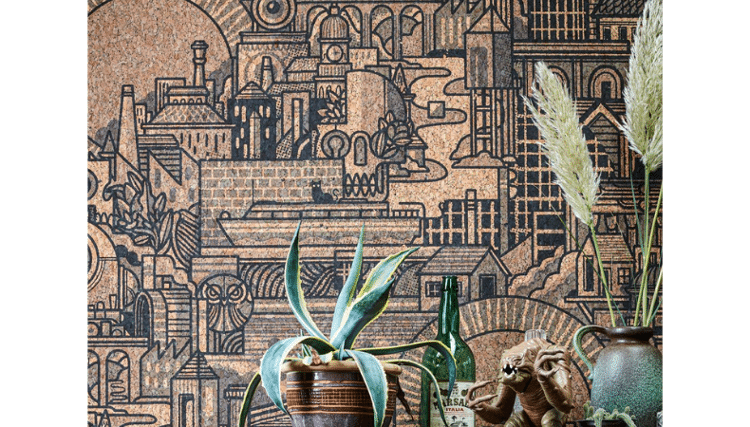 The Monkey Puzzle Tree won the award for "Best in British Product Design" at the Brit List awards for their unique Metamorphosis linen union. Metamorphosis was created in collaboration with artist Kirsty Greenwood and is a fantastical large-scale design on a natural undyed and unbleached linen union fabric.
The Brit List awards celebrates the best of British Hospitality design and brings together the UK's top designers, architects, hoteliers and brands. This year the judging panel sifted through hundreds of nominations, the highest number of entries ever received to finally agree on nine finalists - the awards were presented in London on the 3rd November 2021.

Taking inspiration from artists Klimt and Egon Schiele, Metamorphosis features metallic gold comets, mysterious faces and strange creatures amidst green tendrils. The fabric creates a real statement and complements both neutral schemes and rooms using dark colours.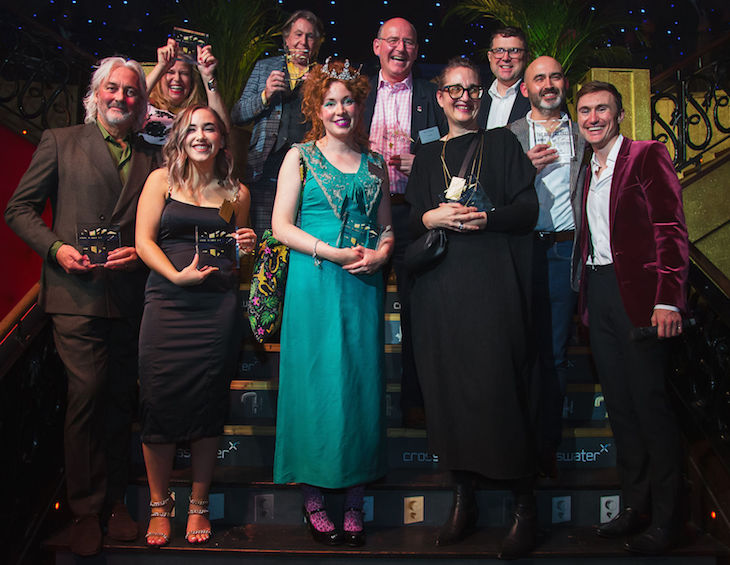 Caption: Winning the award for "Best in British Product Design" were Charlotte Raffo and the team at the Monkey Puzzle Tree for their unique Metamorphosis linen union. Image Credit: The Brit Awards / Charlotte Raffo.

Metamorphosis is screen printed in a heritage print works in Cumbria, using a unique combination of metallic, matt and bright inks to create depth in the design. The fabric is a characterful blend of linen and cotton retaining the natural colour of the yarn and showing occasional slubs and imperfections which add to the natural charm of the fabric.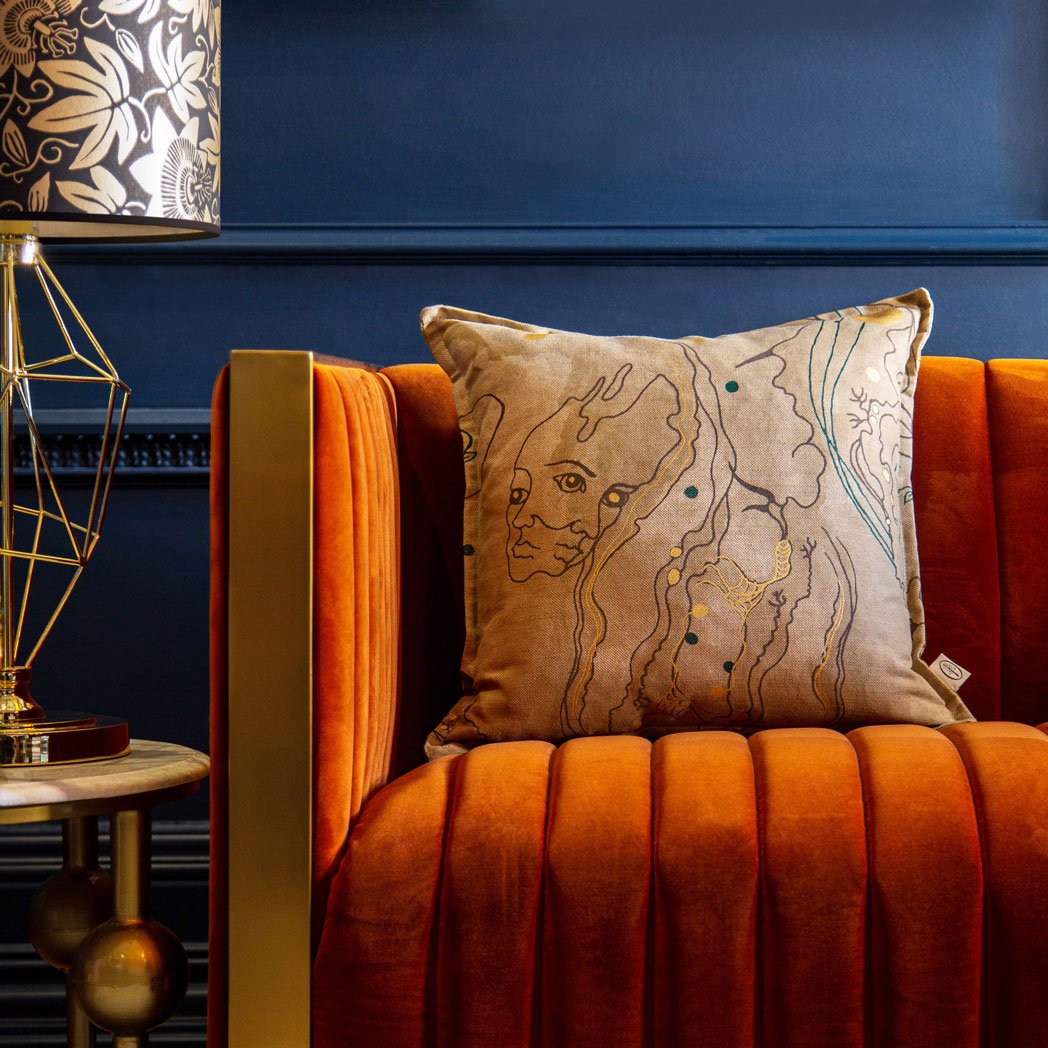 Caption: Metamorphosis was created in collaboration with artist Kirsty Greenwood and is a fantastical large-scale design on a natural undyed and unbleached linen union fabric. Image Credit: Kirsty Greenwood / The Monkey Puzzle Tree.

Charlotte Raffo, founded "The Monkey Puzzle Tree" with a vision to channel the creativity of local artists into Interior Décor. The business supplies printed home furnishings and accessories working in collaboration with local artisans, to curate and develop designs, and unique artworks into commercial products for Interior applications. Leaving the creative to "create" - Charlotte and her team handle everything else. Her artistic direction and mentoring support both the creative and local manufacturers. All products are created and manufactured in the north of England.

We recently caught up with Charlotte to celebrate her "Brit Award" and to learn more about her business The Monkey Puzzle Tree:
Huge congrats on your recent award "Best in British Product Design". How does that acknowledgement help you to expand your business and community?
Thank you so much! I'm hoping it really adds to the visibility of the brand and also builds trust. I think trust is a very important element of marketing when you have a high value product which you are selling business to business. For someone to spend hundreds or thousands of pounds they really have to believe in the business and trust that you will deliver what you say you will. We were also awarded a Design Guild Mark for your real cork wallpaper earlier this year, so it has been a good year for us.
What was the catalyst that defined your vision for "The Monkey Puzzle Tree"
As with many businesses it was a series of events that seems disconnected at the time but looking back on it, it's like it was meant to be. My artist friend Sarah Thornton was talking to me about how she would love to make fabrics but had no idea how to go about it. I'd also previously worked in British manufacturing myself and wanted to support that industry rather than sourcing everything abroad. Sarah made the suggestion of me collaborating with artists on the design and then paying a royalty back to the artists.
Can you tell us about the Interior products you offer?
We mainly focus on wallpapers and textiles for upholstery and curtains, and we also offer cushions and lampshades.
Why do you focus on working with Designers/Artists in the North of England?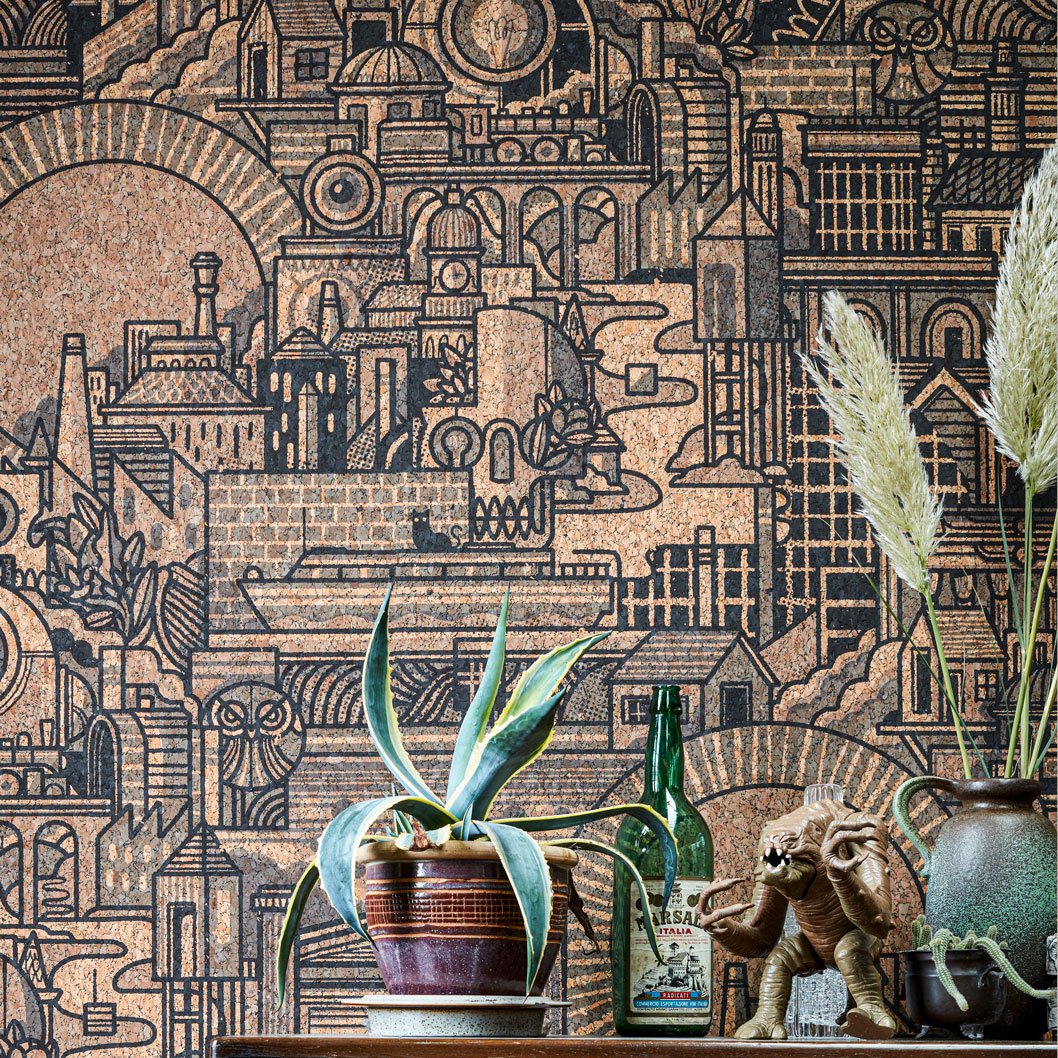 Caption: Drew was commissioned to create a Modernist-inspired cork wallpaper celebrating the creativity and industry of the north of England which was manufactured using digital technology. Image Credit: Drew Millward / The Monkey Puzzle Tree.
Originally, I started working with some artists that I knew personally who happened to be local. As the brand grew and I could search for new people to work with I had to decide on some criteria. I thought it would be nice to represent the North of England as there are definitely less opportunities here than if you are based in London. A couple of years ago I questioned myself about the diversity of artists who we collaborate with, as if we are representing our area, we should represent people from all backgrounds. I became more proactive in finding new artist from ethically diverse backgrounds which has been great, and will bring something completely different to our next new designs. I find that adding restrictions into the creative process helps you be more original rather than just taking the obvious easy route.
How do you mentor your partners to grow their creativity and develop commercial opportunities?
Most of our artists have limited experience of working with pattern and product so it's a lovely collaboration to be able to work often in different ways than they are used to. Sometimes we just use scissors and cello-tape to create the pattern from the original artwork. As well as paying the artists we work with a royalty each one has a profile on our website and are regularly mentioned on our social media.
Which technologies do you use for printing Textiles and Wallcoverings?
My aim is always to capture the essence of the artist and their art. When Sarah Thornton used some vintage graph paper to pencil draw her birds and then fill in the squares with watercolour, I wanted that wallpaper to look as though you were buying that original art. So, we experimented with lots of different kinds of paper to get exactly the right kind of texture and colour so that the wallpaper actually looks like graph paper and the inks so that the pencil marks and rubbings out look just as they do on the original. We also created a naughty net curtain using a burnout screen printing technique to create a voile. We've digitally printed on cork, and for our Metamorphosis fabric we build up different effects on a flat-bed screen to create real death onto an unbleached texture linen blend which gave real character to the fabric. Our most recent design was specially woven for us in a tiny Lancashire mill and then rotary printed.
Are all your products manufactured in the North of England and if so - why?
Yes, we manufacture everything within 100 miles of our Leeds studio. My first job was working in design and development in a tannery in Leeds which supplied leather to companies like Louis Vuitton and Camper. After I'd been there for six years, in 2006 it very sadly closed down with the loss of hundreds of jobs and all the skills. Part of my aim with the business is to try to help prevent that happening to other local mills.
How important have trade shows been in growing your company?
Trade shows have been really important to us. It's not an instant pay back but most of the good things that have happened have been as a result of trade shows. For example, featuring on 'Your Home Made Perfect' on BBC2 earlier this year was as a result of meeting Laura from Lamp Architects at Clerkenwell Design Week. It's especially important for us as we're not London based yet that's where most of our customers are, so it's important to have a presence there when we can meet interior designers and press.
How do you juggle all the business functions required in running an Interior brand?
It really is a huge juggle and also a massive learning curve. I take it seriously but try not to beat myself up about not doing things perfectly. Sometimes I think I've missed out on an opportunity, but I have to give myself a break and just be pleased with what I have achieved. At the moment I'm developing better systems and processes so that the business runs more efficiently and it's easier to delegate tasks. Having said that, I really value having learnt each role and I think having done each job myself before handing it over to someone else is really valuable.
Has social media been a big part of your growth?
I think it's important, but I wouldn't say it's been as a big a part of our growth as for other brands. That's partly because I've been focussing more on growing the business-to-business side of the company. For us it's important to build trust and I make sure that we are always present and answering messages, but as yet I haven't really done any big collaborations with influencers. It's probably an area we need to work harder at!
What is your vision for the future of "The Monkey Puzzle Tree"?
We will continue to produce more of the most exquisite, beautiful designs which will always be different from anything you've ever seen. It would be amazing to be able to regularly pay our artists a small regular wage to help support them and I'd also like to raise the profile of our manufacturers and help support them with regular orders.
What advice would you give to an emerging designer/artist that's new to Interior Décor?
Really put some thought into working out what your brand will stand for and look like, you need a strong design direction to stand out from the crowd. It takes a long time to build a brand so don't expect success straight away. If you're going to run your own brand you really do need to be comfortable taking everything on from finance to marketing and sales and manufacturing, and you'll find that only a small proportion of your time is actually spent designing.

Make sure you're very passionate and driven as you'll really need that to see you through the good times.


Interested in joining our community?
Enquire today about joining your local FESPA Association or FESPA Direct