Features
Textile customisation trend drives rapid growth in dye sublimation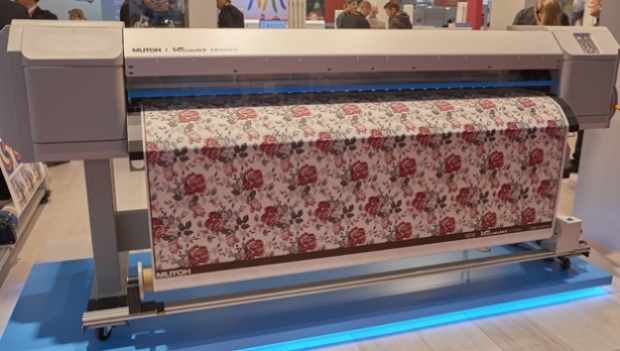 Smithers Pira publishes a new report which provides an in-depth, long-term assessment of the rapidly evolving market for this print technology.
An estimated total of around 384 million square metres of fabric were printed digitally via dye sublimation in the year to Q1 2016, having grown by just under 18.4% in the past year 2015-16. This is set to rise to 892 million square metres in 2021.
The four major end-use segments are garments; household (carpets, wall coverings and upholstery); technical and visual communications (displays and signage); and technical textiles. This last category includes automotive (seats, seat-belts, seat head lining, panels, sound absorption), bags, medical and scientific textiles, sails, tents, parasols/umbrellas, accessories and sports equipment.
The garments segment is the largest end-use sector, with 75% of the market share by value in 2016. The other segments each take 5-10% of the market. "What is driving the market, in very basic terms, is the increasing demand for rapid customisation to create beautiful, unique clothing or household products," said Dr J D Hayward, author of the report.
"This is more and more made possible by digital printing technology. In turn, printers must turn around the production and delivery of dye sublimation products ever more quickly to meet this demand."
Applications of digital dye sublimation textile printing include, in order of run length: unique one-offs, sampling, micro-runs, short production runs and increasingly long bulk production runs in the multiple thousands of linear metres. This last is the new battleground with conventional analogue textile print, which dye sublimation is looking to disrupt with a new generation of high-productivity presses.
Dye sublimation specific machine annual revenues amount to a total of €279 million ($304 million) to Q1 2016. Dye sublimation inks revenues amount to a total of around €259 million to end Q1 2016. Globally, digital textile printing output grew at more than 45% annually between 2004 and 2009 from a low base.
From 2009, growth slowed somewhat, in part due to the fact that the near-exponential growth rates of early years could not be sustained as the market became more mature, but also because of the global economic slowdown.
Dye sublimation digital printing was nascent in the period 2004-9. The sublimation dye market attracted attention as it was clearly growing rapidly between 2011 and 2015, in some countries at over 50% per year from a low base.
The market participants collectively now predict a lower rate of growth going ahead to 2021, but at 18.4% CAGR, dye sublimation continues to be an appealing fast-growing market that will more than double in terms of volume printed and value over the study period.
In terms of regional markets, Asia (including Turkey) is having, and will continue to have, the strongest growth. Conversely, the highest per unit price will continue to be seen in North America and Western Europe.
The Future of Dye-Sublimation Printing to 2021 provides data and an exclusive analysis designed for organisations at all phases in the value chain looking to capitalise on opportunities in this booming segment.
It examines global and key regional markets for dye sublimation print, which is contextualised with analysis of the state of the art in dye sublimation printing and expert analysis of the technical and market drivers that are fuelling growth.
Opportunities for expansion in digital textile printing
It is no longer a secret that textile printing is one of the biggest growth sectors of the industry, with many diversifying into this market.
And with competition continuing to increase in the busy market, companies are looking for ways to pull ahead and win more business. One way of doing this is ensuring you have the best possible technology in place in order to produce high-quality products for your customers.
Much has been said and written about the advantages of using dye sublimation in textile print, with many of those companies in the sector having opted for this technology. This has not gone unnoticed by FESPA, which will this year heavily focus on opportunities in the textile print sector at its Digital show this March.
The specialist FESPA Textile in-event sector of the show will play host to some of the major players in the dye sublimation market, all keen to demonstrate how their solutions can help companies move ahead of the competition. In addition, manufacturers will set up shop in other areas of the show in order to ensure they take advantage of the heavy footfall that is expected on Amsterdam.
Although digital textile printing may involve a lot of different techniques than the traditional processes most print companies are used to, if such printers are able to master these technologies, then there is plenty of business to be won.
The FESPA Digital Textile Conference 2016 will demonstrate such opportunities to those companies thinking of diversifying into the market.
Taking place at the RAI Exhibition Center in Amsterdam on March 8th 2016, the event will welcome a host of specialist speakers from across the sector, each of which will give advice on how traditional printers can gain access to new and exciting work in digital textile print.
The day will also include panel discussions and key networking opportunities during the inclusive lunch and drinks reception.
As well as the one-day conference, the free textile sessions included within the Digital Seminars area on the show floor throughout the four days include topics such as '3D printed clothing', 'Direct to garment printing: should we or shouldn't we?', and 'Screen printing and direct to garment'. Visitors are welcome to drop in and listen to sessions during the course of their visit to the exhibition.To view more information about these presentations and register to attend,
Visitors are welcome to drop in and listen to sessions during the course of their visit to the exhibition.To view more information about these presentations and register to attend, visit: dtc.fespa.com.
FREE entry to the exhibition via code ATOZ0105 automatically includes entry to FESPA Digital 2016, FESPA Textile, European Sign Expo and Printeriors.
Interested in joining our community?
Enquire today about joining your local FESPA Association or FESPA Direct