Features
Spreadshirt commits to $10m investment in print kit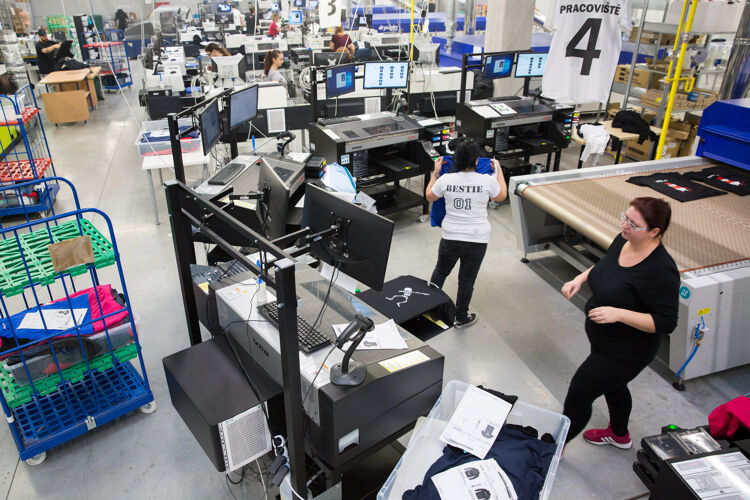 Rob Fletcher speaks to Spreadshirt about their plan to invest up to $10 million in new printing equipment over the next 2 years.
Global printing business Spreadshirt has revealed plans to invest up to $10m (£8.2m/€8.9m) in new printing equipment over the next two years in response to rising demand for its products and to support its expansion into new markets.

Spreadshirt describes itself as the 'self-expression global e-commerce company', allowing customers around the world to design their own clothes, accessories and other products. Spreadshirt then prints and distributes the finished article.

The company has seen a significant rise in demand for its services in recent years and is now implementing a multi-million-dollar investment strategy in order to enhance its production offering.

So far, Spreadshirt has taken delivery of new Atlas printers from Kornit at its sites in in Henderson, Nevada, and Greensburg, Pennsylvania. Atlas printers will also be installed at its locations in the Czech Republic and Poland in 2020.

Speaking to FESPA.com about the initiative, Spreadshirt chief executive, Philip Rooke, said that the new equipment will benefit all brands operated by the firm, including Spreadshirt, SPOD, Teamshirts and SpreadShop.

"Within five years, I expect the Spreadshirt Group to become the world's largest platform for self-expression through customer apparel and goods," Rooke said. "This will be done through selling directly to our customers or fulfilling to other customers.

"We have a rapidly growing business and have enjoyed great success with our recently launched fulfilment division, SPOD. Many third-party companies wish to access our printing capabilities and the leading standards we use for our own customers.

"We want to set new standards in print quality and delivery times."

As to why Spreadshirt has opted for the Atlas from Kornit, Rooke said that the printers, which only launched this year, can achieve up to 40% more prints per hour. This will allow the business to shorten turnaround times and serve more customers.

"The latest generation of direct-to-garment printing provides us with much better quality," Rooke said. "With the new Atlas printers from Kornit, we not only achieve top print results, but can also meet more customer demands in less time.

"We already have cotton printing and now we're planning to add new categories to our business: including printing on polyester sports clothing, embroidery for corporate goods and machines for UV printing on non-clothing products.

"Next year we expect to print over ten million items, ship to more than 150 countries around the world and enable over 100,000 sellers to earn money through our marketplaces and shop models."

Interested in joining our community?
Enquire today about joining your local FESPA Association or FESPA Direct