Features
Solvent UV ink: What is it, and when should it be used?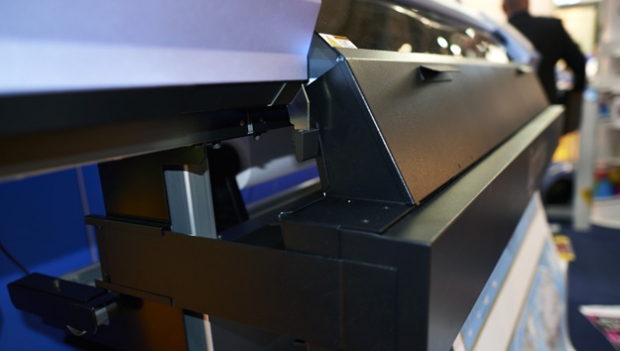 Nessan Cleary investigates the pros and cons of Solvent UV ink, the hybrid answer to tricky digital printing challenges.
Solvent UV inks combine the best elements of solvent and UV technology to overcome the weaknesses in each type of ink.
There are a number of different types of ink that are commonly used for wide format. Most are mature technologies that have been around for a while and are easily understood. So, we think of solvent inks as being relatively inexpensive and best used for flexible materials, while UV inks will adhere well to a wide range of substrates and are mainly used with rigid media.
But ink developers are constantly looking at new formulations so it shouldn't be a surprise that there is now a hybrid that combines solvent and UV inks, promising the best features of both.
The concept has been largely popularised by Mimaki, which refers to this technology as Solvent UV. Mimaki has developed a roll-fed printer, the JV400 SUV, which is built on the same chassis as the JV400 LX latex printer. Thus it has inherited two Ricoh printheads, with resolution from 600 to 1200 dpi and a standard speed of 18.1 sqm/hr. It has a standard three way drying system, similar to any solvent printer, plus a fluorescent tube for UV curing. It's available in two sizes - 1371mm and 1620mm.
It uses a standard CMYK inkset that Mimaki sells as the SU100 Solvent UV brand. But the ink technology has been developed by Fujifilm at its Speciality Ink Systems division in the UK, which refers to it as Fuze technology. Fujifilm also sells its own printer, the Vybrant, which is a rebadged Mimaki SUV though Fujifilm only sells the 1.6m version that is commonly used in European markets.
Tudor Morgan, systems marketing specialist for Fujifilm SIS, explains: "We try to incorporate the best of both types of chemistry. UV is very good for curing fast. It's got a wide adhesive range but with conventional UV you end up with a high ink film but in some applications people want a low film weight so that it looks more photographic. So we use a solvent carrier that evaporates out of the film which then means that the film becomes thinner."
Effectively, the solvent is replacing the monomer component of a standard UV ink, and keying the UV elements into the media, much as with a solvent ink. The solvent itself is water-based, so there are no harmful VOCs and no need for ventilation.
The UV element carries the pigment, with Fujifilm using the same automotive grade pigment that is used in its standard UV inks so that the inks are suitable for outdoor graphics without requiring lamination. The inks have a very wide colour gamut coupled with the glossy appearance associated with solvent prints, plus the toughness and scratch resistance of UV inks.
Mike Horsten, marketing manager for Mimaki Europe, says that the big advantage is that any laminating needed can be done immediately because you don't have to wait for it to de-gas, though he adds: "If you want to do a car wrap for three months and don't want to use an extra layer of laminate then it becomes viable."
The downside is the cost, with these inks being more expensive than a solvent ink and much closer in price to a UV ink, though as with UV inks, the ink consumption should be lower than a solvent ink. But it's really the solvent market where this system aims to compete. Horsten adds: "We do assume that there's a move from solvent to SUV because you have the benefits of both. It's dried fully but it still has the glossy image."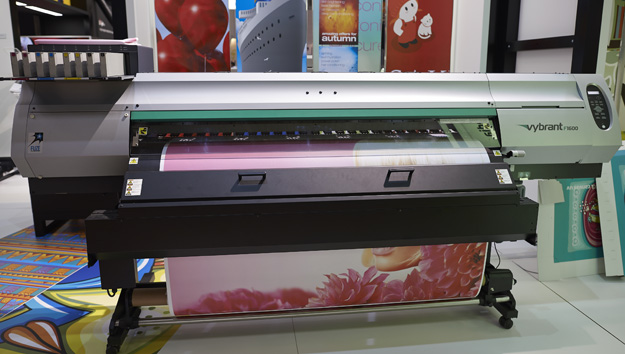 Fujifilm sells this Vybrant printer, a 1.6m wide printer that uses its Fuze ink technology.
These inks will also work with a wider range of media thanks to the UV base so that as well as the normal PVC, banners and canvas materials they can also print to polyethylene and polypropylene. They also compete against latex inks, having similar properties but using less heat to dry the aqueous element of the inks.
Morgan adds: "Profiling is much easier because we have the UV consistency." That said, there's no option to use rigid media with these printers as they would need a substantial redesign to accommodate the UV curing lamp on the media path.
The Lightbar
There is a third player in this solvent UV game – Colorific – which has developed a range of UV Light inks. There's up to six colours - CMYK plus light cyan and light magenta. But rather than develop a specific printer, Colorific has opted to adapt existing solvent printers by adding a fluorescent lighting unit, which it calls the Lightbar, across the front to activate the UV curing. This is held in place by brackets attached to the printer's legs, so that as the prints exit the printer they pass under the Lightbar for curing and then onto the take up rollers.
Customers can buy either a complete printer or a kit to adapt their own printers, which is a useful way of rejuvenating an older printer that's outlived its warranty. It works with Epson DX4, DX5 and DX7 printheads, which includes Roland, Mimaki and Mutoh printers that use those heads, giving a fair range of different sizes and capabilities to choose from, including print and cut machines as well as straightforward printers. It also means that customers can get many of the advantages of a roll-fed UV printer for very little additional outlay.
Ultimately these printers offer a saving on time and laminate, as well as brighter colours and a glossy finish. These are all useful features and many wide format users may find these printers a worthwhile addition to their portfolio.
Interested in joining our community?
Enquire today about joining your local FESPA Association or FESPA Direct