Features
Sharpening your focus with cutting technology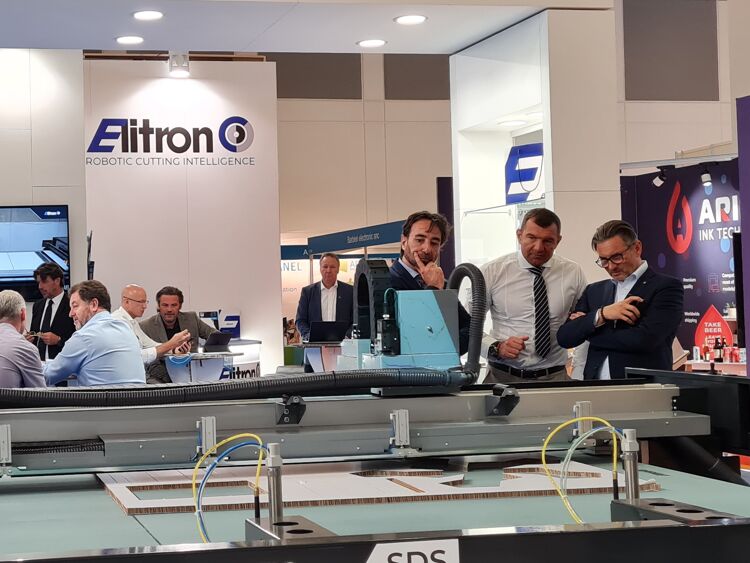 A hugely important part of the finishing process for almost all print service providers (PSPs), Rob Fletcher takes a look at some the latest technologies in the cutting market and analyses how these machines can help users improve the quality of output.
Finishing is no longer something of an 'afterthought' for PSPs; nowadays, finishing can be a significant source of revenue for PSPs, with new and advanced finishing technology allowing print companies to add all sorts of effects to their finishing.

However, at the heart of print finishing remains the processes that have been used by PSPs for many years. One such technique is cutting, which, for many print businesses, is critical to the production of all kinds of applications, from small-format work like books and booklets, to large-format posters and banners.

Here, FESPA.com speaks with some of the manufacturers and suppliers in the cutting sector to get the inside track on the latest developments and technical advancements for this core finishing process.
Flawless and precise results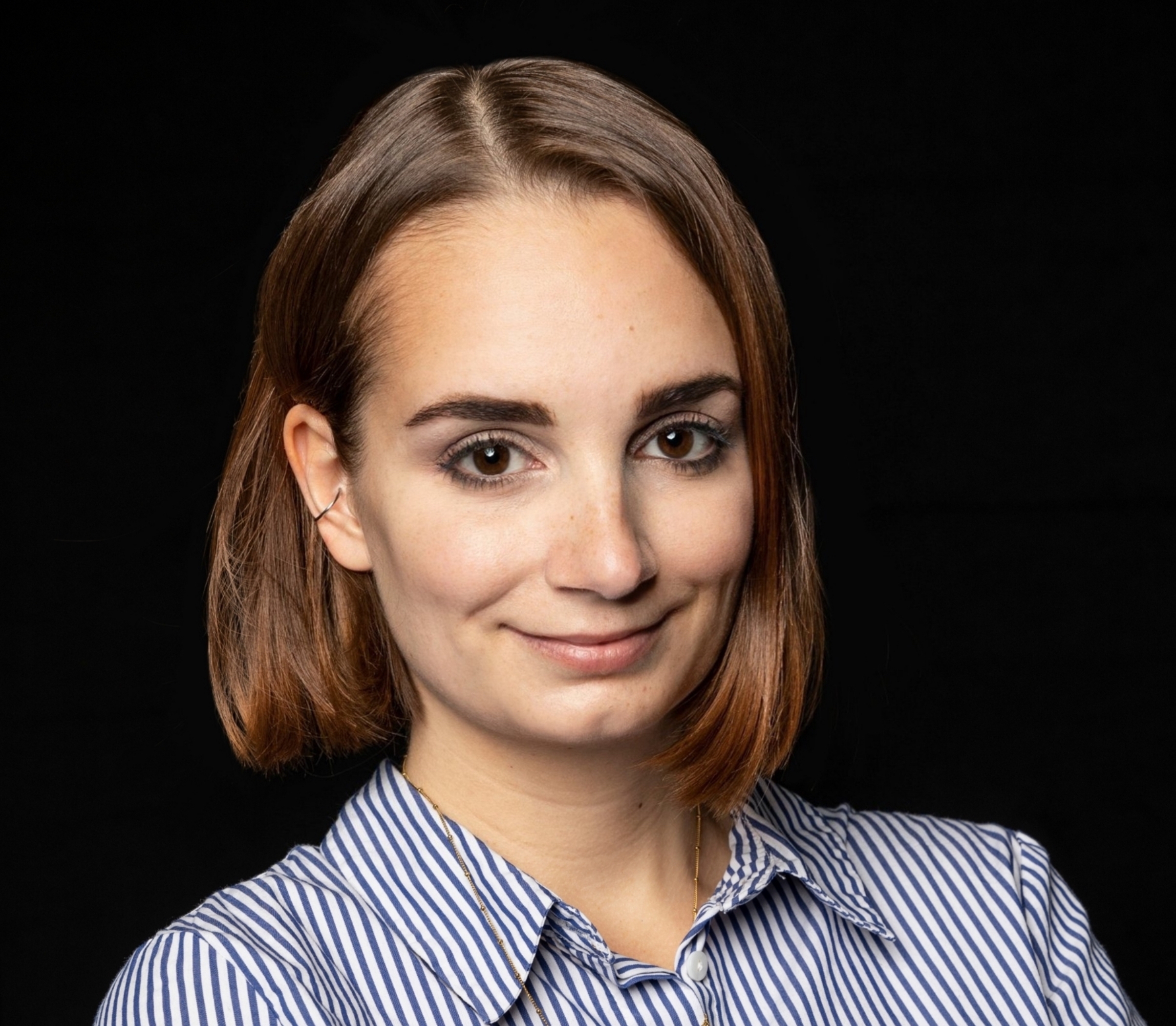 Caption: VHF communications manager Friederike Schmidt said quality cutting machines should have a high-quality and thought-out design

One such company is Germany-based VHF, which has been developing and manufacturing CNC milling machines, CAM software and tools for more than 30 years. Operating under the banner 'Creating Perfection', communications manager Friederike Schmidt said VHF is committed to delivering reliable cutting solutions to the market.

"Regardless of whether a customer comes from the print industry or sign-making, one requirement is the same for all users: the result should be flawless and precise, with easy handling and in the shortest possible processing time," Schmidt said.

"This can only be achieved with a machine that has a high-quality and thought-out design and can be adapted exactly to the needs of a customer. The stability of the machine is particularly important, but also that the machining unit best possibly suits the predominant application.

"If you invest in a cutting kit that is too cheap, the costs for the associated milling or cutting machine will still be high. Overall, however, you may still not achieve the result you want with the cheap cutting set at a similarly high cost.

"We therefore recommend that our customers always seek advice before purchasing a machine and the associated components and consider exactly which applications and materials the machine will be used for or how high the workload will be. In a nutshell, a perfect result requires a high-quality overall offer that provides customers with an all-round carefree package."

VHF used the FESPA Global Print Expo 2022 to showcase its flagship CNC milling and cutting machine from the X series. The X can be operated intuitively via tablet, while low-vibration machine castings ensure smooth running and an outstanding edge quality.

"The innovative TripleXdrive concept bundles the power of three motors per axis," Schmidt said. "This means for our customers: high speed combined with precision, drive power, and stability. In addition to the spindle, the X can also be equipped with a cutting unit for oscillated cutting, creasing, V-cut, straight-cut and kiss-cut.

"This flexibility makes our machine particularly interesting for those customers who mainly want to mill, but also have the option to do various kinds of cutting works."
Unique combination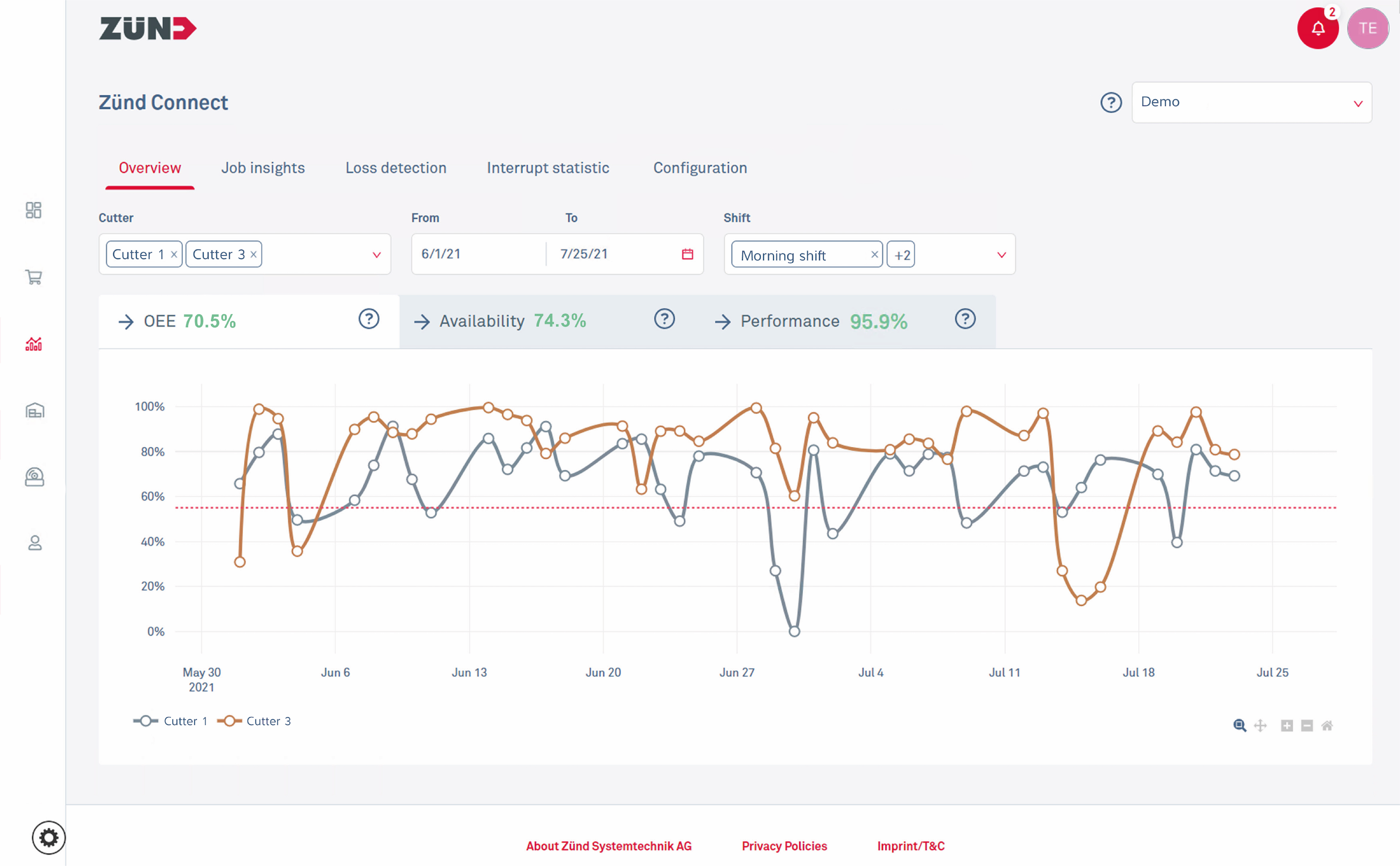 Caption: Zünd Connect is the web-based monitoring and analytics software supplied by Zünd

Elsewhere, Zünd is another leading specialist in cutting, working with customers around the world. Lars Bendixen, segment manager for graphics at Zünd, said only investing in high-quality, reliable and durable equipment pays off in the long run.

"Our cutting solutions offer the unique combination of highest performance, very low operating costs and very easy and fast integration into the production workflow - and this mix ensures a fast return on investment in the end," Bendixen said.

"In addition, we don't 'just' sell cutters, we offer our customers a complete package that we tailor exactly to their individual needs. This also includes software solutions for functions such as administration, data preparation, design, removal support and robot control.

"Those who keep their equipment up to date in digital cutting have the great advantage of constantly being able to benefit from the greatest possible performance and flexibility. And that's exactly what our customers find so easy - thanks to the highly modular design of our cutters and our software solutions, they are able to react very quickly to changing market needs and adapt their production workflow to new requirements."

While Zünd offers a wide range of cutting options, Bendixen opted to highlight the many software solutions available to customers. These products, he explained, are designed to automate and standardise the preparation of print and cut files, providing PSPs with the tools for production monitoring and analysis and for facilitating the removal and logistics of cut parts.

For instance, PrimeCenter is the control centre for generating print and cut files, while the Pick&Place interface option controls robotic devices and fully automates the removal of cut parts and their placement at pre-defined locations.

To create additional efficiencies in parts removal, job tracking and even logistics, Zünd also offers the Visualising Option, another component of the Zünd Cut Centre user interface and workflow software.

For anyone looking to determine what aspects of their production workflow may have potential for optimisation, Bendixen points to the Zünd Connect web-based monitoring and analytics software.

"This captures performance and availability KPIs from cutters integrated in the Zünd production workflow and uses this data to calculate Overall Equipment Efficiency (OEE)," he said. "Zünd Connect uncovers productivity losses and provides key performance indicators that help users further optimise their digital cutting operations."
Greater choice of cutting possibilities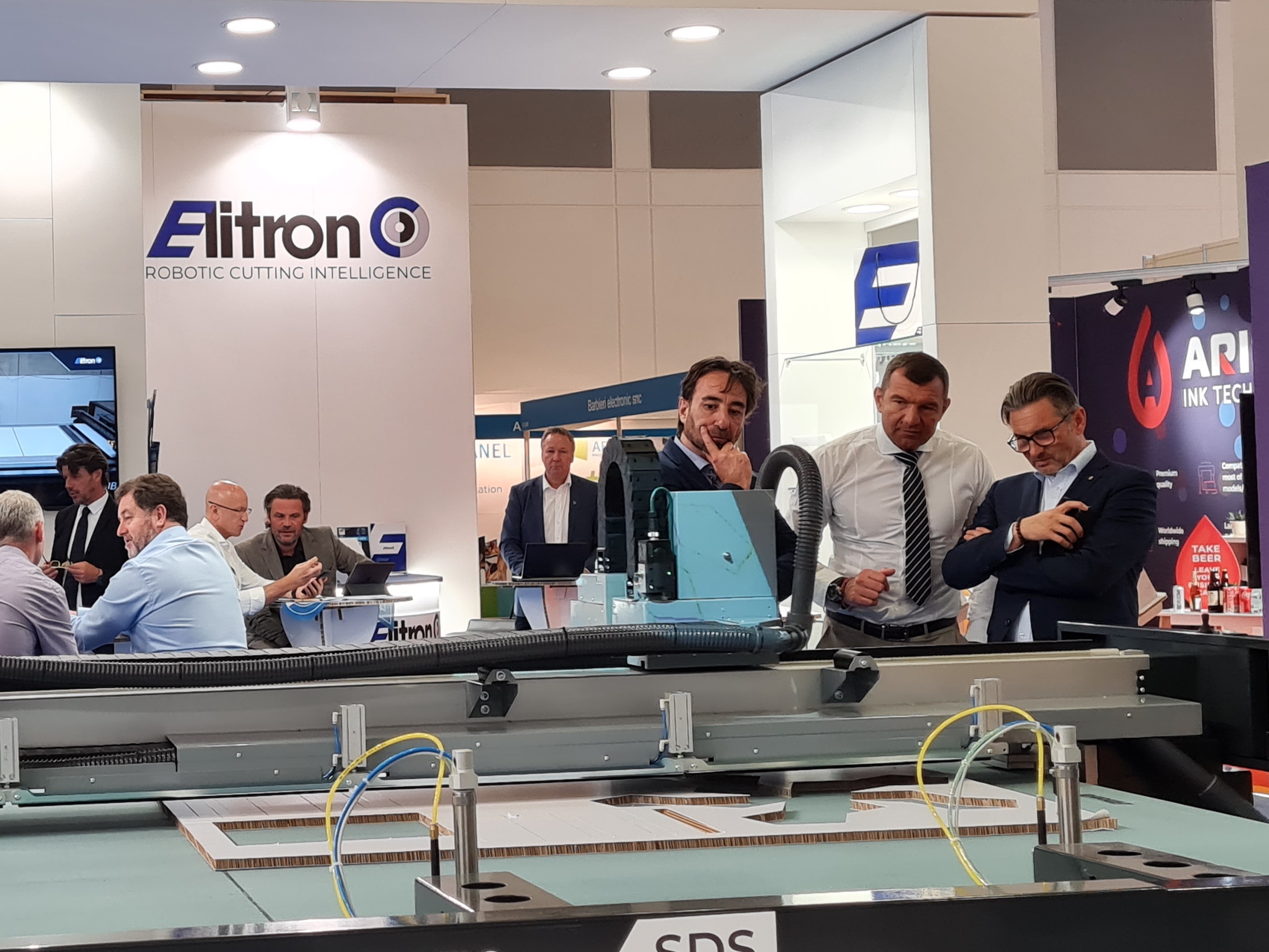 Caption: Elitron used the recent FESPA Global Print Expo 2022 to showcase some of its latest cutting solutions

Elitron is also well placed to support with cutting, having been providing solutions to the market for more than 30 years. Caroline Bell, sales and marketing coordinator at Elitron, said quality cutting machinery should be able to stand the test of time.

"Generally speaking, an investment in a flatbed cutter is done when a PSP decides to bring finishing in house, or it may be that until today they have solely used die cutting internally, and they want to branch out to then be able to produce 'just-in-time', without waiting on the production of the dies themselves," Bell said.

"Many customers may be upgrading from an existing cutting plotter, in order to have a more modern, high performance, multi-function cutting system or a fully automatic cutting line, in order to address today's production requirements.

"The quality of the end product, be it POS displays, banners or packaging, is of critical importance to customers, and therefore the quality of the materials used, print finish and cutting are all looked at very closely.

"Quality cutting systems, such as Elitron's range, give customers a greater choice of cutting possibilities which often lead to customers increasing their product offering. Also, when opting for a semi or fully automatic cutting line, customers are able to meet just-in-time production from customers, as they're able to work up to 24/7."

Elitron's range of flatbed cutting systems stretches from a small footprint system for sampling and small product production to wide-format flatbed systems with conveyor. Bell said maximum, multi-function flexibility means a wide range of different types of materials can be cut and milled.

From a fully automatic perspective, Elitron offers the Kombo TAV and TAV-R, fully automatic cutting systems. The V2, the latest Kombo TAV, offers front and side loading and unloading options.

The message here simply seems to be that by cutting back on cutting machine investment, you could be risking the integrity of the final printed product. Purchasing a quality piece of kit will help you achieve excellent results time after time.
Interested in joining our community?
Enquire today about joining your local FESPA Association or FESPA Direct