Features
Setting the trends in garment print
Widely regarded as a key growth market for a number of years, Rob Fletcher takes a closer look at garment printing and analyses the opportunities for expansion in this colourful and creative sector.
Given the amount of growth this area has seen in recent years, garment print now forms a staple part of production for many print businesses, as they take on all sorts of projects and applications for customers across a number of industries.

This raises the question as to whether there is still room for further expansion in this area, as well as if companies not currently offering garment printing as part of their services should consider moving into the market, given the amount of competition they could face?

FESPA.com speaks with some of the leading manufacturers in garment print technology to find out about the opportunities available to newcomers and established companies and analyses the latest machinery that can help businesses access this profitable work.
Technology innovation
First up, Roland DG has plenty of experience in the garment print sector and has a number of solutions available to the market. Encarna Luque, senior product manager for inks and business development in textile and decoration for Roland DG EMEA, said the market for garment printing is strong and remains a good area for print businesses to target as a primary or additional revenue stream.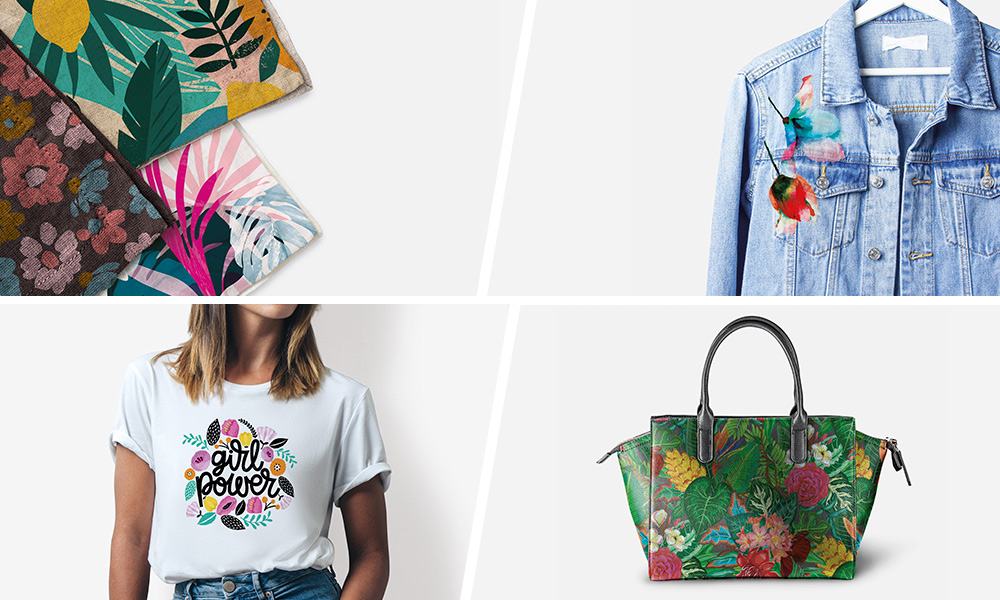 Caption: Roland DG highlighted direct-to-garment work as a key growth area within the garment print market.

"Given the constantly changing consumer trends and demands in the garment industry, there's room for print shops to innovate and experiment with new techniques, materials and processes to carve out their own area of the market, and help realise consumer expectations," Luque said.
"Technology innovation in the textile market offers print businesses exceptional versatility and high-quality output as well as cost effective solutions, which provides huge profit opportunities to forward thinking businesses."
Looking at the areas print companies can target to win new work, Luque picks out direct-to-garment (DTG) work in particular, describing this as a "booming" area of the industry. He points out how DTG machines can print onto a wide range of materials using appropriate inks and pre-treatments to create high quality apparel, including garments which cause problems for other forms of printing such as clothing with zippers.

DTG printers can also print onto garments of different sizes at once, depending on the printer, which Luque said will increase business productivity. In addition, he said the digital nature of DTG printers means the machines can print almost any image, regardless of intricacy, while they do not require rigorous training.

"As a result of this versatility, DTG printers are ideal for print businesses branching into new applications and offerings, including small businesses that are looking to easily create a broad range of products at an affordable price," Luque said. "Larger DTG printers are also available for businesses looking for high-scale production.

"DTG printing also typically has a lower cost of production per product than the traditional screen-printing process which only becomes cost effective for long runs. Since DTG machines require no advanced setup, products can also be printed on-demand, which avoids the accumulation of redundant stock and eliminate the fix-costs compared with traditional systems and the associated wasted funds, boosting long-term profit alongside eco-friendly credentials by avoiding product wastage."

Looking at Roland DG's latest offerings, Luque picked out the Texart XT-640S-F, a hybrid direct-to-textile and DTG solution he said has been designed to meet growing demand for short-run printing in the apparel and textile industry

Targeted at apparel print houses and garment manufacturers, the machine can be used to create fashion, sports and leisurewear, apparel and street attire, while it can also be used by fashion houses looking to build prototype versions of clothing or create a one-off piece for a show.

"A digital printer with virtually no set up required, it can decorate different sizes, colours and types of garment within the same print run, thanks to the combination of multiple jigs at the same time, as well as seamlessly switching from direct-to-garment and direct-to-textile without changing machine," Luque said.

"Available in three sizes, the XT-640S-F can print onto a broad spectrum of fabrics, when using the right pre-treatment, including cotton, cotton-rich blends, white polyester, denim and leather."
Growth opportunities
Elsewhere and Phil McMullin, pro graphics sales manager for Epson UK, agrees that DTG is driving demand in the wider garment print market, saying the potential within this area is attractive.
"The growth opportunities are aided by the fact that DTG production capabilities enhance creative flexibility and increase revenue earning possibilities," McMullin said. "The easy-use technology makes adoption quick and smooth. It also enables operations to expand as DTG printers are generally scalable and simple to run as part of a workflow.
With just a small space required (desktop options for smaller print volumes or floor standing for more industrial volumes) to print the designs, finding room is easy. There is also no need to store jobs post production as the finished garments can be immediately dispatched."

Focusing more on DTG, McMullin said this technology is helping redefine how garments are produced and addressing three industry shaping drivers, namely sustainability, reshoring and on-demand.

In the case of sustainability, McMullin pointed out that the fashion industry produces 20% of all global wastewater and 10% of global carbon emissions. However, localising fashion using more on demand digital printing can save up to 4Kg of carbon dioxide per item.

"DTG systems enable on-site, on-demand textile printing, producing a low carbon footprint in comparison to traditional textile production. They provide significant reductions in water and electricity consumption in comparison to traditional screen printing and offer designers the flexibility to customise designs and produce exact quantities on demand, with very little waste."

Looking at reshoring and as fashion trends are constantly change and there is an increasing demand for personalised goods, McMullin said many companies are now making the move towards reshoring and local production to reduce transportation, as well as reviewing supply chains to deliver the right quantities at the right time.

"Interest in this has been accelerated by the impact the pandemic has had on supply chains for businesses across different sectors," McMullin said. "As a result, many companies are considering how reshoring can change their practices for the better.

In addition, McMullin said by adapting to an on-demand business model, customers have much greater control of production in terms of quality, turnaround times, cost, and profitability.

"There is a growing market for the printing of original and unique images and designs onto finished garments and the simplicity of the DTG print process makes it ideal to integrate into web-to-print platforms, essentially allowing anyone to start an online T-shirt business," he said. "Printing what has already been sold eliminates the reliance on mass production, shipping and storage and results in very little waste going to landfill or being sent abroad for disposal."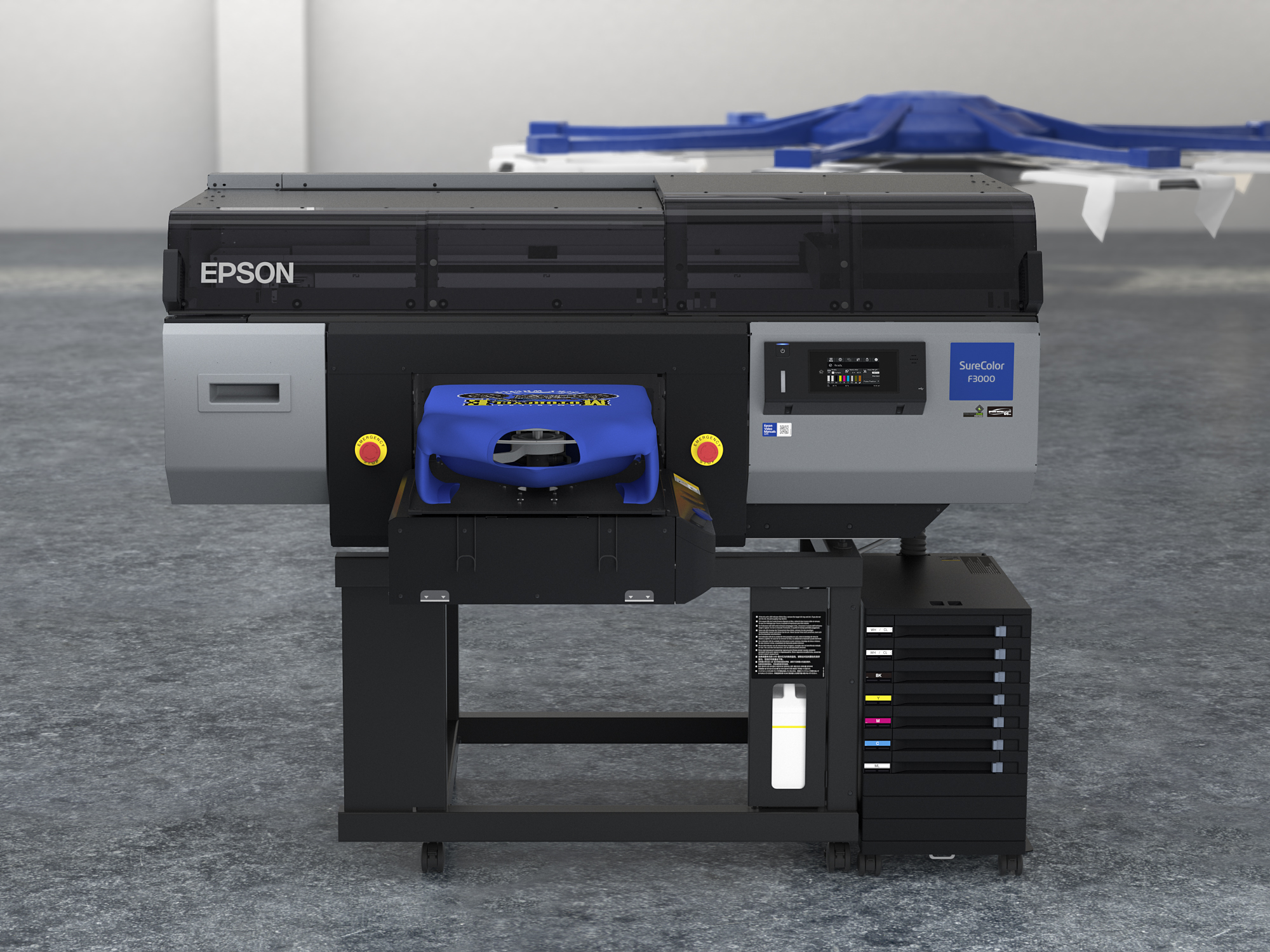 Caption: Epson's SureColor SC-F3000 DTG printer can accommodate garment thicknesses of up to 29.5mm

With this, McMullin draws attention to Epson's SureColor SC-F3000 DTG printer, which can accommodate garment thicknesses of up to 29.5mm, while he said the addition of a second printhead helps to deliver fast print speeds.

"This versatile printer features high levels of accuracy supporting quick turnaround times, while producing complex designs on a variety of light and dark cotton garments," he said. "It also offers a low total cost of ownership (TCO) for mid/large garment and t-shirt production companies.

"It makes t-shirt loading quick and easy. The printer uses its sensors to automatically detect the garment's surface height and adjust accordingly, reducing both operator error and waste."

Also from Epson, McMullin said the SureColor SC-F2100 offers a complete DTG package for designing and printing t-shirts, polo shirts, sweatshirts, baby clothes, tote bags and other cotton items.

"Every aspect of the SureColor SC-F Series is designed to play a crucial part in the seamless delivery of a total, end-to-end colour printing solution," McMullin said. "It uses Epson UltraChrome DG Ink to print directly onto cotton with a wide colour gamut. It ensures vivid colours and tough, crack-resistant whites. It also prints onto dark fabric with ease as the white ink is extremely tough."
Open up avenues
HP also has a strong focus on garment printing, primarily through its HP Stitch S Series printers. RA Smart is one of HP's approved distributors and Alex Mighall of RA Smart described the Stitch S Series printers as among the most technologically advanced dye sublimation printers.

"They operate with the famous HP thermal printhead technology, something that until a couple of years ago was thought of as impossible, due to the high temperatures within the printhead in combination with dye-sub ink," Mighall said. "However, with HP's specially formulated ink chemistry the process is now achievable and means that users can benefit from end user changeable printheads with a native 1,200dpi for the first time ever in a dye sublimation printer.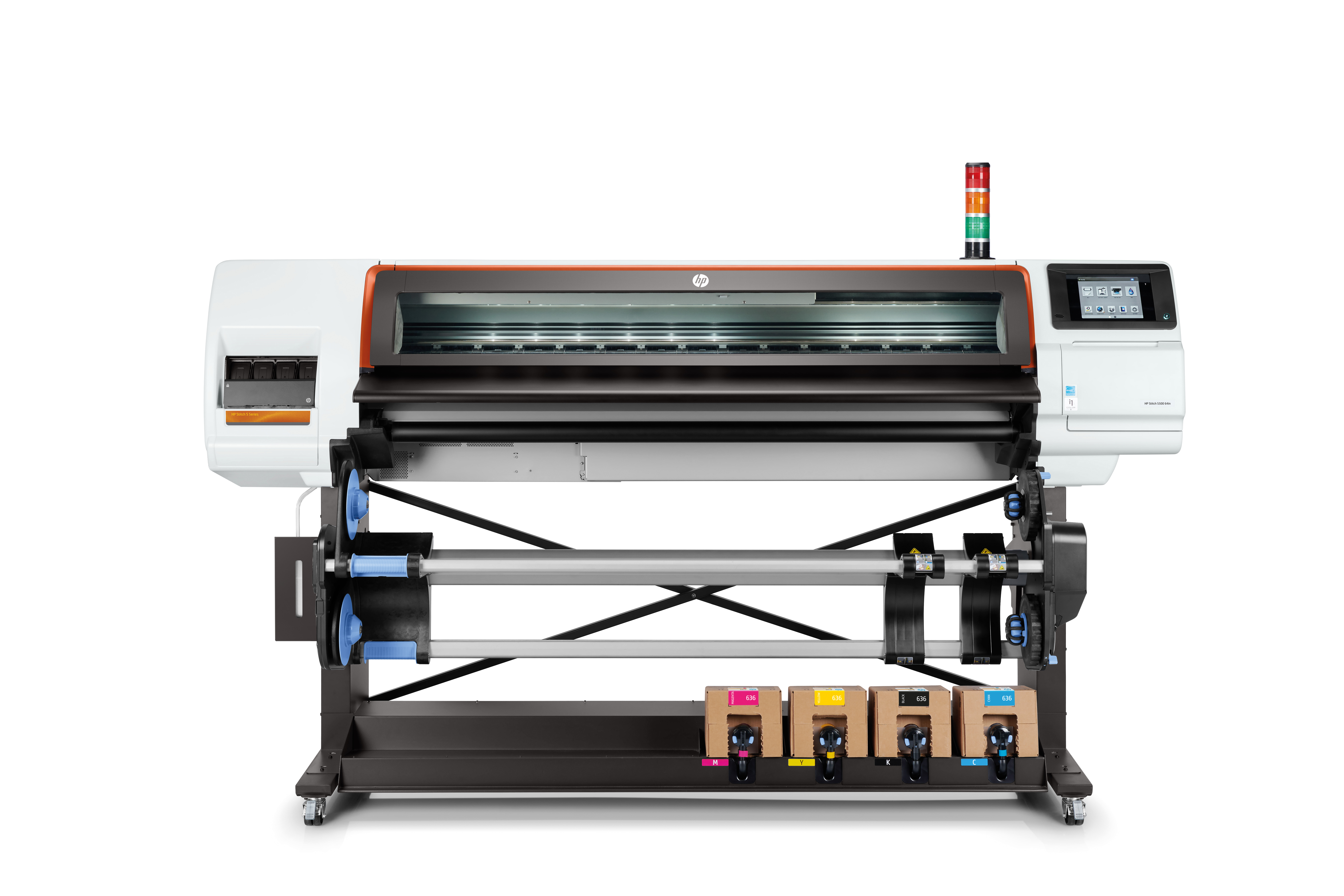 Caption: The HP Stitch S500 model benefits from a 100% frontloading operation

"That's not all; for the first time ever in a dye sublimation printer, HP have included a colour spectrophotometer built into the machine. This ensures absolute colour accuracy whether you're looking to match a job to a previous production run, or another HP Stitch printer anywhere else in the world – something particularly important when producing sportswear for teams. "

The Stitch S500 model also benefits from a 100% frontloading operation, meaning adopters of the technology can have machines flat against a wall to save up to 50% of floor space when compared to competing devices. Alternatively, two machines can be placed back-to-back to further increase space efficiency.
"Recent research estimates that the dye-sub apparel market is set to surge in value to a whopping $8.1bn by the year 2027," Mighall said. "Dye sublimation opens up many avenues for manufacturers and offers great amount of flexibility in terms of virtually unlimited colours, little to no production setup costs and a relatively easy application process."
Mighall added that dye sublimation technology will allow print companies to tackle one of the core growth sectors within the garment print market: sportswear.

"This is something that dye sublimation lends itself to perfectly, as the majority of fabrics used in this segment are synthetics," Mighall said. "Products such as leggings have seen tremendous growth as a highly fashionable clothing product that is also comfortable to wear for a variety of activities.

"With dye-sub, manufacturers and brands can offer a vast amount of customisation and design options without having invest in large quantities of stock. All the while maintaining a high-quality, vibrant print, that won't rub-off or fade in the wash."

While the garment print market is indeed a busy and competitive market, from speaking with those in the know, there is certainly room for growth and success in this sector. By investing in the right sort of technology, you can open up a range of new revenue streams.

Discover the latest innovations and trends in garment printing at FESPA Global Print Expo 2022, Europe's leading print and signage exhibition will reunite key industry professionals, enabling valuable networking and business building opportunities, supporting face-to-face conversations with suppliers and providing the opportunity to see the latest innovations and trends in speciality print. Register now and use the code FESG201 to receive a 30 euros discount and pay only 50 euros for your registration.
Interested in joining our community?
Enquire today about joining your local FESPA Association or FESPA Direct