Features
Roland DG sets versatility focus with new IU-1000F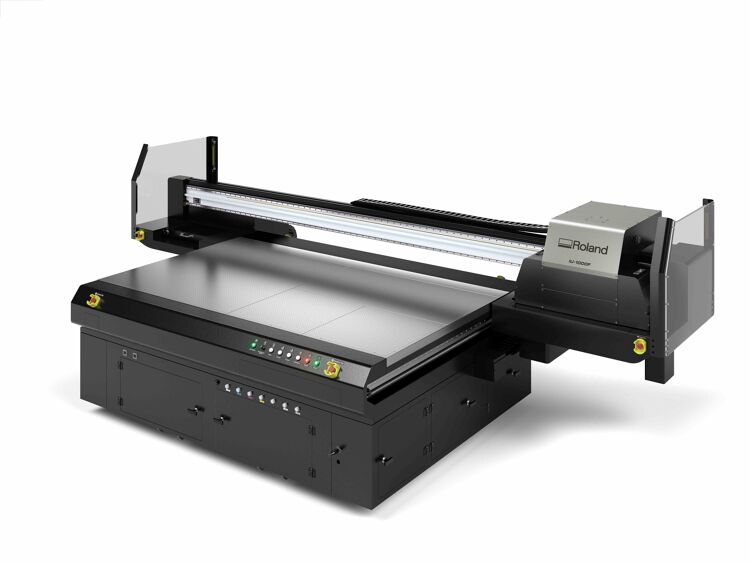 Rob Fletcher speaks to Paul Willems, Head of Business Development and Product Management for Roland DG EMEA regarding The Roland IU-1000F.
Digital print manufacturer Roland DG has unveiled its new IU-1000F high-speed large-format UV-LED printer in response to increased market demand for a high-production solution that can deliver against ever-shortening turnaround times.

Capable of printing on a wide range of substrates and objects at speeds of up to 116sq m/hr in CMYK, Roland DG said that the IU-1000F has been designed to meet the diverse needs of print service providers and commercial printers around the world.

In terms of precise printing time for jobs, Roland DG this will differ depending on the type of application. The manufacturer gave the example of a typical 1,220 x 2,440mm rigid board, with the device averaging at 15 boards per hour, or 48.5sq m/hr, in 'standard' print mode for typical point-of-purchase display jobs.

Boasting 12 high-performance printheads in a staggered three-row arrangement, the IU-1000F can print up to 635 x 1800 dpi with variable droplet technology.

Speaking to FESPA.com about the new launch, Paul Willems, head of business development and product management for Roland DG EMEA, said that as the IU-1000F can accommodate substrates up to 2,510mm x 1,310mm and 110mm in height, this opens up exciting application possibilities for customers.

"The market is also not willing to sacrifice print quality or accurate colour reproduction and the IU-1000F delivers on both, with high-adhesion gloss and white ink options, in addition to CMYK, expanding the range of print effects which are possible," Willems said.

"The Roland IU-1000F is a great all-rounder for signage and display businesses thanks to its size, speed and substrate compatibility. Its high-performance UV inks cure immediately and the primer option enables adhesion onto typically difficult media such as metal and glass, plus more standard materials including acrylic, PETG, PVC board, foam board, PC, wood, corrugated polypropylene board and aluminium composite plate.

"Therefore, the new IU-1000F ideal for impressive signs, displays, backlits and exhibition graphics, but also interior décor applications such as wall canvases and furniture."

Willems also highlighted to FESPA.com how instantly cured UV ink used on the IU-1000F is GREENGUARD-Gold certified, meaning it is safe for use in sensitive locations such as hospitals and schools, thus presenting users with even more opportunities.

"We hope that businesses who invest in the IU-1000F printer for its production speeds also discover its potential for pushing boundaries: its white and gloss inks – along with vibrant CMYK – can really help users get creative with stunning visual and even textural work," he said.


Interested in joining our community?
Enquire today about joining your local FESPA Association or FESPA Direct