Features
Quality control in digital textile printing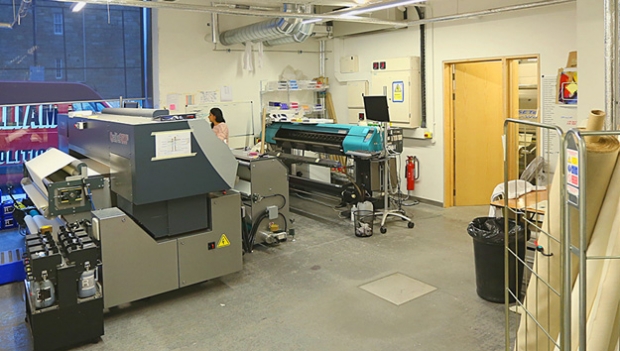 Printing onto garments and textiles is a lot different than printing on paper - Printers expanding their services should be aware of what is expected of them.
While many members of the industry have cited the benefits of diversifying into textile print, those already active in the sector will admit that although there may be opportunities for growth, ensuring work is of a certain standard is a different matter.
This section of the industry features many unique technologies and techniques that must be mastered in order to produce a high-quality level of output. Those interested in improving their skills in this sector should look no further than the FESPA Digital Textile Conference 2016, which takes place at the RAI Exhibition and Convention Centre in the Dutch capital of Amsterdam on March 8 next year.
Featuring a plethora of specialist speakers from across the industry, visitors will gain access to advice about the market, growth areas within this sector as well as other key information that could help them improve output and boost business.
Considering processes
One speaker that will directly address the subject of quality control and ensuring that output is of the highest possible standard is Alan Shaw from the Centre for Advanced Textiles at the Glasgow School of Art. Shaw's session will examine the different processes involved in boosting the appearance, texture or performance of a fabric, looking at both chemical and physical methods.
Speaking ahead of his session at the event, Shaw said it is "vitally important" for print companies to maintain a high level of output if they are to ensure customer retention and stave off competition in the digital textile print market.
"Initial customer orders and sampling runs are normally quite small, so it's vitally important to maintain a level of consistency as they can often result in larger production orders where the customer expects a close match," Shaw said.
"One of our biggest challenges is to attempt to control the variables that exist within the process. These include changes in inks, fabric quality, digital preparation, fixation, and washing/finishing. The biggest challenge exists in keeping these processes as consistent as possible, particularly if you are not in control of processes such a fabric preparation."
Shaw expands on this point by stating that there are a number of ways that print companies can address issues regarding quality control, explaining that some of these will be covered during his session at the event in March.
"We at the Centre For Advanced Textiles try to work closely with our suppliers so we can liaise quickly with them if problems arise in production," Shaw said. "Of course the difficult thing can be the isolation of a problem and skill so our knowledge diagnosing a problem is crucial in maintaining consistent results.
"I plan to cover these areas by discussing the decisions behind the new equipment we've recently purchased, and also by showing examples of clients work and also current and past research projects we've been involved in. I may also speak about the challenges faced by a small digital department based within an educational establishment that also works with external companies."
Avoiding obstacles
It is not just specialists from within the digital textile print sector citing the need for quality control, but also companies that manufacture the equipment used in this busy market. Mimaki has been confirmed as a sponsor for the FESPA Digital Textile Conference 2016 and Mike Horsten, general marketing manager EMEA at the company, says that there are many obstacles those in this market will come across when producing work.
Horsten said: "Digital textiles are not easy to make; the results are only seen after the finishing process, so you need to make sure that the whole workflow is under control else your results may vary. As many digital textile manufacturers send out a sample collection first and sell of this collection, it's imperative to have the quality control in place. If you can't than you can't guarantee that you will deliver what you sold. Printing with a good quality control system in place is a logical consequence of the type of industry textiles are use in.
"The biggest problem is the variances that can run into production, textile yarns that behave a bit different batch to batch, such as humidity factors, temperature in the environment and calendar, and ink batches. There are many obstacles to avoid, but the basis is to make sure you keep your production under control."
In terms of how to counteract such obstacles to ensure a good quality of output, Horsten highlights what steps can be taken and what Mimaki has done to help users of its own equipment.
Horsten expanded: "I believe that calibration is key; without any knowledge of colour management there is little hope that your production will be able to stay at the high level you would like it to be. Also, operator training is something that is not always seen as important; the operator that is trained can see that things are not right so with this type of visual control is the first step to be able to offer a reliable production.
"We have incorporated many features to make our printers as stable as possible. Our NCU Nozzle correction Unit checks for lost or clogged nozzles and replaces them automatically. This way, the print is still reliable although there is a limit to the lost nozzles that we can replace without any visual deterioration.
"Other thing we do is the extensive QA on our inks that we check batch for batch for coloration errors. For example, the supply of our new TXLink Textile RIP that includes the possibility to make profiles, measure linearization's and more quality functions."
Considering the future of digital textile print and its challenges, Horsten points to a number of key changes that those in this sector should pay attention to if they are to continue to produce high quality work.
He said: "The most important change will be the new pigment inks coming to market this year. There is a big demand for these new inks offering extra possibilities for production on cotton and other substrates. Then the textile market will start to grow in to the triple figures people are talking about."
While the digital textile print market may offer printers plenty of opportunities for expansion, it seems attention to detail is more important than ever. Those considering a move into this sector are urged to remember that the materials they will be printing on differ so much to those used in traditional print and that the quality control methods used with paper may not be as effective in this sector.
However, by taking on board the advice of specialists and manufacturers, there is every chance that print companies can successfully diversify into the market and take advantage of the plethora of work on offer.
Find out more about the FESPA Digital Textile Conference 2016 which will be held at the same time as FESPA Digital 2016.

Interested in joining our community?
Enquire today about joining your local FESPA Association or FESPA Direct