Features
Q&A: Mimaki to launch its 3D printing technology at FESPA 2017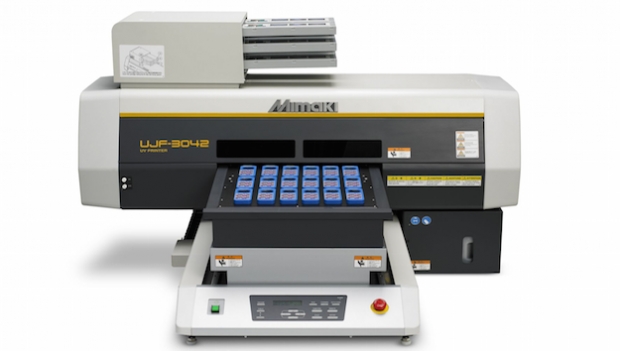 Mimaki has announced that it will have its biggest presence ever at FESPA 2017 with two stands totalling 534sqm. We spoke with Mimaki's Ronald van den Broek to find out more. 
Mimaki Europe has revealed that FESPA 2017 will see it take a massive 534sq m, its biggest ever presence split over two stands, and will see it launch its first ever 3D print solution as well as showcase its commitment to the textile/soft signage print market.
We caught up with Ronald van den Broek, general manager sales EMEA at Mimaki Europe to learn more about their recent 3D printing venture and what are the company's highlights at FESPA 2017.
What is Mimaki's focus for the show?
We will have our biggest presence ever at this year's event, with two stands totally 534sqm. In the Digital Hall, we will be demonstrating a wide range of solutions for the sign and display graphics market and industrial print. We will also have a presence in the Textile Hall (Stand B6-C50), demonstrating our long-time commitment to the textile industry.
Are you launching or debuting any new technology or products?
One of the most exciting things you will see in the Digital Hall is a technology demo of our 3D printing solution. We are very excited about the opportunities this will provide in the future, and it also demonstrates our dedication to continued innovation. It has some unique characteristics that sets it apart from other 3D printing solutions, so we invite visitors to take a look.
The recently-announced and very unique dual-ink Tx300P-1800 and the high-speed direct-to-textile Tiger-1800B will also be on display for the first time in Europe. The Tx300P-1800 and Tx300P-1800B direct-to-textile printers have been updated to simultaneously load both textile pigment and sublimation dye inks.
This enables the use of a single printer to print directly on a wide range of textiles without the need to change out ink systems. This new technology, not possible until now, is a breakthrough that will improve productivity and increase flexibility for these Mimaki textile printers.
The Tiger-1800B, also on display for the first time in Europe, was developed by Italy's La Meccanica, recently acquired by Mimaki. With a maximum printing speed of 385 m2/h, the Tiger-1800B fits perfectly in high-volume production environments that have traditionally printed with analogue printing methods, bringing the benefits of digital printing to these higher volume applications.
What else have you got up your sleeve in terms of product offering?
For a show as important as FESPA, we will definitely bring our latest offerings—not only for the textile sector, but also for the sign graphics and industrial markets. In addition to the new products, we will feature a full array of Mimaki's flagship solutions for the Sign and Display Graphics and Industrial markets, including four solvent printers and up to six UV printers.
Mimaki will also showcase two cutting solutions. Together these solutions represent profit-generating solutions for sign & display and industrial print companies. In other firsts for FESPA, Mimaki will be showing the JFX200-2531 high efficiency printer with a large table for the first time on the Continent.
We will be unveiling details about all of the new products at our press conference scheduled for May 8th at 1 pm. Visitors can discuss their needs with our textile experts and see our strong portfolio of digital textile printers in action at the show. We might also have a few more surprises, but visitors will need to visit the Mimaki booth to hear about those.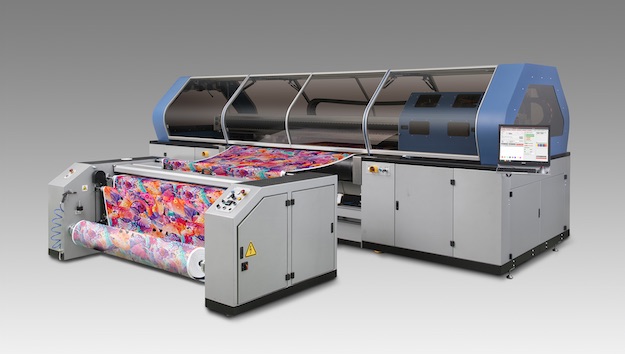 The Tiger-1800B is the first Mimaki printer of its kind to be released, following the firm acquistion of Italian textile machine manufacturer La Meccanica earlier this year.
Why would you recommend print service providers attend FESPA 2017?
We see FESPA as a good opportunity to reinforce our dedication to providing innovative solutions for the textile industry, but it is also a chance to display our full product portfolio for signs and displays and industrial printing, as described above.
We believe attendees at FESPA 2017 will be at the forefront of knowledge about industry trends, emerging solutions, and ways they can enhance their businesses, from Mimaki, of course, and from other exhibitors at the show.
From our perspective, we'd like to think that we've got something for everyone at FESPA, and we are excited to meet with visitors at our stands to discuss how our products can help them tackle their challenges, expand their businesses, and generate more profits. I'm sure the other exhibitors feel the same way about this important show.
What does the future hold for your company looking forward?
One of our strengths has always been our broad product portfolio that encompasses various markets, including Sign and Graphics, Industrial Print, as well as Textile and Apparel. We will continue investing in R&D and expanding into new markets.
As an example, at FESPA 2017 we will be showing our new venture on 3D printing with a technology demonstration on our stand (Hall A1 / No. A25). This is a UV-curable four-colour printer that will be able to generate products featuring more than 10 million colour combinations.
At FESPA2017, we will be showing a prototype of the printer itself that can create fine, precise and incredible real detailed products. We will be showing extremely detailed and fine line pattern samples. So we believe visitors to our booth will be very interested to see this innovative printer at work.
Register today and dicover the newest Mimaki's technologies at FESPA 2017
Industry members that are keen to learn more about the latest printing solutions from Mimaki can visit the manufacturer on the stand A25 in the Digital Hall A1, and on the Stand C50 in the Textile Hall B6 at FESPA 2017.
Taking place from May 8-12 at the Hamburg Messe, in Hamburg, Germany, the exhibition will play host to many major brands from across the global market.
For more information on the event, the companies that will exhibit and to sign up to attend as a visitor, please visit: www.fespa2017.com.
Delegates can save 70€ entry fee to the exhibition by registering via the website and quoting reference code: FESG702. Discover how a visit to FESPA 2017 can benefit your business and register today.
Interested in joining our community?
Enquire today about joining your local FESPA Association or FESPA Direct