Features
Print Make Wear focusses on the customized workflow and sustainable manufacturing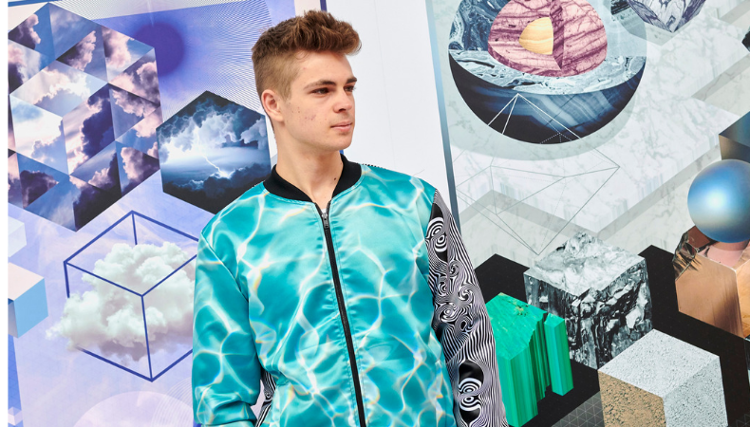 Debbie McKeegan discusses the success of this year's Print Make Wear Micro-Factory at the Global Print Expo 2019. The feature showcased current, important technologies needed in the Textile industry.
As we enter a new era of manufacturing where Customization and Sustainability are the new mantra's for the manufacturing community, the Print Make Wear Micro-factory at this year's FESPA, Munich exhibition showcased a suite of technologies that are now essential practice for many industries in the Textile sector.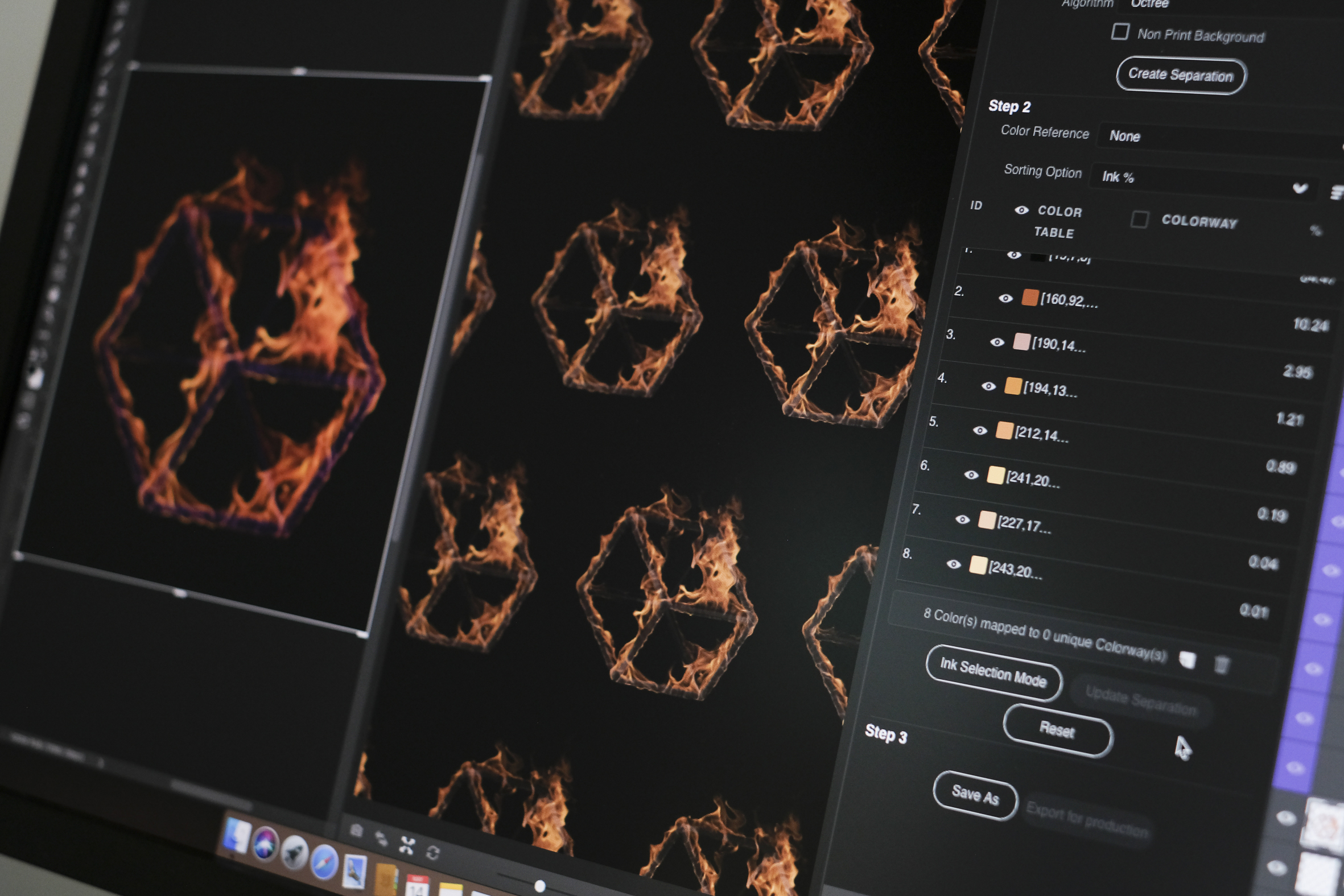 Caption: Automating the Design process is critical to high speed manufacturing to facilitate print-on demand for large or small orders. Photo Credit: FESPA.

Scalable manufacturing is the New Normal…but with a twist. Add in customized production and personalization for small or bulk orders, and you need to have a lean, efficient and importantly, automated factory workflow with an accurate inventory of raw components. There is no room for human error, and as we all know, that is often where the waste is generated in high speed production.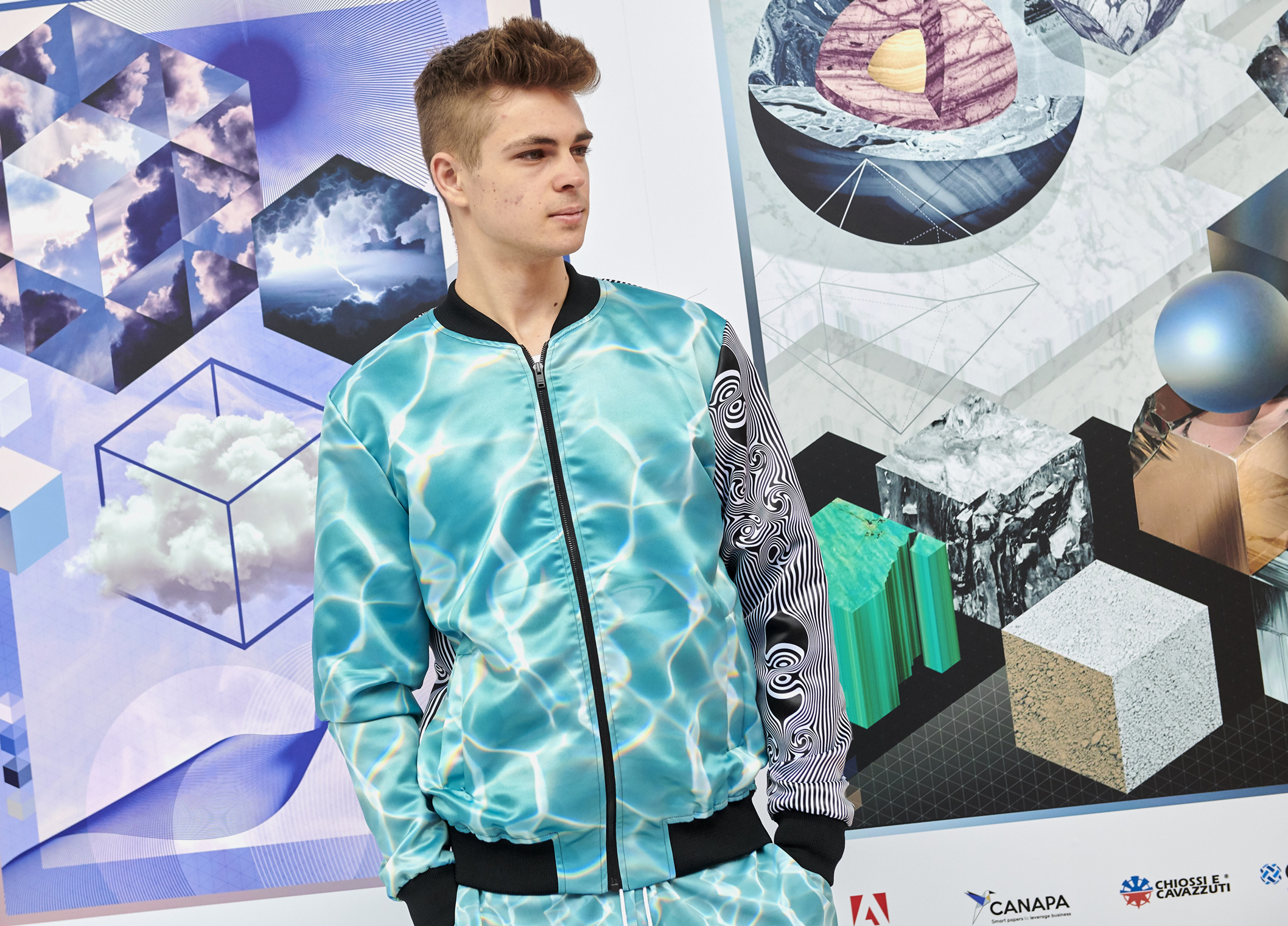 Caption: FESPA, Munich - A Micro-Factory that points the way to the future of manufacturing utilising Digital Technologies. Photo Credit: FESPA.

The FESPA Micro-factory aimed to showcase a scalable production model, utilizing many of the world's leading technologies. For generation Next, a Sustainable, Circular manufacturing cycle will be the go-to choice for a transparent, and importantly sustainable supply chain.

Many large brands who now seek to improve their buying footprint so as not to be judged for their environmental impact. Buyers now increasingly need to measure a supplier's environmental certification and will choose wisely as consumer awareness grows so as not to adversely affect their brands reputation and sustainability pledge.

For the Industry the opportunities are rich and varied, we see a swing towards re-shoring as large brands switch to a faster, data driven supply chain. Brands no longer have the benefit of time, perhaps the most expensive commodity we have, and must now look to local resources to supply products to store in ever decreasing time-scales.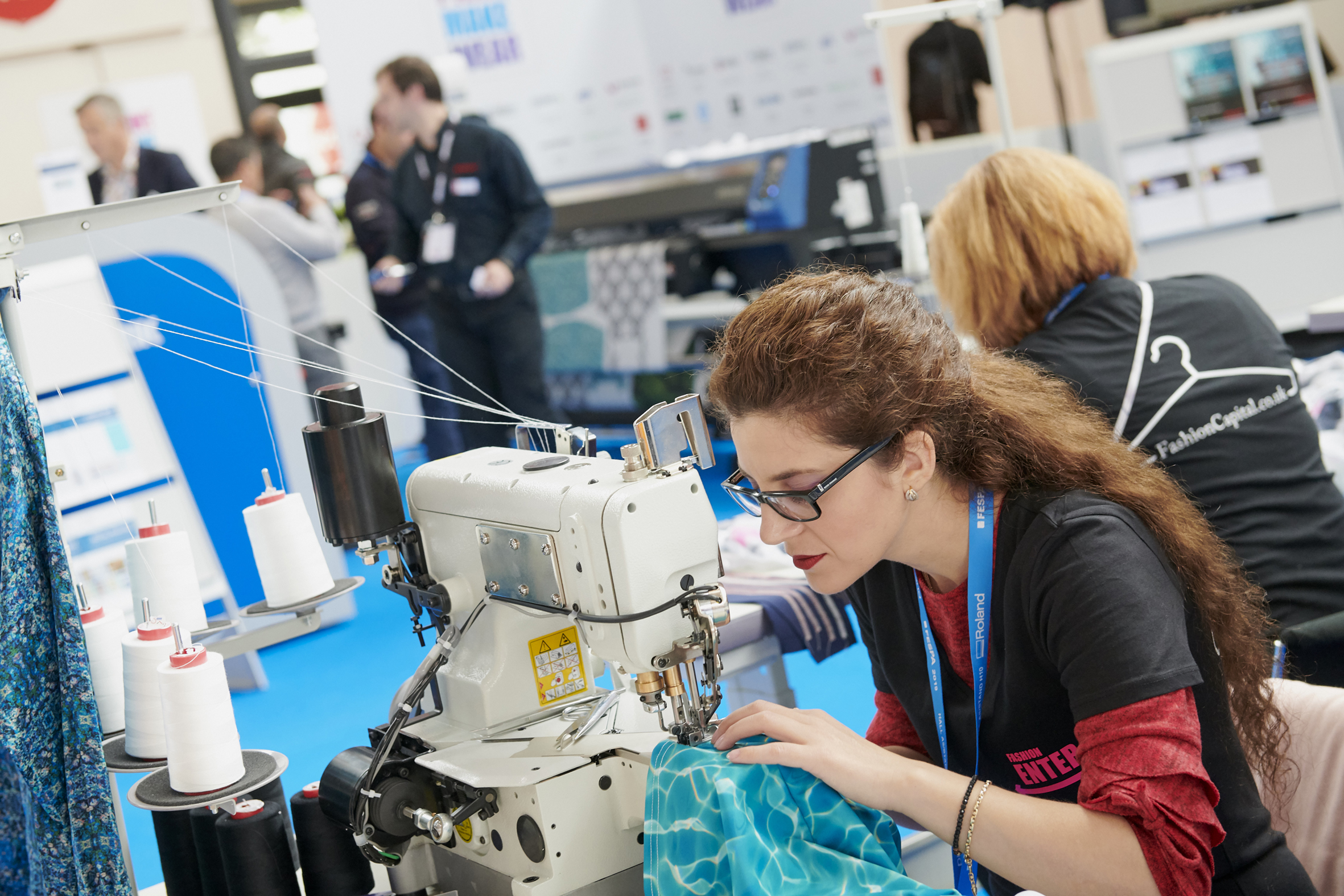 Caption: As an industry we demand design diversity and the micro-factory workflow delivers scalable production. Photo Credit: FESPA.

For many large brands that may mean bringing manufacturing in house or developing collaborative alliances with other brands or strategic partners to facilitate speedy production. The Micro-Hub is a business model of the future and one which will bring new employment opportunities for the Textile Industry worldwide.

Beginning at the Design stage, the FESPA Micro-factory provided a detailed demonstration of a working, scalable factory environment, from design through to sewn products. All patterns used during the event were commissioned under the Theme of "The Elements" by the talented Designer and Illustrator Jasper Goodall and the event was styled, curated and presented by Digital Textile Expert, Designer and FESPA Textile Ambassador Debbie McKeegan.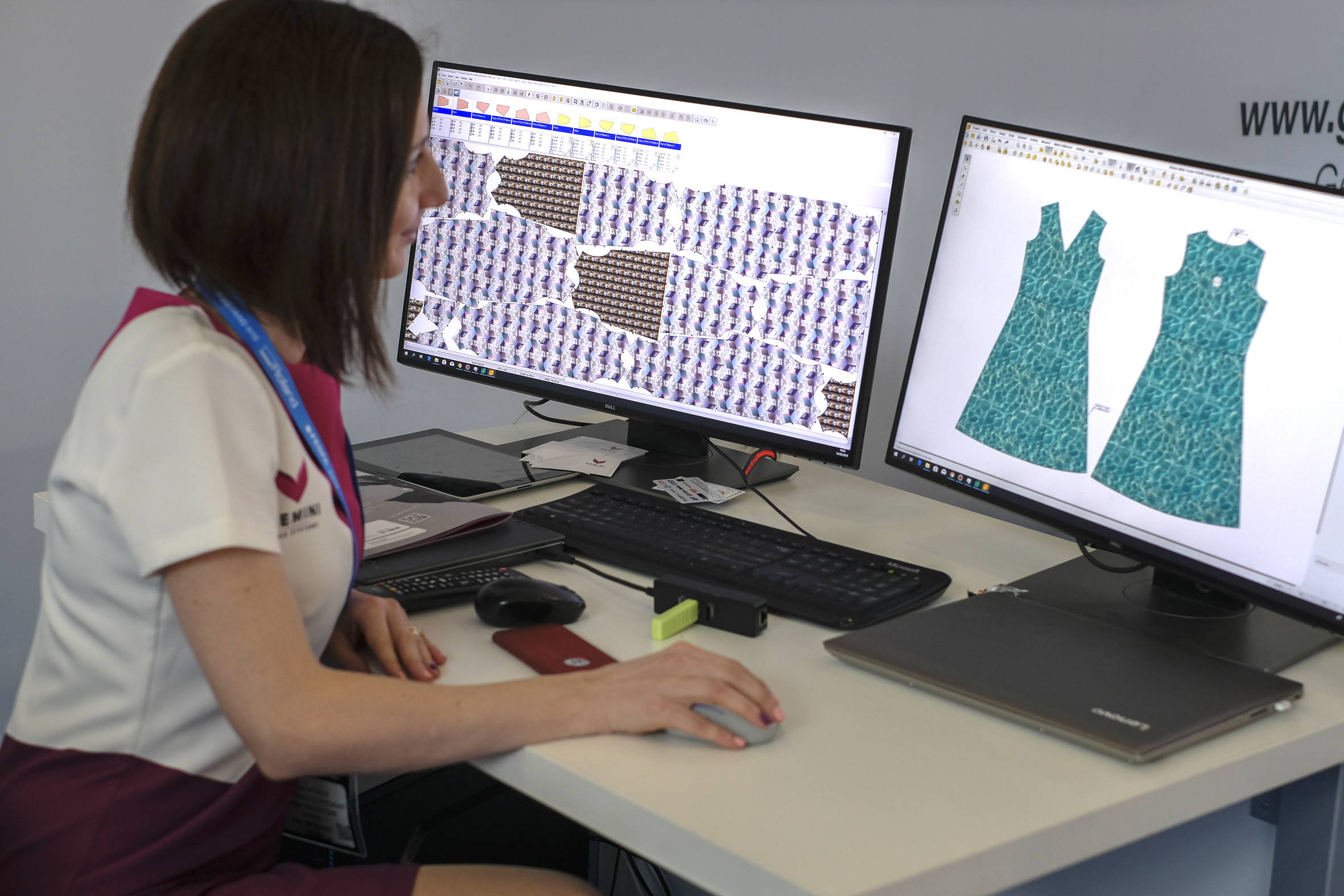 Caption: Creating garments in real-time offers the manufacturer efficient, sustainable manufacturing processes, reducing waste and increasing productivity.

There can be no doubt that the Designer has a new strategic role in the sustainable manufacturing process, the choices made at the very first stages of prototyping, regardless of product, set the parameters for sustainable production. Fashion designers choose the substrates that ultimately define the environmental footprint of the product, and in a new world where Independent print designers often supply the initial design concepts, it's important that they too utilize the correct software to ensure that the data needed for production is embedded within the design files and so enables the print artwork to travel seamlessly along the supply chain and onto the next software suite, wherever that may be in the production cycle.

Adobes new software, Textile Designer offers the Independent designer, manufacturer or brand the opportunity to automate the artwork process with a dedicated plug-in application that can generate print-ready repeats, colourways and separations in minutes. All data is embedded in the file format and offers the ability to import colour information enabling the assignment of print profiles to create production print files.

Proto typing is an important stage of any products development, however physical samples also generate a huge volume of waste, particularly in the fashion industry, and as a community we need to switch to virtual technologies wherever possible.

EFI / Optitex off a suite of tools that utilizing high resolution graphics create VR simulations of the products to be created. Renders that are so realistic that physical samples are no-longer required. The benefits are two-fold, we save on sampling but also speed up the design cycle and offer the manufacturing community a solution the delivers virtual products that can be adjusted and manufactured in real-time. Add to this a suite of tools for pattern grading and marker making, whereby only printing the surface of the garment shapes to be printed (leaving the remainder unprinted) and you have an instant saving of 15% of ink usage, and importantly create waste that is circular, and uncontaminated and therefore easier to re-cycle. EFI offer a comprehensive end-to-end suite of tools for customized manufacture that can transport data seamlessly through the production cycle, from design and onto colour management, digital print and onwards through the complete manufacturing workflow.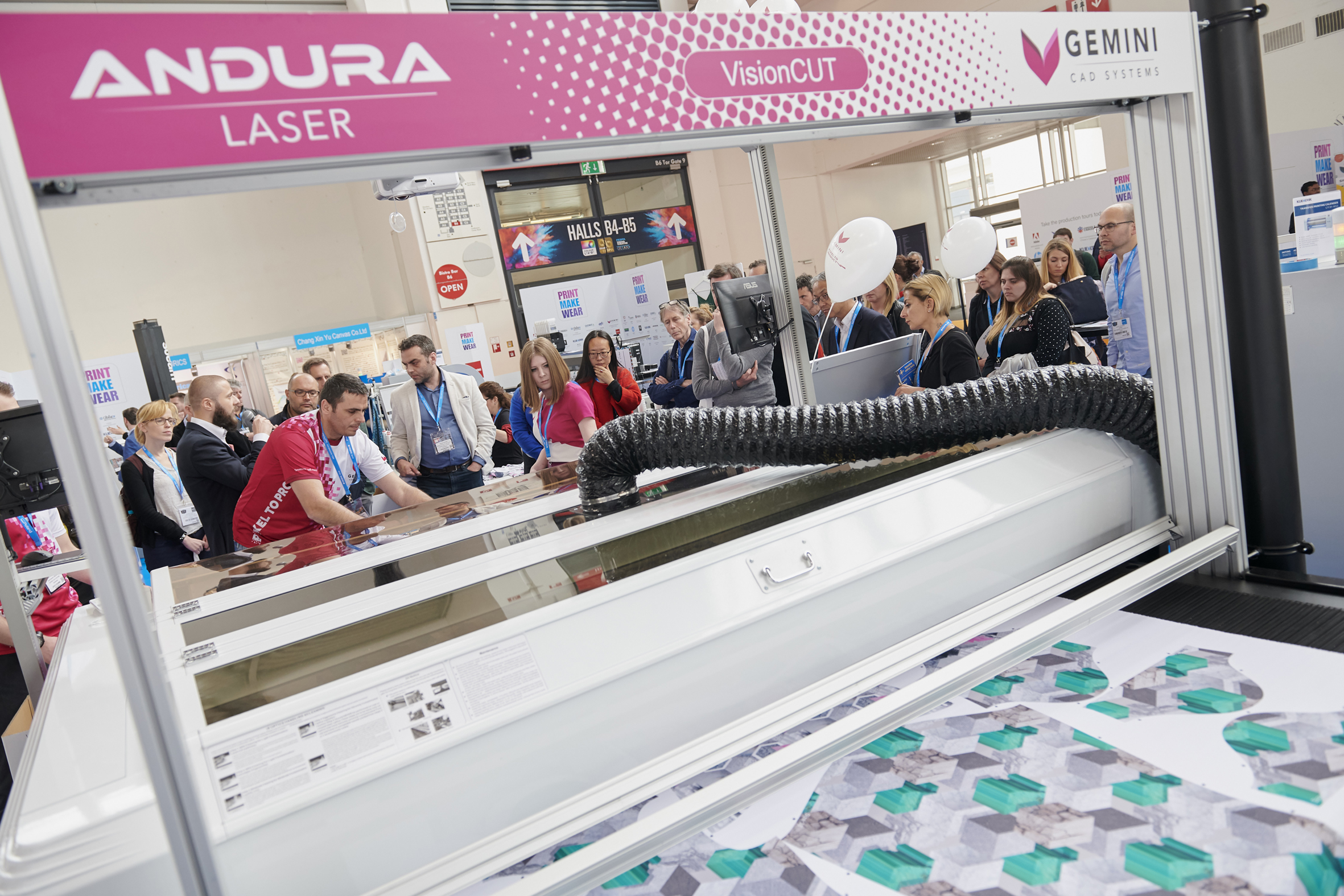 Caption: Lazer cutting technology for apparel is both accurate and efficient. An essential tool for the micro-factory workflow. Photo Credit: FESPA.

Fashion Technology is a must have component for sustainable manufacturing. Gemini Cad Systems launched their new cloud-based PLM fashion tech software named Apogy, that offers a suite of cloud-based functions to collate and organize the manufacturing workflow. Access to real-time data is essential for customized production and the new software delivers a powerful suite of tools in addition to their Design, Pre-Production, Cutting and ERP Integration tools. Print placement is an important addition to their Pattern making and nesting software, also part of the FESPA Micro-factory. The ability to generate customized markers utilising print placement has revolutionized the roll-to-roll workflow for Fashion and Apparel businesses to offer incredible savings on time and production costs.

Digital Textile printing has without question already been a major disruptor of the Textile industry, and as the software that supports our production processes gains traction the future growth of the Digital sector is set at over 17.5% over the next 5 years. As the enabler for just in time production, the Micro-factory does not exist without Digital print technologies, be they for large or small volumes.

The Digital Textile print space is a center for innovation and excellence and for the FESPA: Print Make Wear showcase this year HP launched the new Stitch Dye Sublimation printer, featuring the entry level Stitch digital print machine. A new generation in Dye Sublimation printing, offering the end-user a suite of functions that aim to automate as much of the operators function as possible. Offering an onboard spectrophotometer and a spot colour software that's accurate to delta of 1.0. Colour management is the key to a successful print and HP have developed a new generation of embedded tools targeted to the next generation of consumers, all of which are delivered built into the HP Stitch.

Mimaki showcased their Pigment Digital print technology with the TX400P-1800 direct to textile digital print machine, twinned with EFI Fiery RIP and with colour calibration generated with the Barbieri LFP GB spectrophotometer. The showcase demonstrated a natural workflow of collaborative software and file formats, RIP's etc as would be the case in any factory environment. With a sticky belt the machine is capable of handling the most delicate fabrics and offers a versatile entry level machine for low volume direct to fabric textile production. Printing using Pigment inks in our showcase, which are a huge part of the textile space, and offering excellent colour gamut alongside good light fastness properties, essential for Fashion and Interior applications.
However, the Mimaki print machine is also capable of printing other ink sets including: Reactive, Acid, and Dye Sublimation. For alternate Ink sets Cibitex were on hand with their suite of finishing equipment for the post finishing of Acids and Reactives ink sets, whereby the fabrics must be steamed, washed and dried post production.

House of U: Showcased a full suite of fabrics printed using reactive inks on a selection of Eco, Re-cycled and Sustainably sourced fabrics. All other fabrics used in our showcase were provided by Premier Digital Textiles, a specialist resource of pre-coated fabrics for the Digital Textile Industry. Offering a wide range of fabrics in both Cotton, Linen and Polyester fabrication with an ever-increasing selection of re-cycled and sustainably sourced substrates.

Post Printing, for both Dye-Sublimation and Pigment Inks final fixation is required, and Kleiverik provided two calendar machines, one for each workflow within the micro-factory. Cottons and Polyesters need a specific heat setting and dwell to fix or transfer the inks onto the final fabric. Kleiverik provide a suite of calendars for digital textile production that offer variable speed / heat settings and all of which are offered in a variety of widths.

So…now that we have the finished fabric, custom printed and customized to our visitors needs it's time to move onto cutting and the final stage before sewing.

In a fast-paced world of print on demand, automatic cutting is an essential part of the micro-factory. The Gemini Cad Systems laser cutter utilizing image recognition technology provided the cutting workflow and the final part of the process that leads us into our sewing factory.

Showcasing a cameo of staff from Fashion Capital a unique micro-factory in the heart of London, with sewing technology from Eastman, and operated by a team of highly skilled sewing ladies, the final stage of the production process is completed and as the cut patterns moved through the micro-factory workflow from the Gemini laser cutter to the sewing team the process is complete. The garments are ready for the Catwalk or the Retail rails.

In a timeline of approx. 45 minutes our guided tour of the FESPA Micro-Factory demonstrated an automated, real-time production workflow and a scalable vision of the present but a key pointer to a sustainable future business model for the manufacturing community.

The micro-factory took just two days to build and was a tribute to the energy, innovation and professionalism of each and every one of our collaborators. Thank you to you all!...
Interested in joining our community?
Enquire today about joining your local FESPA Association or FESPA Direct