Features
Print and cut to the point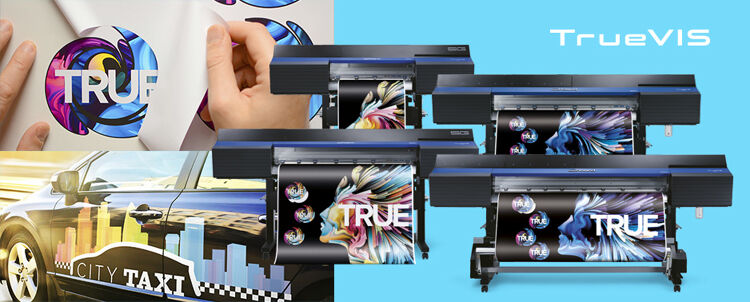 Rob Fletcher discusses one of the most talked about subjects in the industry and analyses the latest in print and cut kit to find out more about the benefits of such solutions.
The digital print revolution in recent years has helped push industry technology to exciting new levels, including the introduction of 'combination' machines that tie in two or more production presses into a single solution.

While this can be seen as good news in terms of cutting down on space in a print house, it has also lead to a new debate of separate machines versus a combined device.

This argument is raging in the print and cut market, where a number of major manufacturers have introduced combination devices. However, at the same time, others have stuck to their guns and continue to promote separate machines.

Here, we look at some of the latest print and cut combination machines and how they differ from the traditional approach.
Every user is different

Roland DG is one of the leading names in this market, having sold over 116,000 integrated print and cut devices worldwide. Paul Willems, head of business development and product management at Roland DG EMEA, says it is down to the preference of the user as to whether they opt for a combined machine or separate devices.

"Combining print and cut processes in a single machine can maximise efficiency and automation of production," Willems said. "An unattended workflow means you can leave the machine to get on with the job while you handle other things and print service providers (PSPs) who produce a varied range of applications on a wide range of substrates will spend less time changing media rolls.

"Integrated printer / cutters are also space-saving, which is perfect for smaller businesses, or those with several machines. Plus, Roland print and cut devices are incredibly versatile, enabling users to create a huge range of applications for many different markets to maximise their ROI."

Willems added: "However, every user is different. Depending on business and production requirements, an integrated print and cut device may be the best solution, or a separate print and cut solution may be more suitable."

With this in mind, Willems points to Roland DG's TrueVIS flagship eco-solvent print and cut range. Suitable for PSPs and sign-makers, these machines offer the latest printhead technology, advanced ink formulations, precision control, firmware engineering and remote monitoring.

"TrueVIS is ideal for producing indoor and outdoor advertising, banners, posters and displays, labels and decals, vehicle graphics, apparel heat transfers and more at brilliant levels of quality," Willems said.

"In fact, eight out of 10 print professionals preferred the quality of Roland eco-solvent TrueVIS output over Latex in a recent print comparison survey. It's also very cost-efficient compared to Latex; users could save up to a third on running costs. TrueVIS is a 'no-compromise' solution which gives users a competitive edge in a competitive market."
The choice is yours
Also championing the use of a combination devices is Bert Benckhuysen, product manager EMEA at Mimaki. Benckhuysen highlights that by opting for one device means the customer only needs to invest in one machine instead of two separate pieces of kit.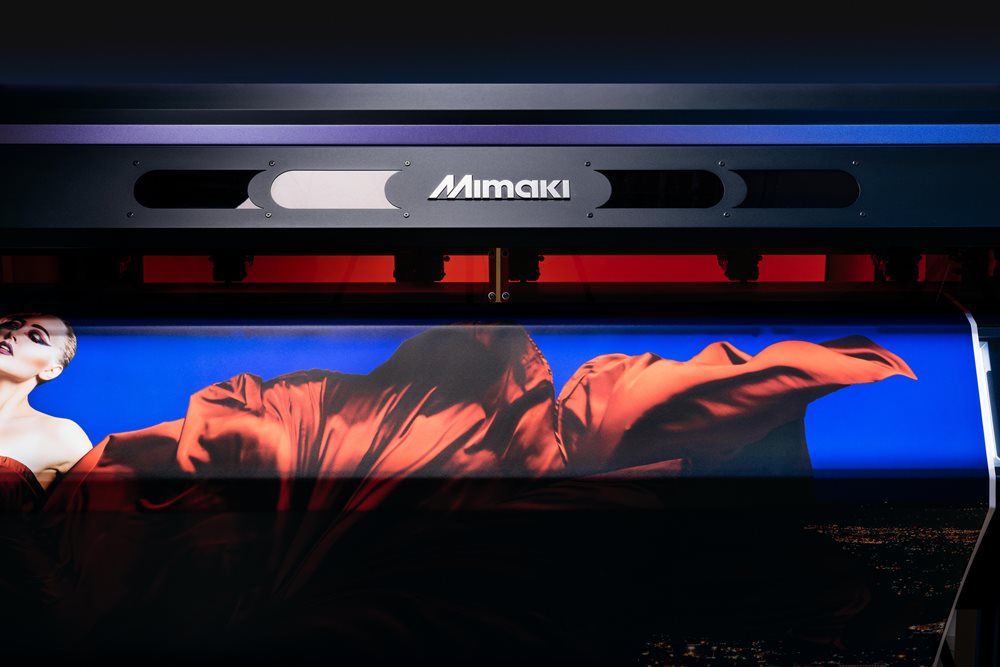 Caption: The UCJV300 combined machines from Mimaki offer a range of applications with four-layer printing in addition to five-layer printing capabilities

Benckhuysen added: "In addition to lower investment cost, it also saves floor space, making it suitable for small start-ups and medium-sized businesses that may not have a lot of space at their premises.

"Most importantly, these machines can do unattended print-and-cut jobs. You can just set up the job, leave to work on something else while it is running, and come back when it is completed.

"Compare this with having two separate machines: after the printing job is complete, someone needs to manually set the roll on the other machine for cutting."

Leading on from this, Benckhuysen picks out some of the options available from Mimaki, citing its recently launched UCJV300 Series range of combined print and cut machines with UV LED print technology.

Benckhuysen said: "The UCJV300 printers are versatile and deliver a remarkable range of applications with four-layer printing in addition to five-layer printing capabilities. Their integrated cut functionality enables volume production of labels, decals, window clings, vehicle markings, and more in each unit.

"The printers also utilise flexible UV inks that cure instantly, allowing customers to print quickly and immediately move to the finished product without waiting for it to dry.

"Our unique four-layer printing offers an enhanced print capability that allows designers to build layered transformative graphics for backlit applications. This gives our customers the opportunity to offer something unique – a dynamic graphic that 'changes' its image or colour scheme depending on the light source."

However, Benckhuysen says Mimaki is also able to support PSPs that prefer the separate machine approach, explaining that the company offers a wide range of printers and cutting plotters, including UV LED curable flatbed printers and cutters.
Separate devices - higher productivity?
Leading on from this, HP champions the use of separate machines for print and cut. Albert Hernanz, EMEA large-format print product manager at the company, says customers can benefit from higher productivity by using two dedicated devices, plus printing and cutting at the same time.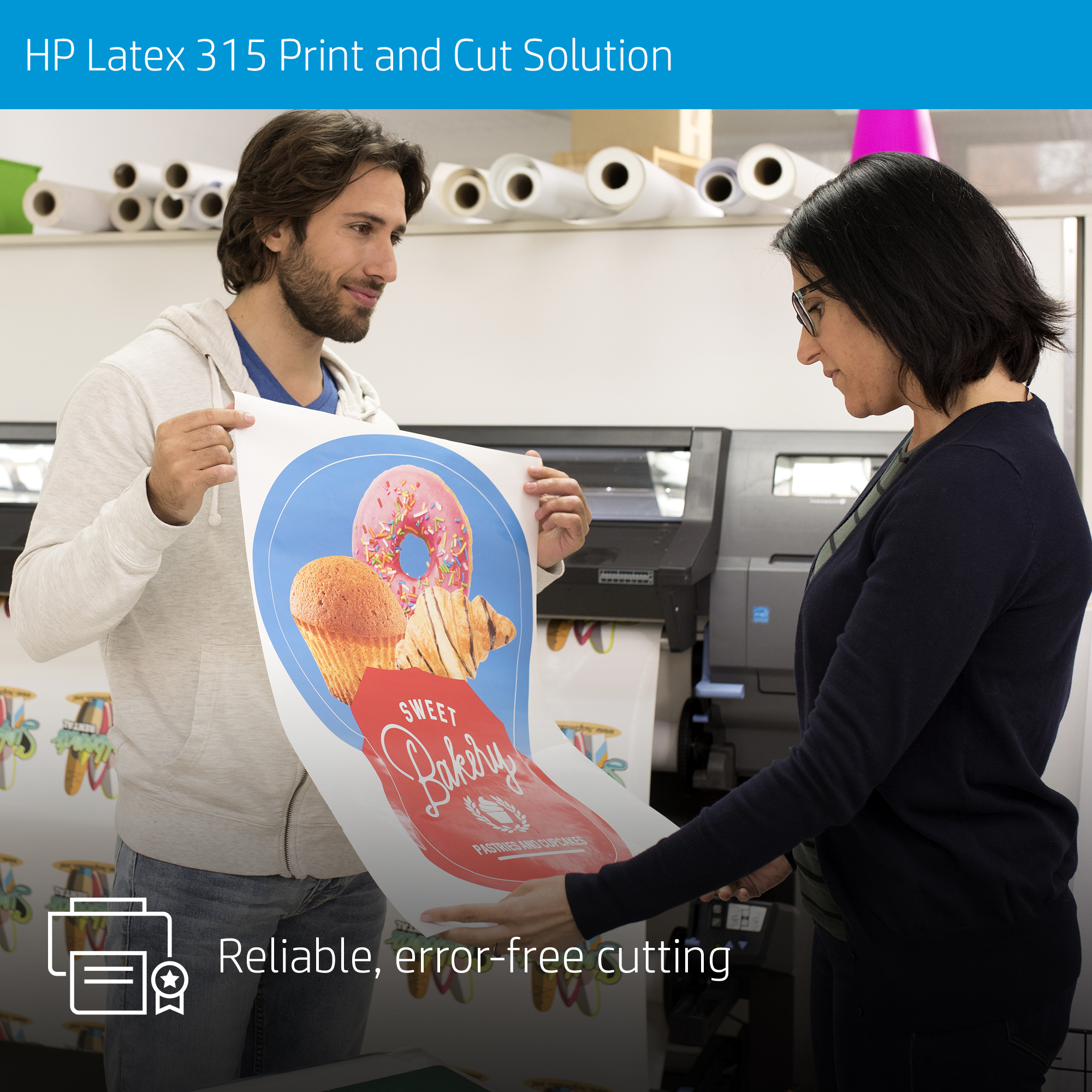 Caption: HP says its Latex print and cut solutions, including the Latex 315 model pictured here, offer additional benefits when compared to other integrated printer/cutter machines

Hernanz said: "Usually we are all busy trying to get our work done, checking emails, answering the phone, meeting customers and there is very little time to be in front of the printer. No matter if big or small job, everything that comes out of the printer is dry and ready to use and everything that comes out of the cutter is precisely cut. Our solution enables everyone to do more with less.

"By having two separated devices, customers will benefit from higher productivity. Both the printer and the cutter will be generally faster, and customers will be able to print and cut simultaneously. This will translate into higher production capacity, more flexibility and faster response time."

HP offers the HP Latex print and cut solutions, which include a printer, a contour cutter and an RIP. There are three models available: HP Latex 115, HP Latex 315 and HP Latex 335 – depending on the maximum width and the level of production customers require.

Hernanz said: "The new HP Latex print and cut solution offers additional benefits when compared to other integrated printer/cutters. To start with, FlexiPRINT and CUT RIP included in the box allows users to manage all their workflow from a unique software; including design, adding cut lines, preparing files and ripping, among other options.

"The new solution works with HP barcode system and OPOS (Optical Position System) marks. This system offers great advantages in terms of automation, reliability and unattended production.

"To list some of the advantages: no PC intervention needed between printing and cutting, efficient job recognition, production flexibility, no need to know plot orientation, reducing risk of losing jobs, higher cut reliability and accuracy and unattended cutting.

"Another advantage of using HP Latex technology over other solutions is that short-term jobs such as stickers don't require lamination, thanks to HP Latex scratch resistant inks. In addition, HP Latex prints come out instantly dry, meaning users don't have to wait for degas between print and lamination or cutting. This can be a real time-saver."

Seemingly in agreement with Hernanz is Nick Decock, manager of the marketing department at Mutoh Europe. Like Hernanz, Decock said combined solutions do have drawbacks and PSPs should carefully consider what they want to achieve before investing in new kit.

Decock said: "At Mutoh, we offer two separate products: an individual printer and individual cutter. Both can communicate with each other, meaning pre-printed graphics can be recognised by cutter and contour cut by the cutter.

"If not the most important reason for doing this is that printer technology moves a lot faster versus cutters.

"A cutter's lifespan is between 10 and 12 years, and a printer four or five years. So, in principle, a lot of those systems have an old printer with a recent cutter after four or five years. But manufacturers that offer combined solutions won't tell you this."

It seems the debate of separate machines versus a combined device is set to rumble on for some time. There are pros and cons to both approaches, with no right or wrong choice.

As Benckhuysen from Mimaki said: "Each has its own advantages, so it is all up to the customer to choose which solution is best suited to their main daily applications."

Interested in joining our community?
Enquire today about joining your local FESPA Association or FESPA Direct