Features
Print and Cut – Without Cutting Into Margins
Since the 1980s, contour-cut stickers were the first digital print application to hit the mainstream. Sonja Angerer explores the history of Print and Cut, its relevance today and how it can be developed in the future.
Today, many Print and Cut applications are merely a commodity. In 1980, the first wave of plotters and cutting plotters arrived in Europe, back in that time these were considered high-tech. Many of the machines were from Japan and were quite expensive but had a very limited output range of fonts and shapes.

Regardless, those early plotters became an instant success, and the foundation of many local businesses, from sticker production to car wrapping services. For the first time in the history of graphic arts, it was possible for digital data to become an instant reality as a print or a cut-out shape, without the need for expensive cutting and printing plates. With computers and computing power becoming more widely available, plotters and cutters were capable of cutting any shape.

However, "Print and Cut" was still limited to flexible media. The workflow, even if "digital" still involved very manual labour, as the printed sheet would need to be transferred to the cutter, with vector-based cutting lines loaded into the machine and adjusted to the printed output in a rather complicated process.

Fast forward to the 2010s, flatbed printing grew in popularity. UV-curing inks for rigid media were widely available, a large variety of contour-cut applications became very popular with print buyers. Digital cutting and milling tables e.g. from Zünd or Esko, had been widely available to various industries since 2000. Laser cutters were already being used for sign-making, as they offer clear, polished-like edges when cutting Perspex. Those vacuum tables with motorized X/Y cutting or laser heads made it possible to cut into almost any material, including foam boards and honeycombs.
Print and Cut Applications Then and Now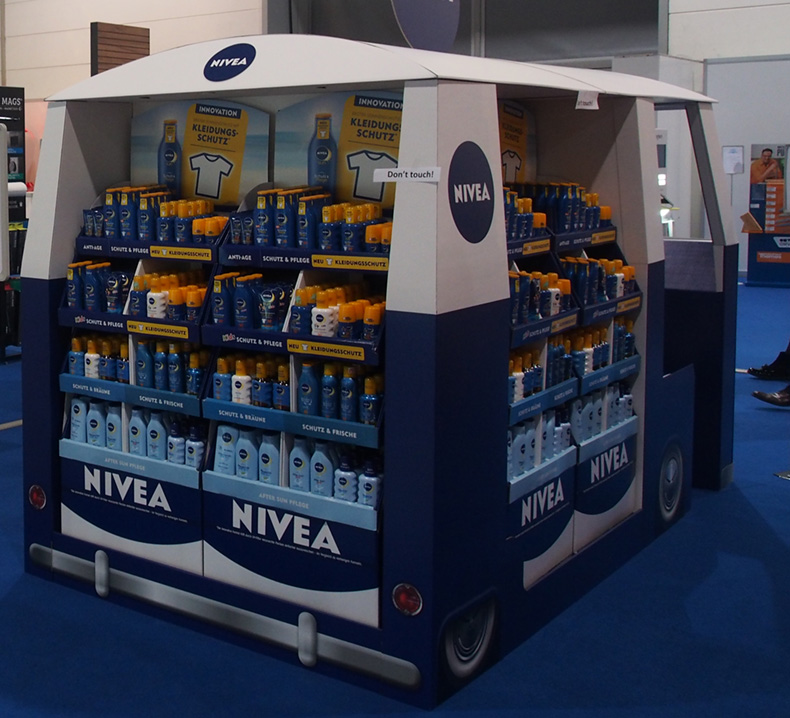 Caption: This POS Display was produced using digital Print and Cut. Photo: S. Angerer

Even with the early roll or sheet cutting plotters, a wide variety of white, printed and coloured Vinyl were designed into beautiful applications like decals, labels, racing stripes and wraps for cars as well as signage. When flock and flex foil for digital cutters became available, cutters provided a new world of apparel decoration.

With today´s powerful digital cutting tables, it's possible to produce a wide variety of items such as short-run-length or one-off POS applications, packaging and even furniture. However, until approximately 5 years ago, it was mainly a semi-automated process. Therefore, many printers had to maintain very large finishing departments at high labour costs.

But with margins shrinking and turnaround-times reducing, a first wave of automatization swept through Print and Cut workflows. Its main target was to "re-marry" the cutting line with the print meaning no human interaction would be required. The model for this may have been print and cut combination machines such as the Roland DG TrueVis series, since the printed roll material can be contour cut in the printer, there is no need for time-consuming loading and unloading.

In a second wave of Print and Cut automation cutting tables featuring moving belt surfaces were introduced. Also stacking and unloading devices for rigid media were made available for most digital printer brands, as well as cutting tables. Companies like Mutoh and HP introduced "Print 2 Cut" solutions for roll-to roll production with two machines, a printer and a cutter featuring very close integration. Today, almost any RIP can hand-over cutting lines to a roll-to-roll cutter or cutting table.
Wave after wave of Print and Cut automation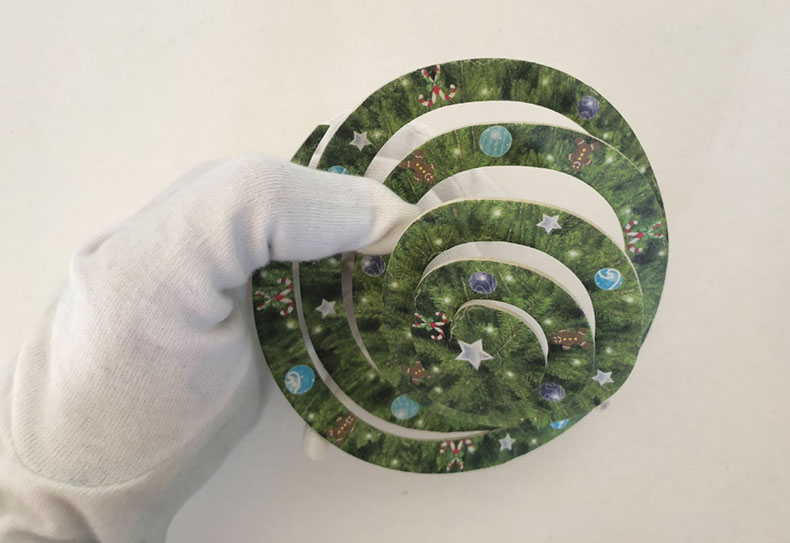 Caption: Digital Print and Cut made possible a wide variety of customized end consumer goods, including this Christmas beer mat. Foto: S. Angerer

During 2018, the third wave of Print and Cut automatization saw manufacturers like Océ and Zünd introduced collaborative robots that worked alongside humans on repetitive and necessary tasks like collecting contour cut goods from tables and sorting them into different baskets by shape.

Today, the fourth wave of print and cut focuses on overall print production automation. It seems print production in Central Europe is in the process of moving to a completely digitally industrialized process. This can be seen from a company´s website through to offer management to data delivery, pre-press, print and finishing to logistics and billing. Software suites like Caldera Nexio and StreamLive, HP Site Flow or the EFI Fiery Workflow Suite help with that process. However, many companies also invest in custom solutions connecting their pre-existing software dots to one unified and highly automated workflow.
How Does the Future of Print and Cut Look Like?
With many B2B applications in low demand for at least a few more months, Print and Cut will be able to shine with its unique ability to produce "real items" that can easily be marketed to end consumers. From car and wall decoration to decals, apparels and boxes to personalized gifts and furniture, there are plenty of opportunities to explore for short run-length or even individualized, high-margin applications.

Web stores make it easier than ever to reach customers all over the world. This means that clever print and cut applications not only offer printers the opportunity to adapt and survive during the crisis. They also enable a wide range of highly profitable new business opportunities.

Interested in joining our community?
Enquire today about joining your local FESPA Association or FESPA Direct