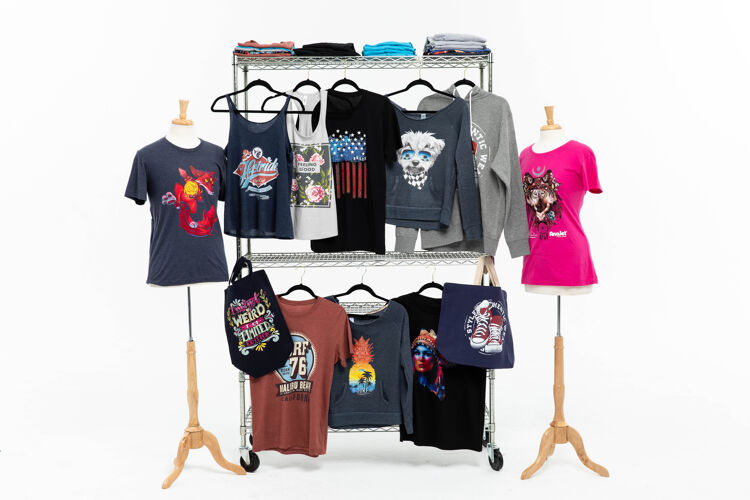 A desktop direct to garment printer offers a quick and easy way into the printed clothing market
It's widely acknowledged that digital textile printing is one of the fastest growing market sectors right now and as such represents an obvious business opportunity. There are several different types of textile printers but one of the easiest ways into this market is through a desktop-sized direct-to-garment, or DtG, printer.

These machines are relatively compact so that finding space for them shouldn't be such an issue. These are mostly designed for printing to T-shirts and come with platens to stretch and hold the garments in place. However, they can be used to produce other items, such as tote bags or hats though you may need to buy different platens to hold these.

They use water-based pigment inks and print directly to cotton materials or blends such as polycotton or viscose. The current models all produce 1200 dpi resolution, which should be suitable for reproducing good image quality, though you should always test any printer with your most commonly used substrates before purchasing.

Most models now include white ink as standard, which is essential if you also want to print to dark materials as you need a white base to help the colours stand out against the darker material as well as providing highlights. But this need to lay down a white base also means that it will take longer to print to darker materials and many vendors will quote different production speeds for this reason.
It's best to have two white channels to speed this up, and the printer should recirculate the white ink to prevent the heavier white pigments from settling in the ink tank. Most of the current printers recirculate ink right through the ink system, including through the printheads, to prevent any blockages in the system.
What's available?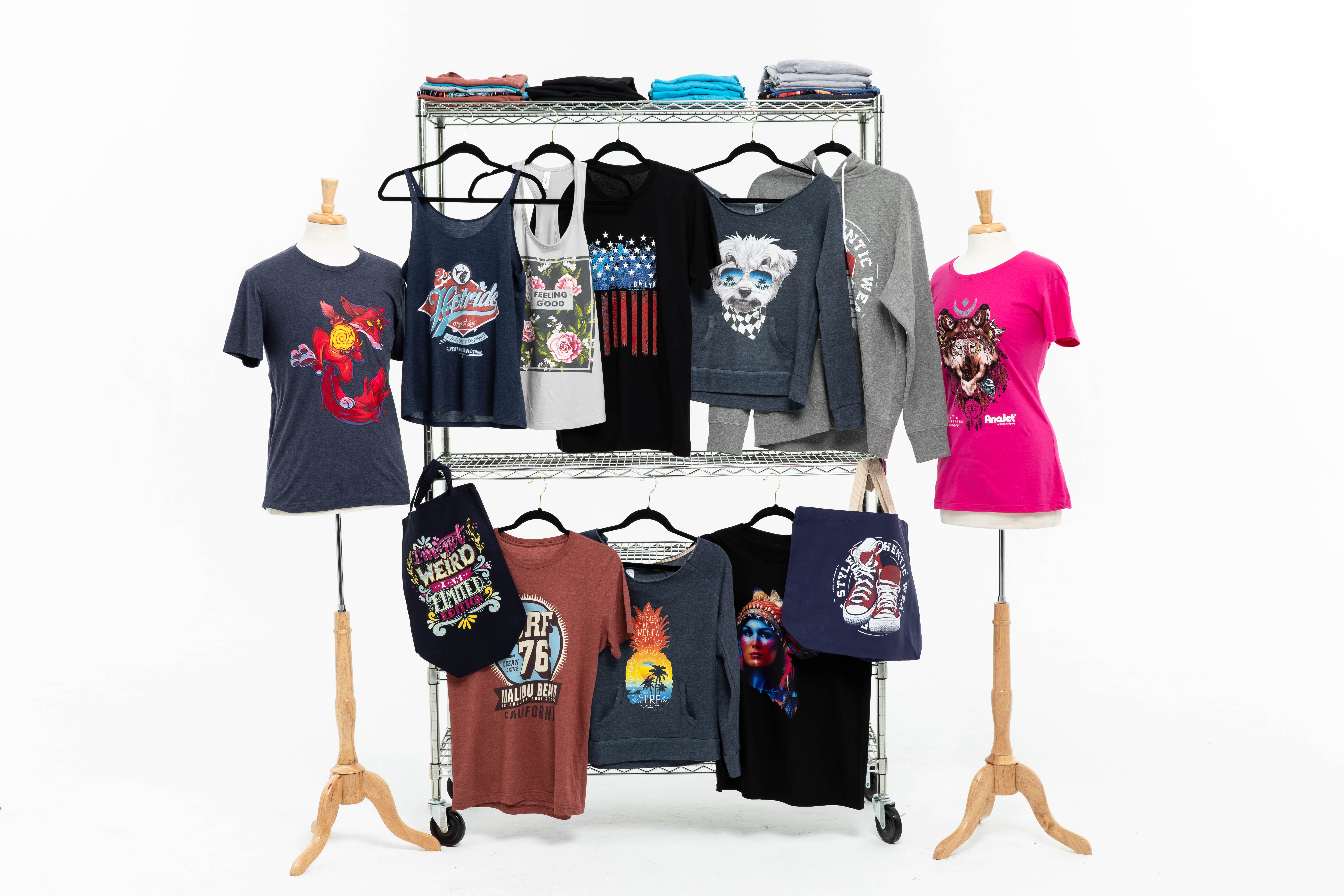 Caption: Ricoh's new Ri 1000 can be used to produce a wide range of textile applications.

Ricoh has developed the Ri100, an entry-level printer that's probably the cheapest and simplest way into the DTG market. It uses Ricoh greyscale printheads with up to 1200 dpi resolution, which is the standard print quality for all these printers. It includes automatic maintenance and supports wireless printing. The printing is said to take roughly two minutes.
There's an option to include a separate heat press, the Ricoh Rh 100 Finisher, which has the same 399 x 698mm footprint so that the printer can be stacked on top of it, which make for an extremely compact solution. Roland sells this as the VersaStudio BT12.

Last year Ricoh introduced a mid-range model, the Ri1000. It uses four Ricoh printheads, with eight channels and 1200 x 1200 dpi resolution. It prints CMYK plus white, with recirculation on the white ink. Basic maintenance such as cleaning the printheads has been automated. It takes magnetic platens that hold the garments in place. These platens are available in multiple styles and sizes up to 40 x 50cm, which snap on and off the machine so that it's easy to reload new garments for printing. It can deliver a full colour CMYK 10x8ins graphic in 28 seconds, or 42 seconds for Fine print quality.

Ricoh also sells a much larger desktop printer, the Ri6000. It uses water-based pigment inks from AnaJet with CMYK, plus two white channels complete with an automatic ink circulation system. the Ri 6000 can print full-colour 30cm x 25cm graphics on light garments in less than 27 seconds.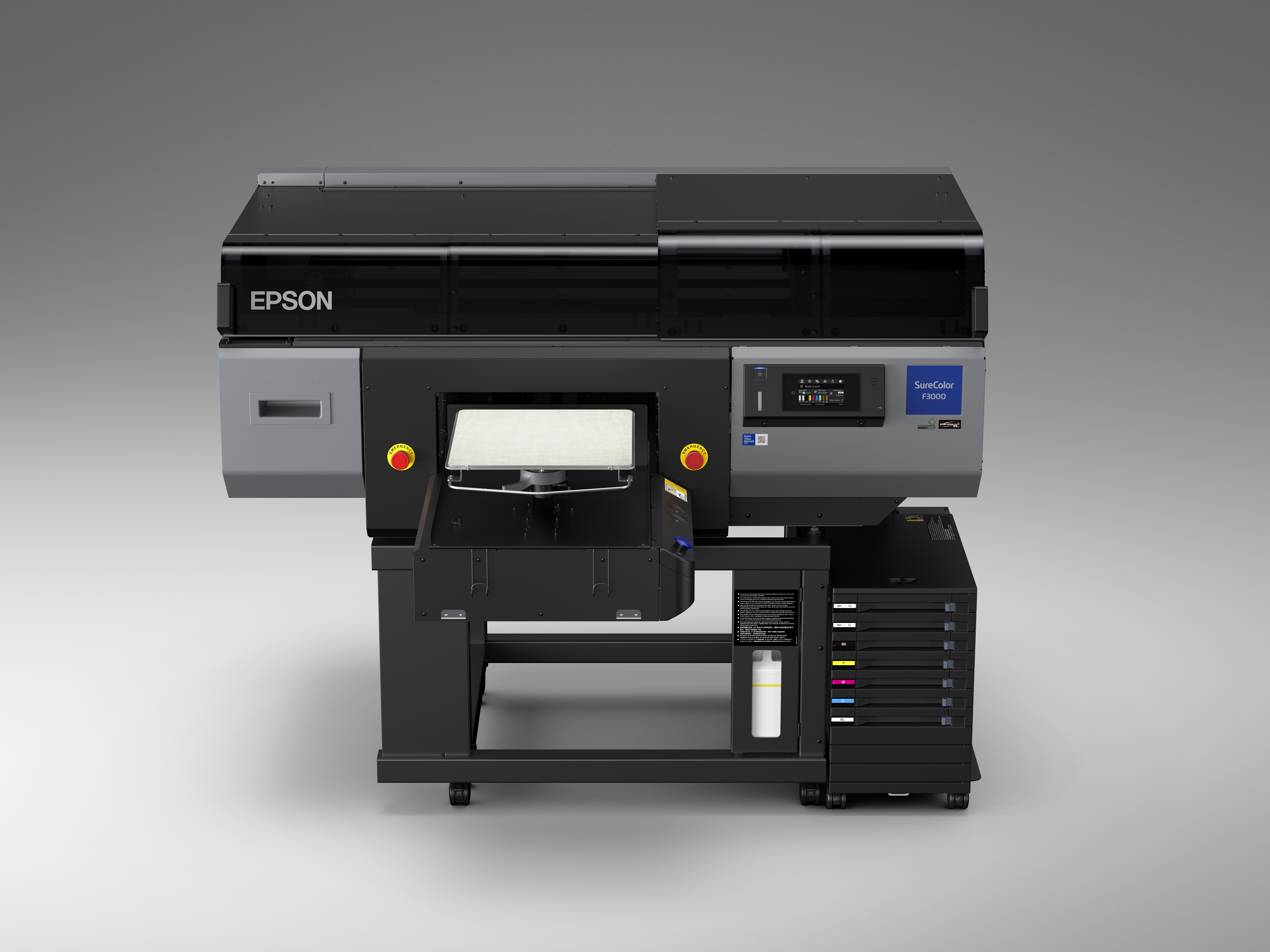 Caption: Epson has developed this SureColor F3000 direct to garment printer for mid-volume users.

Epson jumped into the DTG market with its F2000 printer, which has since been replaced by the F2100. It uses Epson's own PrecisionCore printheads and prints CMYK plus white, with the inks supplied in 600ml cartridges. It takes media up to 406 x 508mm, which are loaded onto platens. There's an optional fabric platen grip pad and platen grip tool to make garment placement easier and there are also spacers for more accurate platen gap adjustment.

Earlier this year Epson announced a new printer, the F3000, which takes the same platens as the F2100 but is a much bigger, more industrial machine aimed at mid/large garment production businesses and t-shirt suppliers, and as such should be seen as a direct competitor to Ricoh's Ri6000. It comes with a bulk ink supply system with 1.5-litre ink pouches that should help to lower the running cost.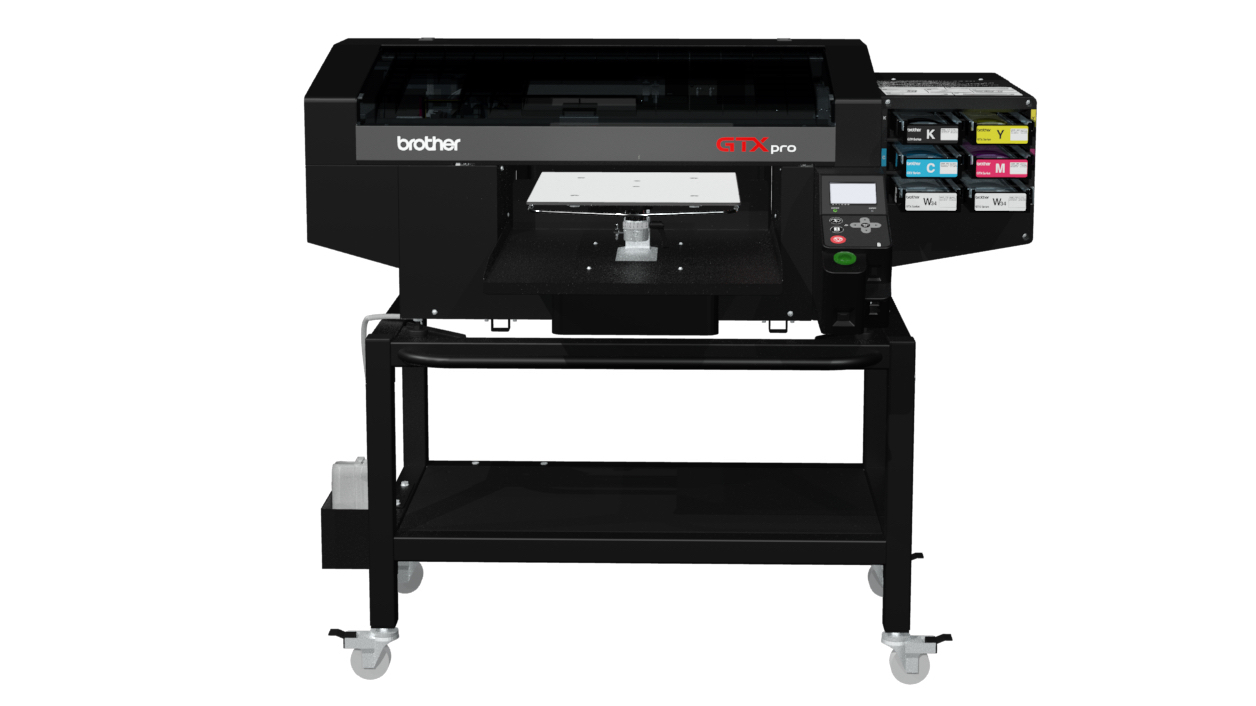 Caption: Brother's latest direct to garment printer is this GTXpro which prints CMYK plus two white channels.

Brother has just launched a new DtG printer, the GTXpro, which builds on and replaces its original GTX printer from 2017. It prints CMYK plus white, though Brother has redesigned the printhead for the white inks to include recirculation right through the printhead.

There's a new sensor to control the height of the platen to keep the substrate close to the print nozzles to reduce ink mist. It comes with a platen that takes materials up to 35.6 x 40.6cm with bigger sizes also available. It can print 35 dark t-shirts per hour in CMYK + white or 60 light t-shirts using just CMYK, assuming a full-sized A4 graphic.

There's also a GTXpro Bulk version – essentially the same printer but especially developed for mass production with a bulk ink supply system that allows industrial users to take advantage of economies of scale to save on ink costs. So while the inks for the standard machine are supplied in 700cc pouches for both the CMYK and white colours, the inks for the GTXpro Bulk are supplied in a choice of 1.8 and 18 litre containers.

Polyprint makes the Texjet series of DtG printers, with the latest being the Echo 2, which was launched early last year. This has a flexible approach to ink. It can be configured with CMYKW for printing to light and dark materials or two sets of CMYK for faster printing to white materials. It has a maximum print area of 41x60cm but comes with a number of different platens, including one for printing to shoes. It can produce 35 light shirts per hour, printing CMYK at 720dpi, which drops to 15 shirts per hour using CMYK at 720dpi and White at 1440 x 720dpi for dark shirts.
Conclusion
The prices for these machines range from £3000 for the smallest up to £30,000 for the faster models with bulk ink supplies. The main difference is the productivity, which ultimately determines the profit margin. You may need to pretreat some garments, particularly if using white ink, which can be simply a matter of spraying the garment by hand but will affect productivity. You will also need to factor in a heat press to finish the prints though if you have a good workflow set up then it should be possible to use one heat press with two printers to improve overall productivity. The key thing is to pick the printer, and therefore the productivity and profit margin, that best matches your business model.
Interested in joining our community?
Enquire today about joining your local FESPA Association or FESPA Direct