Features
Prepare for a post-COVID reboot – highlights from day 1 of FIT 2021: Wide Format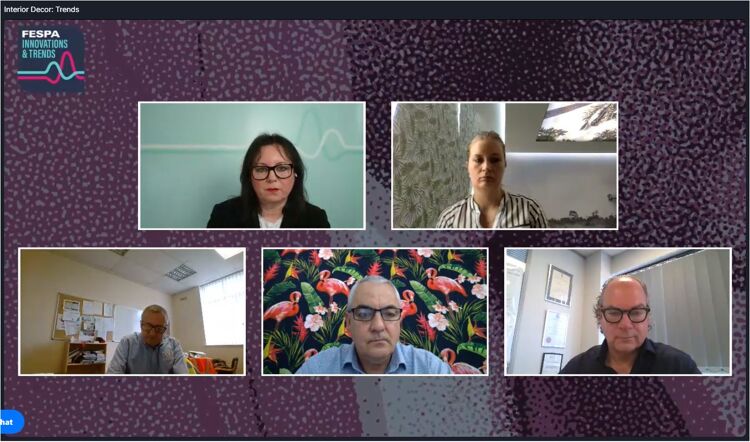 From 26 – 27 May 2021, FESPA hosted its first FESPA Innovations and Trends (FIT) live virtual event which highlighted the latest hardware, software and media solutions in wide format and interior décor.
Attracting over 1,100 visitors from 111 countries, during the two days, print professionals heard from industry experts on the latest trends, networked with the speciality print community and learnt about the newest products and solutions in the market.

In this article, we've compiled an overview of the first day of panel discussions and exhibitor presentations and, by clicking on the links below, you can watch recordings of all the sessions.

Kicking off the event, FESPA's Technical Lead and Head of Associations, Graeme Richardson-Locke hosted a lively panel discussion with three leading printers who shared their thoughts on the latest innovations and trends that are driving the wide format industry forward and discussed the future of this thriving market.

Detailing its ever-expanding production print solutions line-up, Christian Harder, Vice President of Sales at Durst Group highlighted what's new in the P5 product family.

It's now easier than ever for printers to adapt the way they create, distribute and produce large format print, décor and textile applications. In his session, Erik Strik, CEO of Print Factory shared details of the company's new data and asset management solution, and how using workflow and colour management tools can have a significant impact on your business' performance and print efficiencies.

Customers now expect shorter delivery times which puts pressure on printers to increase efficiencies. Helping to achieve this, Rafa Menéndez, Head of Sales & Marketing for PLASTGommet talked about how the company's banner finishing automation has the potential to cut turnaround times by combining welding and eyeleting in one pass.

Mark Sollman, Product Manager from Mimaki Europe explained how UV printing technology opens up a big opportunity for printers and introduced Mimaki's 100 series of UV, solvent and sublimation printers.

On the topic of increasing efficiencies, Stephan Reiter, Head of Strategic Alliances of OneVision Software AG demonstrated how to increase margins and save time using production file preparation (print and finishing) for wide format applications.

Kongsberg's President Stuart Fox and VP of Product Strategy & Business Processes, Frank Adegeest revealed Kongsberg's latest precision cutting systems which are designed to deliver breakthrough automation and boost the performance of your digital finishing operations.

Honing in on the growth opportunities in digitally-printed interior décor, Ken Hanulec, VP of Marketing at EFI, explained how transitioning from analogue to digital can improve your total cost of ownership (TCO) and demonstrated how EFI's products can support growth in this market.

Walking through the features of Dataline's MultiPress solution CEO, Dirk Deroo, was joined by Davy Verstaen, Solution Architect and Serge Clauss, International Business Development Manager, to explore how MIS/ERP can help sign and large format print operations.

Explaining how digital laser finishing can boost your productivity, reduce waste and sell more products, Michael Garstenauer, Product Manager Cutting, showcased the Trotec Laser technology and how it can add value to signage and display applications.

Throughout the day, visitors also had the opportunity to attend a series of product demonstrations which showed the new technologies in action.

In the coming year, as we adapt to continuous change, these presentations and new product innovations will be invaluable to printers. We all know that the coming year will bring new challenges. As ever, FESPA and its exhibitors are here to support you, giving you direction and guidance on how to be resilient and plan your recovery.

To access the full playlist of videos from FESPA Innovation and Trends – Wide Format, visit here.

Interested in finding out more about the latest solutions in wide format printing? At FESPA Global Print Expo 2021, we're connecting visitors with a broad spectrum of exhibitors. Europe's leading exhibition for screen and digital wide format print, textile printing and signage. Discover the latest products, network with like-minded individuals and explore new business opportunites. Register now and use promo code FESH101 ​to receive a discount of 30 euros.
Interested in joining our community?
Enquire today about joining your local FESPA Association or FESPA Direct