Features
Premier Graphics brings art to life with creative install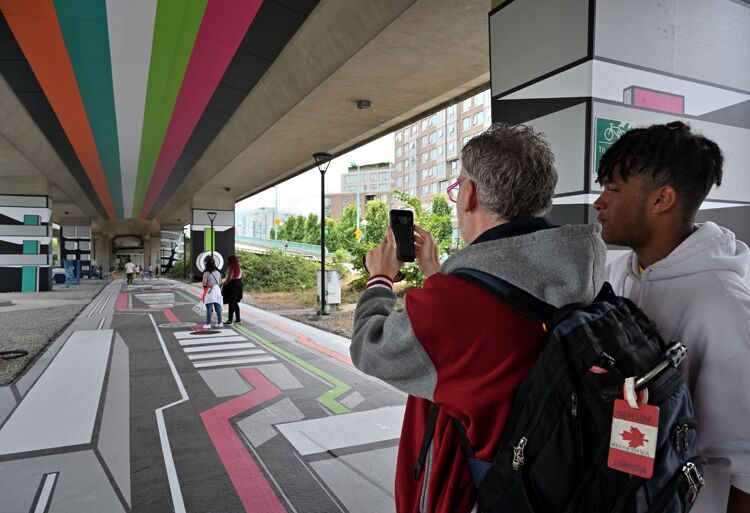 Canadian graphics production and installation company Premier Graphics teamed up with artist Jessica Angel to create an interactive art project at the Cambie Street Bridge in Vancouver.
across the Cambie Street Bridge and saw a range of colourful graphics applied to the pedestrian walkway, supporting columns and underside of the bridge.

However, Premier Graphics and Angel took the project a step further with the integration of and augmented reality (AR) across parts of the install, bringing the two-dimensional vinyl mural to life.

Passers-by were invited to interact with the project by downloading the Vancouver Biennale app for free and holding up their phone while walking through the walkway. This expanded the graphics into a three-dimensional piece of art, allowing them to explore more parts of the project and get the feeling that they were walking among solid structures of art.

"The virtual reality experience developed is amazing when paired with the graphics; it is certainly the most impressive piece I've been involved with so far," said Taylor Sellinger, partner and general manager of Premier Graphics, which is based in Richmond, British Columbia.

Premier Graphics used Drytac's Polar Grip white polymeric self-adhesive film for the printed film parts of the project, as well as Interlam Pro Emerytex PVC overlaminating film for the floor graphics and Interlam Pro Matte pressure sensitive overlaminating film for the pillars and ceiling.

All the graphics for the Vancouver Biennale project were printed on the company's HP Latex R1000 Plus machine.

"The process consisted of the testing of many materials, and of course balancing a budget that was already stretched thin," Sellinger said. "We needed to fit the client's budget with a material that was likely to last 18-24 months and meet the slip-resistance requirements for the safety of the public.

"Since the majority of this installation surface was relatively flat, we didn't require a cast film to conform, but the nature of the adhesive on the Polar Grip film made it an ideal choice for great adhesion to a rough and unfinished concrete.

"We find Drytac films to be consistent in quality and the variety of adhesive types and styles make them a very diverse material. While we've been working with Drytac films for the last four years, we were honestly surprised at how well they seemed to perform compared to much more expensive cast films."





Interested in joining our community?
Enquire today about joining your local FESPA Association or FESPA Direct