Features
Preflighting customers' PDFs for success in print production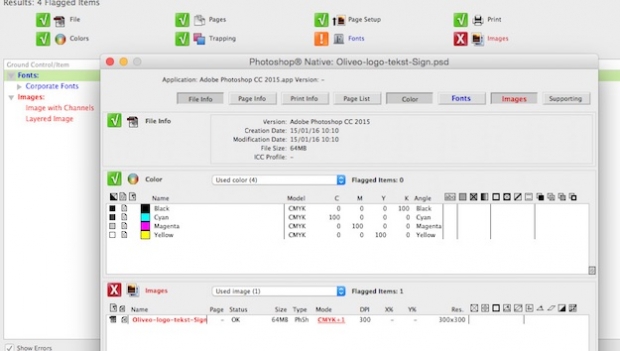 Printers know, at least in theory, that powerful preflight checking software will increase production efficiency in the workflow.
In the good old days, customer jobs submitted for print would go through so many human-overseen stages at the camera, plate and screen stages that any problems would be noticed early on.
This gave the opportunity to query it with the customer, or if the solution was obvious the pre-press operators would usually fix it.
As wide format digital printers increasingly follow commercial printers down the automated workflow paths, it's technically feasible for a customer file received by a printing company to be processed completely automatically to the point where the first time it's seen by human eyes is as it emerges from an inkjet printer.
Letting mistakes and bad files get through to print is obviously expensive and leads to issues of who pays - customer or (sadly often) the printer who doesn't want to lose further business by kicking up a fuss. Large format printers are therefore increasingly using pre-flight programs that can automatically pick up content or format problems before they screw up anything expensive.
Suppliers of pre-flighting report that wide format and packaging are their fastest-growing sales areas, though that could be because general commercial and publishing markets are now pretty mature.
According to David van Driessche, chief technical officer of Four Pees, a Belgium based developer and distributor of pre-press workflow systems: "Large format is more and more important for us - we see it with callas pdfToolbox, we see it with tFlow Approval – we see some of those aspects with the Creative Edge 3D visualisation tools.
"Standardisation and preflight and automation are becoming more important in that market. But I also think the reason it looks like a big trend right now is because in that market you haven't had much of that going on over the last ten years. It's pretty much all manual and job-by-job. Competition and price pressure makes them rethink that I think."
David Dilling, managing director of pre-flight developer Markzware explains: "Obviously, the larger the printer, the costlier the error. Resolution is a big one to check for."
Other common problems are missing fonts, spot colours instead of CMYK values, RGB instead of CMYK, unprintable hairlines, transparency problems, drop shadows not appearing as they should, and layer orders going wrong.
PDF/X reliability
PDF is now the most common file delivery format, although in wide format it's not universal. You still see vector formats such as AI (Illustrator native) CDR (CorelDraw native) and EPS (an output option for many sign programs). You may also see bitmap formats such as TIFF or JPEG for some types of image.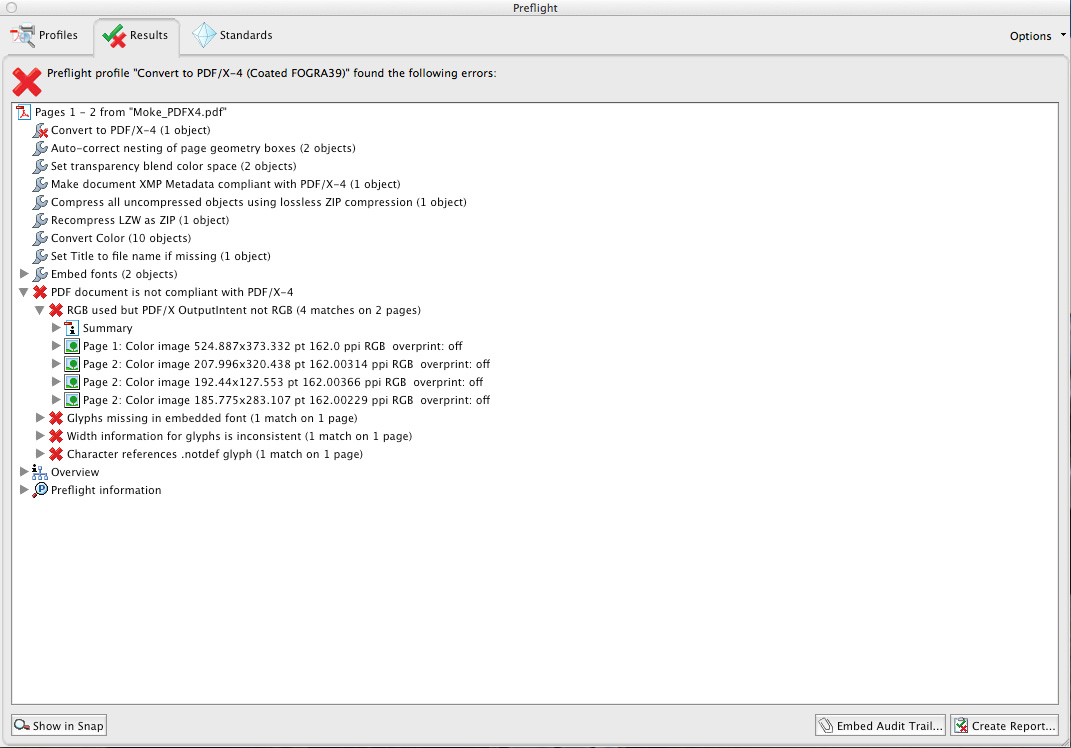 Here Acrobat Pro has failed the verification of a PDF/X-4 conversion.
Since 2001 it has been possible to create PDFs that conform to a narrow "subset" of specifications that practically guarantee they'll print properly – this is called "blind exchange." These are the various flavours of PDF/X. The most commonly used today are PDF/X-1 and X-3 or 4.
The first of these, currently most widely used as PDF/X-1a:2003, uses the PDF 1.4 format and basically ensures that all colours are converted to CMYK, that all the fonts are embedded in the file, and that image resolutions are at least 300dpi, without over-compression.
PDF-X-3 can handle CMYK, spot, calibrated (managed) RGB and CIELAB, wit ICC profile. PDF/X-4 extends this to support colour-managed CMYK, grey, RGB or spot colour data, as well as PDF transparency and optional content.
Programs that can output PDF/X usually have a way to verify the content as they work, and refuse to create a file if the contents are out of specification. Adobe Illustrator CC, InDesign CC 2015 and QuarkXPress 2015 layout programs can output PDF/X-1, X-3 and X-4, for instance and they report it if they can't verify the files due to their content.
In principle, if printers ask for the appropriate PDF/X and customers supply them, then there's little need for pre-flighting. PDF/X files identify themselves in either the file info or the metadata. However, to be sure a printer will want to use a verifier, and while you're doing that you may as well be checking for other problems at the same time.
Pre-flight choice
In Europe the main PDF pre-flight programs are callas pdfToolbox and Enfocus PitStop Pro and its spin-offs. These check, verify and where possible allow editing and correction of PDF files.
Adobe's Acrobat Pro and the recently launched Acrobat DC utilities for PDF creation and editing have decent built-in pre-flighting that's based on callas' technology. However, while the options let you look for all sorts of problems and fix a lot of them, the user interface is different and not very intuitive compared to callas' own pdfInspector.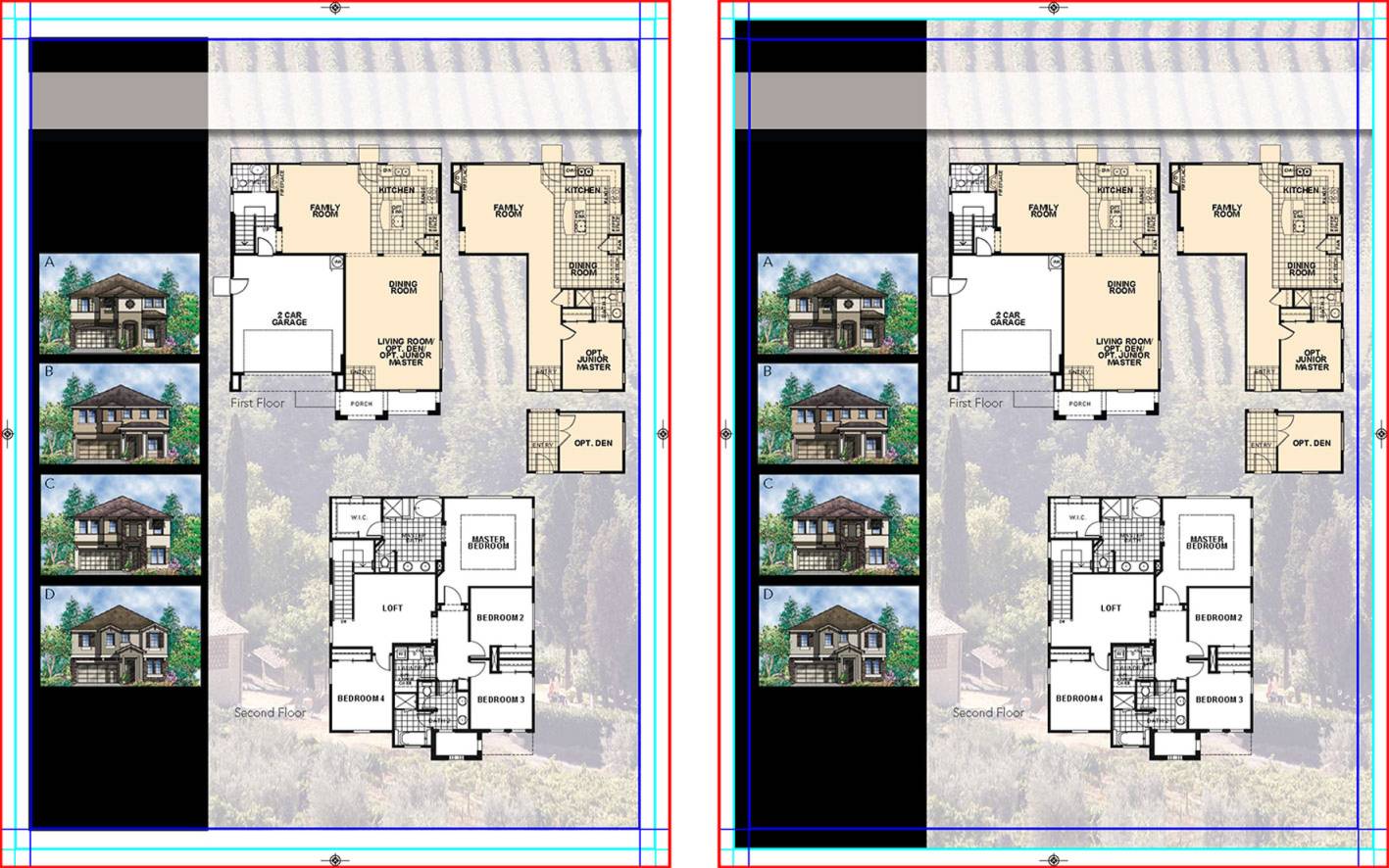 A before-and-after pair in Enfocus PitStop shows bleed edges being extended on the right image.
For more advanced features you'll need to look at Enfocus or Callas. "We've seen over the past two or three years the advent of workflows and PDF being used a lot more in wide format," says Andrew Bailles-Collins, product manager at Enfocus.
"When we do our regular surveys on our support performance and on our products, we're seeing a large rise in people using it in large format. We went to FESPA for the first time last year, and we were hearing the same sort of problems we'd been hearing about for ten or 15 years in the commercial world, but for them it's all new."
Enfocus PitStop was first launched in 1998 and the latest version 13 was introduced in April 2015 and updated in October with new features for wide format, packaging and labels. It runs as a plug-in to Adobe Acrobat, meaning you need to buy both, and adds considerable functionality. PitStop Pro can be bought with a perpetual license for €699, or on a yearly subscription for €25 per month.
It not only checks a PDF with the option of applying automatic fixes, but it also offers a fairly comprehensive range of manual editing tools for text and graphic content. New in PitStop 13 is the option to apply marks such as grommet holes for banners and the like.
Preflight checks can be made from a pre-defined set that includes PDF/X and the Ghent PDF Workgroup standards, or users can define their own specific routines from a large list of options. These can be built into Action Lists that apply specific checks and fixes.
The standard PitStop Pro 13 is intended for use by single operators, though it can be integrated into automated workflows such as Enfocus' own Switch system. There is also PitStop Server at €2,999, which monitors incoming PDFs (from say a hot folder or FTP server) and automatically applies pre-defined checks.
It can fix some problems automatically, but is able to reject some types of fault and either alert the sender or divert them into another folder for a human operator to work on. PitStop Server 13 gained the ability to create Action Lists directly - previously they had to be created in PitStop Pro and exported.
PitStop 13 pre-flight technology is also used in Enfocus' ConnectALL system, which lets printers supply a simple file-preparation workflow to their customers. This runs pre-flight checking defined by the printer and suggests fixes before the file is actually submitted.
Here callas pdfToolbox is being used to set up grommet positions to be added to a large format file as part of a pre-flight and "Fixup" process.
Callas pdfInspector is broadly similar to PitStop but without such extensive manual editing tools. The current pdfToolbox 8 was introduced in June 2015 and is a plug-in to Acrobat. It costs €499 as a single user desktop version.
It supplies pre-flight features plus colour conversions (including RGB or CMYK to multi-channel colour sets), page and content manipulation controls and imposition. It can also convert PDFs to bitmaps (TIFF, PNG or JPEG), which some printers may require.
An automated server version costs €3,999 and can hook into the Enfocus Switch automation system. There are also options for developers to integrate the code into their own products.
David van Driessche says that callas is planning to add more wide format specific features into future versions of pdfToolbox. "Meanwhile, pdfToolbox 8 can add eyelets or grommet marks," he says. "It can be done either with fixed positions or you can use JavaScript to calculate placement very precisely.
"There also since version 7 the possibility to get a report on ink usage in a file, by percentage of the page or total square cm. This has been used by a number of large format printers for price calculation."
Native format checking
If clients are still sending you native file formats, Markzware's FlightCheck provides the unusual ability to pre-flight a wide range of these and highlight common errors. According to European MD David Dilling: "Sign printers and so forth get in a plethora of file formats, from Word and Publisher to InDesign and Quark. For sure they see more and more PDF, but largely it is like it was, ten or so years ago."
FlightCheck doesn't have any editing features of its own, but unlike PitStop and pdfInspector it has the ability to launch the creator program assuming you have a copy, (say CorelDraw or Illustrator) and to take you to the position of the error in the graphics file. It can also generate a report to show to the customer so they can correct it if preferred.
The current FlightCheck 7.7 can handle files generated by Acrobat, CorelDraw, FrameMaker, FreeHand, InDesign, Illustrator, PageMaker, Photoshop, PowerPoint, Publisher, QuarkXPress and Word, as well as PostScript files.
The company also makes format converters, all priced at €199 or alternatively supplied as a 12 month subscription. Q2ID can open QuarkXPress files into InDesign for editing (today's InDesign CC can open older QuarkXPress files but only as far as v.4). ID2Q can go the other way, from InDesign to QuarkXPress.
Pub2ID takes Microsoft Publisher files, generally disliked by 'real' printers, and converts them to InDesign. January 2016 saw the launch of MarkzTools2, a standalone application that converts InDesign documents into IDML files without the need for InDesign. This allows InDesign CC 2015 documents to be opened by older versions from InDesign CS4 onward.
Possibly more useful in a pre-flight context, Markzware's PDF2DTP converts PDFs to fully editable InDesign files. "For some things a PDF editor is just not reliable or efficient," Dilling says. "Text, for instance – it is far more reliable to edit that in InDesign than Acrobat."
As automated workflows grow in importance in large format printing and PDF increasingly is the delivery format of choice, so pre-flighting will become ever more necessary. If you consider the cost of only a few jobs that that it saves from having to be re-run, the investment is modest.
Preflighting at FESPA Digital 2016
Without an effective pre-press system in place, print services providers are likely to encounter errors during the print and finishing stages of the overall process. These systems not only have the potential to help printers plan out work properly, but also help them avoid errors at a later stage that could cost them in both time and monetary terms.
While FESPA Digital 2016 will play host to some of the world's key print equipment manufacturers, this year's show will also place a heavy emphasis on pre-press and the importance that this brings to the print process. Exhibitors from around the world will be in attendance to demonstrate their own pre-press solutions and explain the various benefits of such products to visitors.
For more information on those companies exhibiting at the show, and to find out more about the various seminar sessions taking place at FESPA Digital 2016, visit www.fespadigital.com. For FREE entry don't forget to use code: ADOZ0104.
Interested in joining our community?
Enquire today about joining your local FESPA Association or FESPA Direct