Features
OpSec Security targets niche markets with Europe-first investment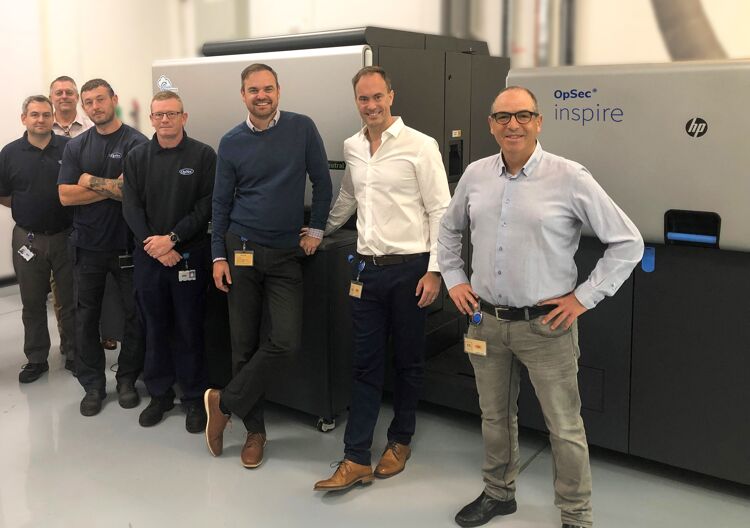 Security and brand protection specialist OpSec Security has become the first company in Europe to purchase a HP Indigo 6K Secure Digital Press to support its work within the niche security printing market.
OpSec said that the new investment will allow it to offer brand owners across a wide range of markets and industries the ability to integrate secure authentication, personalised customer engagement and unique digital design features into both labels and packaging.

The company works with a number of leading brands such as major sports leagues, apparel manufacturers, automotive brands, industrial leaders and financial services providers, all of which require security features in their printed products.

Demand for such print has been on the increase as brands continue their ongoing battle with counterfeiters. In the past year alone, research from OpSec found that more than 25% of consumers said they had unknowingly purchased counterfeit products, with the issue impacting more brands than ever before.

No longer limited to luxury watches and expensive handbags, counterfeiting has spread to almost any branded product, from automotive parts, through to licensed merchandise and consumables.

With this in mind, OpSec said the single-pass capability and secure variable data options of the HP Indigo 6K Secure Digital Press will increase the options it can offer to its customers, with the ability to incorporate proprietary security, provide an expanded design palette, and ensure rapid turnaround for time-critical product launches and promotions.

Another feature of the HP Indigo 6K Secure Press is its ability to place unique identifiers in locations on the label, packaging, or tax stamp. This, HP said, allows greater personalisation to unique customer requirements, whilst linking authentication and engagement data back to OpSec Insight, OpSec's secure traceability platform.

"The capabilities of the counterfeiter are always advancing," OpSec chief exectuive Dr. Selva Selvaratnam said. "The HP Indigo 6K Secure Press, in conjunction with our advanced Optical Variable Device technologies, provides brand owners the confidence that they will remain ahead of even the most determined counterfeiters.

"Our ability to print secure, impactful designs on sustainable and recycled substrates, using sustainable security inks from HP, also allows us to offer brands the distinctiveness they need, whilst upholding their commitment to sustainability."

Amir Raziel, head of strategic marketing for HP, added: "We are excited to welcome OpSec Security as the first customer of the HP Indigo 6K Secure Press in Europe. As a world leader in brand protection, OpSec will set new standards in product authentication using our HP Indigo Secure technology.

"We expect this partnership to change the standard paradigm for both companies, setting a new bar in anti-counterfeiting."
Interested in joining our community?
Enquire today about joining your local FESPA Association or FESPA Direct