Features
OEM vs. Third-Party – which wide-format ink is right for you?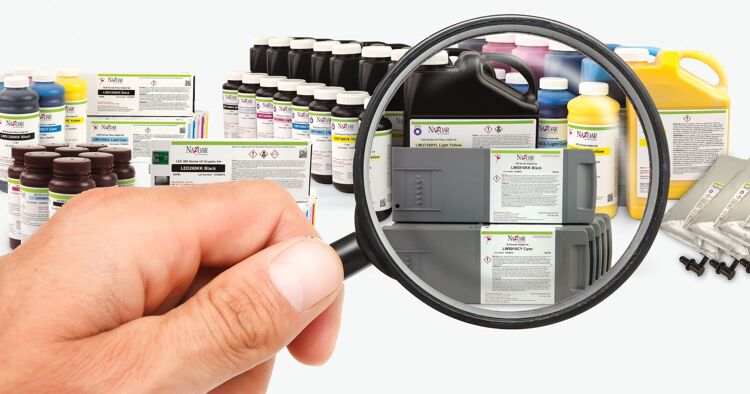 Diving into a debate that has raged on for many years, FESPA.com takes a look at the key differences between original equipment manufacturer (OEM) and third-party wide-format inks.
When it comes to choosing inks, print companies are all too aware of how critical it is to select the right product to work with. Choosing the wrong type ink or ink that is not high enough in quality can not only put the look of the final printed product at risk, but also potentially cause damage to printing kit.

For this reason, many print companies choose to use inks supplied directly from the manufacturer, safe in the knowledge that these inks have been designed to run on their printer. Should something go wrong with the ink, or it does not meet the standards promised by the manufacturer, the user can them hold them to account.

However, in recent years, the industry has seen a big increase in the number of wide-format printers using third-party inks, which often offer a cheaper option and come with quality guarantees from a host of leading providers.

So which ink is right for your print business? FESPA.com speaks to some of the leading names in wide-format ink technologies to find out how you can ensure you are using the right type of ink in your wide-format work.
Reliable printing process
Starting with OEM inks, Agfa provides a wide range of inks for customers to use on its wide-format printers. Kristof Van Cleemput, global communications manager for the offset division of Agfa's digital print and chemicals business, said with more than 150 years' of expertise in chemistry, ink design is part of the manufacturer's DNA.

"At Agfa, we develop and fine-tune our printing solutions – and our inks as an essential part of them – in close cooperation with our customers, by listening to the challenges they are faced with and by assessing their needs," Van Cleemput said.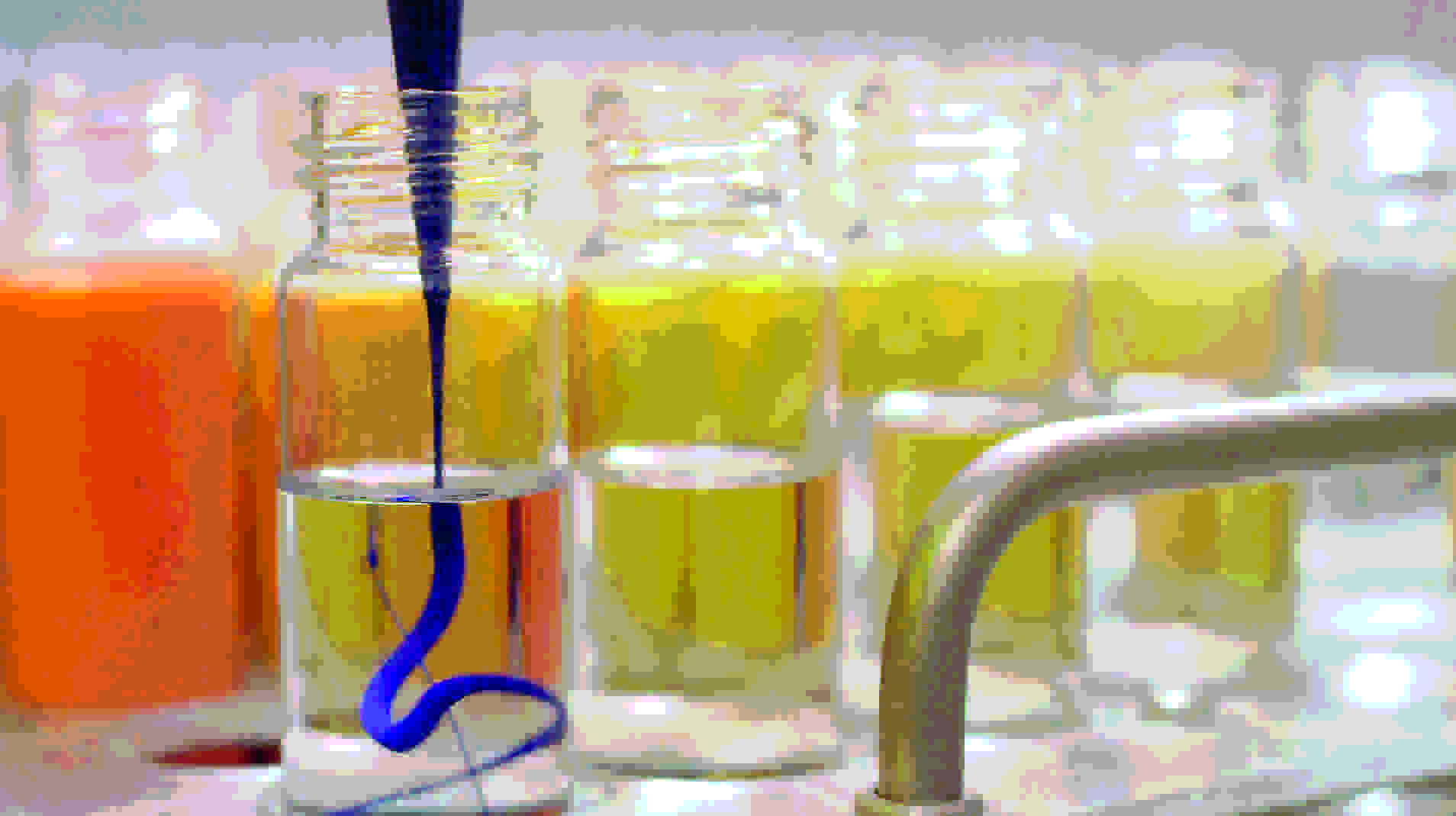 Caption: Agfa has more than 150 years' of expertise in inks chemistry.

"Our in-house developed and manufactured inkjet inks are perfectly matched to our printing systems, and our production facility delivers excellent batch-to-batch consistency thanks to its meticulous manufacturing process and stringent quality checks.

"By also adding powerful workflow and colour management software, we are able to deliver print systems that ensure the lowest ink consumption, in addition to consistently outstanding print quality with a high colour vibrancy and a stable, reliable printing process from start to finish."

As to why wide-format print companies should opt for OEM inks over third-party products, Van Cleemput said users must be extremely careful when selecting their inks, and that using non-approved inks could pose a number of major risks.

"Using non-approved third-party inks that weren't designed in sync with our printing engines holds a number of risks, including poor image quality, blocked print heads, and a limited colour gamut," he said. "It will negatively affect uptime and lead to additional costs that could have been avoided."

Looking at some of Agfa's latest OEM inks, Van Cleemput said all recent Agfa UV LED inkjet inks for sign and display applications have obtained the Greenguard Gold certificate. This means they meet rigorous chemical emissions standards and are acceptable for use in sensitive indoor environments such as schools and healthcare facilities.

"Print businesses investing in a Jeti, Oberon or Anapurna wide-format printer from Agfa enjoy both operator safety and the opportunity to generate additional business as they can meet their customers' requests for a certified solution for wall finish applications," he said.
Worth the extra cost
Another leading manufacturer that produces its own wide-format inks is Roland DG. Encarna Luque, senior product manager for inks and business development in textile and decoration at Roland DG EMEA, said by using OEM inks, printers can ensure the print process is optimised to provide the best quality output.

"Using OEM inks also ensures that print professionals are covered by a warranty that brings benefits to print businesses and customers alike," Luque said.

"Many Roland TrueVIS printer, cutters and inks comply with various leading media manufacturer's certification programs, including 3M MCS Warranty and Avery Dennison ICS Performance Guarantee. This means that if you print on their media using TrueVIS and OEM ink you – and your customers – should expect outstanding results for a certain amount of time.

"Whether it's a new ink formula, a software upgrade or a new accessory, when you buy Roland you receive support throughout the life of ownership. By staying true with OEM inks, print professionals can guarantee the best service possible. The long-term benefits of OEM inks undoubtedly outweigh the slightly higher monthly cost in comparison to third party inks."

Addressing the issue of third-party inks, Luque admitted that while the quality and consistency of these inks has undoubtedly improved in recent years, he warned that disturbing the "careful synergy" of inks with printers and software runs the risk of the unknown.

"Alternative inks produced for universal use can slowly depreciate machine performance," he said. "It may be necessary to clean the printheads more regularly, which decreases their lifespan.

"As well as resulting in increased downtime, replacing printheads is expensive, so, in short, using original ink is the best way to get the most from your investment. There are certain applications that require a tried and tested formula of printer, ink and material – and using something different can cause failures."

Highlighting some of the latest developments with Roland DG's OEM ink, Luque draws attention to in eco-solvent technology for its TrueVIS TR2 ink. Used for Roland DG's TrueVIS printer/cutters, Luque said this offers print professionals wide colour gamut printing at a lower running cost.

"These Greenguard Gold certified premium inks offer a wide colour gamut, rugged scratch resistance, broad support for uncoated and coated media, and three years of outdoor durability," he said.

"They produce rich, consistent colour and combine with the latest Roland DG inkjet devices that boast four FlexFire printheads for precision."
Do you homework
With manufacturers having put forward a strong argument for using OEM inks, we now turn our attention to third-party products.

Nazdar is one of the leading suppliers of third-party inks, and though Stephen Woodall, market segment manager for aqueous and solvent digital, admits there are some risks in using these inks, there are plenty of benefits for users. One of the primary concerns for printers is ensuring they are dealing with approved suppliers that offer quality inks.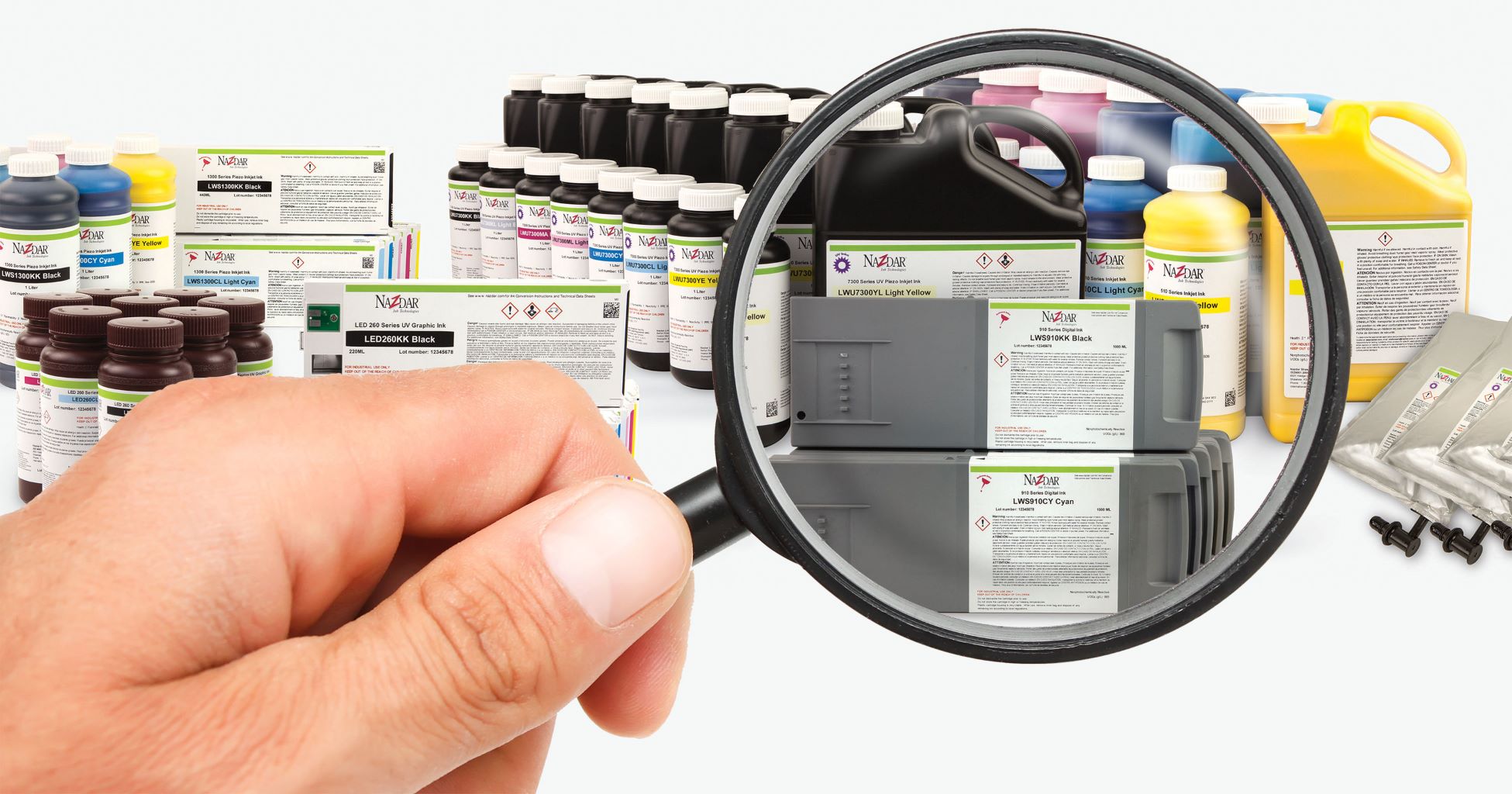 Caption: Nazdar inks are designed and formulated to be in compliance with necessary regulatory requirements.

"If you go to a manufacturer that has a good reputation, experience in producing high quality inks and a history of standing by their warranty, then the risks are small," Woodall said.

"If, on the other hand, you are dealing with an unknown internet company that offers inks at a fraction of the cost of what you are paying now, but you don't know much about them, then the risk is obviously a lot larger, because there is no support. With the more expensive machines and heads, some people may not want to take that calculated risk.

"Ideally, we don't want to change anything on the printer to run our ink; many of the products we offer are 'plug and play'. We strive to keep our inks as close to the OEM as we can so that customers can change just one ink cartridge at a time as it runs out and the printer will still run with the remaining OEM inks."

When it comes to the issue of warranty when using alternative inks, Woodall said this is not an issue for Nazdar, as many of its retailers have agreements with the OEMs in given regions, so that any components other than ink-related are covered by the standard warranty.

Woodall also said Nazdar inks are designed and formulated to be in compliance with all necessary regulatory requirements, while the Nazdar Regulatory Compliance Department has helped customers meet the growing demands of government regulations.

In terms of benefits, Woodall admits that one of the main positive points of using third-party inks is that they offer a cheaper option for printers, but users may also see a number of other benefits from using these inks.

"Primarily it is about economics in the customers' minds, he said. "Alternative ink cost savings can be very significant when measured over the life of the printer. In most cases, the OEM ink is a very good all-round performer, so our aim is to match that performance with the benefit of a lower price.

"However, if when developing the ink we can achieve additional benefits – like a lower odour or a less harsh regulatory classification for solvent inks – that don't change the appearance or adhesion, then we will. With UV products, we can sometimes improve flexibility or chipping and other performance aspects.

"To summarise: if you are considering using alternative inks, do the homework on the manufacturer."

Woodall's closing comments bring our short debate to an appropriate conclusion. While using OEM inks will ensure you are operating with the manufacturer's guarantee, there are other, often cheaper, options out there that, if used both correctly and responsibly, could herald effective results.


Interested in joining our community?
Enquire today about joining your local FESPA Association or FESPA Direct