Features
Ocean Outdoor study shows growing interest in interactive signage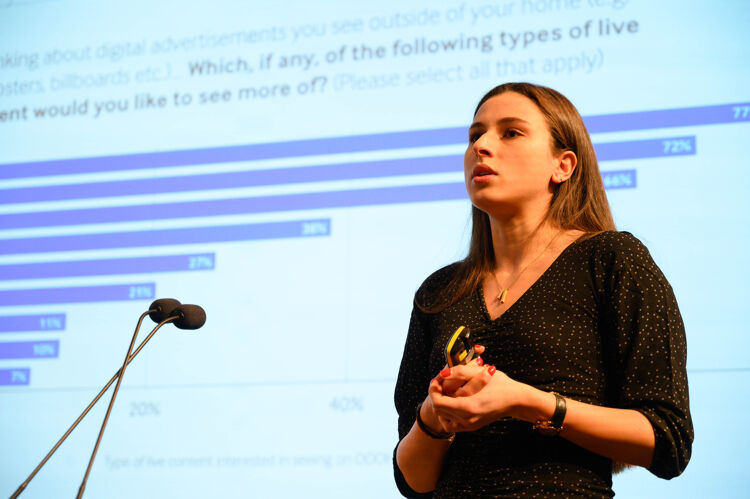 Consumer demand for interactivity in digital marketing campaigns in the UK is on the rise, with almost half of 18 to 24-year-olds keen to see more live content in advertising, according to a new survey by Ocean Outdoor.
Carried out by YouGov on behalf of the outdoor advertising specialist, the study was based on a survey of 2,000 people, one in 10 said that they wanted digital advertising to include more interaction.

Other key findings included one in four 18 to 24-year-olds saying they would be more likely to pay attention to adverts alongside live content on digital screens and posters outside of their home.

In addition, Ocean Outdoor flagged an increase in trust of digital out-of-home (DOOH) media, with this being high across several age groups.

For people aged 35-54, 71% said they have the same level of trust in DOOH as much as online and traditional media channels, with this at 63% for 25 to 34-year-olds and 49% of 18 to 24-year-olds.

Speaking to FESPA.com about the results of the study, Monika Tomova, insight manager at Ocean Outdoor, said the survey demonstrates the positive effects of live and immersive DOOH content, with regards to hard-to-reach audiences and light TV viewers.

"Large-format, interactive digital screens in the right environments are integral to the pop-up, experience led culture," Tomova said. "Digital signage as a channel is evolving at pace so we needed to better understand what that investment means for brands, consumers and retail and city centre spaces.

"Our studies prove the impact of live content, how DOOH improves memory encoding, how it primes other media and its relevance to modern day audiences."

Tomova also said that premium DOOH screens not only build longer-term brand awareness and loyalty, but provide deeper engagement and cut through with hard to reach audiences - something all marketers and brands work to achieve.

"Clients want to showcase their creative work in high-quality, brand-safe environments where they can effectively reach mass audiences. DOOH ticks all those boxes and full motion takes it to another level," Tomova said.

"It doesn't just look good. It works. Ocean's wider neuroscience research shows that full motion is 2.5 times more impactful in terms of memory encoding than static advertising. Brands want consumers to be engaged and interested in their messaging and combining full motion creative with live content is a great way of achieving that.

"This is just the start. Having proved the appetite for live content on DOOH screens, demand will grow as more brands and advertisers leverage the capabilities of DOOH.

"This is already happening across the UK with an interest across all ages and regions for a diverse slate of content, from breaking news to film trailers, live sports, music and fashion related content and immersive advertising using the latest clever tech."

To find out more about the latest developments in the digital signage market, visit the European Sign Expo 2020, which will run alongside the FESPA Global Print Expo 2020 in Madrid, Spain, from March 24-27.

To register, visit: https://ese.fespa.com/why-visit/VisitEuropeanSignExpo?gclid=CjwKCAiAyeTxBRBvEiwAuM8dnRuUtB6Qm4j_XgkAHLorFXVQKkWDof7ww2NqtPphYnypCEodc6U6ExoCBX0QAvD_BwE

Interested in joining our community?
Enquire today about joining your local FESPA Association or FESPA Direct