Features
New printers: less waste, more reliability and more energy efficiency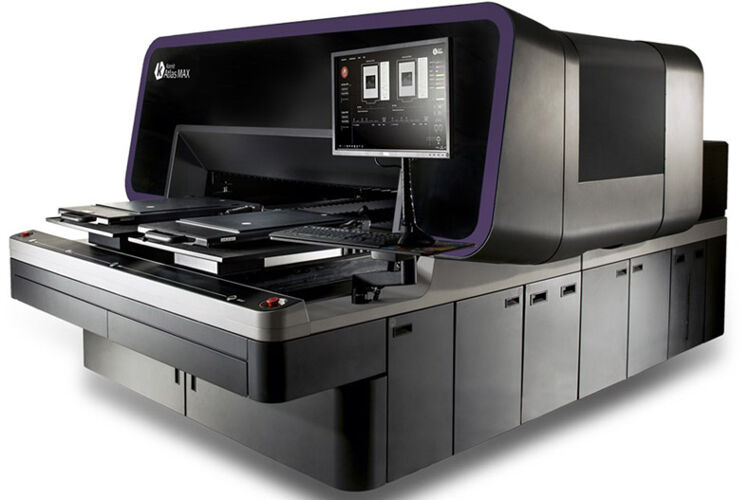 The latest generation of printers are helping printers to become more environmentally friendly and save money in the process.
Currently most exhibitions have been postponed and have been replaced with virtual events and webinars. It has been difficult to monitor the latest printers, which is unfortunate as many new printers focus on reliability and environmental protection. Especially in both the textile and fashion industries, digital printers can significantly reduce waste, water and inks.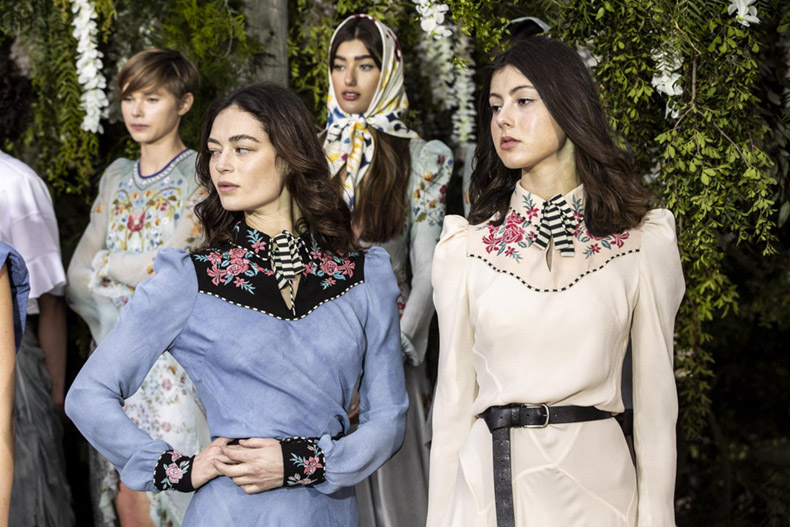 Caption: Kornit XDi can simulate embroidery, vinyl, and heat transfer in a single, waste-free digital process. Image credit: Kornit Digital / Natan Dvir
Introducing Kornit Atlas MAX
During the textile production process, small to medium run-length has been transferred to digital, saving millions of litres of water in the process. The finishing and decoration process has been overlooked so far, as there were not many options available to digitalize vinyl and heat transfer. The Kornit XDi has revolutionary 3D capabilities that simulates embroidery, vinyl, and heat transfer in a single, waste-free digital process. XDi is part of the MAX technology that was introduced by Kornit Digital in April, alongside the ActiveLoad Automation, a new robotic system for media handling.

The Kornit Atlas MAX is a carbon-neutral, industrial-scale DTG production system with built-in XDi technology for 3D printing capabilities. Existing Kornit Atlas installations can be upgraded, kits will be available in Q2/21.

"There's a growing realization and acceptance that on-demand production is the answer to meet the demands of today's consumer," said Ronen Samuel, Kornit Digital CEO. "MAX offers a rare sustainable symbiosis, more creativity, less waste. I am excited to experience what's possible once the collective brilliance of our industry begins to create digitally, without limits."
Inline Sublimation Without All The Fuss: Durst P5 TEX iSUB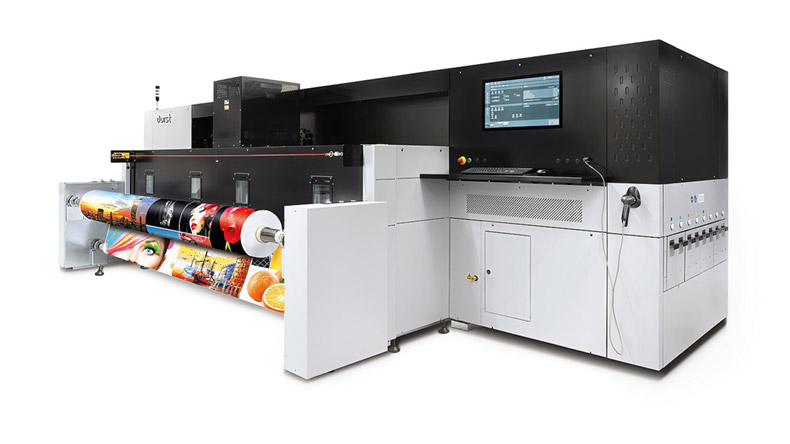 CAPTION: The Durst P5 TEX iSUB offers integrated, contactless inline fusing for direct printing on polyester fabrics. Image credit: Durst Group

Durst group favours water-based, odourless inks for soft-signage, decor to textile clothing. This industry is estimated by Keypoint Intelligence to grow by over 60% between 2017 and 2023. The industry is estimated to reach $31.4 billion by 2023.

Taking this into account Durst has developed the P5 TEX iSUB. (Video) The 3.30 m wide printer is based on the successful P5 platform. At the core of the Durst P5 TEX iSUB is the integrated inline fusing for direct printing on polyester fabrics. Andrea Riccardi, Head of Product Management, Durst Group AG discusses the advantages: "No investment and no floor space is required for a calander. The Durst P5 TEX iSUB is operated by only 1 operator, and the process acceleration also increases our customers' ability to deliver."

P5 TEX iSUB is not limited to direct printing, but transfer papers can also be printed and further processed in the usual way. But a unique feature of the P5 Text iSUB is its innovative contactless fusing. The technology offers excellent colour consistency with images and text staying sharp, while the printer offers a 383 qm/hour maximum speed.
Epson SureColor SC-F10000H: Blinded by the light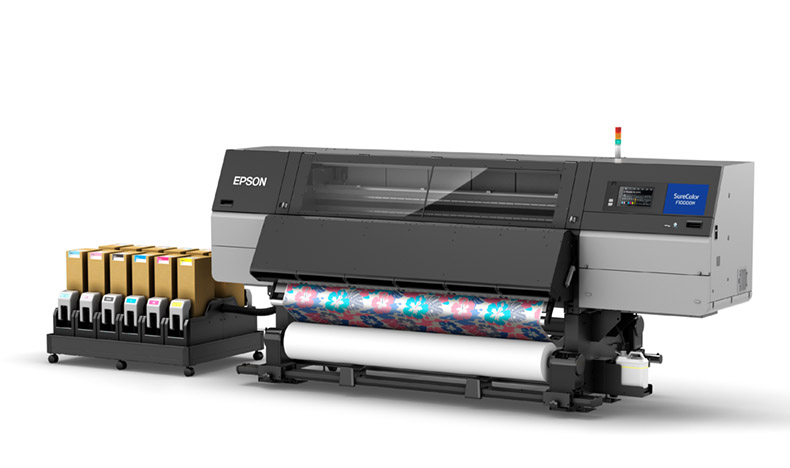 CAPTION: At a maximum printing width of 193 cm and output up to 245 qm/h the Epson SureColor SC-F10000H dye sublimation printer is well suited for sports apparel and street wear style fashion. Image credit: Epson.

At a maximum printing width of 193 cm and output up to 245 qm/h the Epson SureColor SC-F10000H dye sublimation printer is well suited for sports apparel and street wear style fashion. Sporting six PrecisionCore Micro TFP print heads, the printer can be loaded with fluorescent Pink and Yellow ink. Light Cyan and Light Magenta for smoother skin tones and gradients is another option.

Frank Schenk, Head of Commercial & Industrial Printing at Epson Deutschland GmbH, explains: "This year, we set new standards in dye-sublimation printing. Our customers require that their machines have high speeds, high performance and produce premium print results. With the new SureColor SCF10000H, our customers are now able to expand their offerings into the lucrative sportswear/trendy fashion, home textiles and soft signage markets."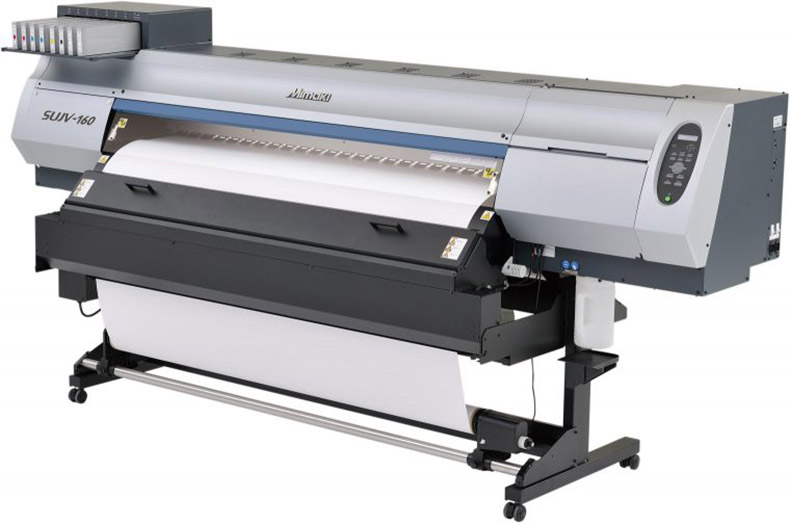 CAPTION: In April 2021 Mimaki introduced the SUJV-160 – a new high-quality inkjet printer designed to print onto of natural and artificial leather. Image credit: Mimaki.
Hell-bent for leather: Mimaki SUJV-160
Leather decoration is another part of the fashion industry that is due for a digital upgrade. In April 2021 Mimaki Europe introduced the SUJV-160 – a new high-quality inkjet printer designed to reproduce the texture of natural and artificial leather. The roll-to-roll printer has a maximum printing width of 1,61 m and features Fujifilm's UVIQUE ink technology.

The SU200 thin film solvent UV ink, developed by Fujifilm and exclusively sold by Mimaki, provides outstanding flexibility, stretchability, and superior scratch resistance on natural and artificial leather. This results in the retention of the texture and feel of the material after printing. This is a feat not easily achieved with some of the current UV-based ink leather printing solutions. The printed material instantly dries and is ready for post-processing, which is a big step forward for the planet from the analogue process, where lots of water and energy for drying is required.

Mimaki says the printer can be used to produce bags, shoes, personalised team sporting goods, interior décor applications, car and motorcycle seats.

Bert Benckhuysen, Senior Product Manager at Mimaki Europe, commented: "With the interest in luxury goods increasing, statement leather pieces for fashion, interiors, and other premium markets that are easily customisable, durable, and visually appealing will become more sought after. For print businesses targeting this lucrative opportunity, the Mimaki SUJV-160 can deliver on all these criteria and more."

But innovation is not limited to the textile markets.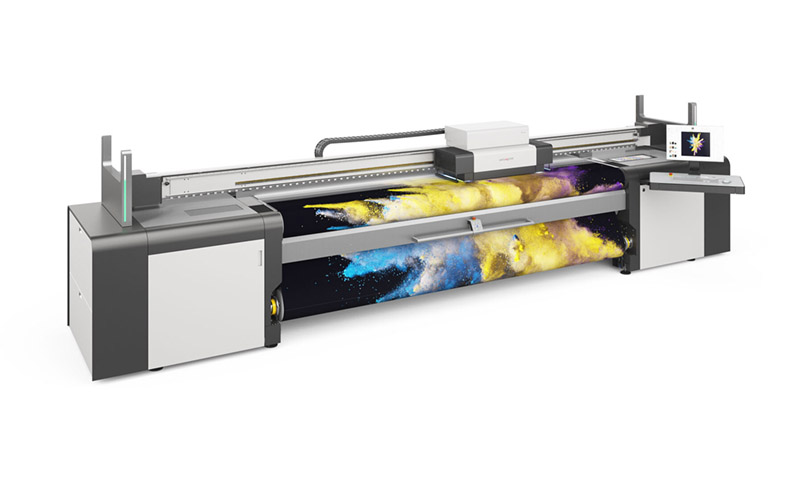 CAPTION: New Swissqprint Karibiu S. The Swiss manufacturer claims that its machines has a service life of 12 years, therefore saving resources, as the printer isn't required to be replaced quickly. Image credit: Swissqprint.
Low CO₂ Emissions Through Local Sourcing: Swissqprint Karibu S
In March 2021, Swissqprint introduced their new Karibu S Roll-to-Roll UV LED printer. At a maximum printing width of 3,40 m it features a maximum output of 330 qm/h. The new printer offers automatic double-sided printing and optional Pink and Yellow Neon ink. Double-sided printing as well as Neon inks can also be retrofitted into existing Karibu installations.

The Swiss manufacturer is focusing on printing machines that are as environmentally friendly as possible, sourcing 90% of all machine parts from Swiss companies, many of which are located nearby. The printers are developed and produced at the Kriessern (SG) headquarters, minimizing CO2 emission trough travelling and logistics. While the machines are designed to be low-maintenance, their service life is 12 years.

Swissqprint states that all of their current flatbed and roll to roll printers are highly energy-efficient, as demonstrated by their ISO 20690:2018 certification. They are the first manufacturer of large format printers to put their machines through this test.
What Is More Planet Friendly: Buying A New Printer Or Re-using The Old One?
The above printer manufacturers have showcased solutions that use less resources than with traditional analogue methods. On demand production has been a key part of the printing industry since its infancy. But now, demands and supply chains are changing.

For printers, using digital printing is not enough to be sustainable and environmentally friendly. It's important to use equipment that saves resources and money, it would be advisable to change to using printer that features less energy consumption and greener inks.


Interested in joining our community?
Enquire today about joining your local FESPA Association or FESPA Direct