Features
New opportunities in textile printing – highlights from day 2 of FIT 2021: Printed Clothing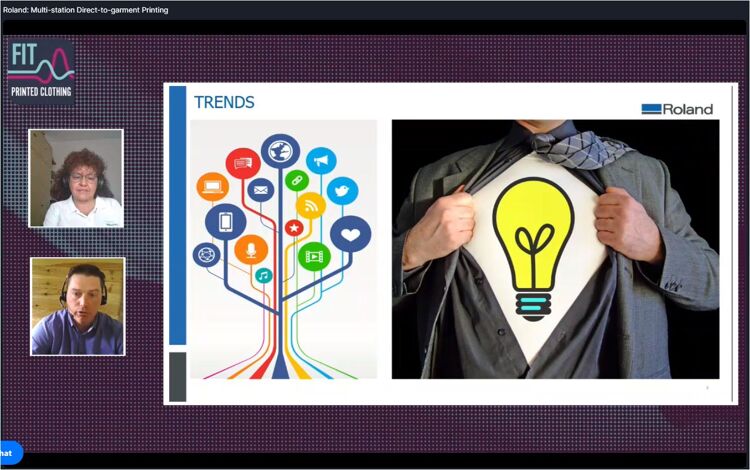 In this article we have included an overview of the panel discussions and presentations for the first day of the FESPA Innovations and Trends on Printed Clothing. Companies featured include Roland DG, PolyPrint, Chemica & Sefa, Aeoon, Zakeke, Klieverik, EarlyVision, M&R and RTP Apparel.
From 9 – 10 June 2021, FESPA hosted its second FESPA Innovations and Trends (FIT) live virtual event which highlighted the latest technologies and opportunities for print in the apparel and fashion market.

Over 700 visitors from 108 countries attended the event to hear from experts and print professionals. The two-day programme was designed to inspire and uncover new ways to meet the ever-evolving demands of textile production.

Whether it's drop-shipping, web-2-print, overheads reduction or productivity-boosting, you'll find inspiration in the FIT sessions. In this article, we've included an overview of the panel discussions and presentations from the first day of the event. Simply click on the links to take you straight to the relevant session.

Day two of FESPA Innovations & Trends kicked off with a dynamic panel debate, led by FESPA Textile Ambassador and CEO of Texintel, Debbie McKeegan. It involved printers from across the globe as they discussed on-demand production and customisation of fashion and sportswear.

Roland DG EMEA Senior Product Managers in Textile and Inks, Encarna Luque and Mark Elvidge enlightened the audience on how to boost productivity by printing a range of t-shirts and apparel simultaneously.

George Benglopoulos, CEO, and Demetrios Lolas, Inbound Sales Executive of PolyPrint revealed the strategies to help garment decorators grow in the textile market.

Building on the topic of sustainability, Business Developer, Quentin Chavand of Chemica & Sefa showed attendees how the company's products could be used in sustainable textile personalisation.

Denise Grimm, COO and Florian Freillinger, Sales Director of Aeoon gave visitors a taste of what's to come as they explored future technological breakthroughs in industrial digital print technology.

Delving into how product customisation for printed clothing can boosts sales, Carlo Dalessandro, COO of Zakeke showed attendees how business processes can be improved to harness personalisation potential.

Tying in with the theme of this year's FESPA Global Print Expo – 'Bringing Colour Back' – Klieverik's Area Sales Manager, Jorg Schuurman, demonstrated the vibrancy of colour that can be achieved in made-to-order commissions using the company's industrial rotary thermo-processing equipment.

How can software streamline and simplify your print production? CEO and Co-Founder of EarlyVision, Guy Alroy explained how to improve workflow efficiencies, from e-commerce to nested streamline production in AllOverPrint (DFT), DTG and Fabric Printing.

Danny Sweem, CEO of the M&R Companies, showcased Copperhead, the company's latest advancement in screen printing.

Founder and CEO of RTP Apparel, Brian Walker wrapped up the sessions, showing the audience how pre-treated garments can be used to reduce lead time and streamline the production process.

Throughout the day, visitors also had the opportunity to network and attend a series of product demonstrations that showed the new technologies in action.

In the coming year, as we face new challenges and adapt to continuous change, these insights and new product innovations will be invaluable to print professionals. As ever, FESPA and its exhibitors are here to support you, giving you direction and guidance on how to be resilient and plan your recovery.

To access the full playlist of videos from FESPA Innovations and Trends 2021 – Printed Clothing, visit here.

Interested in finding out more about the latest solutions in textile printing? At FESPA Global Print Expo 2021, we're connecting visitors with a broad spectrum of exhibitors. Europe's leading exhibition for screen and digital wide format print, textile printing and signage. Discover the latest products, network with like-minded individuals and explore new business opportunites. Register now and use promo code FESH101 ​to receive a discount of 30 euros..
Interested in joining our community?
Enquire today about joining your local FESPA Association or FESPA Direct