Features
New dimensions at Weerg: What Rigamonti did after pixartprinting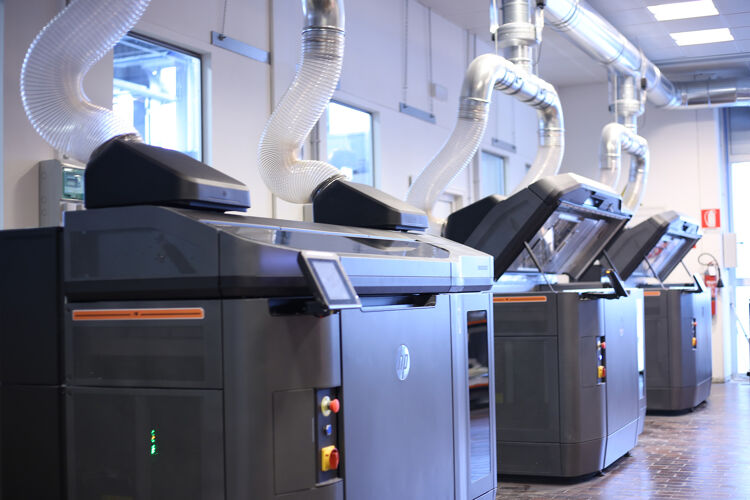 Simon Eccles speaks to Matteo Rigamonti, the founder of Pixartprinting and founder of Weerg who specialise in 3D printing and CNC parts machining.
To build up one successful online printing company with huge international sales is commendable, but then to launch into a completely different sector and do the same again is truly remarkable. Yet this is what Matteo Rigamonti has done in Italy. He founded the company that became known as pixartprinting, building it up for 20 years and pioneering web2print sales of commercial and large format printed signage, then sold it between 2014 and 2016. Two years ago he set up a brand new company, Weerg, to offer 3D printing and CNC parts machining. Rigamonti says: 'I wanted to be sure that the first time was not down to luck!'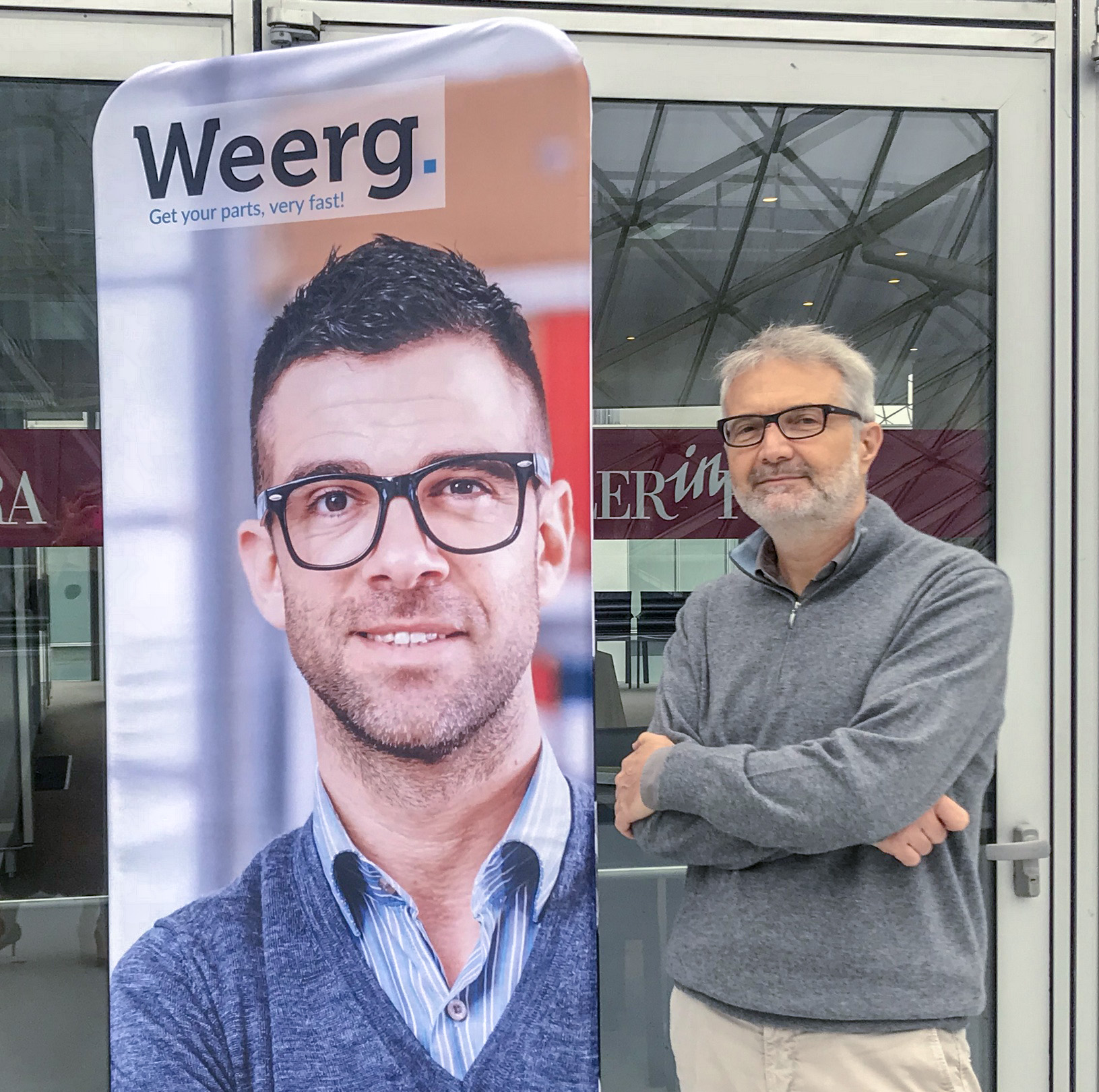 Caption: Matteo Rigamonti with a banner announcing Weerg.

Weerg has invested heavily in HP's 3D inkjet based Multi Jet Fusion printers, initially in three of the 4200 print systems. Three of the uprated 4210 models were soon added and the original 4200s were upgraded, in an order worth €3 million.

This is the largest installation of the Jet Fusion 4210 printers in Southern Europe. Even so, they only represent 25% of Weerg's turnover: the majority comes from the CNC side, with a battery of 10 Hermle C42Us with five continuous axes for machining, fitted with high end Wenzel LH co-ordinate measurement systems.

Weerg's business has grown so much that in March it will move to a new factory in Gardigiano, near Venice. Another 11 operators have been hired to take Weerg into 24/7 operations.

Rigamonti's pixartprinting was one of the first companies to successfully sell print online internationally, with the offer to deliver almost anywhere in Europe within 48 hours. Weerg likewise offers online ordering with fast delivery across Europe.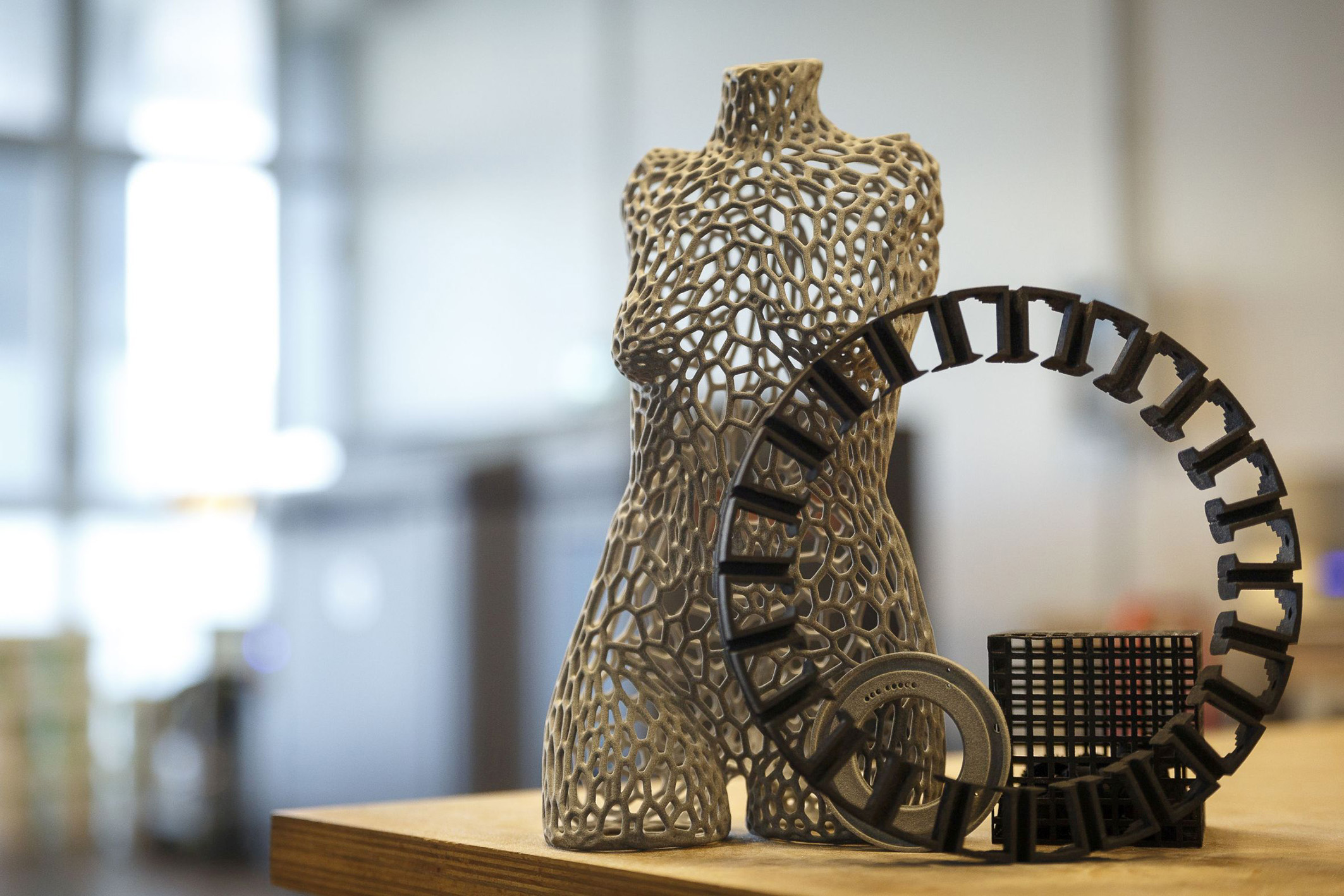 Caption: Weerg samples: 3D printing can handle shapes that would be difficult tp produce by other methods, certainly not so quickly.
Crossover Experience
Rigamonti often exhibited at FESPA events, seeking trade customers for pixartprinting. In 2014 he and his partner company Alcedo sold 97% of pixartprinting to Cimpress, the Dutch owner of the online print provider Vistaprint, for €127 million. The remaining 3% was sold two years later. Rather than enjoying a well-funded early retirement, Rigamonti soon missed having the challenge of business building, which led to Weerg and 3D.

Given that FESPA association members are often involved in large format signage and there's a growing interest in industrial printing applications, does Rigamonti think there is a natural crossover between flat 2D inkjet printing, and solid 3D print? Not directly, on a technical level, he feels. "The only thing in common between 2D and 3D printing is the word printing," he says. "There's nothing in common with the technology."

Instead, there is a crossover in the workflow and sales techniques he already developed at pixartprinting, he feels. "When you know marketing you can use the same means, because communication now is just no longer just press. We use AdWords, Facebook, e-mail and our usual marketing. Facebook is a very powerful way to communicate, even stronger than AdWords.

"In this case the market is B2B, so I'm not interested in consumers as final customers. We are only interested in business-to-business customers, because they spend more, they order more often, and they are more reliable in terms of technical skills."

The production workflow of customer files for 3D is also similar to 2D, he says. Weerg uses software for process automation that includes a constantly updated ERP system that allows daily management of the processing of thousands of pieces, with nesting software to optimise the loads during processing.

CNC machining and 3D printing are used for broadly similar applications, certainly in engineering. CNC is a subtractive process, in that it starts with a block of material and carves away at it to create the final shape. 3D printing is additive, in that it builds up layers of material from nothing.

There are pros and cons for both: in particular CNC is well established and can work very well with metals, as well as other materials. 3D printing on the other hand is less precise or repeatable and can't be relied on for precision threads and fits. However it can create shapes with voids, ie hollows with internal structures and reinforcements that are impossible by any other manufacturing method, whether machining, casting or injection moulding.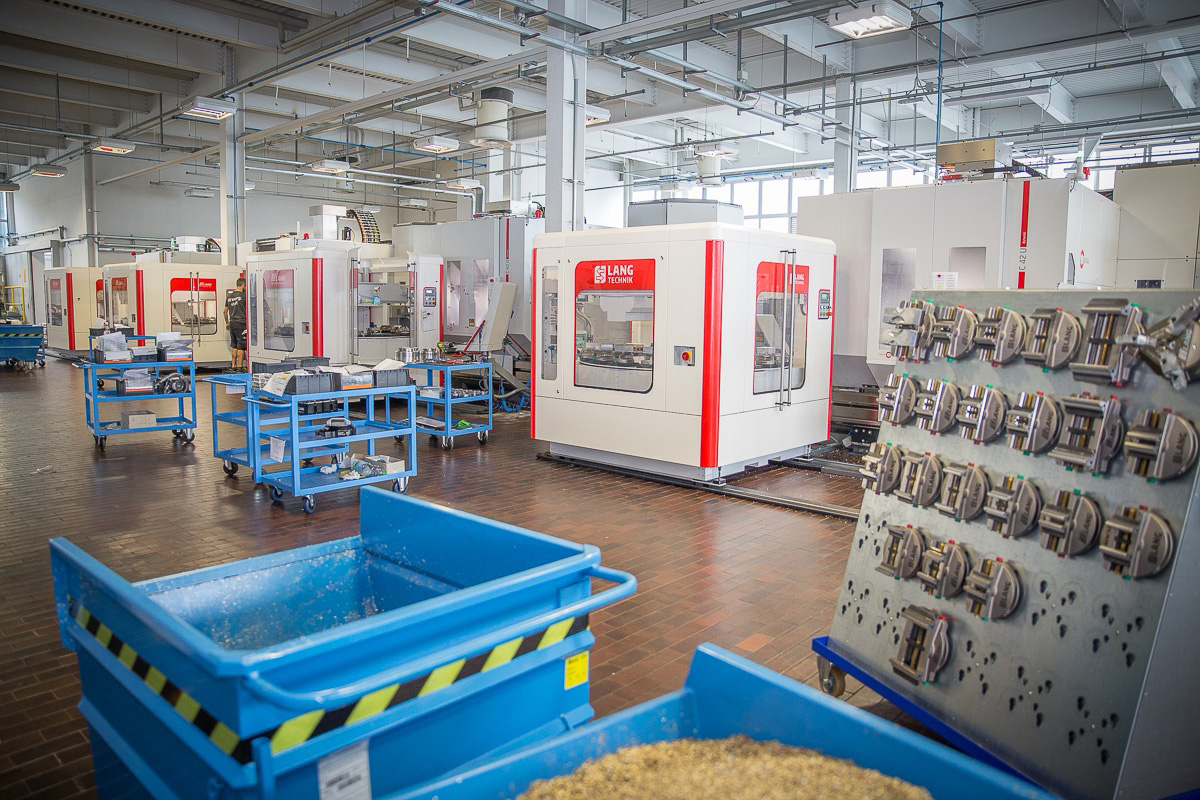 Caption: The Hemle CNC machines still bring in 75% of revenues.
CNC For Precision
Originally Weerg concentrated on CNC services, mainly because Rigamonti wasn't happy with the productivity of 3D printing system available at that time. "I started with the CNC machine because I thought that it was more profitable," he says. "The 3D printing machines were not ready to be industrial. When I founded Weerg at the beginning I wanted it to be a 3D printing company. But the technology was really behind my expectations.

"I found that FDM (ie filament extrusion printing) is absolutely unusable to do anything, because it takes a very long time to produce parts. For every single part you have to think about how to put in the supports and it's very complicated."

Supports are temporary structures that are printed to hold the main object together while it is gradually built up in layers. These are needed by low end filament extrusion (FDM) 3D printers and also by 3D Stereolithography (STL), that uses lasers to harden liquid photopolymer. Selective Laser Sintering (SLS), uses a high powered laser to fuse layers or resin powder and does not need supports because the powder is self-supporting, but it's slower than HP's Multi Jet Fusion system, which also uses powder.

Pixartprinting grew into a major user of HP's 2D Indigo digital production presses, where Rigamonti built up a relationship with HP that was also to carry over to Weerg.

"I decided to move into 3D printing when HP made the Multi Jet machine," says Rigamonti. "There is no need for supports and the skill requirement for the operator is really low. You can teach anyone in ten minutes how to work with this 3D printer because there is no experience needed in any way – it's fantastic!"

However, there are still limitations to 3D, he says. "In CNC or injection moulding, every part is the same, precise and repeatable. With 3D printing, every part may be slightly different, and the metal characteristics may vary. The plastic parts from the HP printers are all similar – we test them sometimes to be sure. But engineers do not yet trust them, though that will come."

CNC still dominates the market in any case, he points out. "The engineering market worldwide is worth €15,000 bn. 3D printing is only currently €10 bn. But the traditional market is so big that even a 0.1% switch to 3D is worth having. We could fill 100 machines!"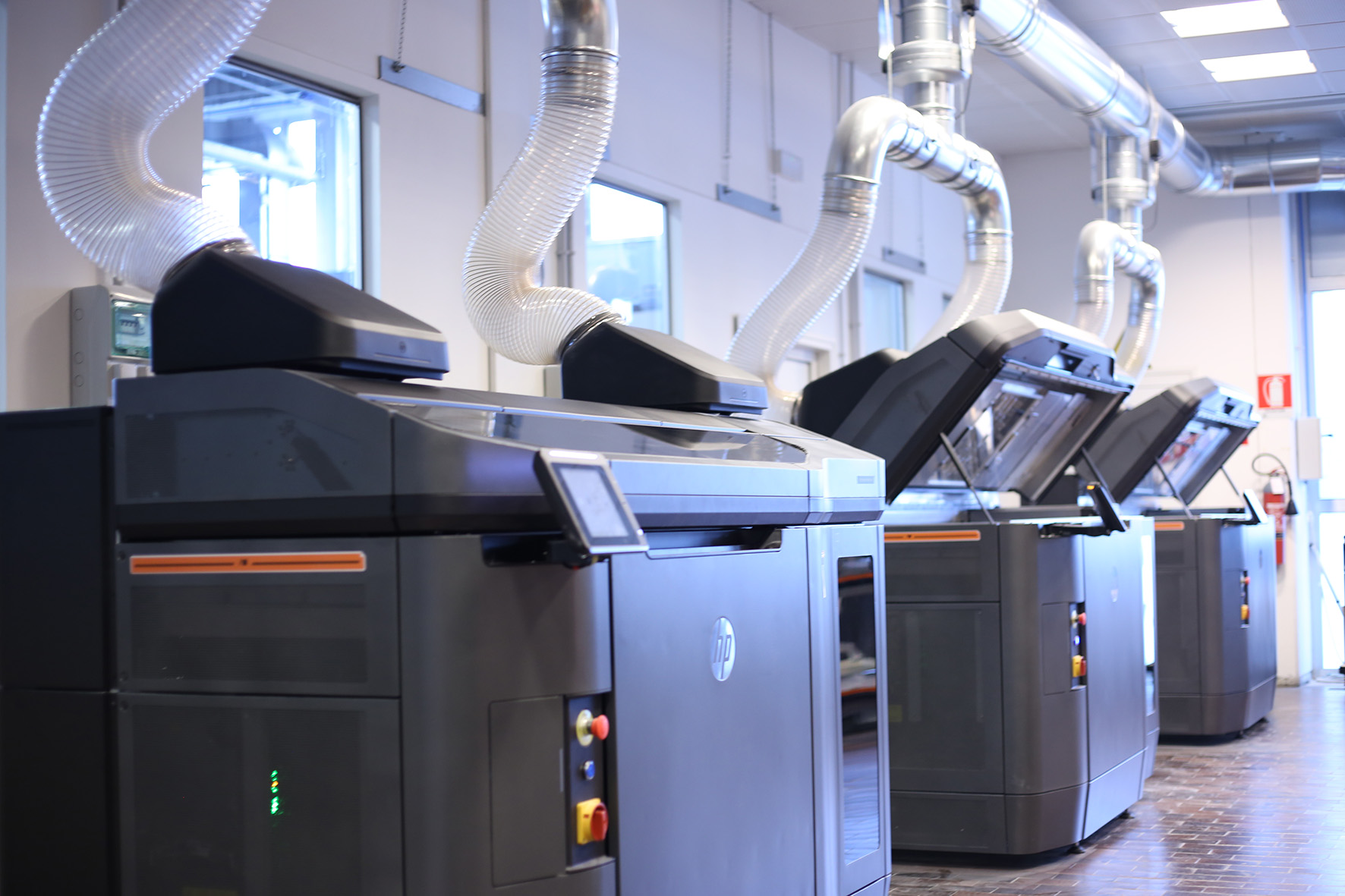 Caption: Three of the HP Jet Fusion 4210 print units at Weerg. Pic by Marco Lanza, Tecniche Nuove.
How Multi Jet Fusion Works
Ricardo Rubio Garcia is EMEA Regional Marketing Manager at HP 3D. He explains how the technology works: "The HP Multi Jet Fusion technology is powder-based and does not use lasers. During the Multi Jet Fusion printing process, a layer of powder is evenly distributed on the powder bed, which is housed in a large chamber, and is then uniformly preheated. A fusing agent is jetted where particles need to be selectively molten, and a detailing agent is jetted around the contours to improve part resolution. This detailing agent prevents sintering and also ensures that the part's sharp edges are printed."

After each layer of liquid is complete, it is cured by heat lamps. "Since the powder bed is already heated and melting is not based on laser movement, each printing layer takes the same time, leading to foreseeable build times," says Garcia.

Once one layer is finished, powder is distributed on top of the previous layer and the process is repeated until the part is complete. The loose powder supports the part until it is complete, then needs to be removed.

There are separate hardware units for printing and post-processing. After printing and fusing in the first unit, the container of parts and unused powder is removed to a separate post-processor, which recovers the powder for re-use. Meanwhile the printer unit can start on the next set of items.

"Additionally, the part can be bead-blasted and dyed black to achieve an aesthetically pleasing surface," says Garcia.

So far HP has produced two models. The original HP Jet Fusion 4200 is intended for industrial prototyping and final part production environments producing, 130-599 parts per week. Compared with FDM or STL methods, HP claims that the 4200 "can deliver quality output, at up to 10 times faster at half the cost."

The second model, HP Jet Fusion 4210, is intended for 600-1,000 parts per week. HP claims that compared with the other 3D methods it "can produce engineering-grade parts at up to 65% lower cost." Some 3D printers made by 3D Systems (3DS) use a similar inkjet and powder method, but they are slower than the HP technology.

HP won't say publicly what its machine costs are, but compares the 4200 to FDM and SLS solutions in the €90,000 to €270,000 range, and the faster 4210 to SLS printers in the €270,000 to €400,000 range.

Rigamonti says that it was the speed of the HP system combined with not needing supports that convinced him to buy them. "This is the advantage, that you are not limited to prototypes but your marketing or even final products can be also a short run. With HP we realised almost immediately that it was a really killer application because after one month the first machine was completely full of jobs, so we bought two more machines. after six months we bought another three machines."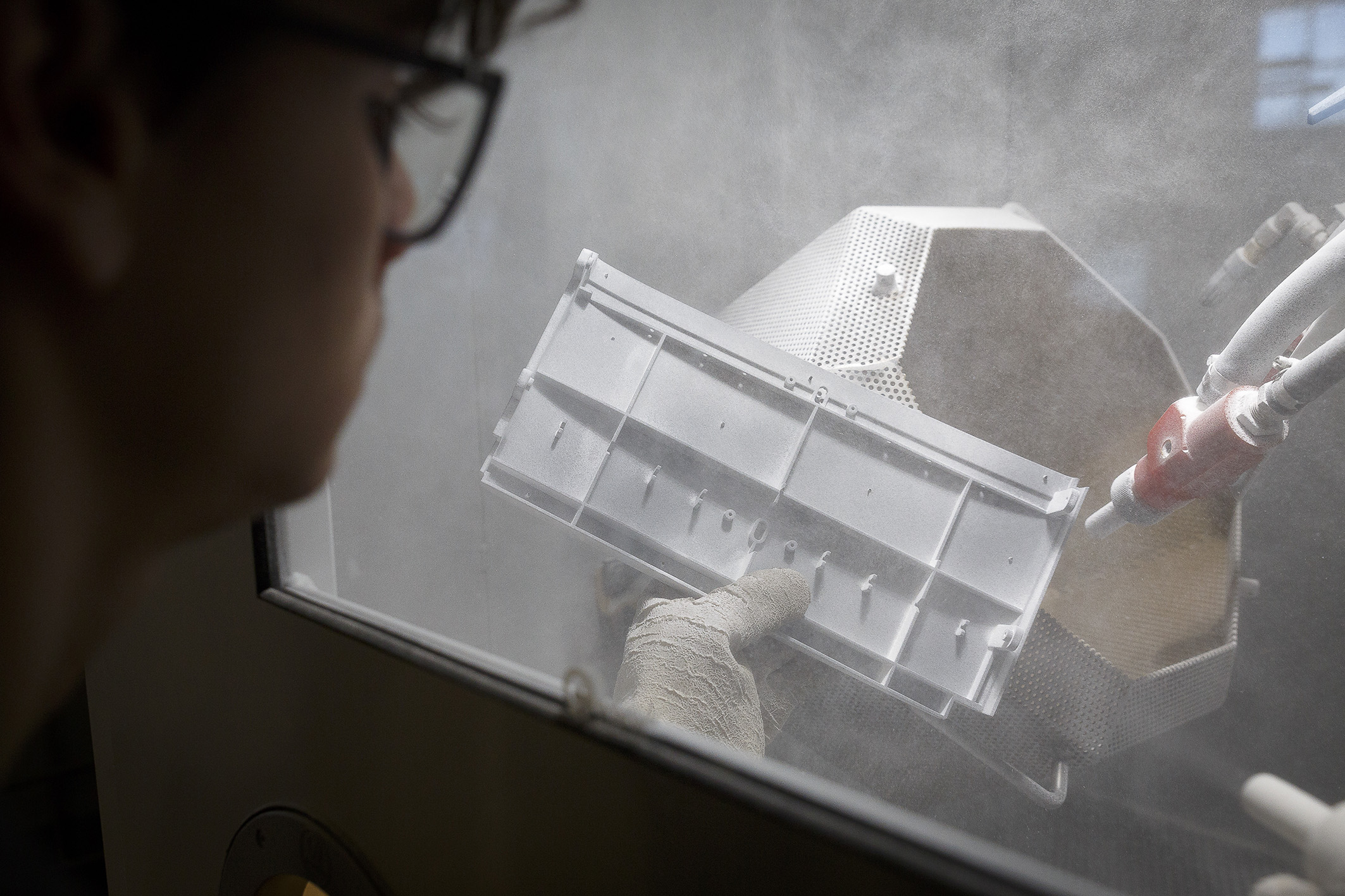 Caption: Powder removal and finishing are handled in a separate unit.
Materials Choice
There's a choice of resin powders available for the HP printers, but Weerg only uses one, the. 3D High Reusability PA 12. This is a robust thermoplastic for producing strong, high-density parts. Other powders offer more flexibility or resilience.

"We are working well with the PA 12 and we don't feel like trying different materials because we don't want to be a test site," says Rigamonti. "The reliability and on time delivery is very important. PA 12 is versatile and we want to stay with it."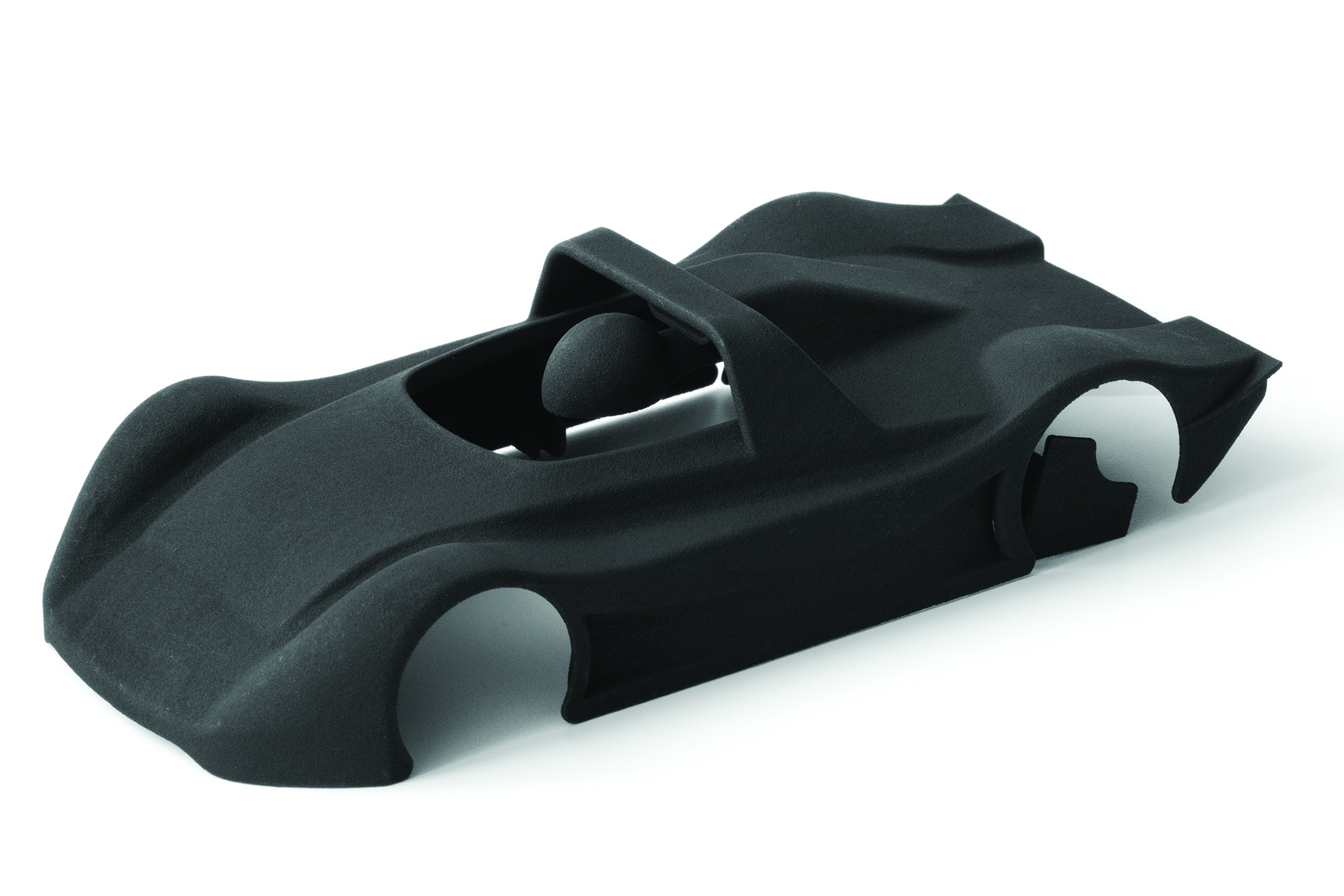 Caption: Parts can be smoothed and dyed black during finishing: spray painting is possible too.
Who Makes What?
So, what are Weerg's customers ordering to be made by 3D print? "I see that many customers are starting to do short runs with our machines because it's more convenient and we are faster than previous 3D services," Rigamonti says. "Recently we did 5,000 parts of something that could have been made with injection moulding, but the customer was running late.

"So the demand is moving from prototypes to short runs. I think that it is the same with 3D printing as with 2D digital printing. For both of these, customers understand that the quality of digital is about the same as analogue, but they can do something that was impossible to do before. So short runs are getting more and more important."

So, printing is still in Rigamonti's blood even if it's a different type of printing nowadays. "I'm in love with 3D printing. At home I got three different 3D printers before founding Weerg. I'm so fascinated by the fact that you get an object inside the computer that it's something that is totally virtual, but you can make it. I'm so happy to live in that period of history when I can see something like this!"
Interested in joining our community?
Enquire today about joining your local FESPA Association or FESPA Direct