Features
Mimaki targets textiles with TS55-1800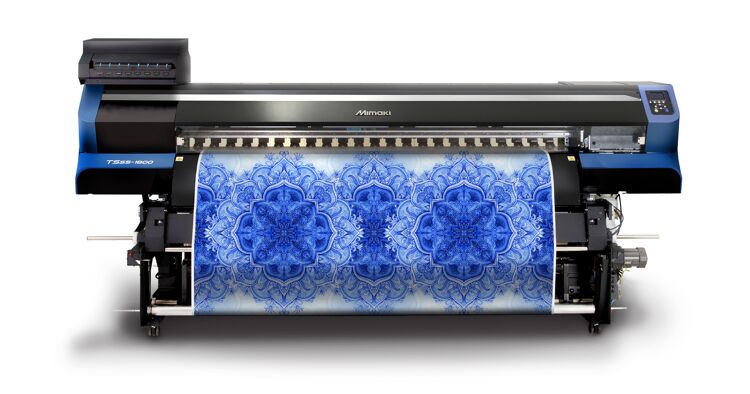 Rob Fletcher speaks to Mimaki about the TS55-1800, a breakthrough digital textile printer that will surely cause a stir in the market.
Mimaki has expanded its portfolio of digital print solutions with the launch of the new TS55-1800, a machine designed to address growing demand for work in the printed textiles market.

The digital heat transfer sublimation printer pledges to bring "high-end features" to entry-level and mid-level markets. Key features include one-pass printing at a high-resolution and ink-density, unattended printing with the new Mini Jumbo Roll, and Mimaki's Nozzle Check and Recovery System for continuous operation.

Mimaki said the TS55-1800 can print at speeds of up to 140sq m/hr and at a resolution of 480 x 600dpi. In addition, the manufacturer said that the Mimaki Advanced Pass Systems will boost the quality of two-pass prints by eliminating banding.

Speaking to FESPA.com about the new printer, Bert Benckhuysen, senior product manager at Mimaki, said the main reasons behind developing the product were to deliver a solution that is of "higher quality, more productive, and more price-competitive" that offers users "higher profitability".

"We believe the TS55-1800 ticks all these boxes; it's a robust, productive dye sublimation printer that produces high quality results and offers our customers an increased price-performance ratio," Benckhuysen said.

"With the new (r)evolutionary Mimaki TS55-1800, we are also bringing features that are normally only found in high-end textile printers to the entry and mid-level market.

"For example, we've added high-speed one-pass and two-pass printing at a high resolution and with high ink density. This means that while our competition has to reduce speed to maintain strong colours, we can deliver with one-pass at 140sq m/hr.

"Furthermore, we introduce our new Mini Jumbo Roll unit, which will enable our customers to continuously print up to 2,500 linear meters of heat transfer paper with this printer, saving on paper running cost. Additionally, to even go lower in running costs, the TS55 can be equipped with a 10kg ink supply system."

In terms of the type of companies that should look to invest in the new machine, Benckhuysen said Mimaki designed the product with all customers in mind and suggested that the TS55-1800 would fit into all types of textile print business.

"Textile production companies, no matter how big or small, can definitely benefit from this printer," he said. "We want to help them realise higher profit and grow their business with this amazing, market-stirring printer."

Benckhuysen added in a statement: "The TS55-1800 is a breakthrough digital textile printer, that will surely cause a stir in the market. It has been designed from the ground up to deliver high quality, industry-leading productivity and an operational cost that will be hard to beat."

The machine launches this month.

Interested in joining our community?
Enquire today about joining your local FESPA Association or FESPA Direct