Sushi Samba is based on the 38th and 39th floor of the Heron Tower in London. The temporary graphics - printed on Arlon vinyl supplied by CMYUK - had to be installed just prior to the lunchtime event and removed cleanly as soon as it concluded. A four-person installation team from Millharbour Digital arrived at the venue at 6am on the morning of the event and all printed graphics had to be in situ by 11am.
"We needed to print and install the graphics in a very short timeframe and – having spoken to the team at CMYUK – Arlon 4300 DFP matte removable vinyl seemed to be the ideal solution," explained Millharbour Digital account manager Simon Beattie.
Arlon's 90-micron DPF 4300 is an intermediate multi-purpose print media film featuring a removable adhesive. The Easy On, Easy Off features include a robust face film that is thick enough to be easily applied without an overlaminate, and the adhesive allows easy removal on a variety of standard surfaces including walls, windows and more. It offers flexibility and high opacity for covering previous graphics as well as providing good resistance to scuffing, tearing and abrasion to help protect graphics.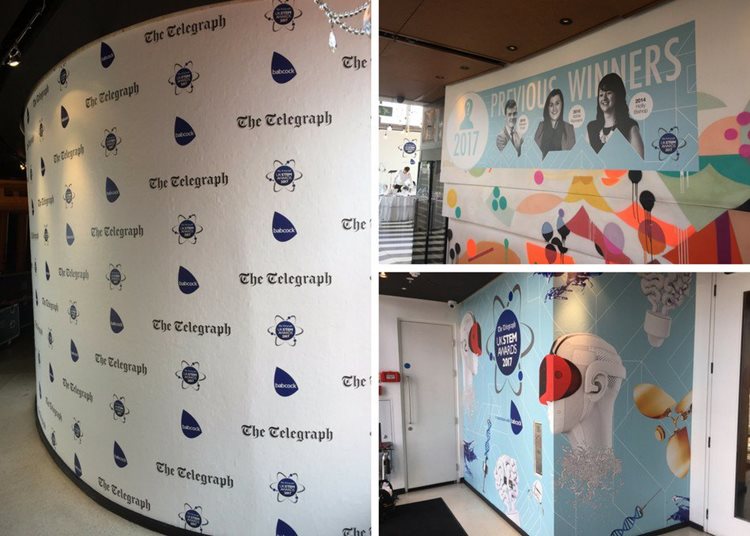 Beattie continued: "We had to quickly install the printed graphics onto multiple – and sometimes challenging – surfaces, including mosaic walls, wooden facades, glass windows and painted walls. The Arlon material provided by CMYUK allowed us to do exactly that. Thanks to the flexibility of the film and its ultra low-tack formulation, we were able to stretch it around corners, cut it around plug sockets, and move it into position with ease."
"Following the event, the customer was able to cleanly remove the printed materials without any damage to the surfaces onto which it had been applied. The feedback from our client was very positive. They said that the graphics looked fantastic – and professional – and helped to make the awards a real success."