Features
Masters of all trades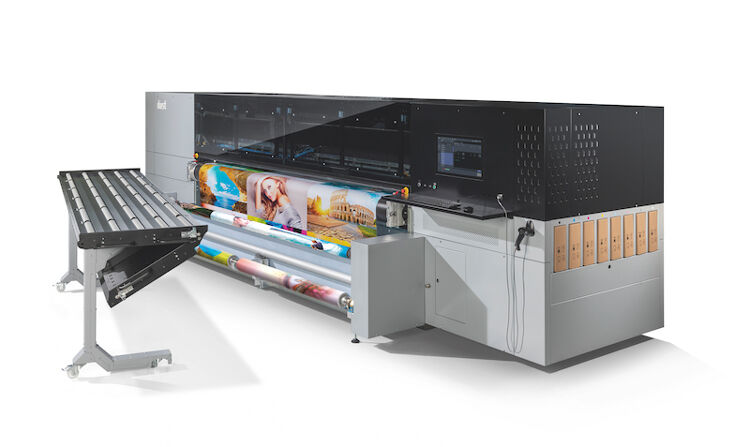 Hybrid printers promise the ability to print to both rollfed and rigid media making them a good option for coping with a mixed work load.
Most wide format printer vendors offer different types of printers, with roll-fed devices for working with flexible substrates and flatbeds for printing to rigid media. But there are also plenty of hybrid devices around that can cope with both types of media.

We can split these into three classes. At the entry-level, there are a number of rollfed printers that can be configured with fold out tables for printing to boards. Then come flatbeds, which generally speaking, are a step up in terms of pricing, but most also offer an option to add a roll-feeder to print to flexible media.

But up at the higher cost, higher productivity end of the market, there are several 3.2m wide printers that can really be described as true hybrids – printers that have been specifically designed to handle a full range of substrates from a single device. Bobby Grauf, Agfa's sales manager for the UK and Ireland, says: "The last few months have really proven how important this flexibility is, as the demand for Covid-19 signage has shifted the focus for most of our customers."

Peter Bray, managing director of Durst UK, says that the demand for hybrids depends on the volume of work that any given printshop has. He points out that a hybrid is attractive to customers that have a mixture of rollfed and flat boards to print but he adds: "If they have large volumes of one type of work then they will tend to keep a machine for this."

In some cases that means buying in a dedicated rollfed or flatbed printer but all the vendors say that there are plenty of customers that prefer to buy a second hybrid and to configure one for flexible media and one for rigids. This gives a built in degree of redundancy in that if one machine fails then the other can still cope with the full range of work whilst waiting for a service engineer. Bray says that it takes 15-20 minutes to reconfigure a Durst hybrid from one media type to the other.

It's reasonable to assume that many customers would start with a single hybrid machine, and then as volumes increase add a dedicated flatbed to take on the rigid media. However, Thomas Krumm, product manager for EFI's large format printers, says that there are some advantages to having a flatbed, noting: "Customers that are printing on pre-cut substrates, putting them inside a jig and then putting the jig on the printer and printing on them would prefer to use a flatbed." That could include items such as phone covers. He adds that as most lower volume printers tend to be flatbeds so sometimes customers prefer to stick with a flatbed when they move up in volume because that's what they are used to.

However, Krumm goes on to say that many customers prefer a hybrid design because it offers much higher productivity than a flatbed. He explains: "One of the biggest concerns for a company from the standpoint of cost is non-image time because when you are printing you are making money. So if you are printing 4x8 boards on a flatbed then it's taking you 45 seconds to take that board off once it's printed and put another board on. So if you have a printer that can run at a square metre speed then you have much higher productivity. And the faster the printer is the more critical that 45 seconds is for loading and unloading."

He also points out that setting up flexible media to print on a flatbed takes much longer than using a hybrid, adding: "On our printers we can go from printing a board to printing roll to roll in one or two minutes. Because there is no webbing. The material is already sitting on the roller so you just take it from the input side, put it on the vacuum table and its already starting to print before it comes out the other side, where you add it to the take up roll."

This is because these hybrids are fundamentally rollfed machines with built in winder and unwinder rolls. That said, there are some things such as printing to mesh materials that is better done with a dedicated roll to roll printer because the vacuum beds of most hybrids don't like having ink spill through the mesh.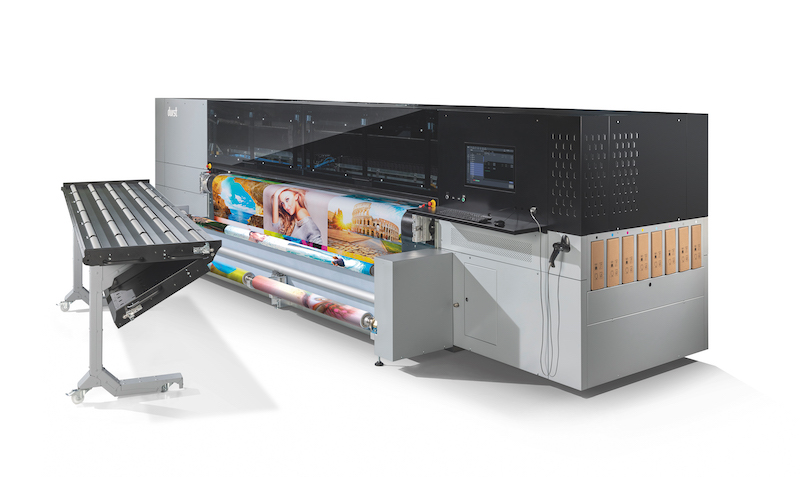 Caption: Durst has announced two new LED curing P5 wide format printers, including this 3.5m wide P5-350.

That said, Bray points out that whilst Durst's hybrids have typically been 2.5m wide, the latest model, the P5-350 is 3.5m wide specifically so that it can offer the same advantages as a dedicated 3.2m wide roll to roll machine. Thus it can be used to print dual 1.6m wide rolls side by side, doubling the effective productivity. The main advantage of this rollfed capability is that the machine can be left unattended to print full rolls overnight.

Another issue to consider is how accurate the registration is. This is generally not a problem for a flatbed because the substrates are held in place by a vacuum bed while the head carriage moves. But with a hybrid there is a greater risk that the boards will wander as they are fed through the machine. Bray says this is not a problem for Durst because its machines have wide platens with very wide vacuum beds.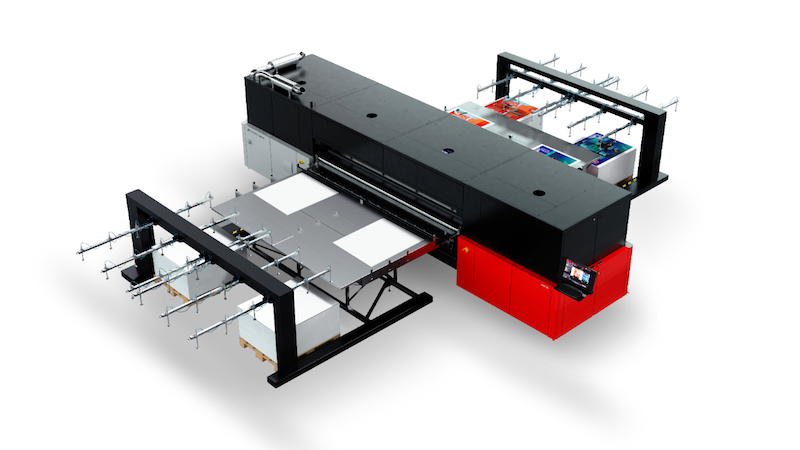 Caption: This Agfa H3300 LED is a 3.2m wide hybrid printer that can be ordered with automated loading and unloading.

Agfa uses a belt drive with a vacuum bed, driven by a servo motor with encoder in closed loop, guaranteeing a step accuracy of 20 µm. The vacuum system monitors the resistance it feels on the table and adjusts its suction power automatically. Grauf explains: "All of this ensures that the Jeti Tauro can print on all types of sheets and boards. People are always impressed when they see how well the Jeti Tauro holds down strongly warped boards, such as fluted cartons or polypropylene. The system is also clever enough to realise when it's printing roll-to-sheet or roll-to-roll, and whether the tension rollers are active or not, making the switch from rigid to flexible extremely operator friendly."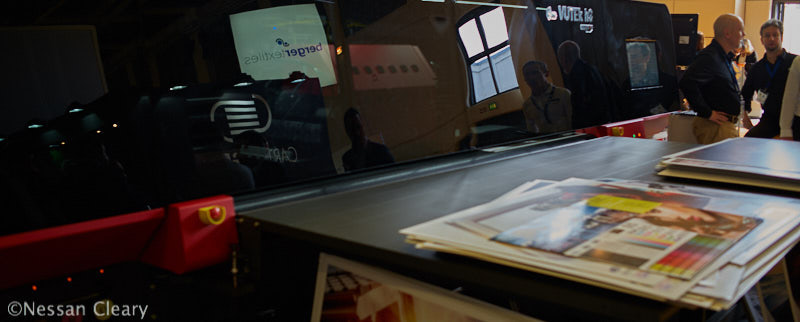 Caption: This EFI 3.2m wide Vutek H3, seen here at the Fespa Global 2018 show has a smart new highly-reflective design. ©Nessan Cleary

EFI has gone a step further and introduced linear magnetic drives to its H-series printers. Krumm says that this approach is smoother so the carriage has less jitter, which helps in the dot placement of the ink. He says this is mainly about improving image quality but adds: "It allows us to run faster because of the smoothness of the carriage."

Finally, most vendors offer a choice of inks for working with different materials. Grauf explains: "At the same time as moving to LED curing we introduced a universal UV LED ink that has all the right properties to print on both rigids as well as flexibles."

Agfa uses this same ink for its dedicated flatbed and roll-to-roll machines as well its hybrid printers. He adds: "The vast majority of our customers run with the universal LED ink, and it is that ink that we are continuously improving. But there are some companies who require specific ink properties for bespoke applications. For that reason, we have developed specific ink sets to meet those requirements.

Bray points out that even if customers have chosen to dedicate a hybrid machine for printing to rigid boards, they still prefer to use the standard ink so that they can print to rollfed media if they need to.

In conclusion, hybrid printers involve little in the way of compromise but offer great flexibility combined with high productivity. And in these uncertain times, where large format providers have to be able to pivot quickly from one type of work to another, that flexibility can be a vital lifeline.
Interested in joining our community?
Enquire today about joining your local FESPA Association or FESPA Direct