Features
Make them shine! Affordable foiling without dies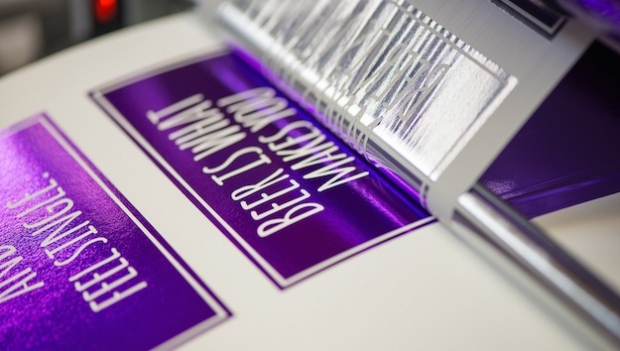 Metallics, foils and raised imaging effects are starting to appear for digital&nbsp;production, with benefits of low setup costs, short runs and variability.&nbsp;Simon Eccles&nbsp;looks at what's here and what's coming.<br><br>&nbsp;
Eye-catching metallic effects are one of the latest beneficiaries of the digital revolution in print. You can now use ordinary digital printers and laminators to apply standard spot or pattern foil that adhere to a digitally printed pattern image.
This brings the usual digital benefits of easy artwork, no-make-ready, no waiting, economic short runs, one-offs or variable data between copies. Most importantly, there's no need for conventional metal dies, which take time to order in, cost money and, though they can be re-used, need setting up every time.
While metallic inks have been available on a few large format eco-solvent inkjets since about 2010, the limitations on particle sizes through inkjet nozzles means that their reflectance isn't anything like as bright as a true metallic foil.
Foiling allows the creation of a range of effects that embellish print. It means the application of a thin layer of decorative material that might be a mirror finish metal foil but can also be a diffraction or holographic effect. It can also be a plain colour that's difficult to achieve with standard printing colours (fluorescents or pearl effects for instance).
Apart from the visual attraction of foils, there's also a security aspect. They are almost impossible to scan or photograph properly, which helps to protect counterfeiting by simple copying, and creating them requires relatively specialist equipment and consumables, which again deters casual counterfeiters.
In fact, the first idea for using foils with laser printers was apparently originated by security printer Harrisons in the UK.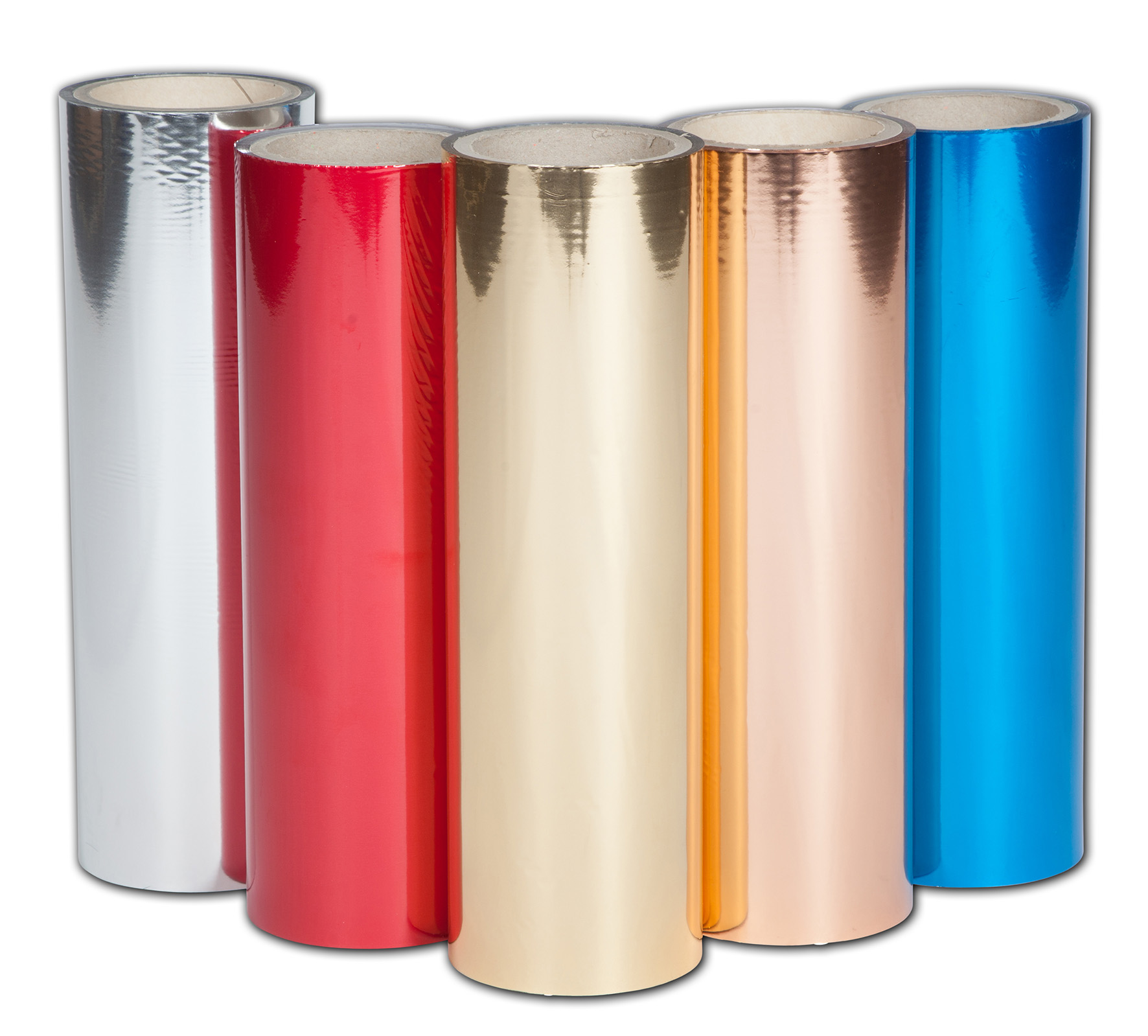 Spot foil emerging from a Foiltech FT22F heat transfer unit.
Foil is supplied on a roll of plastic carrier film in a range of widths (the narrowest rolls are usually called ribbons). When the foil-carrying film is pressed onto the receiving medium, the thin foil layer detaches from the carrier film and adheres to the target area.
"Hot foil" has a layer of heat-activated adhesive and was originally developed for heated metal dies, while "cold foil" has no adhesive and relies on a sticky ink or coating that is applied separately to the target media.
Applying an overall foil to media using a laminator is nothing new. It's how off-the-shelf metallised papers and boards are made in the first place. You can apply these to your own media with a standard laminator. What's relatively new is the ability to use an almost standard laminator to apply a spot foil that only adheres to printed shapes and letters.
Mostly this is done by adding a new feeder attachment for hot foil that then goes through the standard heated pressure rollers of the laminator to activate the adhesive and transfer the effect layer onto the receiving substrate. The laminator can still be used for normal film application too.
With hot foil the effect works by controlling the temperature of the laminator so that a layer of ink (usually black as it absorbs most heat) heats up enough to activate the adhesive, but the underlying substrate doesn't.
Then when the foil is pressed onto the medium, the adhesive is only activated by the hot ink/toner area, and the foil peels off. Digital printing means that every image can be different. If you want an overall foil laminate you simply print solid black over the whole thing.
Entry level foiling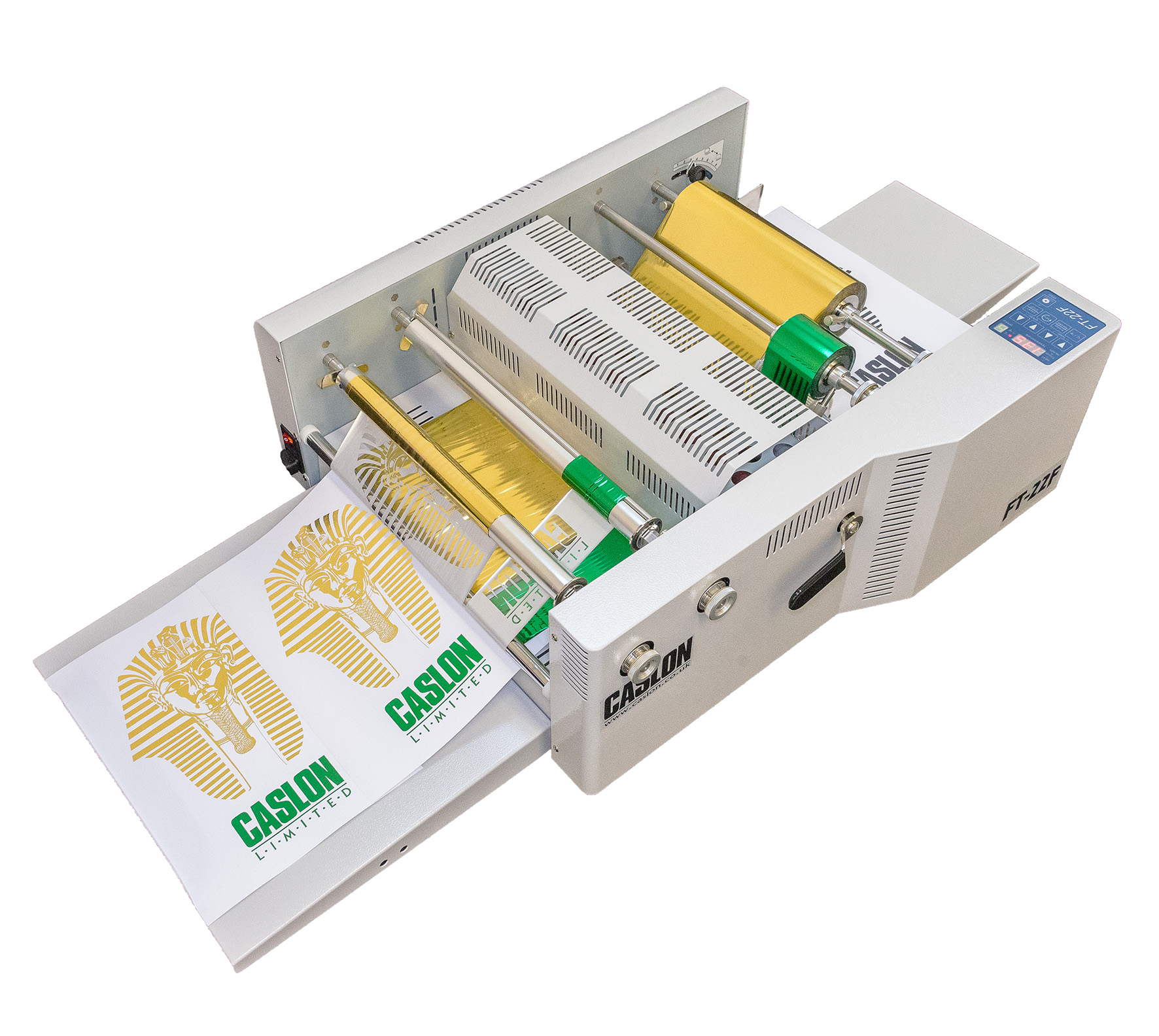 Caslon distributes this FoilTech FT22 in Europe.
At the very basic level you can buy rolls of foil from hobby suppliers that will work with low cost desktop laminating and encapsulating machines, which are commonly available for a few tens of euros in widths up to 300 mm or so.
If you only need a few (and small) foiled copies at a time, it's worth exploring the market that way with very little outlay, though user reports suggest that dedicated heat-foiling machines work best and the foil itself works out quite expensive this way.
The entry point for professional digital foiling would be something like the small US built FoilTech hand and autoloading machines, for widths up to 340 mm. In the UK and parts of Europe these are sold by Caslon, with UK prices ranging from around €2,300 to €5,000.
Japanese company Uchida U-Coater system is similar to Caslon's but has a slightly different transfer principle, it claims. It says it partly melts the toner surface, applies the foil and then burnishes it for a very smooth finish. A U-Coater costs about €4,000 and is manually fed with sheets up to 320 x 600 mm. A fully automatic version is planned for about €12,000.
Modified laminators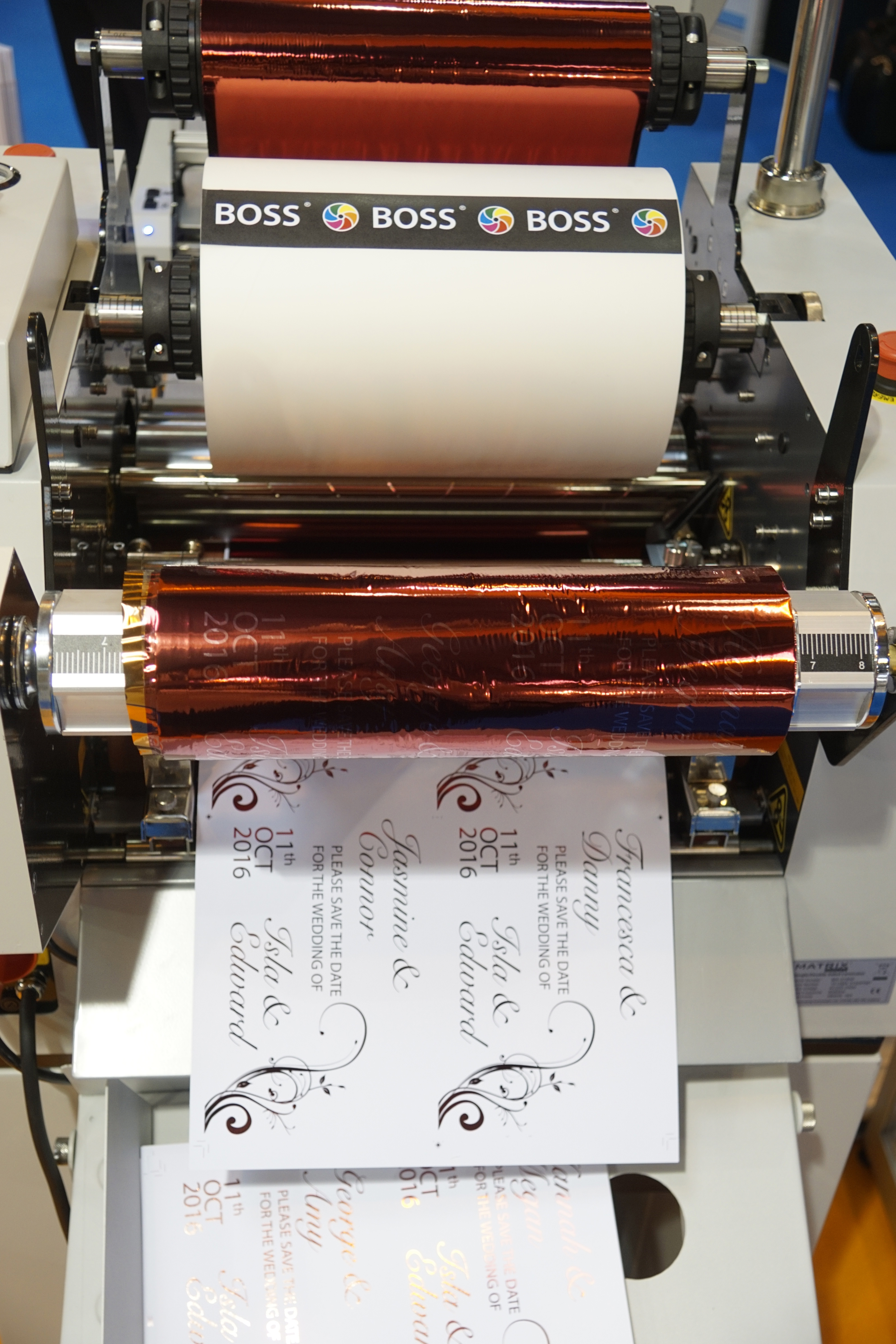 This Vivid Matrix sheet-fed laminator has been modified for foiling.
Korean laminator maker GMP was one of the first companies to adapt the idea for a commercial laminator with a process it calls 'sleeking.' You can print black dry toner or HP Indigo ink over offset print and the foil only adheres to the digital image. You can also laminate the print, print a toner image onto that, and foil over that.
Alternatively, you can print the job first with any process (analogue or digital, full-colour if needed), then laminate GMP's special toner-receptive film over the whole sheet, which protects the initial image. Then you run the laminated sheets through a toner press to add a foil-receptive image, and finally run them back through the Sleeking laminator to apply the foil.
GMP's Sleeking process is available on most of its current laminators, with the widest currently being the roll fed Excelam Plus 685 series, with 685 mm laminating width. GMP also sells the foils, with a good range of metallic, glitter, diffraction, holographic and coloured effects.
Other laminators makers have broadly similar foiling options. Vivid offers foiling attachments on its Matrix range of sheetfed laminators, with maximum widths of 330 mm.
Last year it showed a prototype version of its Easymount Air 1.6 metre wide format laminator (which features pneumatic pressure rollers), called Airfoil. This has foiling attachments and is expected to reach the market later this year. There's no price yet but a standard Easymount Air costs about €9,500.
Vivid's Boss range of laminating consumables includes toner-receptive laminating film to protect the underlying print as well as a choice of foils to go on top of toner print. The foils themselves can be overprinted, broadening the range of possible effects.
Toner printing
Most lamination foilers work with dry toner from copier/printer or digital production press or with liquid toner from an HP Indigo digital press. These contain quite a lot of plastic material that soaks up heat easily. Inkjets, which use much finer pigment or dye particles, unfortunately don't work the same way, except for some UV inks that form a polymer layer.
Using dry and liquid toners imposes a size limit. Most dry toner printers are limited to A3+ formats, up to about 330 mm wide. Exceptions include the 500+ mm width length Xeikon roll fed models, or toner based roll fed CAD/GIS/plan printers such as the KIP range with media widths up to 914 mm.
HP Indigo liquid toner presses are also mainly SRA3 format, but there are some B2/500+ mm width roll and sheet fed models. These are all good machines and can be used for POS and POP signage, but not for large formats.
Some high speed industrial class laminators can be adapted for foil application, for instance the UK's Autobond and Germany's Leonhard Kurz have models for either hot foiling onto toner or cold-foiling together with purpose-built inkjets. However these are built for high volume work and priced accordingly, so aren't really designed for the relatively low volumes that most signage and POS work involves.
Larger formats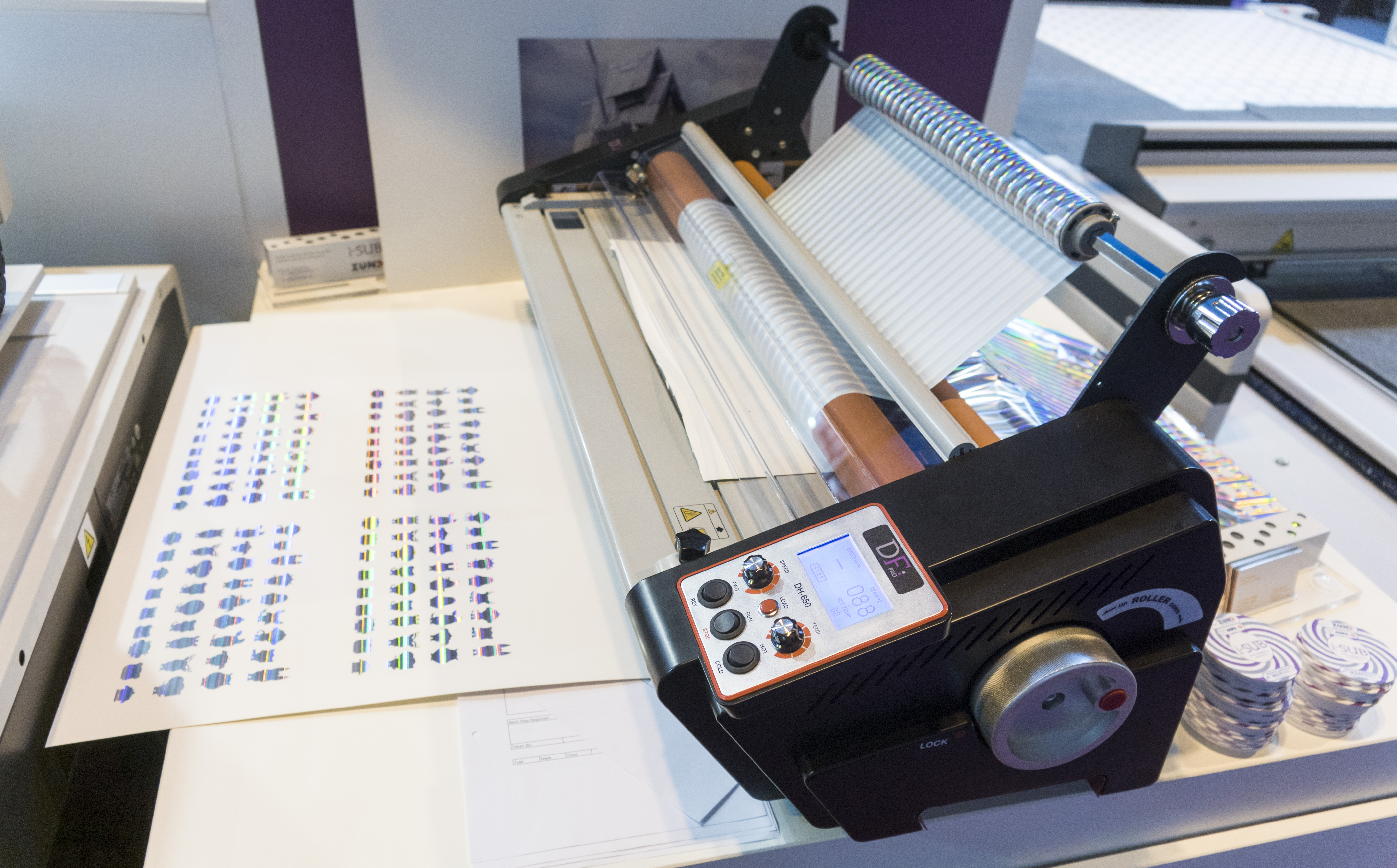 I-Sub supplies this DF-Pro laminator to work with cold foils and Mimaki UV printers.
I-Sub Digital which uses a variation of the UV method in its Digi-Foil system, designed for use with Mimaki's series of flatbed UV inkjets. Here the Mimaki primer ink is used as an adhesive and foil is applied on top.
A hand-held roller can be used for small quantities, but the company can also supply DF-Pro thermal laminators (based on Vivid models) in 460 mm, 650 mm and 1,200 mm widths. These laminators can be used with prints from the with the Mimaki UJF range of small format printers, with bed sizes from A3 up to 710x510 mm.
The larger JFX200 flatbed, with bed sizes of 2.5 x 1.3 m or 2.5 x 3.1 m, has the same ink set and so foil can be applied using either the hand applicator for small areas, or the largest 1.2 m DF-Pro laminators.
Both Scodix and MGI make dedicated embellishment inkjets that overprint clear polymer to gives raised and textured effects similar to embossing. Both offer cold-foiling options to go with these, producing convincing foil blocking effects. Scodix currently makes six models in sizes from B3+ to B1, and speeds up to 4,000 sheets per hour. MGI's JetVarnish is available in B2 and B1 sizes.
However, these are vastly more expensive than modified laminators. A B2 MGI JetVarnish 3D costs about €290,000 or about €815,000 for the B1 Evolution. The various Scodix models cost from about €290,000 to €1.4 million.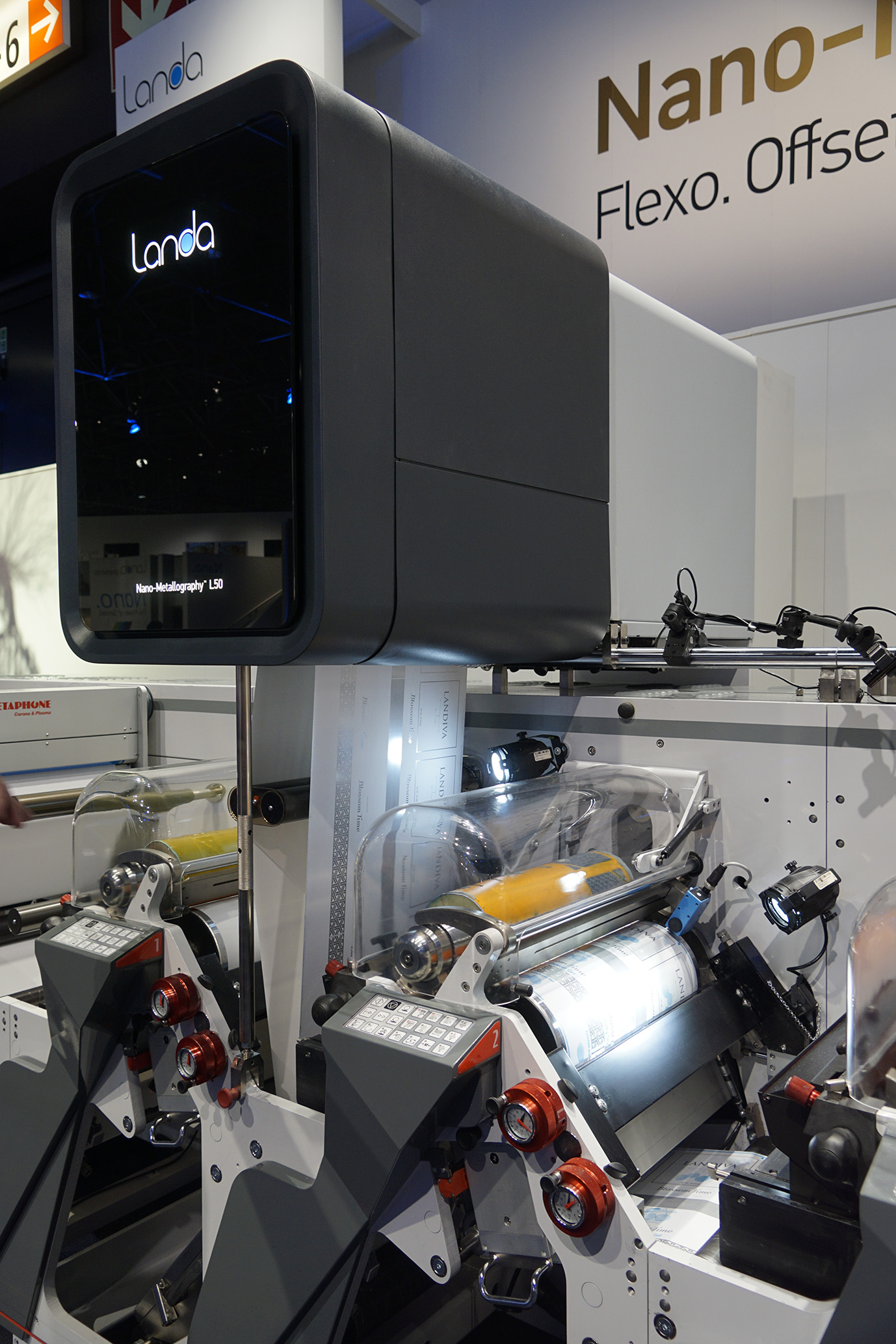 Landa showed this brand new NanoMetallography technology last year. It's not dependent on underlying print.
Finally, a new technology that may or may not prove relevant in future years. Landa, which is developing a new offset inkjet technology process called Nanography, last year showed a completely new method for applying mirror-finish foil inline with any press, that it calls Nano-Metallography.
In February 2017 it announced that it had sold the technology to Altana Group and will commercialise it through a new German company called Actega Metal Print. A prototype shown last year was for narrow web label printing, but the process can in principle be made for wider formats. There's been no hint of pricing.
Applications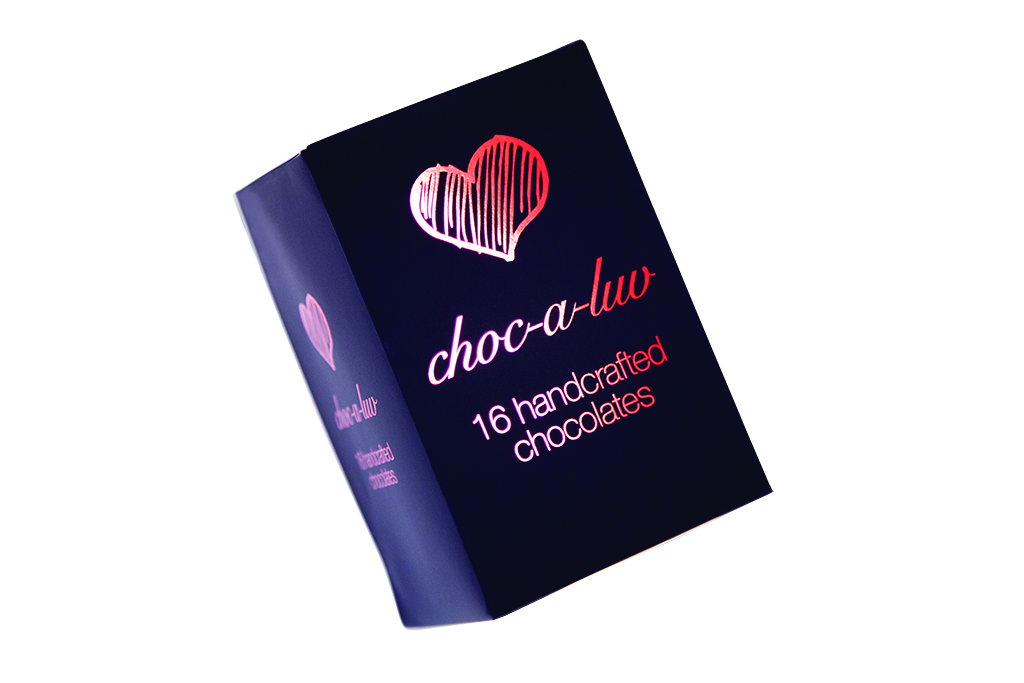 Luxury packaging is one of the applications for digital foil. This was produced on a Vivid Matrix laminator.
So far digital foiling is mainly intended for smaller format printing, to add value to books, brochures, POS, labels and luxury packaging. The fact that there's little on the market for wider formats may reflect the anticipated demand – the foil effects are most eye-catching when viewed up closely, and larger format signage is usually viewed at a distance.
You can use a wide format printer to output many smaller copies at once, but in that case you can cut them up and run them through a smaller format foiling system. One recent study suggested that up to a quarter of all digital print is already "embellished" in some way.
While we suspect that spot gloss varnish accounts for most of this, it seems clear that printers and customer see embellishment as adding value and eye-appeal. Foiling has a timeless appeal that pre-dates printing by thousands of years, so you can be sure that we'll be seeing a lot more of it in future digital systems.
FESPA 2017 exhibitors have lamination covered
FESPA 2017 will once again pay tribute to this part of the print finishing process, with a host of companies due to attend and show off latest products in lamination.
One such company will be the aptly named Drytac, a company specialised in adhesive coating that will be place on Stand G3 in Hall B7. The firm offers the Jetmounter range of roller laminators, which it said are suited to a host of applications across the print and wide-format print sectors.
Aside from actual laminating machines, Drytac also offer a host of laminating films used throughout this part of the finishing process. The Dynamic range includes gloss, matte and sandgrain options, while the Interlam range also has a host of solutions on offer for lamination.
On the subject of films, industry giant 3M will also have a major presence at the show on Stand A85, Hall A1 in the heart of FESPA 2017. The company has a host of overlaminate solutions tailored for applications such as digital printing, floor graphics and window graphics.
The 3M Scotchcal portfolio includes various finishing effects within the floor graphics, with luster and matte options available. Scotchcal can also be used for overlaminate in digital printing, as can the Envision range that also boasts various options.
To find more about FESPA 2017, the companies that will exhibit and to sign up to attend as a visitor, please visit: www.fespa2017.com.
Delegates can save 70€ entry fee to the exhibition by registering via the website and quoting reference code: FESG702. Discover how a visit to FESPA 2017 can benefit your business and register today.
Interested in joining our community?
Enquire today about joining your local FESPA Association or FESPA Direct