Features
Laser cutting: brighter, wider, faster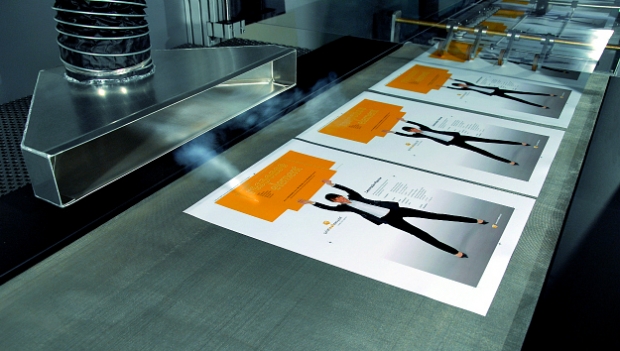 As short-run digital wide format printers get faster, so there's a need for finishing systems that can keep up with them. High speed single-pass laser cutters are one solution to certain finishing requirements.
These were first seen in the narrow web label finishing market in the past decade, but we're now seeing much wider systems with feeders and belt transfers that can handle B2 or B1 sheet widths at speeds that can keep up with fast digital presses.
They can work inline or near-line with some digital presses and other finishing lines. As with digital printing, there's no make-ready needed beyond setting the feeders, and it's just as easy to achieve one-off or personalised cuts as it is with the printed images.
Short run and one-off cutting and creasing has been an increasingly familiar companion to large format printing for the past decade or so, even without lasers. It just hasn't been very fast. The first digital knife cutters grew out of the pen plotters used in the 1970s and 80s (another strand of development led to the earliest large format inkjets, but that's another story).
Travelling heads driven by stepper motors allow extremely accurate positioning and they can be remarkably fast, but even so the heads have to physically move over the whole length of the cut or crease. This takes time, especially on complex cuts.
Laser cutters also go back to the 1970s, with the first ones in the printing industry being introduced to cut slots in plywood formes to take cutting and creasing knives and rules. For example Lasercomb was an early pioneer in this market, delivering its first machine in 1975. It is still making laser cutting tables today, having branched out into water jet cutters and routers too.
Affordable power
As the cost of high powered lasers fell, they have become more common for cutting the actual media as well as the diecutting formes.
They use similar travelling heads to the knife and router finishing tables. Although lasers don't need to exert physical force, heavy construction is still desirable for accuracy. Today's prices can be well under €20,000 for a decent plotting table with hand feeding and positioning, and as low as €2,500 for a smallish Chinese-built table.
Back in the 1980s the early cutting lasers were huge, power-hungry and fairly slow. Their slow rate of travel meant they heated up and burnt the media close to the cut, leaving blacked scorch marks along the edges.
This didn't matter for cutting forms (or crack-back peel-off labels, another early laser application). However, today's relatively affordable, very high powered lasers can vapourise thin media so quickly that the surrounds don't have time to burn, leaving clean edges.
You can see this in a new breed of laser-cut greetings cards, which also often show very fine lace-like filigree effects that would be difficult or impossible to achieve with rule-based diecutters.
Although non-variable chemical-etched or engraved metal roller dies could match the shapes, these have a challenge in removing fine waste from the corners, where a laser can simply vaporise smaller waste areas. You'll need a fume extractor of course, but this is easily arranged.
A unique ability of lasers is to ablate pre-printed ink from the media. If you wind the laser power down, it can remove the ink allowing the underlying media (paper or perhaps foil) to show through. This would let you get personalised or hard-to-counterfeit security-marked results, even from a non-variable print job.
Brighter, faster
So what of the new breed of faster, larger laser cutters? Drupa 2012 saw the introduction of the Highcon Euclid (see www.highcon.net), a €730,000 B1 format sheet-fed finisher for folding carton work - the company calls this "direct-to-pack." This machine mixes three powerful cutting lasers across the width with DART, a clever but non-variable polymer extrusion system that forms creasing rules on an impression cylinder.
These rules form creases similar to what you'll get from metal dies. The rules are fixed for the duration of the run, so while the cuts can be varied, the creases can't. The polymer extrusion and curing process can take 20 minutes between jobs (the exact time depends on the rule lengths), so unlike an all-laser system, the Euclid is not free of downtime between jobs.
The Euclid has an integral sheet sheeter and stacking delivery, though so far no automatic stripping facility. A clever aspect of its design is that the media transport under the lasers is a belt topped with steel needles, so that laser energy that penetrates the media is scattered and diffused and there is no danger of reflected burning of the underside of the sheet.
Inside themediahouse's motioncutter, showing puffs of vapour as the laser does its work.
Highcon has a demonstration unit in Belgium and three or four commercial users in European carton printing companies. It has sold several into the USA and has signed a strategic partnership with American Greetings.
Last year marked the arrival of the very compact laser motioncutter from themediahouse in Germany (www.motioncutter.com). It was previewed at the UK's North Print & Pack in May 2013 and officially launched at the HP Indigo users' DScoop event in Rome the following November.
It also won a European Digital Press Award for "Best commercial printing finishing system." There are about seven installations in Europe and three in the USA, with seven more on order, according to Shaun Stanley, the UK based worldwide market development manager. He says that many of these have gone in to accompany Scodix digital raised spot varnishers.
Compared to the Euclid, this is a smaller format laser-only machine, for widths of 580 mm and unlimited lengths. It costs €194,500. Its speed depends on the cut-line lengths and the thickness of the media, but is quoted as 1,500 to 3,000 B2 paper sheets per hour.
The burn-through reflection problem is addressed by using a specially developed metal mesh belt. A recent 30% increase in laser power for the same price has seen its throughput potential increase too.
A wider twin laser model for media up to 1.6m wide is currently under development, Stanley said, adding: "We have done a proof of concept already and a prototype is under development."
Although motioncutter can handle carton work, it's intended for other applications as well. It cuts, kiss cuts, engraves and perforates a range of sheet fed substrates that need intricate, short-run, dieless cutting.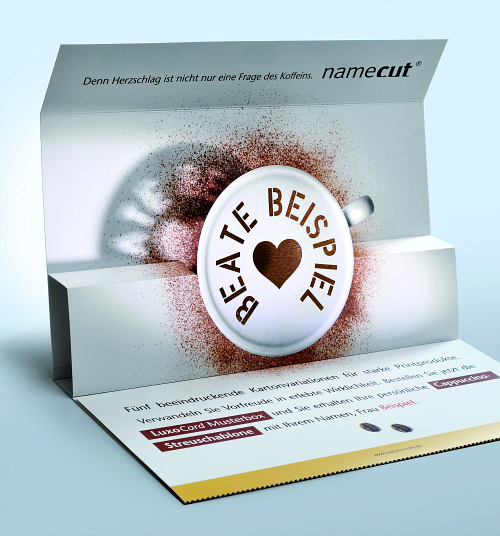 An example of a complex laser cut job handled by the motioncutter. This is a direct mail self mailer, with potential for personalised letter cutting.
Every sheet can be personalised with true variable data processing by the Namecut feature in the included software.
Jörg Scheffler, owner of themediahouse, said: "We couldn't pigeonhole the motioncutter into one market application because of the crossover into different sectors for laser cut packaging, direct mail, stationary, kiss cutting adhesive labels, engraving creative artwork and also cutting and perforating wacky and difficult shapes."
Stanley added: "The interest we've been getting has for crossover work, from people who don't want to just do packaging work, but other things like artistic cutting and direct mail."
Unlike the larger and much more expensive Highcon Euclid, the motioncutter cannot form true creases. It can perforate the media to form crack-fold lines, or with thicker materials it can engrave grooves. However, unlike true creases these weaken the material.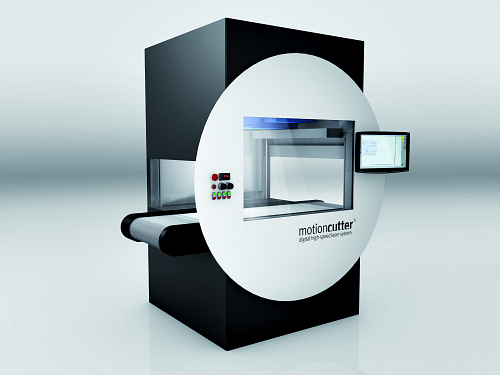 This is the main motioncutter unit, which can be fed by a stacker or conveyor, with other inline finishing options.
How much this matters depends on the intended use of the final job. If it is only likely to be assembled once and not subject to rough handling, there's no real problem. For a hinged flap that has to be used repeatedly, it may be a weak point that fails.
Stanley said that knife and rotary creasing units can be fitted inline with motioncutter, either before or after the laser unit. Themediahouse has been working with Multigraf creasers so far. Together with BDT, Multigraf already supplies feeders for the motioncutter.
An alternative has recently arrived from the USA. LasX Industries has been building its LaserSharp STS sheet fed cutters there for several years, but they have only recently come to Europe, distributed by German company Pro Cut, which is establishing a dealer network.
The standard LaserSharp media width is 600 mm and the length is unlimited, so B2 sheets can easily be handled. Robotic stackers can be fitted to sort cut items into piles of the same type, though these add a lot to the price. Twin laser configurations are available to order, for double the media width.
The internal media transport is a vacuum mesh belt and it can run either as a standalone with a pile feeder for sheets, a roll feeder, or inline with a digital press. Xerox offers the LasX cutter and stacker as an inline option as part of its Robotic Print Solution in the USA.
Prices start about €225,000 for a 400W laser system, but a more powerful 1000W laser is available for higher speeds or tougher materials. This cutter can handle acrylics as well as industrial materials such as flexible circuit boards and abrasive papers.
The price includes workflow software to pre-flight the job and fix problems such as unclosed contours. This can accept input from other print workflow software, though apparently it doesn't process true variable data, instead it re-Rips every time the image changes.
As with the motioncutter, LasX cannot form true creases with its laser, though it can cut grooves. It can also be fitted with a knife creaser downstream of the cutter, that can create cross-folds at any point.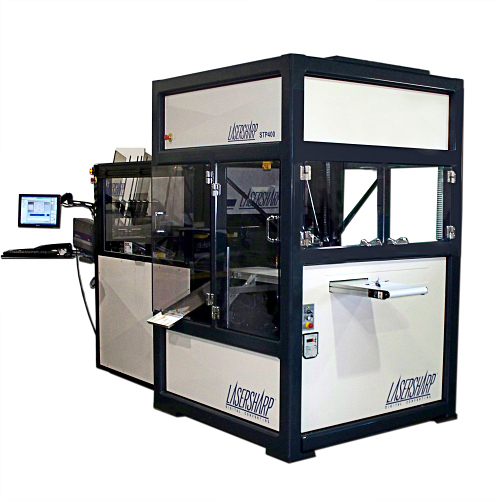 The standard LasX LaserSharp STP 400 unit takes media up to 600mm wide but double-width twin-laser options are offered.
In principle you could also fit scoring wheels for lengthways creases, which would allow the majority of folding work to be created on thinner media. For carton conversion work, LasX can also fit folder-gluers from either Brandtjen & Kluge or Petratto, inline with the cutting unit. Double width configurations can be ordered with two lasers.
The angle problem
While these fast lasers use steerable mirrors to move the beam very rapidly across the media, this does pose a challenge for wider and/or thicker materials. As the beam travels further towards the edges, it would naturally spread out and lose focus and energy.
All the developers have techniques for changing focus very quickly and themediahouse (possibly the others) says this also prevents the beam spreading. A more insurmountable problem is that the beam hits the media at an increasing angle towards the edges, so thicker materials can have a bevel.
This is why multiple beams are used for wider models, but it doesn't entirely overcome the problem.
Thus if you need to cut thick media across large widths, a plotting table type laser or knife cutter may still be your only choice. But for the thinner stuff, a speedy single-pass belt-fed laser may be a worthwhile investment.
Interested in joining our community?
Enquire today about joining your local FESPA Association or FESPA Direct