Features
Label printing breaks through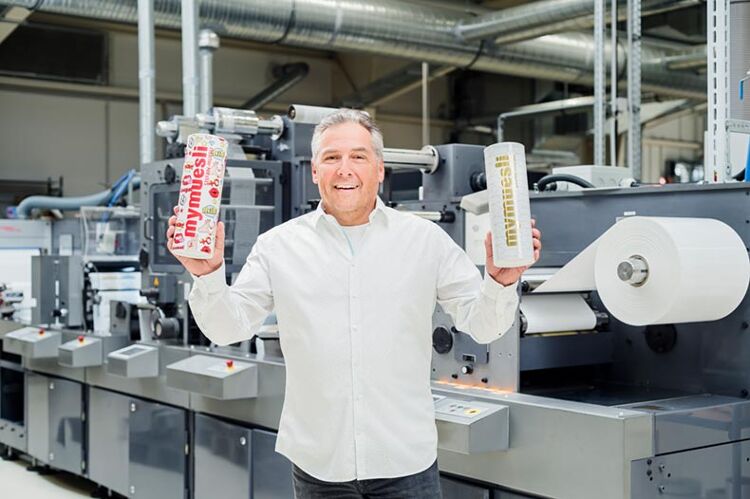 With every crisis there are those who adapt and thrive, the label printing sector may very well prove to be one of these. As value chains change and food production becomes more local, digital label printing finally gets its well-deserved mainstream break-through.
During these unsettling times it's impossible to have breakfast with your loved ones, so what can you do? Thanks to MyMuesli, you can send your loved one their (or your) favourite Muesli, a unique blend of grains, nuts and fruits customised for you with billions of possible combinations. The cereal comes neatly packed and personalized in the iconic MyMuesli cylindrical carton "box", printed at Labelprint24.

Located at Zeithain, the headquarters of the company is located about 50 Kilometres away from Dresden (Saxony) and is part of the Harder group of companies. Their B2B portal was introduced in 2010, and now has customers from all over Europe. The company invested in a Screen Truepress Jet L350UV, a first for Germany, doubling its capacity in the process. Partnering with MyMuesli since 2018, Labelprint 24.de also offers a wide variety of products from labels to folding carton boxes and even laminate tubes and most recently pouch packaging.

Whilst MyMuesli is a highly visible and well-known brand name in Germany, it is the most prominent Labelprint 24 customer. The company is working for businesses who are in numerous different sectors from food and drinks to cosmetic and pharmaceuticals.
Digital Packaging and Label Printing is a Key Trend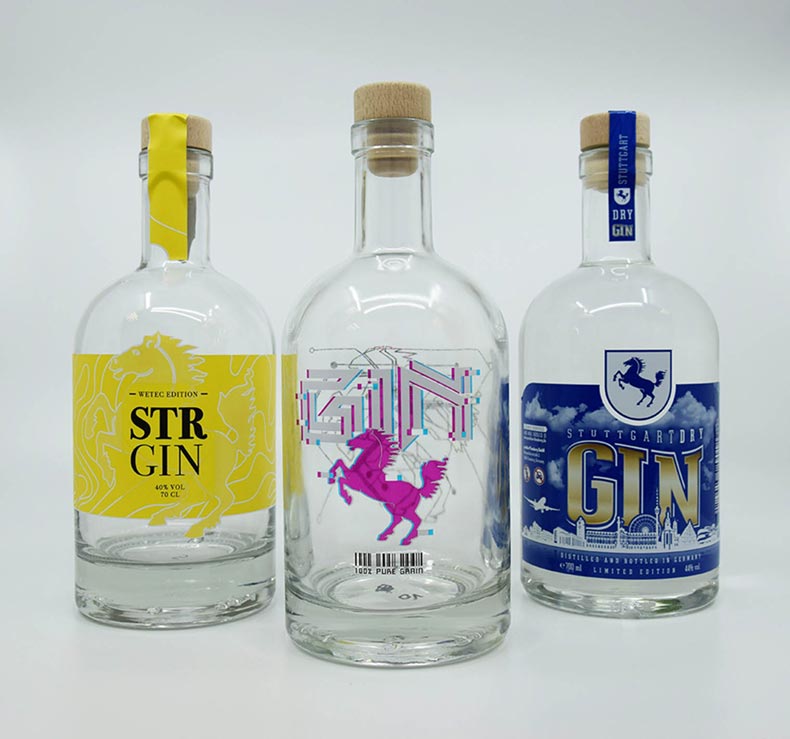 Caption: Winners of the Mimaki Gin Label Contest 2020. Image credit: Mimaki

There are several current opportunities in label printing and digital printing. Especially with label printing, the sector has been active for a while. Decals produced with print-and-cut machines from Roland DG or printer and cutter combinations from Mimaki, Mutoh or HP, have been a key business for the sign-making industry since its beginnings.

Early decals were mostly intended for informal and outdoor advertising. However, since 2010 small businesses, mainly in the organic food and cosmetic industry began to order decals as labels for their small range production instead. The disadvantages of using digital printing instead of traditional label industry are that it is slower to finish when producing very high order numbers and the cost is higher per piece. However, this can be advantageous for businesses who need to run a smaller production line smaller run-length, but faster production time. In traditional printing, large-scale label and packaging orders may still take weeks to produce, which is obviously not suitable for agile local production.

From 2010 to 2020 saw a growing demand for exclusive, personalized, localized and even individualized products. Various advertising campaigns for consumer goods pushed digital label printing into the spotlight: Remember the Coca-Cola or Nutella names editions?

Smaller countries with less used languages have started to use labels and packaging. Until the turn of the millennium, many label and consumer packaging were only available in the top languages which were determined by the population of the country. Today, even in countries as small as Lithuania (2.8 Mio inhabitants) you can find many big brands labelling their goods in the local language.

With big consumer good brands demanding smaller and more split-up productions, digital label printing has become viable even for the "traditional" packaging industry, catering global grands like Nestlé, Unilever or Anheuser-Busch InBev.
Label Print Solutions for Every Need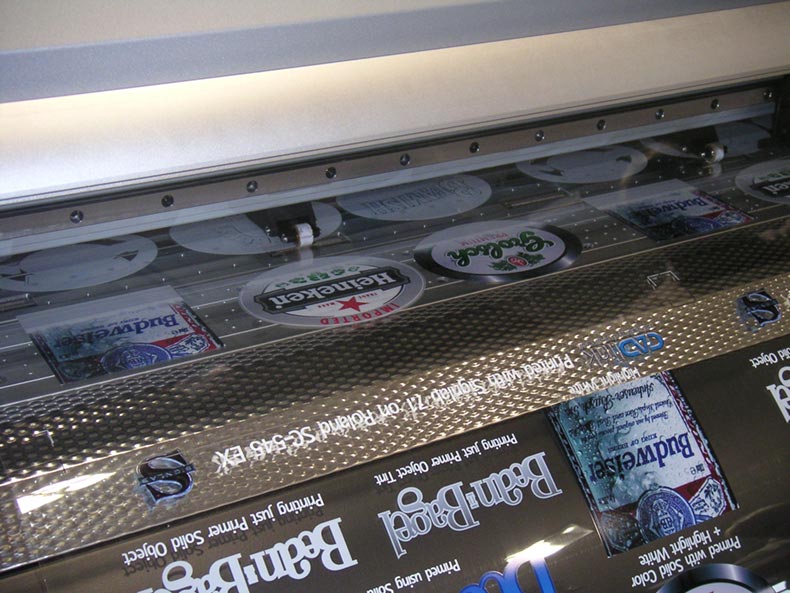 Caption: Label print with Roland DG. Image credit: S. Angerer

Big print equipment manufacturers have developed digital label print equipment for every volume. Durst´s Tau RSC range offers printing speeds up to 80 m/min full colour as well as a choice of white ink and additional process colours. The HP Indigo V12 narrow web label printer runs at up to 120 m /min, while the Epson SurePress range can print seven colours and white.

Xeikon offers three different high-volume label printer lines, from the toner-based Cheetah to UV Inkjet Panther and Xeikon Jetrion. The Jetrion line was taken over from EFI in 2017, as the company decided to leave the label market. With the single pass Nozomi range, EFI is making quite an impact in the digital packaging print markets.
Label Printing in Pandemic Times
With "To Go" as well as "Click and Collect" schemes popping up left and right during COVID-19, small-scale label printers from HP and Epson line will get more exposure, as de-centralized logistics printing will become even more important. Those applications will, most likely remain integrated into the users in-house IT / printing department, so few new niches are expected for printers.

Although the pandemic is ongoing it seems to have increased consumers need for more sustainable products and as well as encouraging conscious buying. There is a shift in supply chains across both regional and global areas, the future looks bright for digital label printing. Printers with existing connections into the retail or consumer goods industry should look into this line of business when they seek to re-start or expand their business.


Interested in joining our community?
Enquire today about joining your local FESPA Association or FESPA Direct