Features
Kyocera pledges efficiency and sustainability with TASKalfa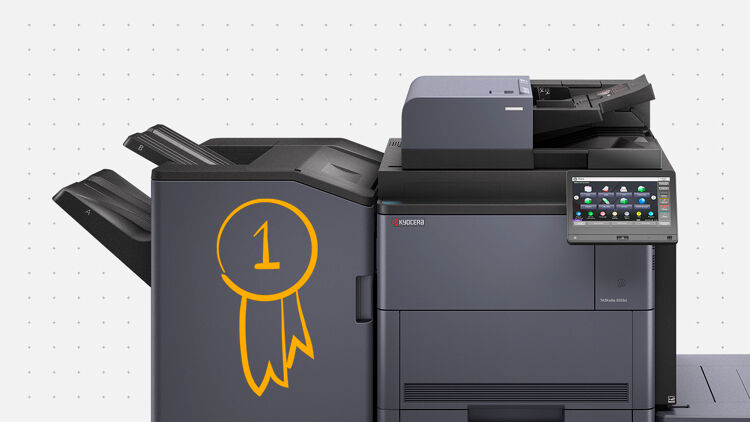 Kyocera Document Solutions UK has announced the launch of two new high-speed colour multifunctional products, with the aim of helping customers enhance the efficiency and sustainability of their production process.
The TASKalfa 7353ci and TASKalfa 8353ci both boast a print resolution of 1200 x 1200dpi with 2-bit (4800 x 1200 dpi), as well as the capacity to print up to 30,000 sheets per month.
Features include a Dual Scan Document Processor (DSDP), with scan speeds of up to 220 impressions per minute, and a paper capacity of 4,150 A4 sheets. The machines can process media up to 256gsm via the paper trays and 300gsm via a multipurpose try, while a new 10.1-inch colour touchscreen assists with control.
In addition, both machines feature the Trusted Platform Module (TPM) and the Secure Boot function, which Kyocera said ensures the printers start up with authorised firmware before execution.
Speaking to FESPA.com about the double launch, Trevor Maloney, product marketing manager at Kyocera, said the two new printers "lead the way" in terms of efficient, sustainable and secure printing.
"We constantly strive to deliver the very best solutions to all our customers, whether it's office or production print, content services or managed services," Maloney said.
"As customer demand for more sustainable hardware has increased, it was essential these new models offered increased efficiency and sustainability in their day-to-day print operations.
"What really puts these two models above the competition is their high print resolution quality and top-class performance in both monochrome and colour, thanks to a newly developed toner design. This ensures any output, whether a presentation, a corporate business report or a new business proposal, can be delivered in the highest quality."
Maloney also said that the two new printers have been designed with medium to large-sized workgroups in mind, saying they are suitable for use in a range of environments.
"Their advanced levels of security, production, durability and efficiency – which are at the heart of all our new product designs – make them ideal hardware for small, large and corporate businesses for reports and general office printing," Maloney said.
"Organisations across a variety of sectors will be able to take advantage of their powerful production capabilities, including the finance and insurance sectors, hotels, retailers and large office environments with limited space.
"Public sector customers including NHS trusts, police forces and government departments can also benefit, thanks to the efficiency, security and sustainability that the devices provide."
Interested in joining our community?
Enquire today about joining your local FESPA Association or FESPA Direct