Features
Koenig & Bauer Durst to begin beta testing for VariJET 106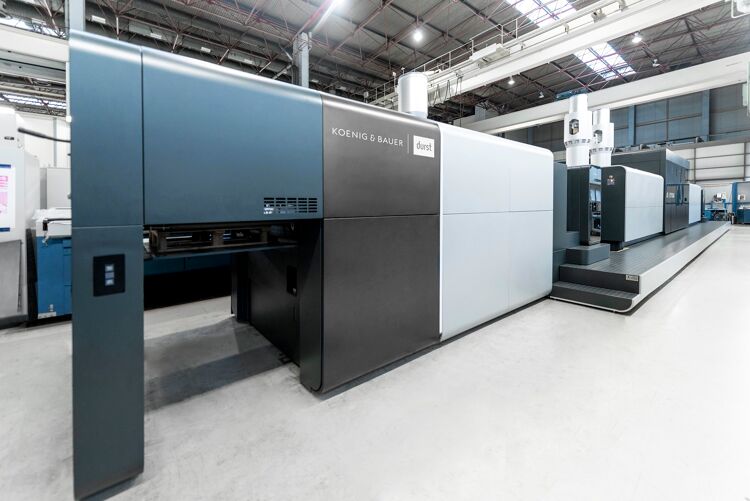 Koenig & Bauer Durst is to commence beta testing of its new VariJET 106 this autumn, with plans to make the single-pass digital printing press commercially available from the middle of next year.
Targeted at the folding carton industry, the B1 6,000 sheets per hour machine is the result of a collaborative development between Koenig & Bauer and Durst, which set up and launched their joint venture company in 2019.

The VariJET 106 integrates inkjet technology into the platform of the Rapida 106 offset press, offering customers what the two companies describe as the "fastest possible response to market demands".

Other key features on the press include modular integration of upstream and downstream processes; as well as high register accuracy with inline production; flexibility for test packaging and new campaigns; efficient production of ultra-short to medium runs; and reduced resource consumption, storage costs and waste.

Speaking to FESPA.com about starting beta testing, Robert Stabler, managing director of Koenig & Bauer Durst, said the final decision on the beta sites will be made in the autumn, with a number of options available to the company.

"The new machine has been developed to meet new market trends," Stabler said. "The compelling trends for shorter runs are being driven by brand proliferation, the growth of e-commerce and the increasing requirements for security features on packaging.

"Brand owners continually want their products to stand out, require shorter lead times, while at the same time eliminate waste and conform to sustainability and track-and-trace requirements. The VariJET 106 will target the folding carton industry."

Stabler also spoke about the value of the environmental features of the device, saying that demand for solutions with such attributes is in the rise.

"Sustainability, the requirement to eliminate waste and of course the increased trend for track and trace to know the provenance of a brand package are also important," he said.

"All these trends are leading to smaller production quantities and less forecast predictability. We believe these trends will only accelerate going forward. Converters are going to have to be more agile than ever and use technology and competencies that enable mass customisation."

Aside from the new VariJET 106, other joint developments from Koenig & Bauer Durst include updates on the single-pass corrugated presses – the Delta SPC 130 and CorruJET 170 – which are focused on delivering for stringent requirements within the packaging sector.

Interested in joining our community?
Enquire today about joining your local FESPA Association or FESPA Direct