Features
International designer, Emily ZIZ uses digital printing to meet customers demands in Interior Design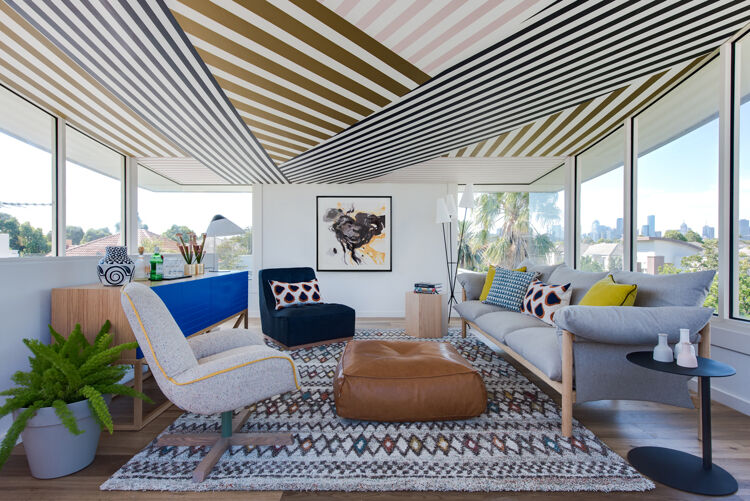 Building a business from the kitchen table is how many of the worlds strongest brands begin. From these humble beginnings - business grows organically. Based in Australia, that is exactly how Emily Ziz founded her international brand.
Over the years, the business has evolved to meet the needs of the changing Interiors marketplace – by utilising digital printing technology - Emma has ensured that customers' orders are fulfilled on-demand and at speed.

Collaborating with designers across the globe, Emily Ziz holds an archive of unique designs all of which are available across a diverse range of printed products – customised to meet the demands of the interior design and décor industry.


Image credit: Emily Ziz

Utilising digital printing equipment has ensured that the company is twinned with a flexible and versatile range of technology with which it serves an ever-expanding Interior design
industry. In this interview we discover how Emma started her business and how she has established a successful international Interior brand.
Congratulations – Emily ZIZ is 10 years old. When did you found the company and why?
During a family vacation to South Africa I was visiting some textile showrooms with my mum, who is an interior designer. I always enjoyed following her projects and looking at the finishes she specified, and during that holiday it became apparent to me that there was a new generation of textiles being made available - independent designers who were starting to have a presence in the A&D market alongside the traditional textile wholesalers. I approached some of them to see if they would be interested in having their prints represented in Australia and many of them were. 3 months later, having launched this offering from my dining room table with the help of my kids' nanny (and working concurrently with my full-time job in video gaming software), I had around 15 labels on board, including collections from 3 large fabric houses. None of these labels supplied digital prints and Emily Ziz was purely acting as a sales agent for woven and screen-printed textiles, but this was the catalyst for what Emily Ziz is today.
When did you decide that digital technology had the potential to drive your Design / Print business?
Several months after I officially launched the agency for the fabric labels that we were representing, I took on a South African wallpaper brand. All of these wallcoverings were digitally printed in South Africa and freighted to Australia as required. The wallcoverings were quickly proving to be a strong addition to our business. We were approached by a client to supply a wall print, though they needed us to deliver it more quickly than the lead time required, due to the time it took to air freight the orders Australia.


Image credit: Emily Ziz.

We didn't want to lose the order and so we found a local printer and reached an agreement with our supplier to print the order locally and pay them royalties. That was a turning point for Emily Ziz. From that point onwards we only printed wallpaper orders in Australia, and this soon extended to fabrics and eventually the other finishes that now offer (window films, acoustics, solid finishes, rugs and carpets).
What inspires your creativity and your designer collaborations?
Emily Ziz is known for offering statement products - we are the complementary design feature in a scheme - we rarely supply anything "plain". We try to develop collections both in house and with our designer collaborations that are unique and also timeless. The market that we serve is extremely diverse so we try and develop prints that will suits all sectors - workspace, education, hospitality, retail, aged care & retirement living, healthcare, retail, government - the list goes on! In terms of the designer collaborations, we are frequently contacted by surface and textile designers, artists and photographers to license their work. We are happy to consider all opportunities to see whether there is an aesthetic fit for their design style within our overall print catalogue.
How has your product range grown over the last 10 years?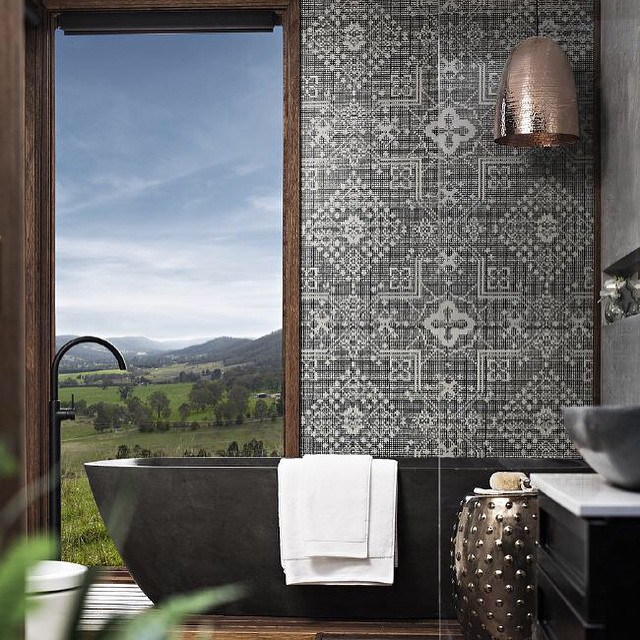 Image credit: Emily Ziz.
We transitioned from acting as a sales agent to becoming a manufacturer of digital prints, which now accounts for the majority of our business. This has enabled us to offer prints beyond fabrics and wallcoverings to window films and gazing solutions, printed acoustic products, solid finishes (such as acrylic, tiers, veneers, glass, laminates etc) as well as rugs and broadloom carpets. It's also enabled us to extend our business internationally as well as establish licensing relationships with printers and distributors abroad who license some of our print patterns.
What makes a bestselling design?
One that has a diverse style which will suit a broad range of markets and that is easily customisable and scalable.
What's your favourite project and why?
I don't have a favourite project as there have been so many and each one is so unique! You can see visuals of some of our past projects on our website.
What have been the most memorable successes and the challenges of the last decade?
I feel as though our greatest success is that Emily Ziz started at one end of a dining room table with a blank page and some ideas which have since evolved into a business that is internationally recognised, and that supplies unique products for projects designed by leading architectural and design studios. In terms of the challenges we have faced, we have been through all of the teething issues (+ more!) of a small start-up business. In addition, we have had to work hard to establish processes to respond to the constant challenges we face due to the rapid advancement of the digital printing industry.
As an international brand, has ecommerce enabled global reach and have you seen a marked increase in online sales?
Our international sales have increased through the appointment of international sales agents as well as through international licensing arrangements of our digital IP. However, this has not been achieved through e-commerce per se, as we are a B2B business, and we don't offer online sales transactions.
Are your customers increasingly demanding sustainable materials? YES! Are they easy to source? NO!
Although the majority of our printing processes and inks are making greater strides in becoming "green" and we are also beginning to identify substrates that are manufactured from recycled products and that are more environmentally friendly.
What excites you most about the Interior Décor Industry right now?
When Emily Ziz became actively involved in the production of on demand digital prints for the A&D industry, we were one of the few companies actively selling products in this space - our offering was seen as unusual and was often perceived a foreign concept. A huge amount of effort has been invested over the years by our sales reps in educating our customer base, and the market in general, about the many benefits of on demand printing. This has really paid off as we see our clients embracing the ability to customise prints for their projects.
What's next for Emily Ziz?
We are always striving to offer new substrates and finishes to print on - something to add another point of difference to our story. Unlike many manufactures who specialise in a particular type of product, we are a hybrid that can extend digital prints across a broad range of finishes, essentially offering a one stop shop.

Discover the latest interior printing innovations at the FESPA Global Print Expo 2021, Europe's leading exhibition for screen and digital wide format print, textile printing and signage. Discover the latest products, network with like-minded individuals and explore new business opportunites. Register now and use promo code FESH101 ​to receive a discount of 30 euros.
Interested in joining our community?
Enquire today about joining your local FESPA Association or FESPA Direct