Features
Interior Décor trend talk: COVID learnings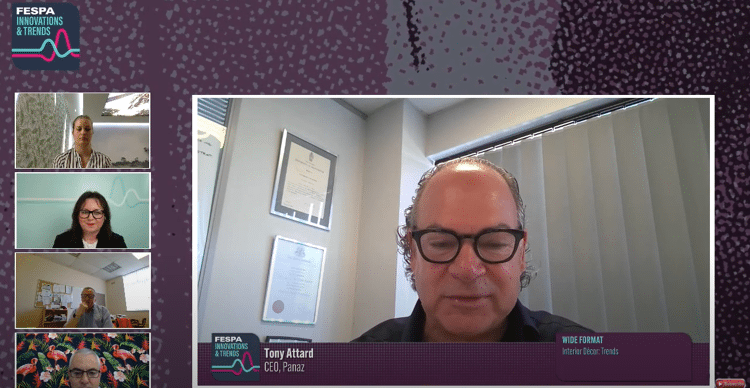 In our recent FESPA Innovations & Trends (FIT) virtual event we brought together four printers from across the world to discuss the latest trends in digital print for interior design applications.
The host: Debbie McKeegan, FESPA's Textile Ambassador and CEO of Texintel has spent her entire career in the textile industry working with both analogue and digital production.

The experts: Stephen Thomas, Managing Director at Standfast & Barracks, an interior décor printer based in the UK, who has moved from being a conventional rotary and flatbed printer to 60-70% of their business today being digital.

Tony Attard, CEO at Panaz a global designer and manufacturer of high-quality fabrics and wallcoverings. Tony has been involved in the textile industry for many years and started Panaz in 1987.

Denise Lang, Managing Director at Lang + Lang, an Austrian based manufacturer of high-quality prints for installation in architecture, interior design and POS (point of sale) with a focus on the hospitality sector.

Magnus Mighall, Managing Director at RA Smart, a UK company celebrating almost 50 years as a supplier of speciality textile printing equipment.
What challenges and new opportunities did the COVID-19 pandemic present to your business?
Tony: Like everybody in the industry, COVID has thrown many challenges our way. Like many people, I don't think I ever thought I'd see something like this in my lifetime. Interestingly, we had a massive innovation that we've been working on for the last two years, called ReMake. It is a brilliant platform for our customers to design remotely and gives them access to about 3,000 of our designs.

We had designers working from home and they were designing their schemes, utilising our new platform via our website and creating fabrics that they could print directly on our machines. It's the most incredible innovation I think I've seen in many years. We are very proud to be the first company in Europe to offer it.

As far as COVID was concerned, we had people designing remotely and printing on our machinery, and we were shipping to them within 24 hours. It's absolutely incredible. That was a big plus, but we've also done lots of other things, of course. We've been able to bring in teams to work, taking safety into account all the time. Because we have a lot of antimicrobial fabrics that we print on, a lot of our medical textiles were used in the new hospitals being built for COVID. It's been a massive challenge, but Panaz stepped up to the plate. We were asked to stay open by the NHS to deliver these fabrics, I think the team did an incredible job and I'm very proud of them.

Stephen: Yes, apart from the obvious thing of having to close the factory for a while and then restart with a great gang of people. Following on from what Tony said, I think one of the biggest changes was that we very much relied on growing our exports at a fast rate and on attending shows. What we launched was digital pattern books with a very fast servicing turnaround, a bit like Tony did.

We've also changed our front-end with designers and marketing people and we're a lot stronger on LinkedIn and social media platforms. That's been a big change for our business as a traditional textile business and I think we'll carry on that route.

Denise: For us, the challenges were mostly in the POS business with our clients because from one day to the other, the shops were closed and they were closed for some time. The products we were about to ship out were stuck for a while, so we had some logistics issues with that in the first moment. Now really what the challenge is, is the longer lead times that you get from your suppliers because a lot of companies had reduced capacity last year. We're still having trouble with this now because warehouses are empty. We still try to meet our delivery dates with our clients so that requires a lot of flexibility from the whole company, especially of our team.

New opportunities? I see not only for the business, but I also see in general new models coming out in all types of industries. The online sector of course has become more and more important. We will see how much we will travel in future because a lot of things can be handled online. I won't say it will stop entirely because I still appreciate discussing projects with clients on a personal level, but there are definitely new opportunities and it's a personal decision how to deal with the crisis and how to benefit from the new opportunities in the future.

Magnus: Probably a slightly different perspective here because we're commission printers rather than vertical, so we're not creating design and selling it, we are printing for our customer base. We certainly found that some sectors of our traditional customer base had a very challenging COVID period and to a certain extent, still do. We definitely saw other sectors starting to have, if you like, a good lockdown period and one of those major sectors was certainly our home furnishing customers.

Basically, what we saw was a change in demand from our customer base for who wanted to utilise our services over this period. I think things probably have now settled down slightly more and we're back to more of an even distribution for our various market sectors, but it certainly has shown that the home furnishings sector, in terms of our customer base and the demand for that sector, has grown quite significantly over this 12-month period.
How have you all adapted your supply chain to protect your business post-pandemic?
Denise: Well, it's what I explained earlier since we faced a small problem with our suppliers to get the product at the right time. What we try to do is put a little bit more material in stock and try to inform and speak to our clients early on to accelerate decisions so we can get the materials here, even if sizes or the design are not clear yet.

We try to make a decision together with them on the material as such and with this, it's easier to plan the project and make sure that at the end of the day, everybody's happy with it. At the same time, of course, we see that we need to be very flexible in our daily operations.

What we try to bring on board is a few more people that work with us on a project basis so we have, I would say, a small core team and then people within an extended team, to make sure once we really have the work and have a lot to do, then we have those people at our disposal for execution.

Stephen: Yes, I think there's a mixture between pandemic and Brexit in the UK, so we've had a mixture of both. I think Brexit's been harder than the pandemic, however, that's a personal view. We built up stocks for our Brexit issue, which actually helped us through the pandemic, our supply chains are still incredibly weak out of Europe, particularly.

We buy a lot of linen-based cloths because we're at the high end of the market. It's a really weak market at the moment, the UK weavers that traditionally have done very well are really struggling. So, we plan to try and build some key strategic partnerships to help them through it. We may even look at getting involved in weaving ourselves directly as a group, as an option because we want to protect wherever the artisan skill base is.

We print a lot in Europe and we're very strong in printing out of the Belgian market for our linens, but our biggest issue at the moment is the weakness of the supply chain for fabrics. As far as dyes and chemicals are concerned, our digital dyes are fine, our conventional dyes, reactives are again a major problem because they're out of China. In fact, they're even trying to remake them back into Europe now. I think a lot of these problems are going to be long-term and will be structural as well and I don't think the problem is going to go away for a while.

Magnus: Yes, I think I can pretty much mirror exactly what the previous answers were. Quite frankly, we've had to increase our stock levels to make sure that we can seamlessly carry on with producing our products for our customers. We have certainly had challenges with the supply of both textiles, and indeed, some digital inks as well and the only way to cover that is really for us to actually carry larger stocks and make sure that we can satisfy the demand. There still seems to be a problem, whether it's Brexit or COVID related, we're not quite sure. Hopefully, things will start to improve, but it has certainly been a challenge, yes.

Tony: I think Panaz was very fortunate in some respects because we came into the pandemic with large stocks. One of the things that we do here is that we provide products for quite large projects, so we're always pretty well stocked in everything that we have. On our base cloths, we hold thousands of meters of stock so if we're asked to do a 10,000-meter run or something similar, then we do tend to have all the inks on hand and we do carry a lot of other basic substrates.

We didn't really have any problems in that respect. In fact, during the pandemic, we bought a new machine because one of our machinery suppliers had a machine available and we were able to buy one at quite a good price. We decided to buy one and they brought it in and installed it during the pandemic, which I suppose was quite unusual, but we've managed to do that.

The biggest problem that we've got at the moment is large increases in raw material and transport costs. I'm not sure whether they're associated with COVID or Brexit. As Steve touched on it, Brexit is just a complete pain. It's made life very difficult for us in the UK to get our product around Europe. We thought that we were really well prepared, and I suppose, in comparison to a lot of companies, we were very well prepared but we still had major shocks along the way in terms of how we could do our business in Europe. We've now come through that and we've got certain things in place that have worked quite well.

I think in terms of the pandemic, we felt that communication was a very important part of our relationship with our suppliers, so we kept in very close contact. As Steve said, we're very concerned about some of our suppliers and obviously, there is risk involved. We look at it very carefully and I think we do a lot of planning in that area so I'm not too concerned. As I say, the biggest problem is really massive increases in cost.

Watch the whole conversation here, and for more information on the FESPA Innovations and Trends Wide Format Graphics and Interior Décor event, visit here.

Discover the latest innovations in garment printing at the Global Print Expo 2021, Europe's leading exhibition for screen and digital wide format print, textile printing and signage. Discover the latest products, network with like-minded individuals and explore new business opportunities. Register now and use promo code FESH101 ​to receive a discount of 30 euros.

Interested in joining our community?
Enquire today about joining your local FESPA Association or FESPA Direct