Features
Industrial print highlights at FESPA 2017: Part one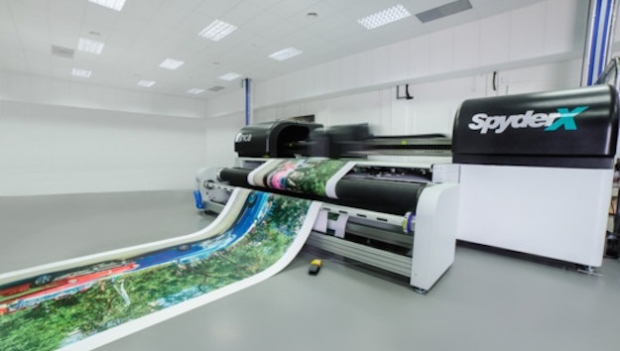 After going through some tough times, the industrial print market has been enjoying something of a resurgence in recent years. 
Not so long ago, questions were being asked about the relevance of print in the modern world, given massive growth in the digital media sector. However, the majority of these comments were coming from outside of the industry, while those active in the print market stood true and continued to champion print.
Just a matter of years later and print is once again being talked about with great enthusiasm, with the industrial print sector in particular experiencing growth in recent times. This will be one of many trends showcased at FESPA 2017, which runs from May 8-12 in the German city of Hamburg.
Visitors from across the global market will descend on the halls to find out more about key growth sectors and the areas in which they can make a profit. Going by recent trends, industrial print is on the up, and manufacturers have thrown their backing behind this growth by committing more funds to R&D, and some of this technology will be on show at FESPA 2017.
The floorplan features a whole host of companies involved in this area and there will be plenty for visitors to see.
One such manufacturer is Inca Digital, which will be showing its 3.2m-wide UV dual flatbed/roll-to-roll hybrid printer SpyderX on Stand D51 in Hall A4.
Attendees will also be able to see a number of samples printed on the machine, such as small beer kegs, A4 sheets of glass, woodgrain squares, membrane switches, an A-Q-UV printed roller blind and small cosmetic cartons printed using an AQ-UK ink.
In addition, Inca Digital experts will be on hand to talk visitors through the 3.2m-wide, six-colour plus white machine that can reach speeds of up to 230sq m/hr.
Meanwhile, Durst will be hoping to generate interest in its solutions designed for industrial printing. Based on Stand A20 in Hall B7, the firm will be able to speak with attendees about products such as the Rhotex 325, a 3.2m-wide industrial printing system for soft signage and textiles, with the ability to print at speeds of up to 350sq m/hr.
Elsewhere, for visitors looking for new software solutions in the industrial print sector of the industry would be well advised to stop by ColorGate on Stand B40 in Hall B1U of the show. On its website, ColorGate identifies the actual printing part of industrial print as "merely one process in the overall production process that serves to decorate the foods produced".

The Rhotex 325 from Durst can operate at speeds as fast as 350sq m/hr
With this in mind, ColorGate is able to offer solutions for various key application areas, such as décor, ceramics, packaging textiles, glass, wallpaper, plastic and even concrete. For example, Décor Productionserver has been developed for the industrial décor reproduction printing and enables users to access all functions required in industrial digital décor reproduction printing.
For visitors keen to find out more about the latest happenings in the industrial print market, a number of seminar sessions will take place at FESPA 2017, each of which will focus on certain areas of this sector and address current trends.
To find out more about the seminars, check back soon for part two of this special feature series.
Register today to attend FESPA 2017 and save 70€ entry fee
Industry members that are keen to learn more about the latest innovations and technologies in the industrial print market, should not miss a visit to FESPA 2017.
Taking place from May 8-12 at the Hamburg Messe, in Hamburg, Germany, the exhibition will play host to many major brands from across the global industry.
For more information on FESPA 2017, the companies that will exhibit and to sign up to attend as a visitor, please visit: www.fespa2017.com
Delegates can save 70€ entry fee to the exhibition by registering via the website and quoting reference code: FESG702. Discover how a visit to FESPA 2017 can benefit your business and register today.
Interested in joining our community?
Enquire today about joining your local FESPA Association or FESPA Direct